Just wanted to throw this out there for all you m30 swap guys. I know we're coming towards the end of summer heat waves but hopfeully this will be of use so some people.
Cooling the m30 is always an issue. Deleting the stock mechanical fan means there is ZERO airflow over the radiator when doing anything less than 10mph. So in stop-and-go traffic, you'll be overheating within minutes. One possible solution is to rig up and auxilliary switch for your aux fan so you can flip it on either low or high when things start to heat up. This works great but can be a pain in the ass to turn it on every time you come to a stop light, then turn it off when you get up to speed. So I started looking in to other solutions.
First off you'll need a lower-temp aux fan switch. All e30s, e28s, e34s, etc. came with 90C/92C switches that turn the aux fan to low at 90 and high at 92. The problem is that the OEM thermostat for an m30 is 78C! Which means you'll be getting pretty hot by the time that thing kicks on. So, after some searching I lcoated this p/n
61-31-8-361-787
It's an 80C/88C switch from the e36 318ti. Switch it out, throw in a bottle of WaterWetter and you'll probably be OK for most days under 90F.
But for those of you running a/c like I am, that stock aux fan is not enough to cool the rad and condensor, even on high. The air picks up too much heat when moving over the condensor, and therefor cannot remove enough heat from the radiator. And even if you aren't running a/c the stock aux fan sits about 1.5" away from the radiator, which kind of acts like a big wall when it comes to airflow. It's much easier for air to go above, below or around the rad than it is for it to pass through it. I'd bet only 10-20% of the air coming off the fan makes it through the rad to actually remove heat.
The solution is, of course, a better fan. I settled on a Spal 16" curved-blade pusher.
http://www.summitracing.com/parts/sp...2048/overview/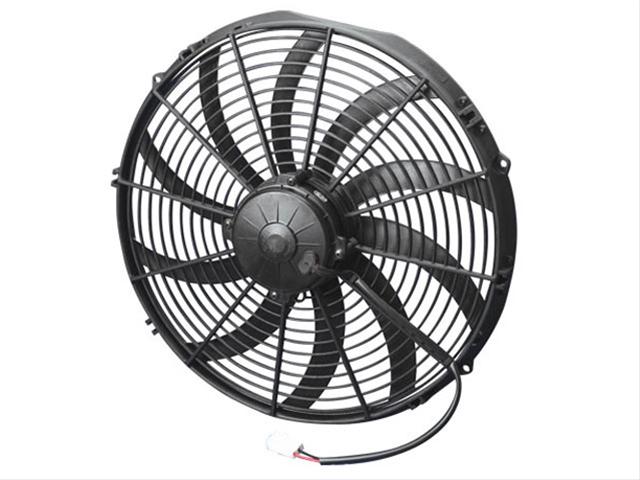 It fits perfectly in the stock aux fan location and is cake to install. It also pushes over 2000cfm, more than double what the stock fan does.
Note: If you're not running the stock a/c condensor, you really want this think sitting ON the rad, not 1-2" away from it. So either re-do the mounting mechanism so it sits closer, or check this out:
http://store.bimmerworld.com/spal-16...ket-p1420.aspx
It might work but I haven't personally tried it.
e30 aux fans are 2 speed; high and low. You'll want your new fan to be high/low too to match your fancy new switch. You can do this by either removing the resistor from your stock aux fan and attaching it to your new fan, or with an aftermarket resistor. Spal used to make one that I bought back in 2010, but now it seems to have been discontinued. Any aftermarket resistor should work as long as it's good up to 30amps.
Now you've got a nice, big fan that'll cool your car no matter what. It'll come on automatically, shut off automatically, and make your drives much more enjoyable with no fear of overheating!
Cheers