I wanted to gauge interest in a bolt on turbo kit for the m42. I recently finished a m42 turbo swap into a 2002 and helped my buddy turbo his m42 swapped e21. I have an e30 at my disposal that I could mock up a turbo kit in.... The kit would be based around a low boost setup, about 9psi. Using bigger injectors and a retuned DME. The reason to keep the stock DME is that it will start, run, and drive like stock other than when you get on it.
Kit would include everything you need including - turbo, oil feed/return, downpipe, intercooler w/brackets, IC piping, IC couplers/clamps, 42lb injectors, by pass valve, tuned chip.
I am still working out the kit price but right now it is looking like around $1700.
This kit would not include any gauges...a boost gauge and wideband could be added at additional cost. I am talking with a wideband company about a discounted rate for a controller and gauge.
I am finishing another swap right now but could see the turbo kit happening before Christmas.
Here are a couple videos of my friends car. This was also on a rough tune I did just so he could get it running and driving. We have tuned it more since the videos and it is much quicker. Power is smooth...without a big boost kick.
Overhead shot on the 2002 swap
Overhead shot of the e21...pic was without the downpipe.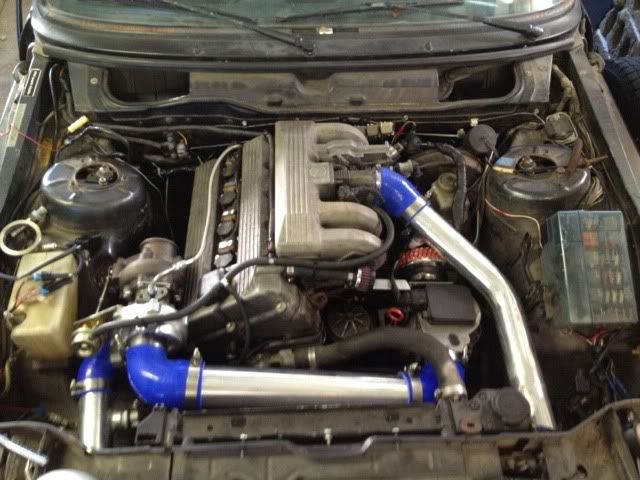 Manifold from the e21 - 4-2-1 done because of space constraints.
Manifold on the 2002 (has external wastegate due to space constraints. E30 kit would be internal wastegate for simplicity/cost.
If you are interested or have questions post or send a PM.
thanks