EDIT: See post #34 for the latest data and findings.
--------------------------------------------------
I finally got my new data logger working and went out to do some quick measurements with it. It is not really intended to be a full engine measurement system, but rather to just measure a few voltage parameters in support of the next-gen MAF conversion I am putting together for the car. Anyway, I figured that I would post up a little bit of information since everyone loves charts and stuff.
First up is a log showing a pull in 2nd gear with the car's current engine (a Metric Mechanic 2.1L M42 with every bell & whistle that MM offers for it along with a couple of extras). Note that the horizontal axis is TIME in milliseconds, not RPM. For the purposes of what I am working on, RPM is not really a factor which is why I am not logging it (I can always add it to the logger in the future). Also note that the green line is AFR which uses the RIGHT vertical axis.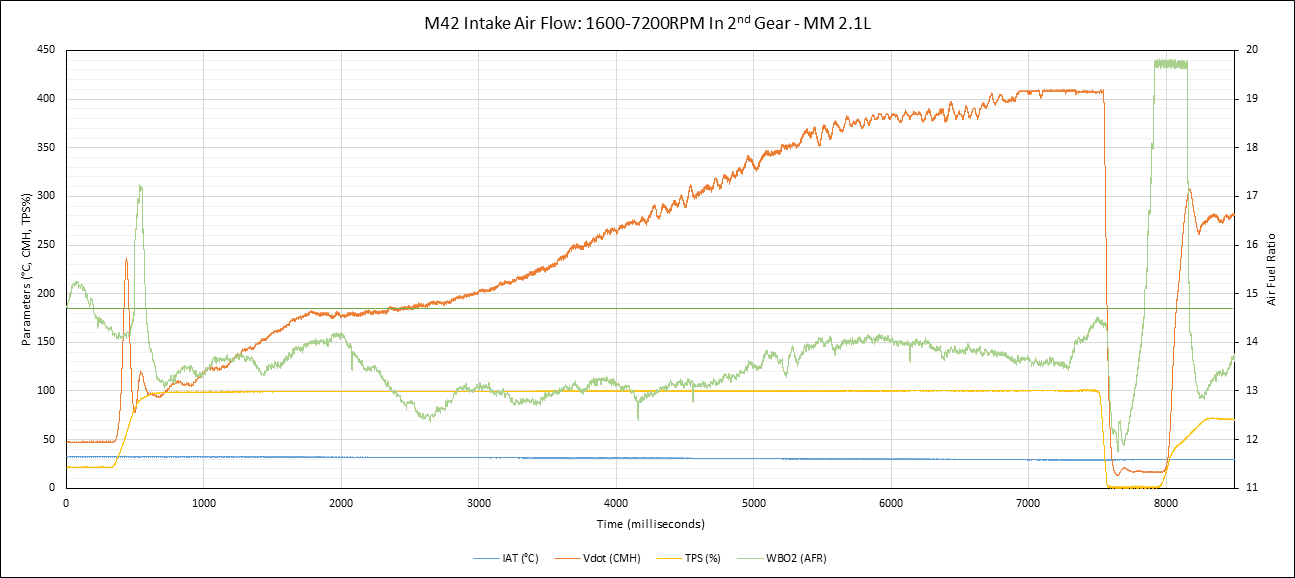 The M42B21 in the above plot is using a 100% stock M42 air box (complete with sort-of-dirty Mahle filter) and VAM. You can see the wild overshoot as I snap onto the throttle and the flapper door bangs open, and then it oscillates a little which causes the AFR to go lean for 100 msec or so. You should also notice that there is not really much of an appreciable lag between when I open the throttle and when the VAM responds, although obviously all accuracy of its output goes straight out the window. I assume that the DME is programmed to account for this though, but I really have no idea there. There also appears to be a fairly significant delay between throttle / VAM signal changes and the AFR responding, maybe indicating that much of the response delay in the system is just due to the DME. Also, the straight horizontal green line is at 14.7 AFR just as a reference for stoichiometric.
Next up is a fun one. I converted the air flow units to CFM since that is probably what folks on here are more familiar with. The orange line is the same one as above (but in CFM instead of CMH). The blue line is from 2007 and the car's original M42B18. Also of note is that the blue line's output came from a MAF sensor, and since I knew the air temperature I could convert the output to CFM from kg/hr. Now, this comparison is subject to whatever inaccuracy is present in both the MAF I used in 2007 and the 20-something year old VAM in my car now. I'd say that the orange VAM signal might be plus/minus 5% accurate and the blue MAF signal is probably pretty dead-on. The logger I built back in 2007 was rudimentary, to put things nicely, compared to what I am using now. Signal accuracy is probably fine though, so this should be a fair-enough comparison.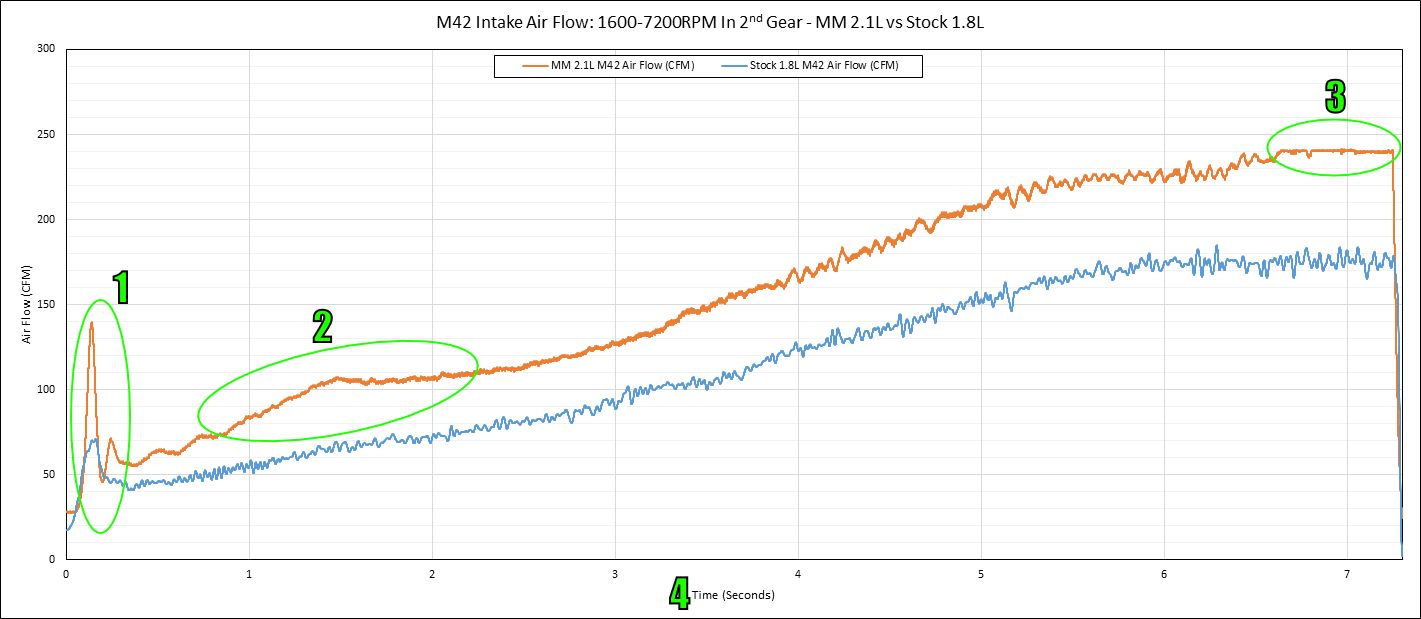 There are 4 fun things to note here:
1) Cray-cray (that's a technical term, right?) overshoot of the stock VAM when the throttle opens up. The blue line, again, was from a MAF and it keeps its wits about it a lot better since there is no door flapping around all willy-nilly.
2) The peak you see is (I suspect) due to the MM "Pulse Chamber" intake manifold which they say was designed to boost mid-range torque. Clearly it does what it is advertised to, assuming I am guessing right. The green circle for #2 covers ~2000RPM to ~3500RPM, which makes sense given how well this engine behaves at lower RPMs around town.
EDIT:
This is NOT due to the MM pulse chamber manifold. It is most likely some behavior of the VAM when intake resonances are really bad which make the flapper door open more than it would with steady air flow.
3) The 2.1L engine maxes out the VAM. Output is capped at 240CFM, which is actually in nearly perfect agreement with the Bosch datasheet for the M42's VAM. The first plot shows that the AFR stays good even when the sensor is output is clipped, so the DME doesn't seem to mine the maxed-out VAM since it is working off of custom fuel maps for this engine. I do assume that the VAM is restricting air flow at least little bit in this case though since I am moving enough air through it to peg it at its limit.
4) I "scrunched" the time axis for the blue line for the stock M42. Obviously it took the stock engine longer (about 1 second) to rev all the way up to 7200RPM and I scaled its time axis to align with the MM engine plot for a better comparison.
Another observation is that it is obvious that the stock M42 (blue line) stops breathing as you get into the high-end of the RPM range (it starts flattening at the equivalent of ~5500RPM). The MM M42 looks like it might want to start running of out of breath at the same range, but then it picks back up at ~6000RPM and just keeps going from there. The redline is set at 7700RPM in the DME software, and I can tell you that it pulls nice and hard all the way up to 7700RPM. Apparently I need a bigger air flow meter lol (and I will have a MAF in there soon enough).
I have other plots for idle, part-throttle cruising, stop & go, etc if people are interested. I just thought that this was interesting stuff that I could share from this project.
The logger itself is a side project of mine. It measures each signal 30,000 times a second, hits them with some digital filters, then downsamples to 10,000Hz and sends the data to the PC (so I have 0.1 msec time resolution). There are also some 4th order anti-aliasing filters on each channel to keep RF noise out and that sort of thing. One thing I did find today was that ignition noise is present in all of the analog signals coming from the stock sensors. That is not really much of a surprise, and it isn't a big deal since the DME seems to be fine with working around it. You cannot see it in the plots as they are scaled here, but the idle plot definitely shows "blips" on a very regular period in the VAM, IAT and TPS signals, probably because they are resistive sensors and EMI + high impedance lines means noise spikes.
Funnily enough, my little logger project is more complex than the MAF converter I am now working on. I guess it is like anything...you spend more time prepping and building tools/fixtures than actually doing whatever it is you are doing.