Hello!
Welcome to my thread, where I will show all the progress of my E30 to turn it into a mix between street and track car, with a look as close as possible to a Clubsport.
First and before I start, my native language is Spanish, from Spain. So I apologize in advance if at some point you can't understand what I try to express, because sometimes I have to use the translator with words or expressions that I don't know.
​
It all starts in the spring of 2021, after going through a period of medical problems, in which I was forced to sell my BMW E36 for circuit.
​
Some time later, some friends and I organized a trip to Zandvoort (Nederland). At that time I had a completely stock BMW E82 125i.
I had a great weekend, which I spent a lot of time helping a friend to tune his E30 325i.​
​
After that day I decided to sell the E82 and buy, once again, a BMW, the protagonist of the thread.
I had sold the BMW E82, curiously to a dealer from Galicia (Spain), who had contacted me via Mobile.de, since I was living in Germany (my car was German) and I needed a car to move around. Luckily, from my home to my work/supermarket was not more than 50-100 meters away and I was not too urgent.
I had clear what I was looking for: BMW E30 2 doors as cheap as possible without falling apart. I did not have the opportunity to look for many, because thanks to a friend I found the protagonist of the thread, a BMW E30 318i coupe in Zinnoberrot (Red) of a guy from Madrid (Spain).
I could not drive to Spain at that time, as it was a busy time and the only vacation days I had were already booked to celebrate a friend's birthday in Marbella (Spain) for a weekend. So I asked this same friend and another friend from Bonn (Germany), who was also in Madrid, to pick up the car for me.
On the Saturday of the birthday I got on the plane to Magala (Spain). After two hours we landed and I was ready to call the above mentioned friends to pick me up and go to Marbella for boats and beach. And there was the E30 that they had shown me in photos, wanting to put hand and love in equal parts.
I was speechless when I saw it, the only thing I could say was: Will you let me drive it?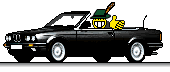 ​
​
​
To be continued...​