Well after 2.5 years of ownership and always wanting to do a swap, I decided why not. Pulled the trigger tonight on an engine and this thread will serve as a project log mostly for myself to keep track of.
The recipient.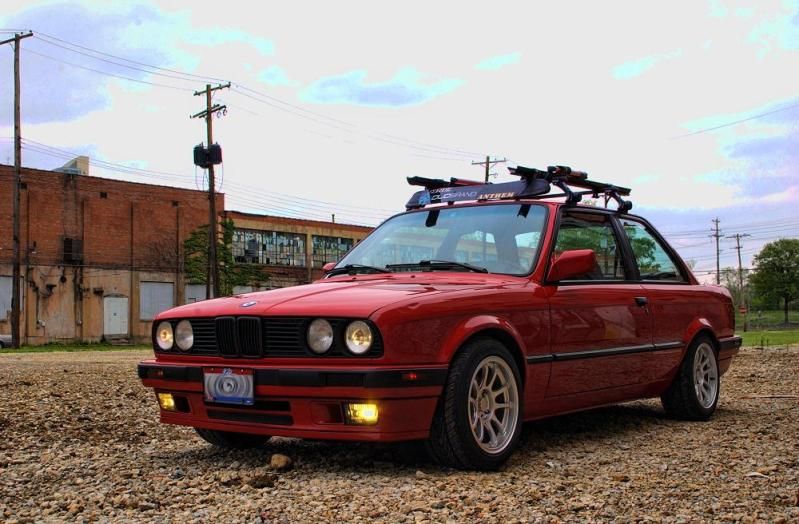 So here's the basics. Car is a 91 318is with unknown mileage but a fair guess of around 220k, good chassis with only one tiny rust spot but has a salvage title due to a front end impact before I bought it. The M42 still runs well but frankly I'm tired of the weezy, rattly bastard under the hood. This is going to be a budget minded swap so don't expect any fully built S52's in here. I also wanted this to be as straight forward and simple as can be, re using as much original as possible and minimizing what is under the hood. The engine of choice is a fairly basic M50NV out of a 92 325. Going to be coupled with the existing G240 with an undecided on clutch/fly setup, will likely stick with the OE M50 setup. No A/C, no P/S.
Picked up the motor tonight after I found an ad on CL for it. Some crazy old hill billy scraps cars in his front yard and had this sitting there for a month or so. Originally I was going to buy just the motor $250 but by the time I left I ended up with the M50, a G250 with all linkage, clutch and flywheel, wiring harness and drive shaft for $300. Not a bad start.
Here it is all crammed into my wagon.
It's missing a few parts like an alternator, MAF, and water pump but just about everything else is there down to the headers and y-pipe off them as well as beauty covers and cruise control. Looks fairly clean and doesn't seem to show any unusual signs of wear although when I got it on an engine stand some oil started coming out of the dip stick hole and def had some water in it. A little concerned with that but the crank spins very well still so I'm hoping it's just some condensation from sitting. The clutch will need replaced and I'm unsure if these are dual mass flywheels and if they can be resurfaced? Can anyone clarify?
I don't plan to use the transmission but he basically threw it at me at no cost so I figured why not? Seems in decent shape and will be for sale.
The swap will be done on the weekends at my best friends shop he just opened. On the positive it's a full service shop with two lifts and a full alignment rack as well as damn near any tool I could ever hope to use. I've got my own little shed out back where the engine is on a stand and my ever growing pile of parts will stay till I need to pull them out. He also has a NAPA parts store literally 40 feet away and some programs on his computer with every wiring diagram, torque spec and how to for any repair for any car, I'm sure that will come in handy next to my Bentley manual. The downside is it's a little under an hour away in my home town Oh well. I also have access to Jegs as their home store is about a 3 miles from me.
Here's where I'll be working.
Pile of stuff from tonight.
Quick list of things I'll be ordering:
-E34 oil pan, pick up and dip stick. Found one on ebay and happened to be local, scored it for $140
-C101 adapter from nando on here.
-water pump
-alternator
-MAF
-belt
-motor mounts
-plugs and the usual maintenance
-Spal pusher fan
-DME
and I'm forgetting or missing ALOT more, it's late and I'm tired.
I know this swap has been done time and time again and I'm sure you're all bored of seeing these so this is mainly for my own personal record. First major update will likely be this weekend when I get back up there and start tearing apart the engine to see what I'm working with and what all I need to order. Until next time.
Cheers,
Nick