I've shamefully been M.I.A. ever since the R3v facebook page took off and consequentially forgot to document a lot of the early stages...
That said, I hope to update this thread continuously and re-pledge my allegiance to the one, the only, r3vlimited.com if you will kindly have me back

This is going to be a pretty extensive picture dump of what I've done in the last couple of years. Hopefully you like what you see.
Comments and criticisms are welcome.
As well as recommendations. I am horribly indecisive.
Background:
The car is a 1986 325es
-5 speed
-Alpine White
-Black Interior
-Salvaged Twice :dot:
When I picked it up
Not a bad for living such a hard life in the hands of a college chick lol
From what I gather the car was hit pretty hard on the passenger side. The car had rear subframe damage which caused it to pull hard to one side. The accident damage along with the shot rear bushings meant that my car would go through a set of rear tires every month...
I ended up replacing it with a good subframe from an ex-track car that had some goodies
Stainless steel rear brake lines
Stud conversion
Ireland Engineering polyurethane bushings all around
I'll have to do some digging on my old computer to find pictures I took during the swap. The passenger side trailing arm tabs were bent pretty badly and the subframe itself was twisted.
[*Insert pics here]
At some point I swapped in ellipsoids and installed my roof rack and drove it around like that for a while.
Adventures
My friend took this pic at school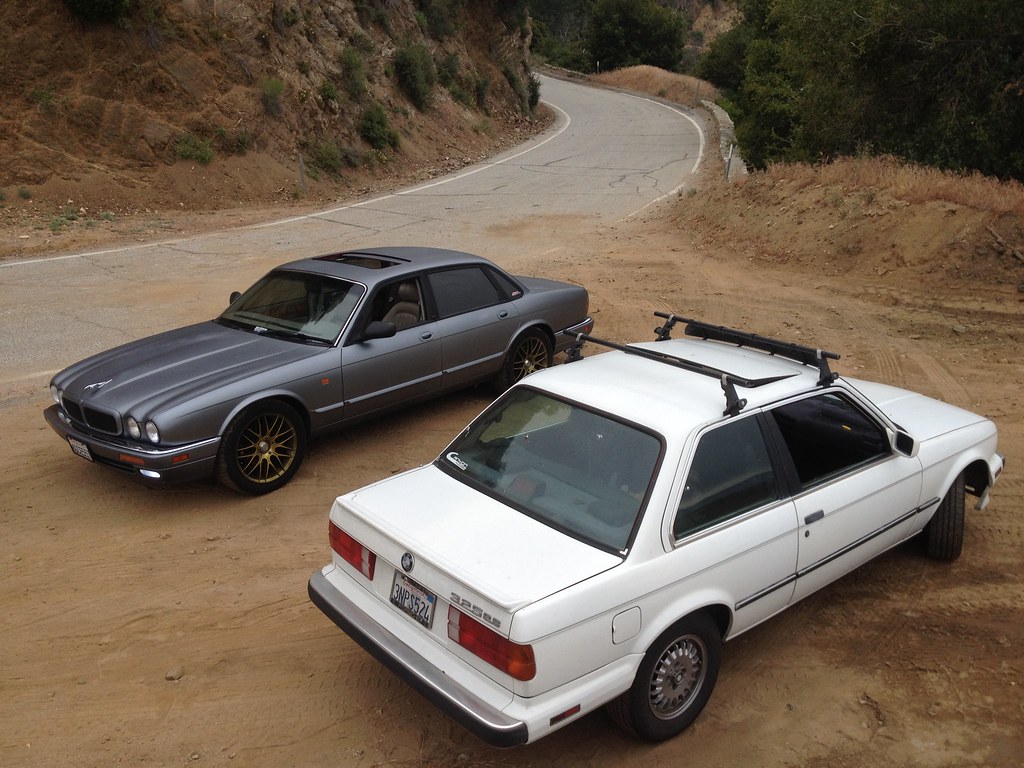 I also picked up some TSW Hockenheim R's but they went on a small haitus to a friend of mine when I was strapped for cash
Static ride height

After one summer of driving to Long Beach and Orange County for work, the car started showing signs of weakness in the cooling system. The registration was also due in November and being a broke college student, I decided to park it while I waited to find another job. In the mean time I drove my brother's Camry since he ended up going out of state for school.
He eventually came back for Christmas break so my buddy let me borrow his spare e30
The 8 weeks I spent with the unassuming '88 were heavenly
IE3 springs, Falken Azenis, e36 rack, Hawk pads, 3.73 LSD
This car was so much fun. When I finally dropped it back off to him I decide to bring my car out of hibernation (it was stashed away at his house)
Parked next to his euro Zender 320i
*Just before I parked it my good friend Jose (jp_slick) gifted me the front bumper from an 88 parts car. It had the smoked turn signals and plate delete already installed and really cleaned up the front end.
I immediately got it down to my friend's smog shop since the tags were now very passed due (April 3rd)
That same month I got Hired as a driver at Oreilly Right down the street from my house
Now that I was making decent cash with the awesome hours I was getting, I started
gearing up
to do a B25 swap
Literally :rofl:
My buddy Moe needed longer gears for his turbo M30 beast and I needed shorter gears after experiencing the 3.73 in the white '88 .
Ended up trading my 2.93 LSD straight across for his 3.73LSD
Pressure washing
Lifts make life so much easier
Moe hooked it up with a dope shift knob
I seriously considered leaving the car as it was. A Dinan chip and 3.73 completely transform a normal eta. I highly recommend it
Will resume tomorrow in the next post, this took a lot longer than I thought it would haha