Update 02/15/2021
Wiring harness is officially done, so I posted some photos shared by the shop. Next phase is buttoning up the rest of the engine bay (Booster, ITBs, and base map on the ECU).
Update 07/13/2020
Posted some updates with progress from Highline Motorsports, who has helped a ton with wiring and fabrication, and all of the custom bits that have to be made to the car. Lots of unexpected fitment issues.
Update 04/30/20
Car was dropped off at Highline Motorsports in Burnt Hills, NY (Saratoga Springs) for a new wiring harness, ECU, and tune. It's happening!
Update 09/01/19
The engine runs!
Update 05/22/19
Another decent size update! Engine is ready to be dropped in!
Update 05/05/19
Oh man, it's been a while, but lots of work has happened. More details on the third page, but, this is pretty much a difference car than when I last posted.
Sneak peak: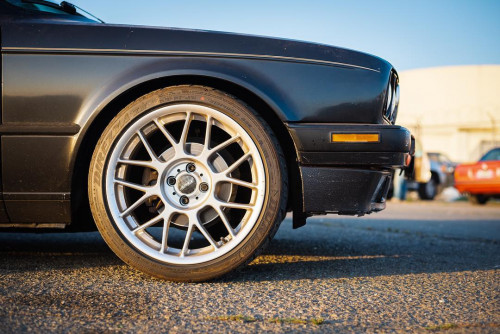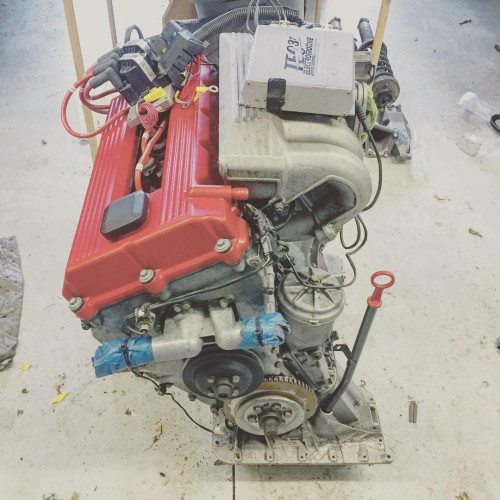 Back Story
I purchased my first E30, a 1986 325E while living in Las Vegas. The car was a mess, and had more problems than you could imagine. Less than a year after purchasing the car, I blew the engine, and attempted to do an M62 swap, which failed miserably due to not having funds, and then moving to the bay area, so I sold it. And the 3 engines I had for $1,800 total. I had no E30, and I was heartbroken.
This Car


I moved to the bay area just a few months ago, found a place to live, and realized, East Bay still requires a car, and it was all of the excuse I needed to find another E30.
'lo and Behold, I found one. a 1991 Diamantshwarz 318is Slicktop on Craigslist with overheating issues. I figured, "He probably didn't bleed it right. I'll show up, buy it, bleed it, and be on my way."
So I show up, and I forget everything I would normally do when buying a car, because I want another E30 so badly, and this was a slicktop. So I buy it for $2,000. Complete with all the dents, faded paint, and overheating issues.
Long story short, I need to have it towed, when I expected to be able to drive it, so I pay $250 on top of the $2,000 to tow it home.
Jackpot
The car currently sits on Ground Control Coilovers with Koni Shocks.
It has already been swapped to an E36 Steering Rack
And it has a Borla Pro XS Exhaust, which looks pretty new.
The M42 has also been chipped, but I have not looked into which chip, yet.
Headache
PO used the wrong coolant.
The coolant leak is really bad. It just drips from everywhere.
The Radiator is bad.
Nearly all hoses are cracked.
Water Pump Belt was not tightened.
Oil is leaking like a waterfall from the Oil Filter Housing Gasket.
Oil is leaking from the Timing Cover.
There is 1/4" of oil encrusted over the entire block, subframe, etc. It's really bad.
The car was very obviously neglected by a PO, even though the mods that were done were done very well. It appears they just got overrun by problems and began ignoring them, letting them compound.
$450 in maintenance parts in route!
The Exterior


It could definitely be worse. The paint is faded. There's a dent on the front of the drivers fender, and the passenger rear quarter had a large dent, as well the the door, which looks like it had been opened into a pole, or gas pump barrier.
The both bumpers are cracked, and the rear valence is bent.
The Interior


Nothing special to note. The interior has been taken care of very well. Premium sound, thought there's no radio, so I'm unsure of the current status of the speakers. Tan Sport Seats, and the drivers seat doesn't lift, and the bolsters are worn, but the rest is near flawless.
The Plan
I hope to fully restore the 318is and make it my daily, keep it clean, and unmolested, and have it around as long as possible. I plan on keeping an M42 in the car, though I'm not sure if the one that's in it is necessarily going to be the best candidate for my goals.
Ultimately, fix body damage, new paint, new engine, and reupholstered interior.
The car itself is in pretty "decent" shape for $2,000 with the other work that's been done to it.
No plans to turbo or modify the engine too much.