Hey guys! I thought it might be a good idea to post my final year Industrial Design project online for both my own benefit and to share it with those of you who might be interested. I hope you enjoy watching the progress and even though I'm already well into the project, It would be great to get some feedback from those of you who ride or are even just interested in bikes!
(this will be a long post, so if you're just after pictures scroll down! :up: )
Also please keep in mind it will probably take me a couple days to post my progress up to where I am now haha
First a bit about myself,
My name is James Roberton, I'm 22 and I'm a fourth year Industrial Design student at Monash University in Victoria, Australia.
I've been into cars and bikes all my life and gone through phases of liking each more than the other. I drive a 1985 BMW e30 323i. I dont need to tell you how much i love it and how awesome it is bla bla bla...
here is a pic :p
I've also always had a fascination with motorcycles however only recently started riding on the road. I've had a couple of yamaha dirt bikes, a Suzuki DR200, Suzuki bandit 250, and still have a Suzuki RMX250 (Which will be for sale soon!)
Here is the bandit as it was when I sold it:
So I've always been into classic cars and bikes, automotive styling, modifying/restoring and starting projects of all sorts. I was a keen designer at school and It made sense I would end up in Industrial design, specialising in transportation design. I love the course, It's challenging and very time consuming but the results of hard work are extremely satisfying.
I hope to become either a creative designer or Clay modeller/fabricator in the automotive industry. Though I'm leaning towards clay modelling since I love the hands on approach to design in three dimensions.
Here's an example of a speed form I modelled in clay last semester: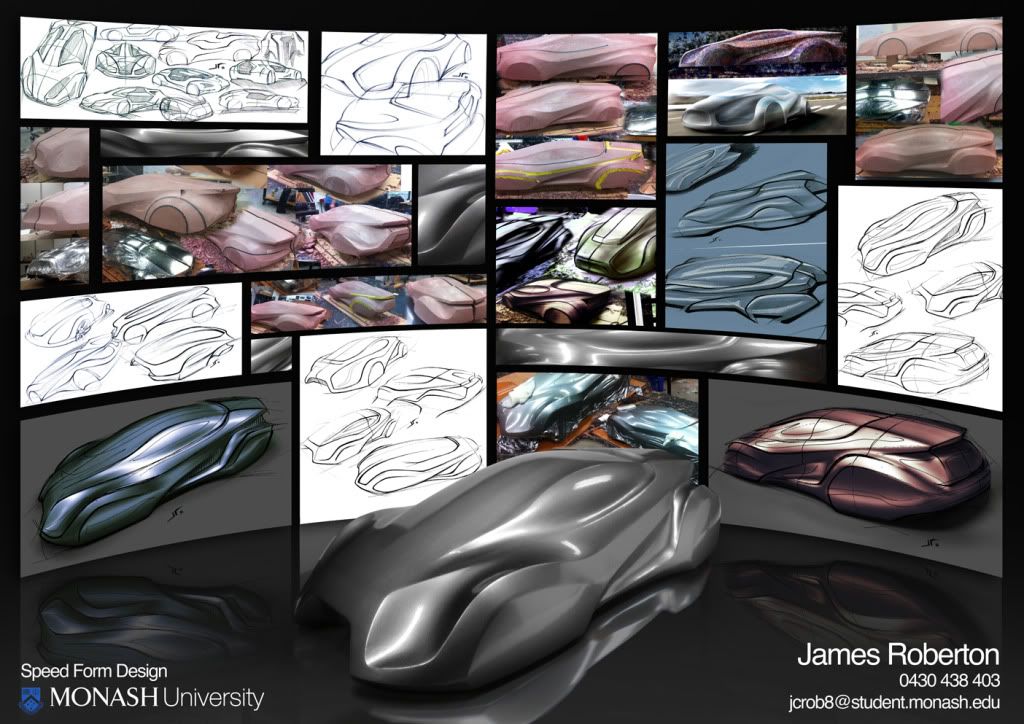 As I said it will take me a while to post my progress so far so bear with me!
Cheers!!
James
So now about the project! Our final year of Industrial Design is run as an Honours year, whereby we have to develop our own brief for a project the runs the full length of the year. There are about 6 of us doing transport design projects. Of those, I am the only one doing a motorcycle, and also the only person planning to do a full size 1:1 scale transport model.
I should point out this is an individual project and is not run in groups or pairs as in some other universities.
We must present our work at the end of the year including our final model and our Critical Justification, as well as a lot of deliverables along the way.
The CJ includes basically all of our research and development, as well as our task clarification, product design specification, manufacturing process, material, colour and trim, basically everything from the initial brief through the design process to manufacture.
Ill save all the boring research from you and give you the cliffs:
I was unhappy with the range of lightweight, aesthetically appealing, affordable motorcycles available on the market to learner riders. A lot of fully faired LAMS bikes are disguised to look a lot bigger than they really are, and most smaller naked bikes have almost no input to design at all. There is nothing on the market today that utilises the fact it has a smaller capacity engine to create a lightweight bike with a truly user centred rider experience, without being disguised as anything else.
I wanted to design a bike that reflected the ideals of 1950's Rocker culture and represented freedom, simplicity, and independence, as well as being exciting and a little bit bad ass :P
Thus the project is named ROCK ON!
A modern day cafe racer if you please:D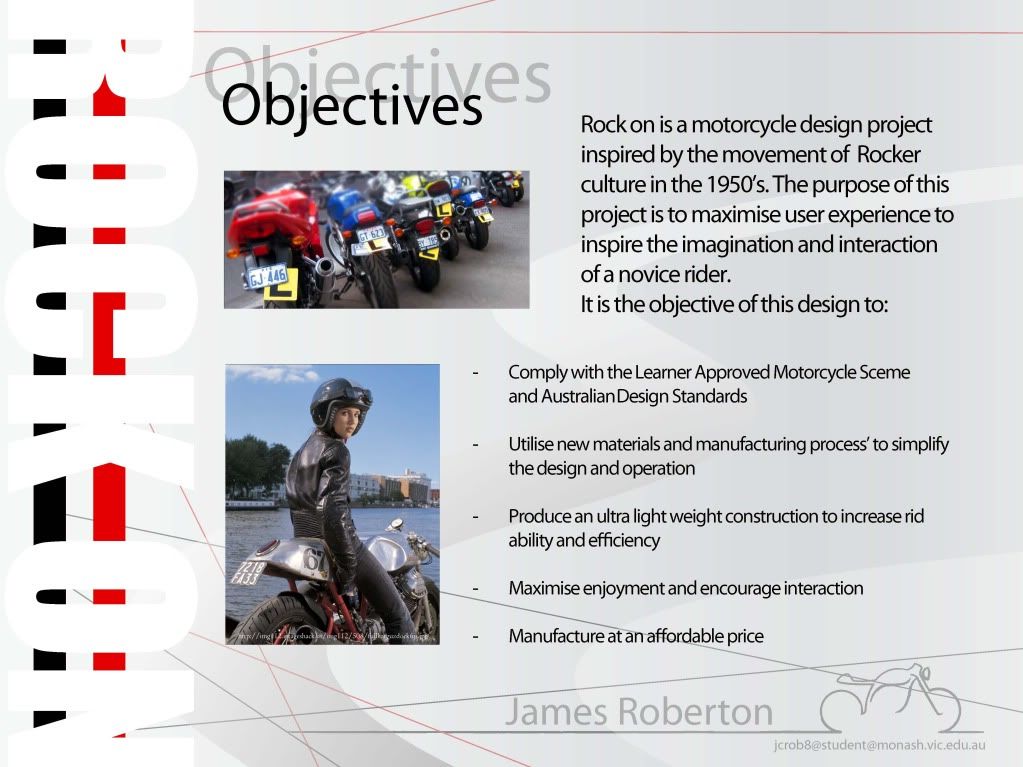 At no time in any of the following posts is the design finished unless otherwise stated.
So from here, after copious amounts of market research and benchmarking we had to come up with three concepts, and here they are:
1: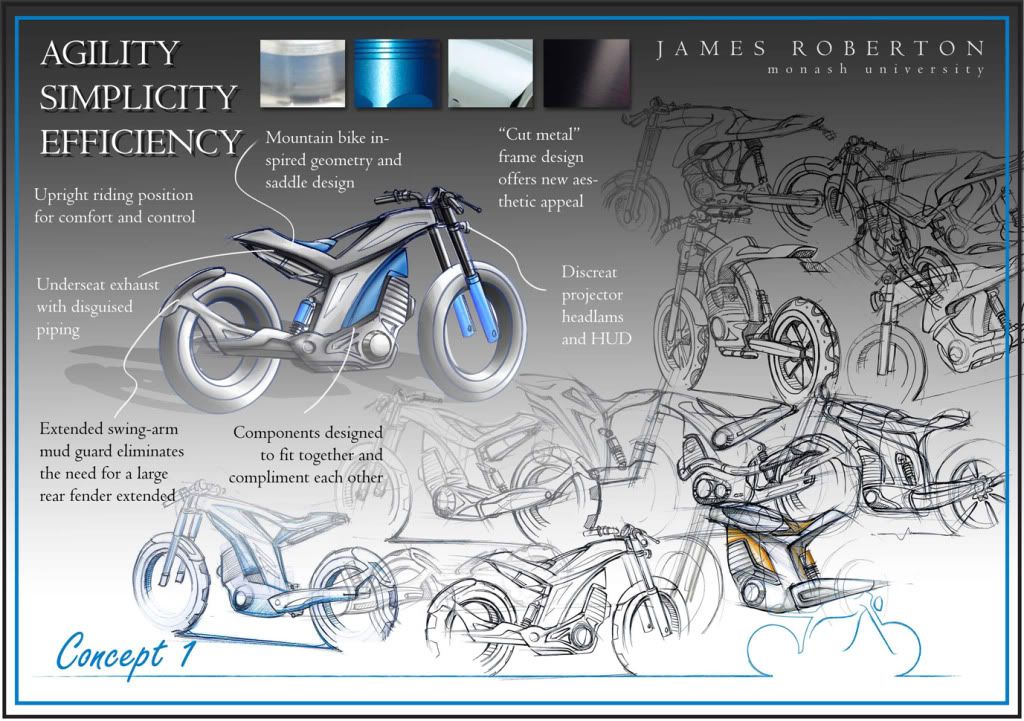 2:
3: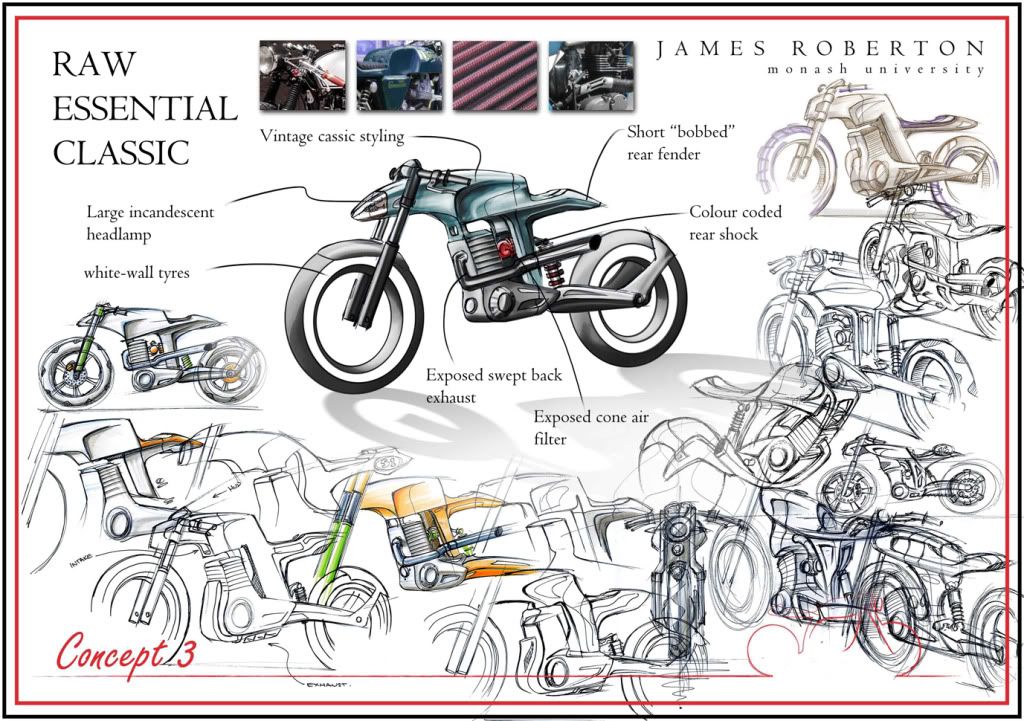 To be totally honest I wasn't happy with any of these designs, it was more the themes of each concept I was focusing on. The Direction I decided to pursue involved a combination themes from each concept. Though if I had to be more specific it would be Concept 3 i was mostly focused on.
So on went the sketching.. and I mean
a lot
of sketching. I literally have 100's of pages haha
Here is a sample of some of the more important sketches for my direction:
As you can see from these sketches, I'm running with this theme of having a low slung hood that covers the top of the forks, and has the handle bars wrap out from underneath. I wanted to visually lengthen the bike since the wheel base is shortened and the seat hight is relatively high. This is keeping in tune with classic cafe racer linear styling.
However a lot of these sketches were relating too much to a retro graphic, and I wanted to take the project in a more contemporary direction. Keeping the ideals of the cafe racer without literally interpreting the design aesthetic.
From Here I made a full sized mock up model from cardboard just to get proportions and dimensions correct. I then took the model back into CAD and started modelling the new design.
More to come tomorrow!