Hey guys,
I think the time has finally come for me to sell my beloved E30. Some of you may know the car from around the shows, or have seen it in person. But I assure you this is one of the cleanest examples of an early E30 you will find. My vision when building/restoring the car, was something OEM+...not too crazy, but subtle and clean. I think I did just that. I'm just kind of feeling things out right now, I don't have to sell it, but the extra cash and garage space would definitely be a plus. I just don't drive it enough to justify keeping the car much longer. Who knows maybe I'll have a change of heart. Anywho...the build thread is below with all of the pertinent details on the swap, mechanical condition of the car, etc. I can say one of the biggest selling points of this E30 is that everything has been done right, it's done clean, and the car is extremely reliable. I'd drive it from Georgia to California today without hesitation. He's getting around 27mpg hwy, and 22-23mpg city for you eco-friendly minded folks.
Build Thread:
http://www.r3vlimited.com/board/showthread.php?t=260847
Some of my favorite pics from the build thread
Cool shot during paint and body work of the M50 peaking over the fender
After final clear coating, before wet sand, cut, buff, polishing
Another...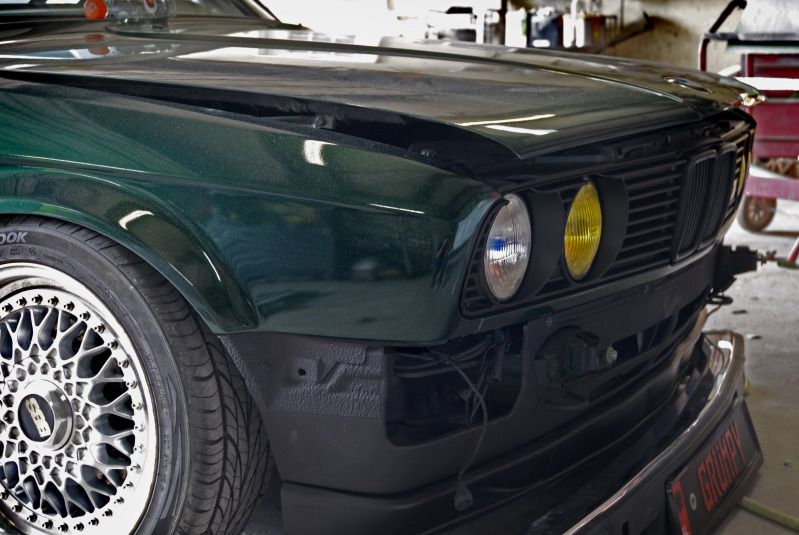 Really shows off the quality of body and paint work, very smooth
Bay shots, I've since re-located the battery to the trunk using factory hardware from a later model donor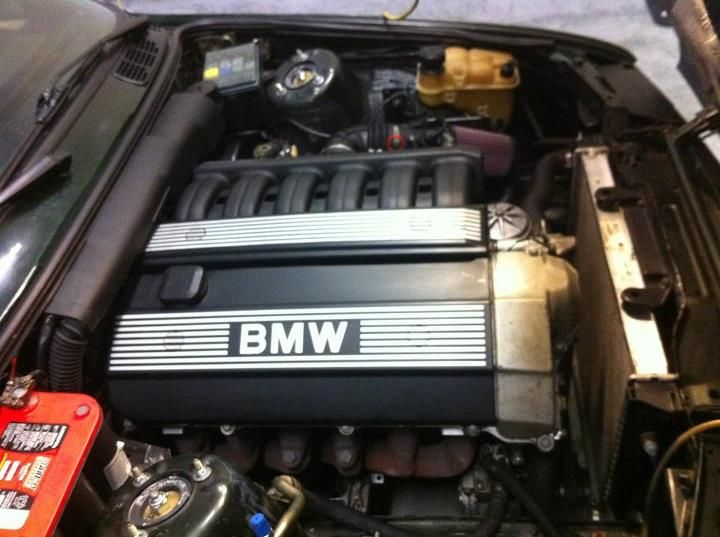 After battery re-location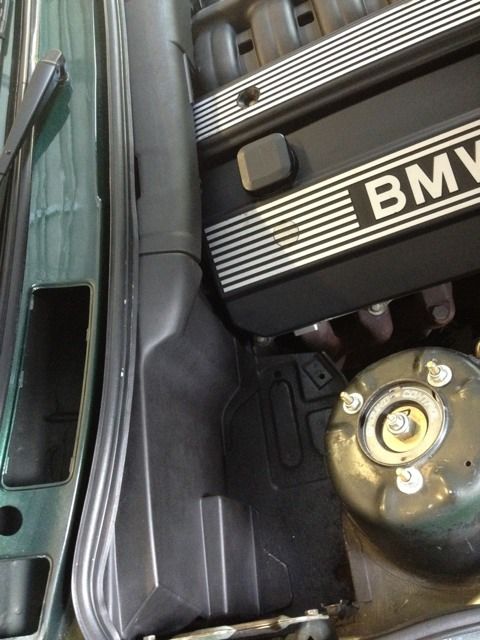 Interior shot (sport wheel is gone, currently running a beautiful slant spoke Nardi...I'll post pics)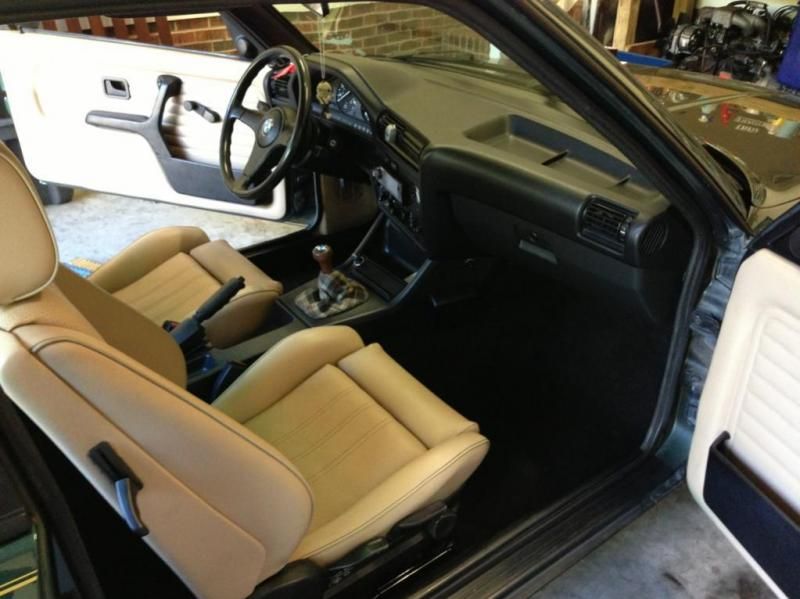 Couple Exterior shots with the LMreps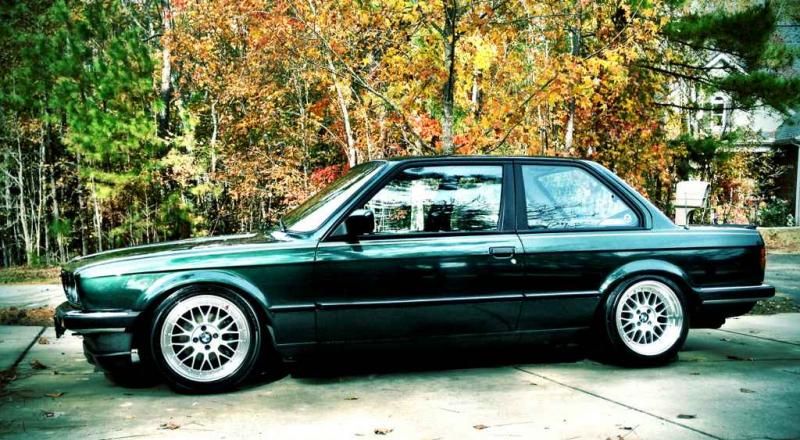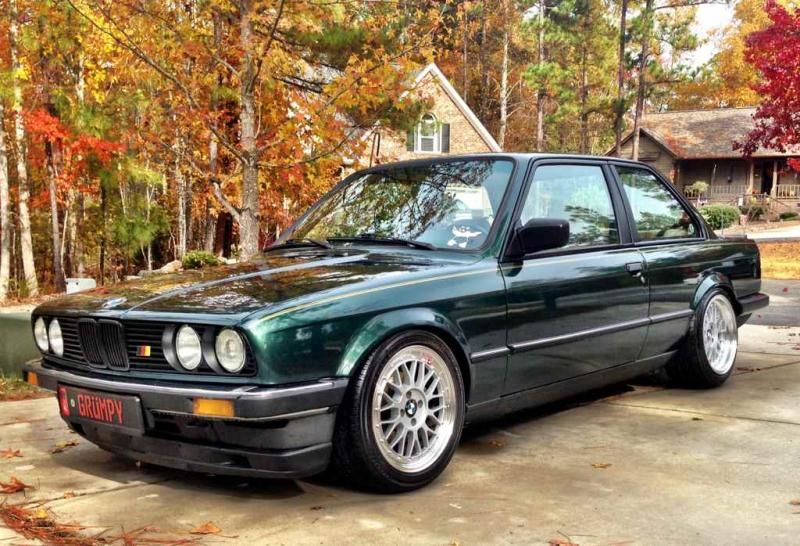 I have A TON of photos from the build, including a giant photo album up on photobucket I can shoot to anyone who's interested. Also, there's a ton more pics in the build thread below...just figured I'd throw some up in here for the lazy :P
Drivetrain:
M50TUB w/ zf450 transmission swapped (purchased from bav auto w/ 80k miles)
New clutch
New shift linkage
Exhaust was a modified m50 manifold to stock muffler and cat. It's very quiet, but has a fantastic purr when you get into it
Suspension:
Rear disc swap
Full Ground Control c/o's w/ street camber plates 550-rate all around
Hawk FPS pads
FCP Groton poly bushings throughout
FCP Groton control arms
Brembo slotted rotors up front
Brembo blanks in the rear
LM reps (I can't remember the damned dimensions, currently at work, I'll update as soon as I get home, they're 16's, staggered with Kumho Ecsta's)
Interior:
-AC blows ice cold
-Essentially new interior, no cracks, no scuffs, dyed black carpet, two tone door cards, headliner is a bit shabby around the door lights but other than that it's fine
-Crack free dash
-European clock
-Crank windows and sunroof
-Nardi wheel (I don't believe it's pictured in the build thread)
-Early 2002 wood shift knob
-Plaid package tray and shift boot
-Pioneer deck (fits and flows very well with the car, I selected this one specifically as it doesn't look out of place and can be color matched to the orange interior lights)
Exterior:
Full European bumpers with all the fixins'
US ellipsoid lights
1.5 year old paint, in Achatgrun Mettalic, the body work and paint work on this car is stellar
The bad:
As far as negatives on the car...there's really nothing huge I can think of...the headliner could use freshened up, the power antennae doesn't work, nor do the back up lights...and sometimes the interior door lights are a bit funky could be a switch, could be a loose wire. Other than these things, he's rock solid.
No title. This isn't bad, just extra steps, so I'll throw it in here. There's nothing wrong with the car, it's never been wrecked (clean carfax as well), nor does it decrease the value of the car in any way. It just so happens that this car has spent all of it's life in GA. In the state of GA it is not required to have a title to register car (especially one that is 30 years old), only a bill of sale. So essentially what happened was, the car went a period without being registered, title was lost, the DMV dropped the title, and now it is listed as a "NON-TITLE" vehicle. Is it possible to attain another title for this vehicle in states that DO require one for registration? Absolutely. Through some quick googling you can research the various options yourself. A quick summary however (for the lazy) of the standard procedure -
1. Provide official policy statement from respective state regarding titling laws (in this instance, I would be providing one from GA) - This is to notify the receiving state's DMV of the origin state's policies.
2. Notarized Bill of Sale
3. Previous owner's signed registration/registration receipt
4. New insurance binder in the purchaser's name
After handing these 4 things over, you'll be granted registration and issued a new title within your state. I did attempt to attain a title for the car here in GA, however they will not do it as they look at it as a waste (i.e. - here's an official bill of sale, we're not going to waste the time making all new title paperwork for this if you're just going to sell it into another state...let the buyer do it)
I'm sure there's a ton of stuff I'm forgetting, but the build thread should help answer any questions. I don't even know what kind of value to put on the car, but I've got a little under $15,000 into it. I'm not crazy, I know I wont get that back, but hey I think it's a 5 figure e30. I might be interested in trades, depends on what you've got...nice jeeps modestly modified, late 70's/80's 911's, clean automatic e21's...modestly modified, clean mk1 and mk2 VWs, looking for a fun toy or another good DD that my wife could use. So throw some trades or offers my way and lets see what happens. I'm located in Augusta, GA. Feel free to text me at two zero eight, two five 0, 7 three three four. Thanks for looking gents.