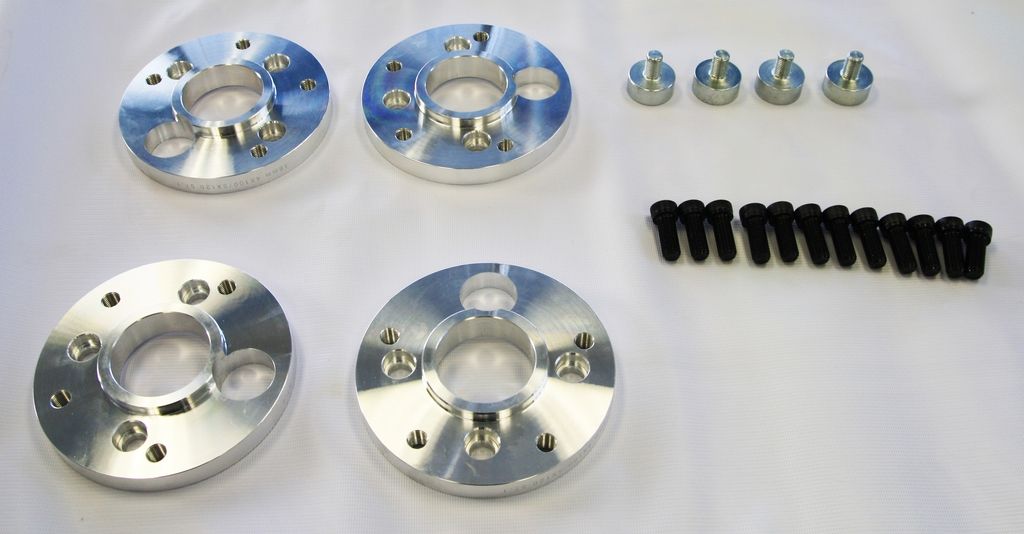 Race Skids is happy to be able to supply a custom 4x100 to 5x120 adapter
In stock in Vancouver WA ready to ship. $245 paypal is
order@raceskids.com
16mm is the only size I am making. Please don't ask for custom one off size. This is a production part and to keep the price down it must stay that way.
2 PAIRS - so you can do all 4 wheels !
4x100 to 5x120
16mm spacer/adapter
Made of 6061 T6 Aircraft Grade Aluminum!! and hardened steel.
Designed to fit vehicles :
BMW 3 series E30 with 4x100 PCD - and M12x1.5 bolts
Designed to allow you to fit wheels that have come from :
BMW (such as E36 / E46) and many other BMW wheels with 5x120 PCD - 72.5 centre bore and M12x1.5 bolts
Now included is a stud kit!!
How they work :
This adaptor system is a 2 piece made adaptor that uses a heat treated steel offset plug that makes these PCD conversions possible.
These adaptors work by threading in the offset plug (as seen in pics 3 and 4) tight and then rotating the plug back slightly until where the outer PCD is lined up
Bolt the adapter to the vehicle hub with the 3 supplied bolts, and then mounting the wheel to the adapter.
The adaptors include the two special steel inserts plus 6 allen key headed bolts to bolt the adaptors to the wheels
Please note that the car side can only be made to take an M12x1.5 bolt, and the outer side is normally made to take a M12x1.5 bolt also (not supplied)
PLEASE NOTE THAT THESE ADAPTORS MUST BE FITTED USING HAND TOOLS
THEY MUST NOT BE USED WITH ANY AIR TOOLS / ELECTRONICS TOOLS
If you are using wheels from vehicles like some of the newer BMW / Land Rover then these would have used M14x1.5 bolts so you will have to source some M12x1.5 bolts to fit your wheels.