It started with this:
The transporter dropped it off one dark early evening about eight days later.
1995 540iA Dinan 5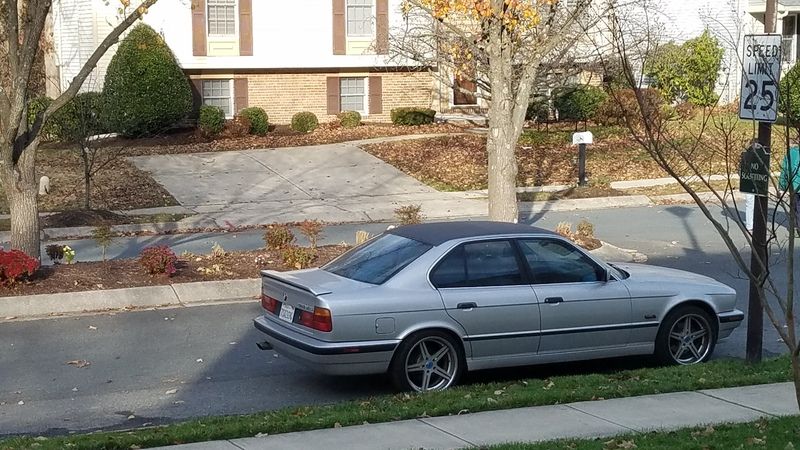 The package on this one includes: supercharger with tune, transmission reprogramming, full Dinan exhaust, Racing Dynamics trunk spoiler. Appears there is a Dinan suspension, too.
Now, it runs and it can run pretty well. The BIG problem now is huge crankcase pressure. Investigating the engine bay, it appears the PCV was removed. A catch can is now installed. Put it under heavy boost and oil shoots out of the oil cap, seeps through the valve cover gaskets. It makes a mess! It runs like a raped ape!
The catch can also consumes the washer bottle's real estate; so I have no washer fluid.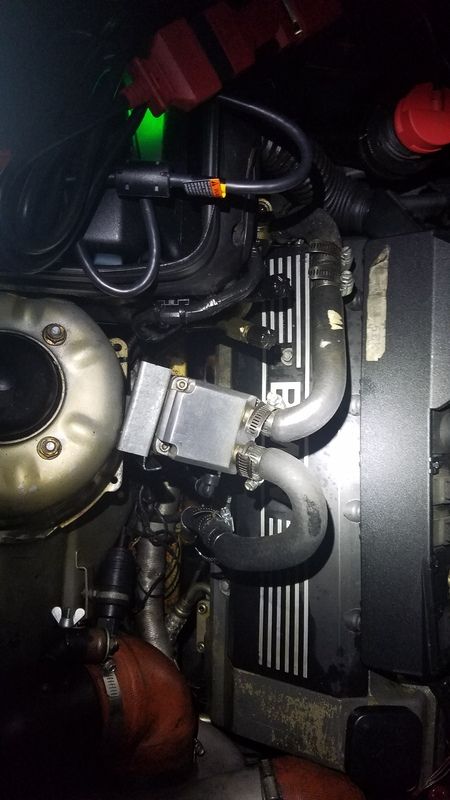 The car is mounted with HIDs. Seems nice enough but the driver's side ballast is suspended using purple string, like say out of a waistband.
A check engine light occasionally (seems to be on decel) pops on. I pulled them after a full day of driving: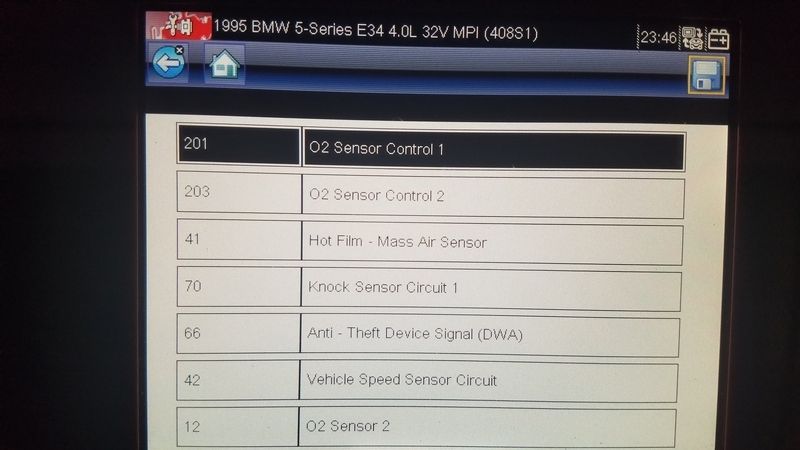 I cleared the codes. Got a CEL today will milling about town, doing errands, keeping it under 3k. I need to pull them again.
I have been exchanging e-mails with Dinan for a few reasons. It is confirmed the Dinan 5 kit of this time is to work with the factory set-up and they do not do catch cans. I need to restore the M60's PCV system back to stock. I hope this will heal the excessive pressure.
It is a super nice car really. Some rust bubble about sunroof. All things are in great shape. One owner car for about 20 years. Passed away. Goes to storage. Auction. Private sale, staying a CA car all the while. Guy I bought it from ran it for about one year. Last few years it has nearly 10k in receipts (rebuilt supercharger, rebuilt trans and more).
So, restore the PCV to stock and remove catch can as Dinan intended their set-up to be run with. Is that the route you would take?
- Fix pressure issue
- Interior dome/map lights inop (fuse under rear bench)
- Restore factory stereo (aftermarket amp put in, removed, just wires in the trunk ATM)
- Get rid of wheels (I like the look but I prefer stock'ish)
Drive it!
Things to Do (12/15/16):
- Clean oil catch can
- Assess PCV system
- Treat accordingly (either restore to stock PCV or try seafoam to fix current system)
- Interior overhead lights worked once for me and now do not (checked fuse under rear seat, no problem)
- Replace HVAC light that is out (
http://www.kcbmwclub.com/forum/viewtopic.php?f=3&t=1998
)