This is my 2nd e30. Coincidentally being only 62 spots in production apart from my previous e30 (shown by serial# part of vin)
Over the last few months I've changed a many things on the car. I owe a BIG thanks to
Spaz
(
http://r3vlimited.com/board/showthread.php?t=160490
) for all of his help and time.
Specs when I picked it up:
Purchased August of '09
1989 325i
202,000 KM's
Lachssilber Metallic
5 speed manual
Heated grey cloth comfort interior
Premium audio (light grey speaker shelf w/ light grey speaker covers)
Grey door & rear cards
OE mudflaps front & rear
Manual crank sunroof
6 days after buying it, the water pump totally seized while driving home from Washington state. What a great way to get things started..
This is the earliest picture I took of the car. Suspension, lights, trim already installed: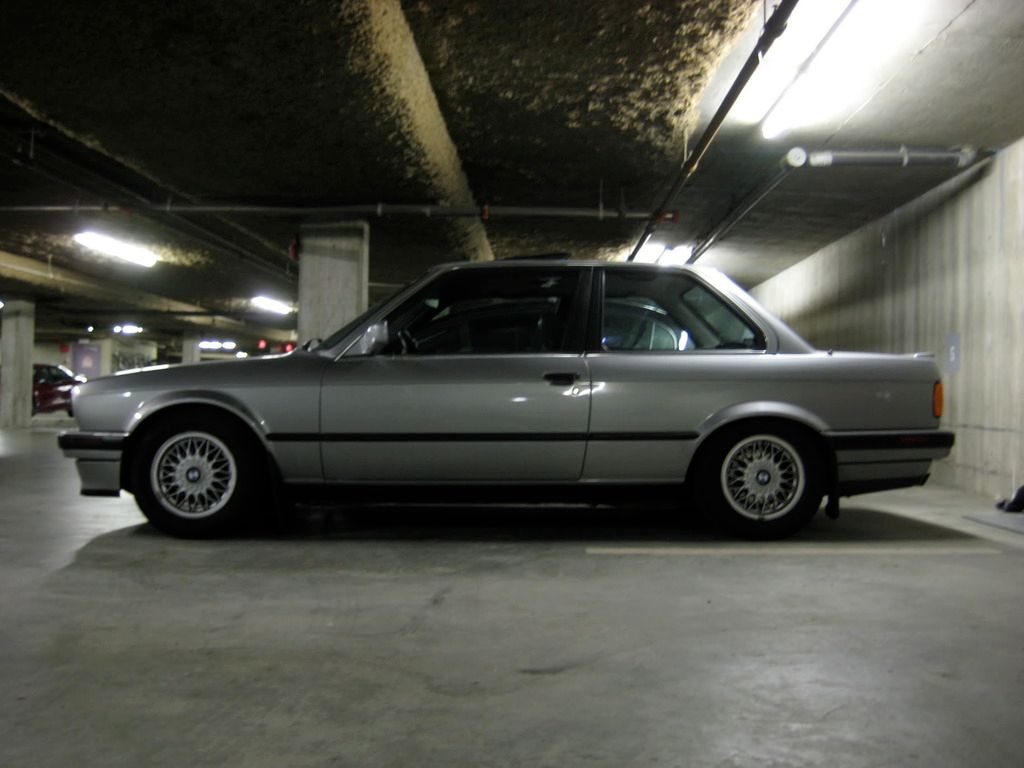 Here is the car now:
What has been changed:
H&R Race Springs
Bilstein Sport struts
15mm lowering hats (richardkeith97)
BBS RS003 16x8.5, flat circle centre caps
Euro trim
iS front lip
Removed front mud flaps
Yellow Lamin-x on highbeam & fog lenses
Guten Smoked Tails (ZM Blue Devil)
Smoked Hellas (BrewCity11)
35W 4700 HIDs (BrewCity11)
Euro clock
Alpine 9847 unit
Alpine KCA-i420 iPod unit
2nd trunk light
e36 antenna
Heated black leather sport interior
Black door & rear cards
Dark grey speaker shelf w/ black speaker covers
ZHP shift knob
Alcantara shifter/e-brake boots (Matt-B)
Here is what I have lined up:
3.73 LSD
S52 OBD1 converted
TRM OBD1 chip
UUC stage2 flywheel/clutch kit
eBay SS replica headers
THR eyeballs