Never got around to posting a thread here, not sure why! This car was started by a friend of mine who makes his living from bmw's and bmw parts, so needless to say he didn't hold back. I've simply refined it since picking it up and I have no plans to steer too far from the path he started.
Was imported in the mid 2000's by a family directly from Germany and spent a few years with them before changing hands in Victoria, BC where it eventually wound up in my buddies ever changing fleet of bimmers. He kept it modest for a few years before finally diving in head first and this is the result. Shell just rolled 120k original km's.
Drivetrain
s52 w/ rebuilt head
OBD1 swap
dr.vanos stage 1
TRM chip
3.25lsd
racing dynamics/magnaflow exhaust
Suspension/steering
ground control coils 500f/650r I believe are my rates, I forget those types of things
accumulating all the parts to do a complete suspension rebuild of all bushings, control arms and new sway's f/r
Azev C's 17x8.5 with bfgoodrich gforce sports 215/40/17
Interior
re-upholstered in a grey micro-suede
black headliner
matt-b boot combo
alacantara sparco wheel with nrg q/r hub (probably swapping for period correct soon)
Stereo
Alpine IDA-x305 headunit
Alpine MRP-f300 4 channel amp
Orion 5.25 components up front
Hertz ES250 10" sub in a Luke box, and I'm 100% certain the box makes all the difference. I swapped in an el-cheapo ported pos box to compare and it's night and day different.
Onto piktars! Humble yourselves to my wondrous ability to wield a point n shoot very, very poorly.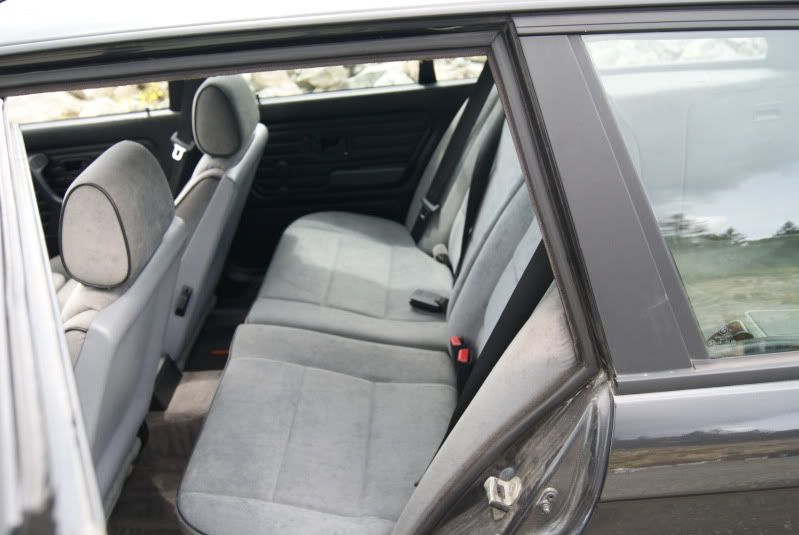 Trying to look cool next to his older cousin, doing a poor job at it
Probalby one of the coolest things about the car, original break-in instructions sticker still on the windscreen, I fear for the day I get a crack and have to remove this.