Hi there,
I've been lurking on this and other E30 forums for a couple years. Last year I finally did it and bought this:
Unfortunately it is the only picture I have when I first bought it.
An originally brozit 1988 Cabriolet with a tad over 200 thousand miles on it. 5 speed, 3.73 LSD.
I received no vehicle history, but my instincts told me that it had been well maintained until about 2 years before I bought it: It had a fairly new roof, air filter & fuel filter had manufacture dates of recent vintage.
It had been thieved or vandalized at some point as the driver's side (left side) window had been replaced and there was still some broken glass inside, and the glove box had been broken into.
Right away I replaced all the interior door handles, rear center console, glove box (original latch was broken, but I mated the OEM handle & lock to an aftermarket latch and it works great), knee bolster, and a Bentley Manual (It didn't say what is was when I ordered it, but Pelican sent a hard cover!).
It came with a mis-matched set of wheels: two Konig Theory, one bottlecap and one basketweave (anyone want to buy?). A friend gave me the set of wheels that are on it now (he owns the red vert with the Beyern Mesh 17s: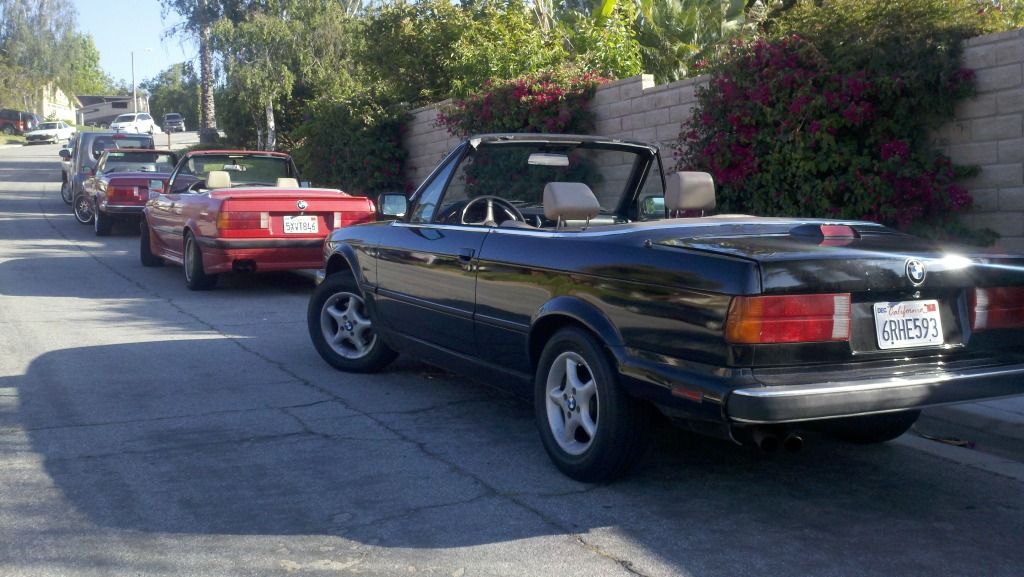 Next I replaced air filter, fuel filter, all fuel lines, timing belt, plugs, wires, cap, rotor, drive belts, thermostat, adjusted valves, coolant temp sensor, crank position sensor, fuel pressure regulator, replaced leaking radiator, most of the radiator hoses, new front rotors, front brake pads, control arms, M3 offset CSBs, front sway bar end links, brake lining sensors, rubber around fuel fill pipe, engine bay weatherstrip, catalytic converter, muffler hanging donuts, and a bunch of other stuf I am forgetting at the moment (is there anything else really possible besides a 24v swap?)
Then I came across an early ES spoiler and fogs (had no fogs when purchased), that I rattlecaned with 3 coats of Rustoleum Gloss Black and 4 coats of clear, which cracked badly the first time I scraped it in a driveway (the clear, not the spoiler):
One fog points inward more than the other. Haven't adjusted yet...
Oh, and replaced the cracked rear bumper with a good used one...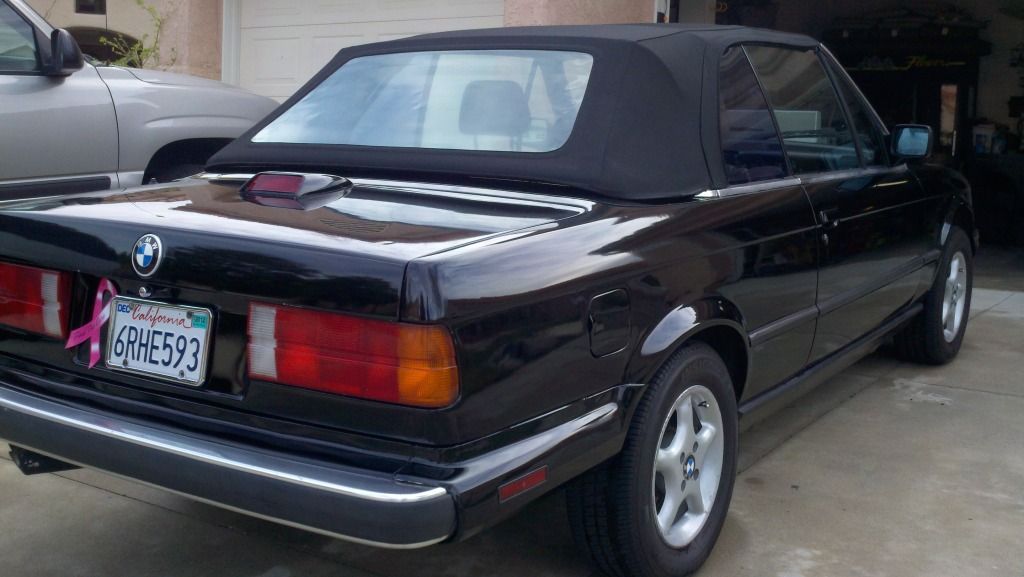 Next up is revamping the audio system. It has stock premium sound (I think all verts do), but the head unit is an old worn out Sony cassette unit.
I ordered a new Pioneer DEH8400 and a vert luke box today, and will cobble together the rest of the bits and bobs to rock that setup.
Short term plans after that are pretty simple (hey, I'm a simple guy): new suspension, probably H&R vert specific springs & Bilstein Sports, new rims, fix oil leaks, fix a noisy rear end, address a slight hesitation on acceleration, repair the air conditioning that blows 40 degrees at the vent when it is below 65 degress ambient air temperature, but does no cooling when over 65, and all the other bothersome bits that I come across.
Long term, dreamy eyed, fantasy plans: 5 lug swap, cardinal red interior, coil-over suspension, wings, jet packs, landing lights.
-MM