This story's been a long time comin....
With so many other older BMW models to experience, I told myself I'd never buy another e30. Not that I dont enjoy them, because I do, but because after owning one for 9 years and dealing with all its problems I've grown numb and annoyed. And life's too short to only drive an e30. Had you approached me back in my e36 days I probably would have told you that the e36 is my favorite platform. But now having experienced e30s, e24s, e46s, etc etc, I would never say the e36 is my favorite. I would instead probably say the e30 is my favorite, but that's perhaps because I've never had an e28, e34, e9, e39, etc in my garage. My point is that you need to diversify your ownership experiences to have a true grasp of automobile qualities. Keeping this in mind, there's always been this one e30 in particular that would make me "fall off the wagon" and repeat my e30 habit... this bucket.....
Crazy, right? Why would anyone be drawn to that thing? Plus it's got 270k+ miles. Lets be honest here.
Well.... let me explain.... back in my junior year of highschool, nine years ago, I wanted to sell my e36 and buy something more barebones that I wouldnt feel bad about leaving behind for college. Two blocks from where I grew up was this very same e30. I passed by it every week at least while it sat on the baltimore city streets. It was clean-ish, but what drew me in was it's color combination and proximity. I know it sounds borderline creepy to say, but it felt like it was teasing me haha So in 2004, about the same time I joined this forum, I left a long note on it's windshield introducing myself and asking the owner if he'd ever sell it. Never heard anything back. I still saw it every week, it was obviously cared for and driven, but the owner just never responded.
Fastforward two years and I had two e30s of my own.
Full thread:
http://forums.bimmerforums.com/forum....php?t=1769789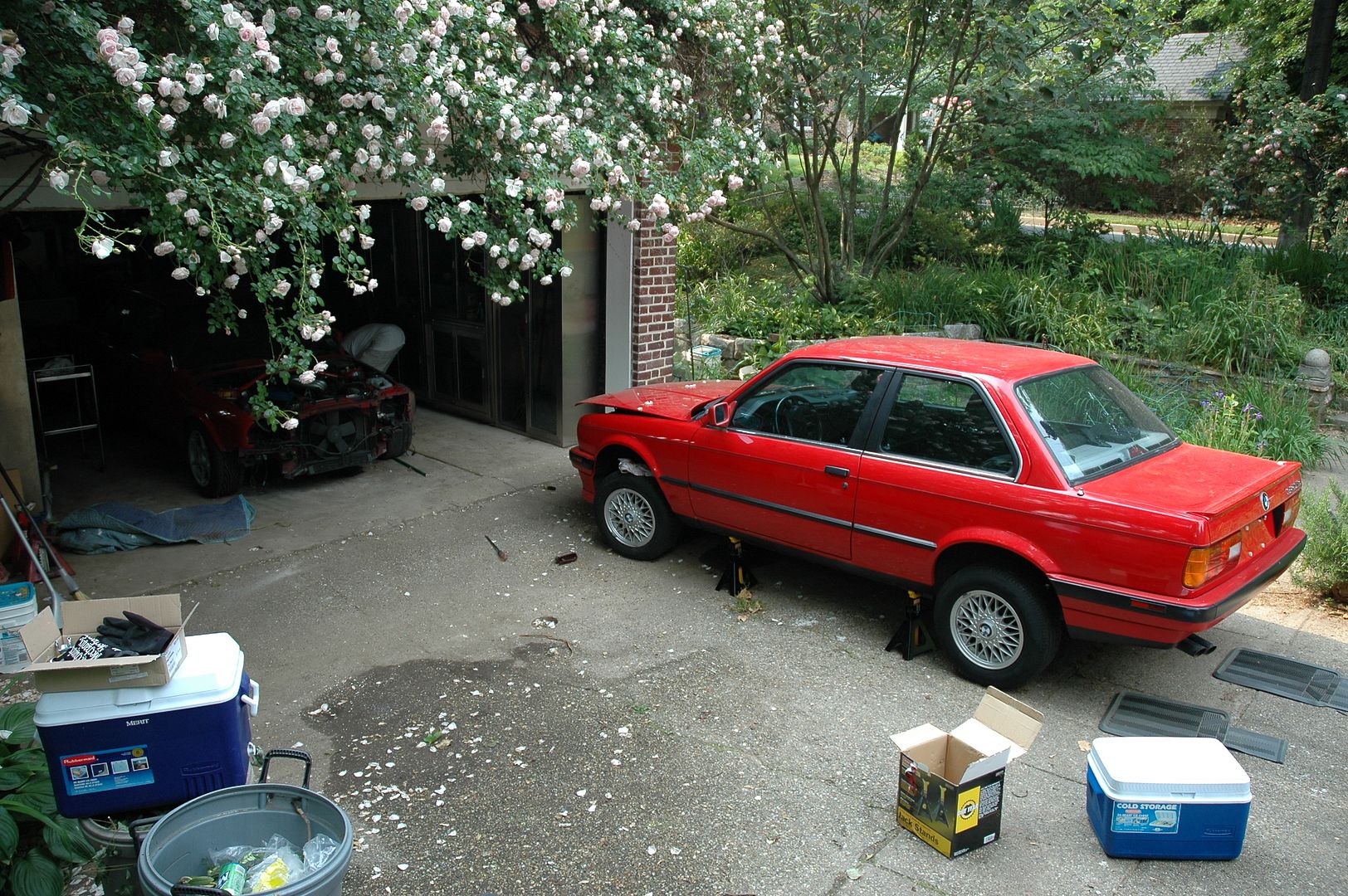 I was just starting off on my ridiculous rebuild story. Well one day, while I was in the garage swapping parts around, this 30-something year old guy walked down the road and saw the mess I created in the driveway. He introduced himself and asked if I had any window regulators I'd be willing to sell. I said sure, and asked him if he owned the black e30 up the street. He did! He was kinda weirded out that I would know where he lived, but then I told him that it was me who tried to buy the car years ago. We got along pretty well after that, and I'd help him source parts when he needed them. Well a year later he had to move to China or something like that and wanted to sell the car. I certainly counldnt buy it, but I had a friend, Greg, whose Ford Exploder was just about to die out on him. Greg didnt know anything about BMWs but he seemed to like my e30, so I made the introduction. The price was right and he liked the color, image, style, etc of the car, so he bought it. $2500 got him an all original, 215k mile, shwarz on black heated leather 325iS. Rust under the battery tray, fresh dent in the fender, ripped seats and everything. Nice. He drove that thing into the ground for five whole years. Every few months I'd hear about how he's planning on buying a new fender, new seats, on and on, but he never did. Bless his heart but he never did any preventative maintenance or restorative work on it. He accumulated thousands of dollars in parking fines at UMD I believe, but never did do the fender or cleaned the wheels. To his credit though, when something did break down, he'd fix it. Alternator, radiator, you name it. Always did the oil too. Somewhere around 2010 I convinced him to give me some cash to do a full detail and fix as many things on the car as I could. I posted up on BFc about it and here's the quote:
Originally posted by Pino
Greg continued to drive it for another two years and eventually grew tired of throwing money at it and needed to sell. Our local shop even said the m20 was on it's last leg and can't be trusted any more. I once again couldnt buy it though, but I knew my buddy Richard was always looking for another project beater to toy around with and I didnt want to see it dumped away to some random kid, so I pimped the car out once again to a friend. Richard thankfully bought it for $1000. It immediately needed a new transmission and an oil pan from when Greg jacked the car up by it for some unfortunate reason. I think he confused the concept of the LSD jack-point with the oil pan. Oh well. Richard is awesome with e30/e36 mechanics so this was no big deal for him. Otherwise, all Richard did was basic maintenance for about 7 months. The spark plugs were of course shot to hell, a few gaskets, cap, rotor, blah blah, but this 270k+ car turned out to be the most reliable e30 I knew of. Between Richard, myself, and our friend Gus, we had 4 e30s. All of them constantly broken down. Except for the most neglected, stock, example. Weird.
Here's Richard & Gus's spec e30 build that I painted around this same time...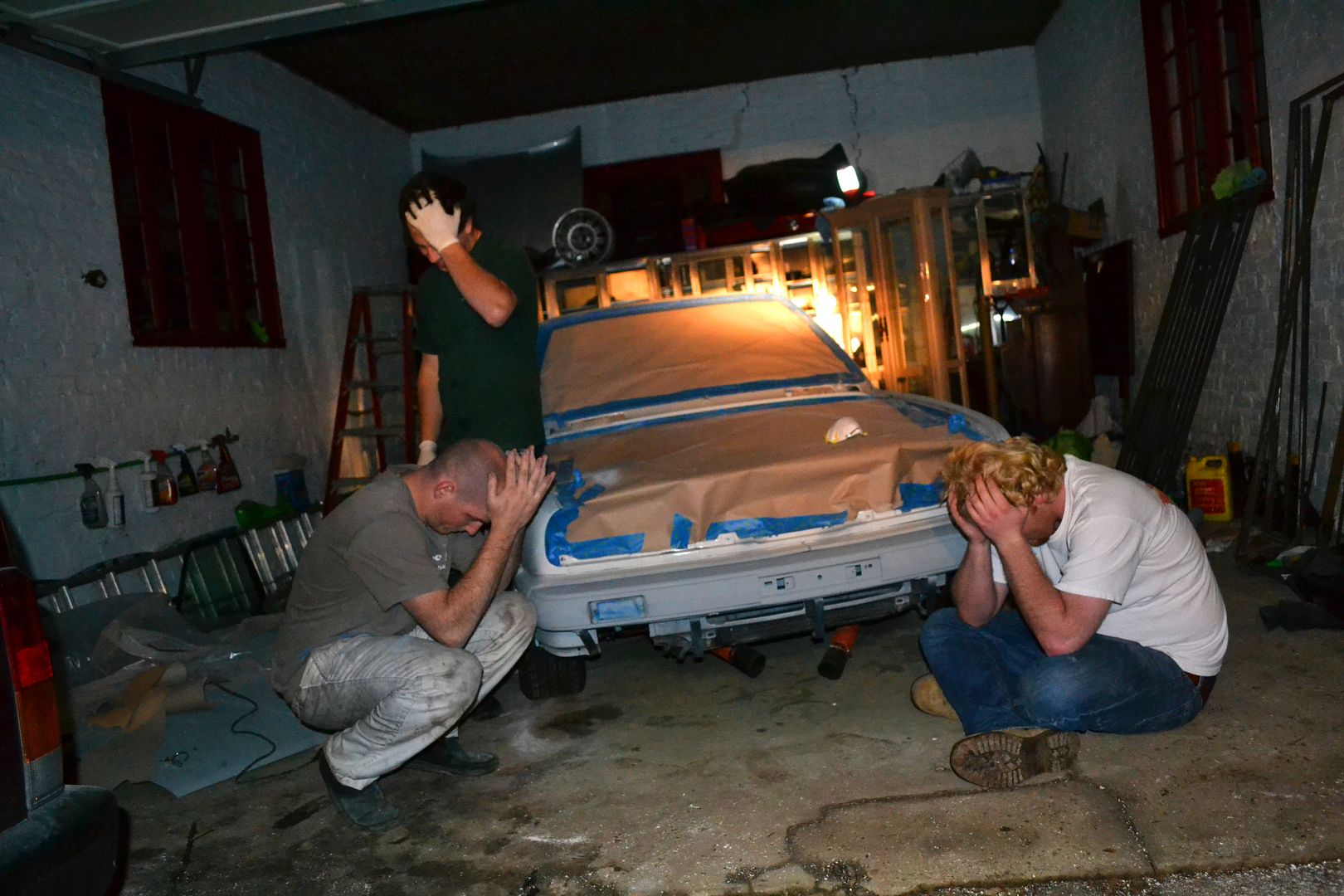 But let me clear up any misconceptions for my readers - Richard hated this black bucket. But to be honest he pretty much hates e30's in general. I had been bugging him for months to sell it to me, which he was more than happy to do, but only on the stipulation that we find him something of equal or lesser value on craigslist. It took a couple weeks, but he landed a clean 1993 318iS 5spd in need or work for $920.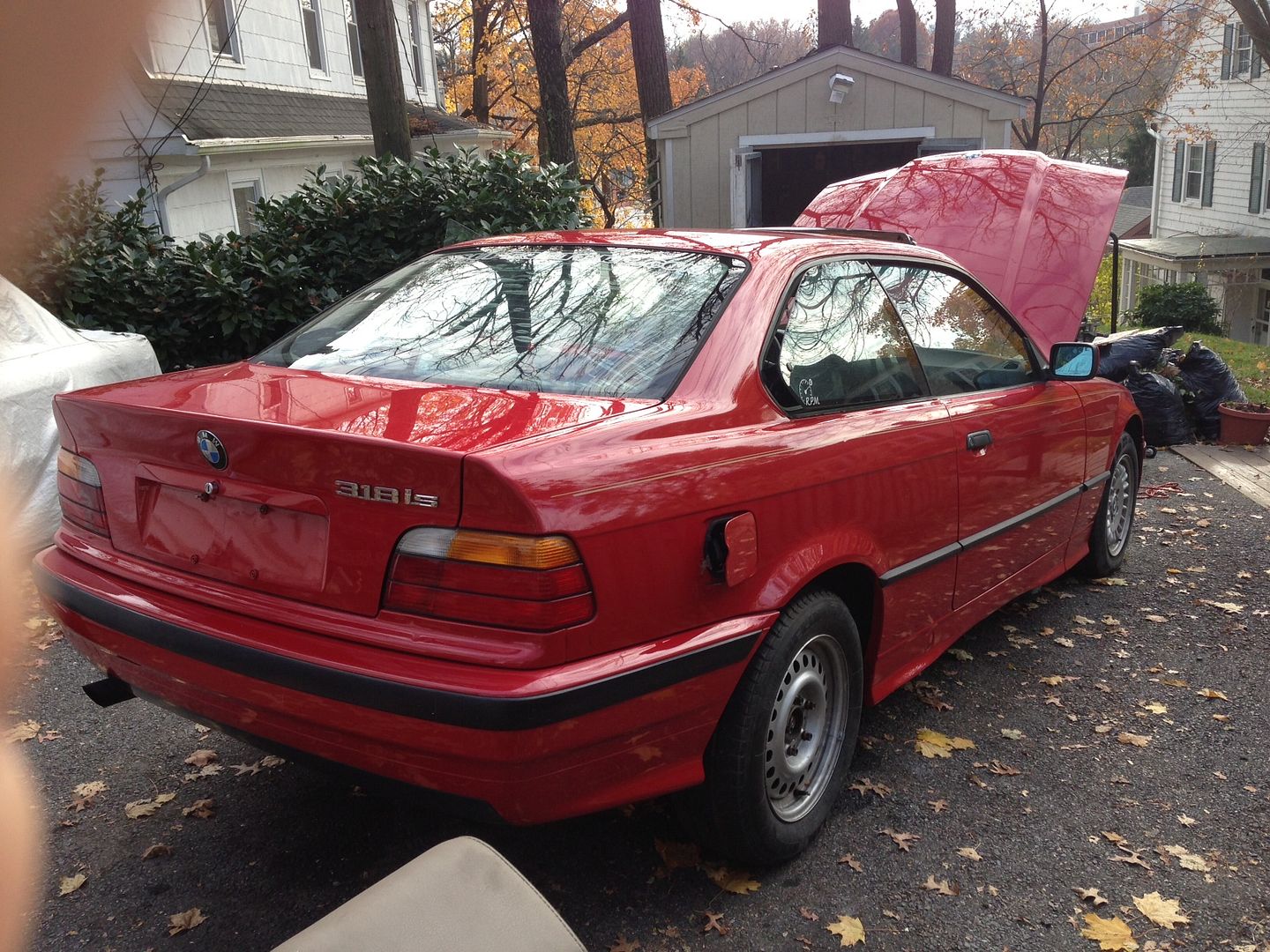 Which meant my while-whale e30 finally became MINE!
Mandatory "before" shots:
So let the restoration begin...