I bought this car on 07.27.09 and have been working on it ever since. Things started out a bit slowly, and I have made a few mis-steps along the way. I will try to make this as good of a summary as possible to this point, and will move forward from there.
For the first couple of weeks, I owned the car but it remained at the shop where I bought it due to some needed repairs, and due to the fact that driving it to my house posed several problems (crappy flatspotted and dryrotted tires, busted CSB, among others).
Day 1 pics: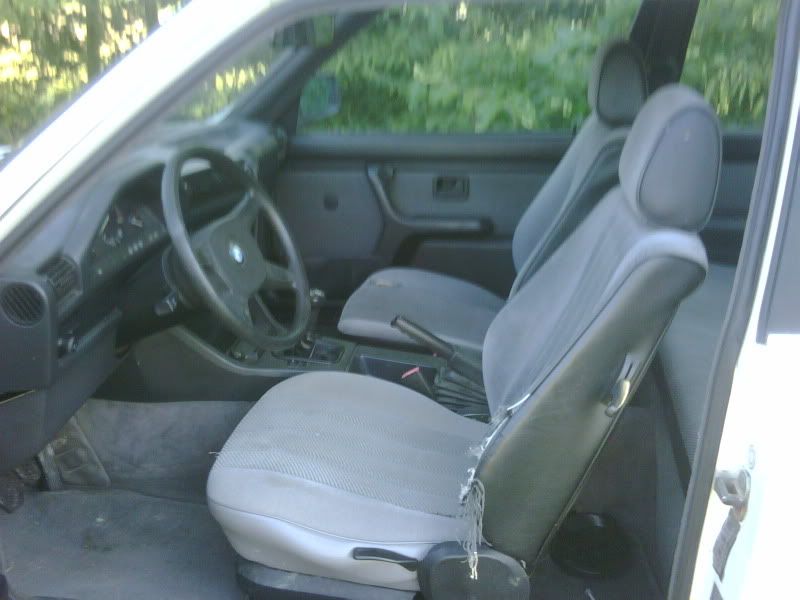 The purpose will be to play with as a project or track car (primarily autoX and HPDE) and to drive every now and then on the weekends. My wife may take it to work to cut miles on her Pilot.
Car has 160K on the clock and is a 5MT. It looks like a 20 year-old car, and has sat for a few months. According to realoem, the car has an LSD diff. However, according to a VIN check, open diff. After getting under the car a few days after buying it, I determined that it was a 2.93LSD (more on that later).
Positives:
Good price, and a parts car is available. (The seller has a quasi-BMW junkyard.)

Underside is in really good shape, from a rust perspective. Nothing but very minor surface rust and a bad spot in the battery box.

Interior is in pretty good shape. Driver's seat has some bolster wear.

Exterior trim is all black-out.

Pioneer CD player (who really cares? But it works...)

Engine sounds GREAT.

Transmission shifts well.

Seller threw in some other small stuff (E36 window switches, misc small interior trim parts, etc.)

It has a nearly-complete tool kit, and I can grab other parts out of the yard to make it complete trunk tool kit.

Sunroof (manual crank!!!) seems to work properly. I actually wish that it had manual windows, too. (See below.)

Car has Hella ellipsoids, though one high-beam has a crack.
The bad:
Exterior has some small rust bubbles but nothing that cannot be fixed easily.

Needed new CSB.

Also needs the usual parts/service/maintenance for a car that sat: plugs, rubber suspension bits, brakes (most likely), etc.

Paint and interior need some elbow grease, for sure.

Passenger window is not working, but the driver's side is.

2 tires were completely flat.
Along with the purchase price, I made a deal with the seller to help me do the CSB install for a reasonable price, since he has a lift and tools to make it happen, plus he has done the install in an E36 many times. In the end, I bought a new-sed DS on eBay and had the spare DS on-hand the day of the install, but my original DS was in good shape. I replaced the CSB and guibo and re-installed the original DS. This was a very easy process. The only bad thing was that Pelican did not send me "everything" related to dropping the exhaust, but no real harm done. (I had told them I needed every bolt and gasket in the complete system, and they left out 2 gaskets. Not horrible.)
As of my initial purchase, my main goals were related to safety and reliability stuff- brakes (pads, rotors, sensors, flush), hoses, timing belt, maybe front struts (the rears are fine). The plan at the time was to go ahead and lower it (though as of that time, I had no ideal what that entailed on an E30), and probably replace some rubber parts while I am at it.
The first order of business was brakes, belts, and hoses. I really needed some wheels and/or tires, just to be able to get it home safely.
In late August, I had a deal lined up for some weaves and street tires, and they arrived intact, though not really sporting the kind of tires I was going to want to take to the track. My first thought was to use the weaves and A/S tires for street use and to have dedicated track wheels, but I decided on a different route (more later). At the time, I could not see putting money into street tires to go on 'caps, but that might have been the easiest route.
In my haste to get it running/driving (and in hopes of getting it driven to my house), I bought and installed the weaves, and sold my stock 'caps to a Honda guy.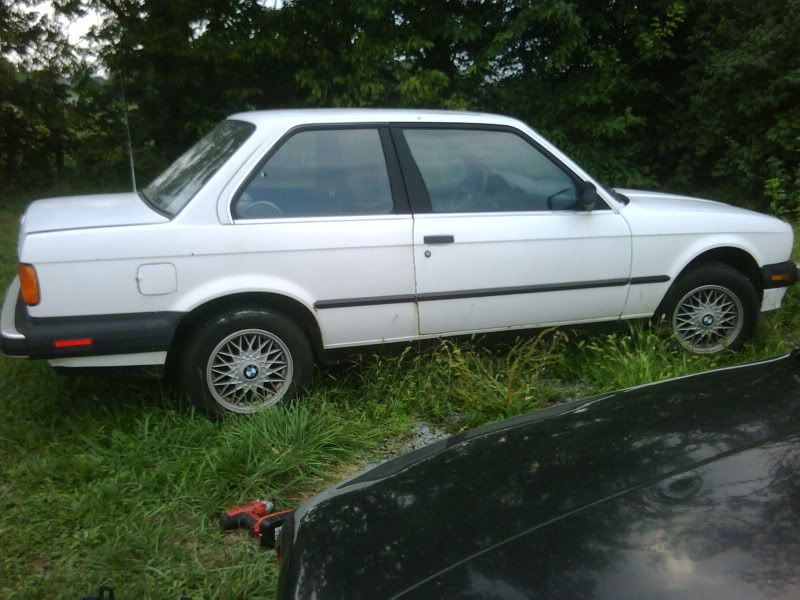 I had begun to research building a 2.7L "stroker" motor (what a mis-name that is). I prefer to call it a 327i motor...
As of August, I really wanted to start putting that together. The goal was (and remains) to drive the car in AutoX events next year, and I initially planned to do the timing belt and other associated maintenance this winter, then to possibly do the stroker next winter, but I later decided to go ahead and do the maintenance parts on the 2.7 with an "i" head as opposed to doing everything twice.
As for the bumpers swap, I planned to pull the stock DBs and at least shoot them in black to get rid of the chrome look. While I'd like to go plastic, I think that matching them to the rest of the trim will be better than nothing. In the end, i think I will run stock DBs with a nice coat of black paint...or maybe white. Who knows?
At the end of August, I also ordered all of the "stuff" needed to get the exhaust back together, and ordered new front and rear brake pads (Mintex Reds), wear sensors, and rotor retaining bolts. I had not yet selected rotors.