Hey guys...thought I'd document my build/swap project for myself as well as everyone here. I stumbled upon this forum after already buying my e30 and wanted to contribute to this awesome community. Even only having spent a little time here, I've found a wealth of info that I need for my project. Anyways, no more rambling and on with some background info for my build...
I'm 25 now, owner of an 09 e92 335i and recently an 89 325is...I love BMWs!! I've had many cars...I'd dare to say I've owned significantly more cars than most people will in their entire lives. All in all though, I'm just your average gearhead. I love modding cars, maintaining them, and most of all DRIVING. Initially I was into VWs (of the turbo VR6 flavor), then I got into Nissans (of the SR20 and RB25 flavor), and then I was into Subarus (of the STi/GT3076R flavor) and most recently transitioned into BMW, which was really what initially sparked the flame....
About 10 years ago, I learned to drive on my dad's e30. It was a white 89 325is, all stock mostly. My dad used to take me out to a big parking lot near our house and teach me how to drive a manual transmission, a place where I could stall without recourse, haha. As I started to get better at driving the e30, he slowly would let me borrow the car more and more...up to this point, I was never really into cars at all but, the way the car handled and drove...I just plain liked it! I became very interested in how cars worked after finding out how much fun they were to drive! I ended up getting my first car, a 90 civic hatch...a hand-me-down from my older brother...it was OK, but nothing like the BMW I had just learned on.
The difference was stark and I knew I wanted a bimmer at some point. One day when I came home from school, I saw my dad pouring over a Bavauto catalog. When asked what he was looking at, he told me he was ordering some replacement parts. He ended up buying an ANSA exhaust to replace the decomposing OEM muffler, a Turner Chip, an intake, and an ATE Rotor/pad set. The first time I ever worked on a car was the following weekend when he asked me to give him a hand. I had an absolute blast, and all the parts we put on made a huge difference in how the car behaved. I was hooked to say the least.
I couldn't really afford a BMW, so I got into VWs...fast forward through the last 9 years and 12 different cars, 1 major project (96 Nissan S14 w/ RB25DET that I just barely didnt finish because I had to relocate after college) and I finally got a chance to own the exact car that ignited my automotive passion. My dad was only the second owner of his e30, and he knew the lady who had it before him...it had always been meticulously cared for...he sold it in 2008 after 12 years of ownership (I wanted to buy it then, but had too many cars to add another one to the stable) to a mechanic friend of mine who then called me a month ago telling me he was selling it.
I was elated that I would have the chance to own the car I always wanted...the first car I "connected" with, if you will. I thought about it for a day, and knew I had to have it. Long story short (even though this has been a long intro, haha) I picked the car up for 2500 last month, drove it from my home state of New Mexico 1800 miles to my new home of Mount Pleasant, SC. As stated, the car is an Alpine White 1989 325is with ~209k on it...it made the drive like a champ, although it definitely needs some love.
I always liked everything about the e30, but I also always thought it needed just a little more under the hood (I find this to be a problem with every car however, haha!). After searching here on r3v and a few other places...I decided on an S52 swap. The goal is to daily the car once I get it running well. I want it to be similar in quickness to my e92, have most of the same creature comforts, and have good reliability. I believe this goal to reasonable, and achievable.
Upon completion of my swap, and evaluating its reliability, I intend to sell my e92 (epic car payment holding down my budget) and save up for other things in life (savings/retirement, house...future-wife, etc) and being content with one car for a long period of time. I think the e30 can do it for me. Its easy to work on, parts aren't too expensive, and I LOVE the car, so I think I'm making several wise moves. Now on to the good stuff:
I'm getting an S52 from a 99 e36 M3 next weekend (4-17). Found a guy about 3 hours from me doing an LS1 swap and managed to get a decent deal on the motor, delivered to me by him. The purchase includes the S52 w/ 80k on it, wiring harness, ECU, shark injector, full exhaust, ZF tranny, driveshaft, all motor accessories, etc.
As far as how I'm approaching the swap, I'm doing the OBD1 conversion to gain power and for ease of the swap. I found a guy selling an e34 M50B25 with an engine hoist and engine stand for a few hundred dollars...it was a great deal and got me a lot of the OBD1 parts I'll need, if not at least the oil pan. It's a non-vanos motor and I'm pretty sure it was mated to an auto tranny. I'm still trying to research it, but I don't think I'll be able to use the wiring harness since its non-vanos. I plan to use the intake manifold, throttle body, coilpacks, fuel rail, cam/crank sensors, oil pan, aluminum thermostat housing, etc. on my S52.
I think all I need to complete the OBD1 conversion is 413 DME, e36 5spd OBD1 harness, and MAF. If anyone's got them, let me know!
Other related items I want to do are e36/z3 steering rack (mine is sticky and worn out), suspension overhaul, and of course some wheels!
I'll have lots of goodies for sale in the next few days as I begin removing parts for the swap....but I'll leave that for the FS section...tell your friends though, should they need anything m20-related!
On with some pics....here's the car the day I got it: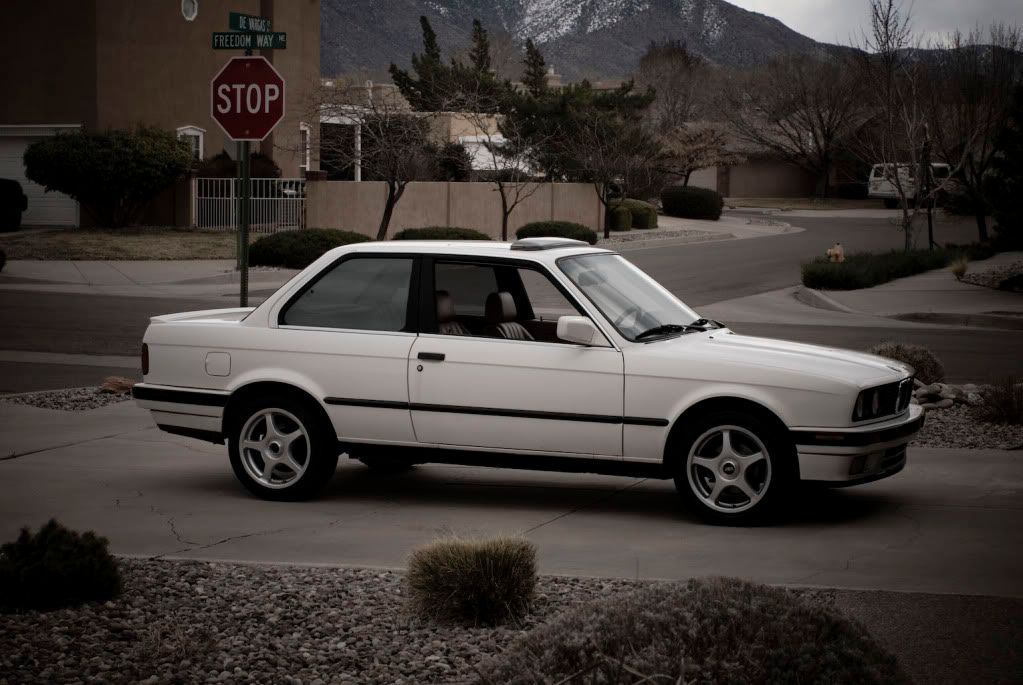 Back in SC...in my garage ready to begin work!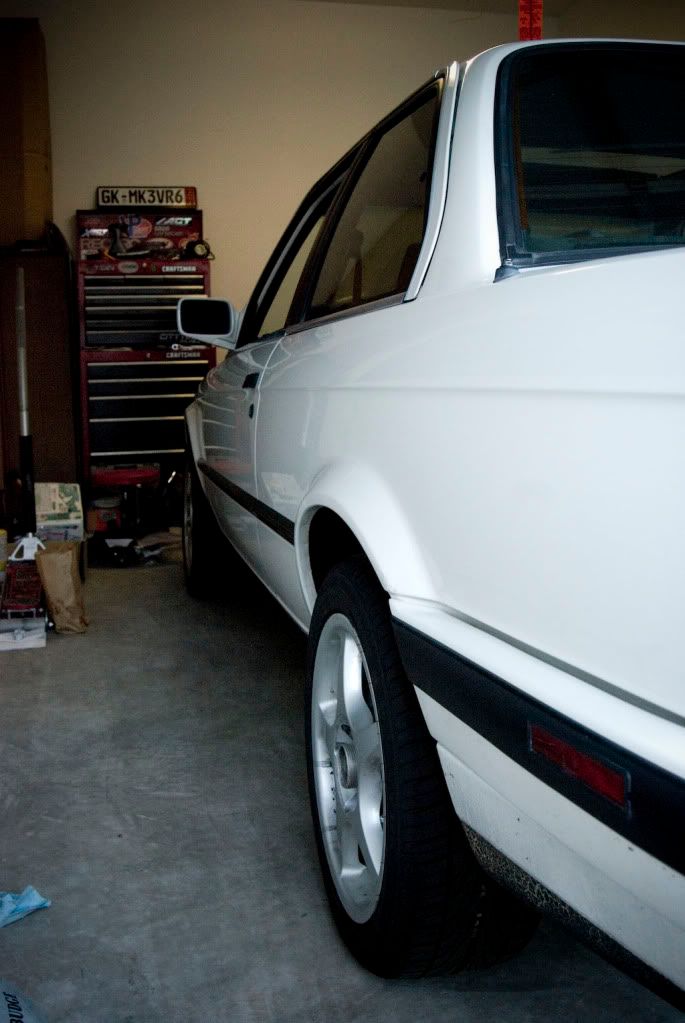 Shot of the interior...pretty clean. Threw an Alpine CDA-105 in...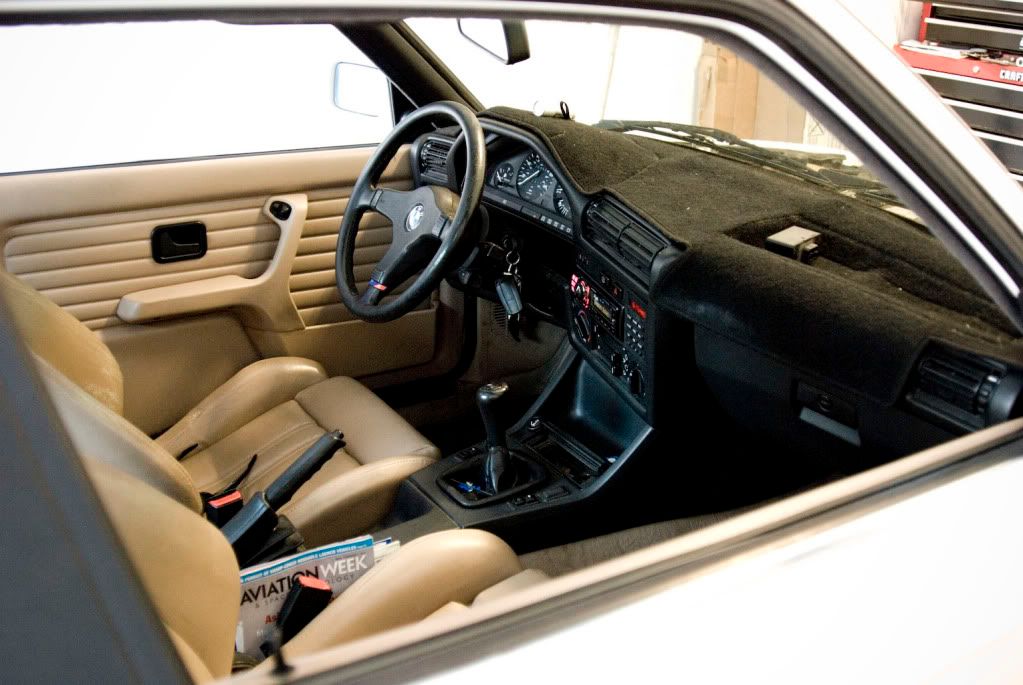 The GF loves to help in the garage...I'm a lucky guy!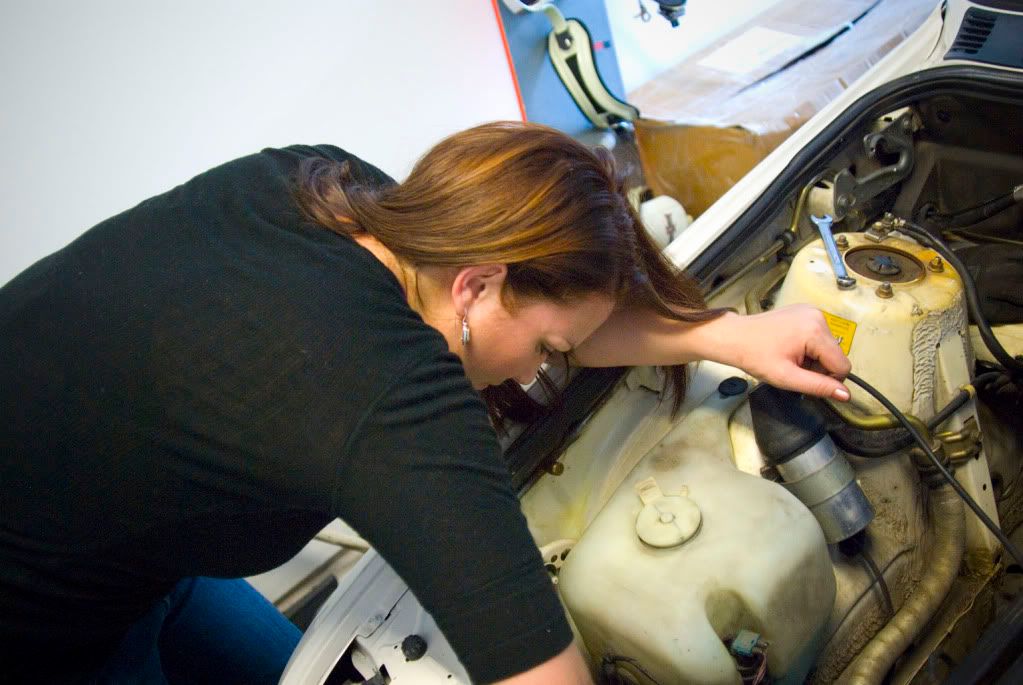 M20B25 coming out...I hope it goes to a good home. Lots of miles but burns ZERO oil and makes good power still!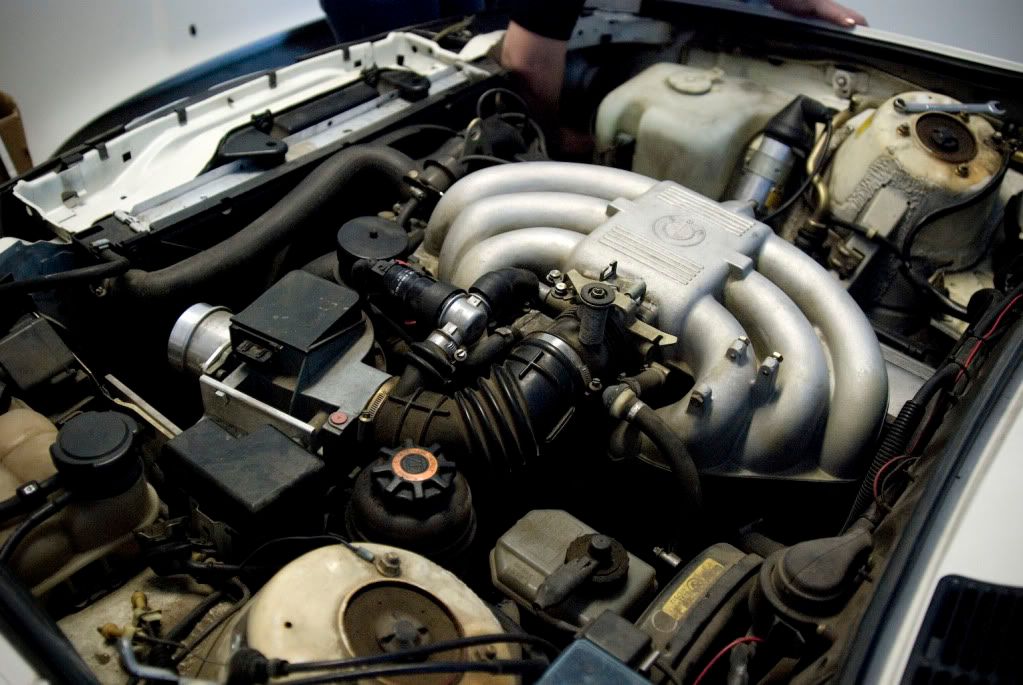 M50B25 I attained for OBD1 purposes...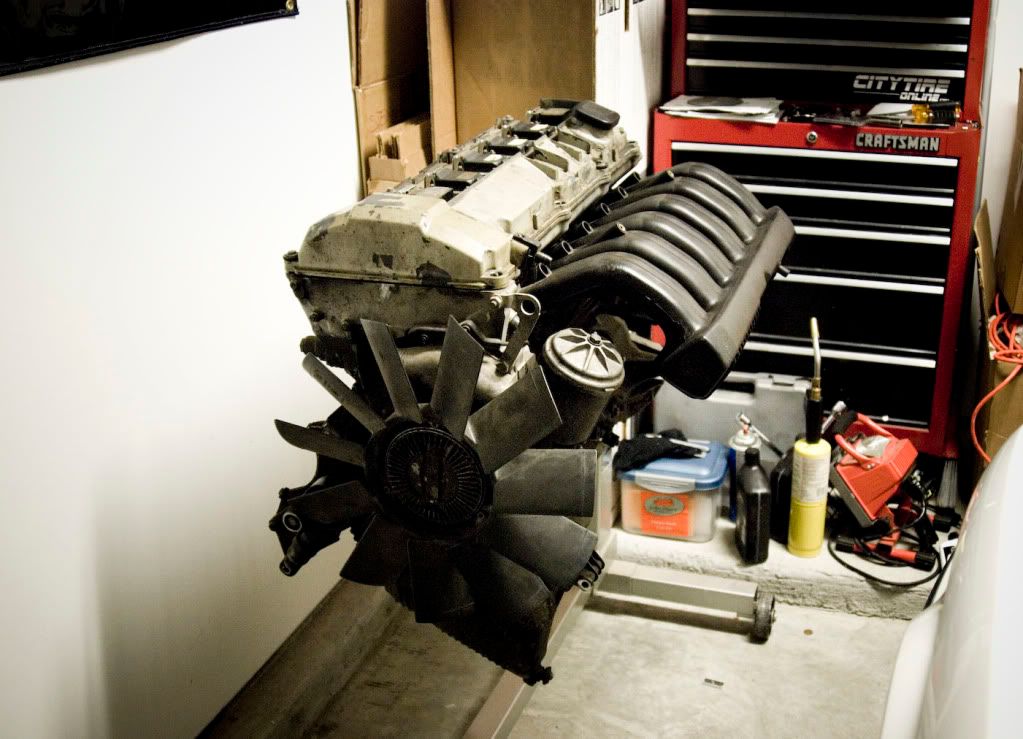 Just a cool shot...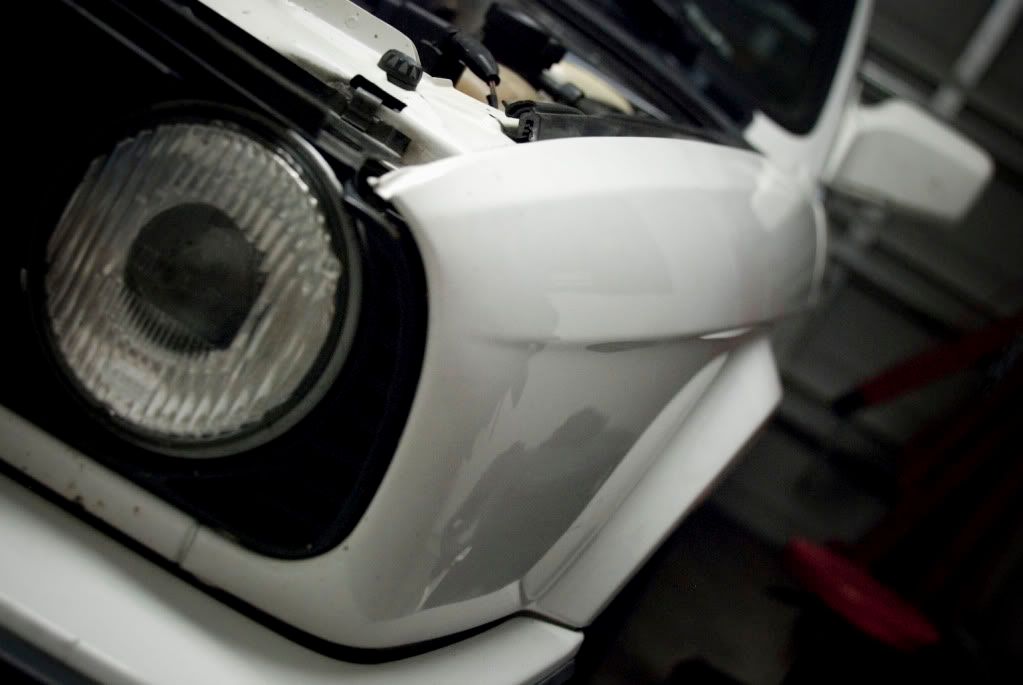 Thanks for reading guys...I'll be updating regularly.