Hello everyone!
Jump To
5 Lug, Suspension and Brake Conversion
About Me
My name is Joshua but my nickname is zumjosh. I've been a longtime BMW fan and recently an E30 enthusiast. I'm 22 and my E30 is a '91 318is. Its name is Olivia, and she's my 3rd BMW. I've had two '95 E36 M3's before this E30. I'm glad I've joined the E30 community because it's a fairly tight group and "nearly" (edited) everyone is very helpful. Also the cars are absolutely stunning to drive.
I was debating whether or not to start a thread because I've made a few stupid mistakes, and the car isn't in great condition at all, but I figured, "What the hell? Might as well get some insight and advice from the professionals." I've been a r3vlimited and e30tech lurker for the past 4 years but most of my activity was on the M3 forums because of the E36's. Now I have no choice but to start posting on r3v. I hope you'll forgive me for not having very many pictures at the moment. I hope that as soon as I'll start the transition of Olivia into a track and road killer that you'll help me with useful advice.
Plans for my E30
My future plans are as follows:
1. S52 with OBD1 conversion (I prefer this engine because of the torque gain over the S50 and small HP bump with the OBD1 conversion) 251 HP to the crank will be a good upgrade ;)
2. 5 lug conversion (for bigger brakes and E39 Style 5's that I'm completely obsessed with and I'm curious which conversions besides E30 M3 parts are best)
3. rear seat delete and half cage edit: (I'm still deciding on full or half)
4. 2 piece Style 5's (as mentioned before) winter wheels and Apex Arc8's for summer drives and track days. edit: (I may stick with OEM BMW wheels for track days, still deciding)
5. easily swappable and slider bucket seats (will need your input on how to do these best)
6. clueless on which brakes I should get but I prefer having something carbon ceramic eventually edit: I've already decided to go with '96 E36 M3 brakes since I'm doing 5 lug conversion.
7. interior will stay basic and simple in the winter besides the rear seat delete and cage but in the summer I'd like to have cloth bucket seats because leather is sweaty :down:
8. I'm clueless on what the best spoiler option is. I'm leaning towards my existing IS lip but I have a problem with it cracking when it's painted and when it's not painted it dries and breaks down in a nasty gray and white patches
9. the cars getting repainted and the large dent under the rear bumper (from the original owner) will get fixed
10. can't tell you what color she's going to be repainted in because that's my little secret, but I am very open to hear your advice on what I should do to fix the rear dent (pics will show the extent of the damage in a future post)
My first car
This is Heather, my 1995 BMW E36 M3 with Dove Grey interior. She drove for almost 2 years and then died in the rain. :(
My second car
I bought a tub and swapped everything with my awesome brother who's a BMW tech. This is Vivian, my 1995 BMW E36 M3 with Heather's guts and interior and facelift grills which confused me... (probably a small wreck in the past that later got fixed with face lifted parts)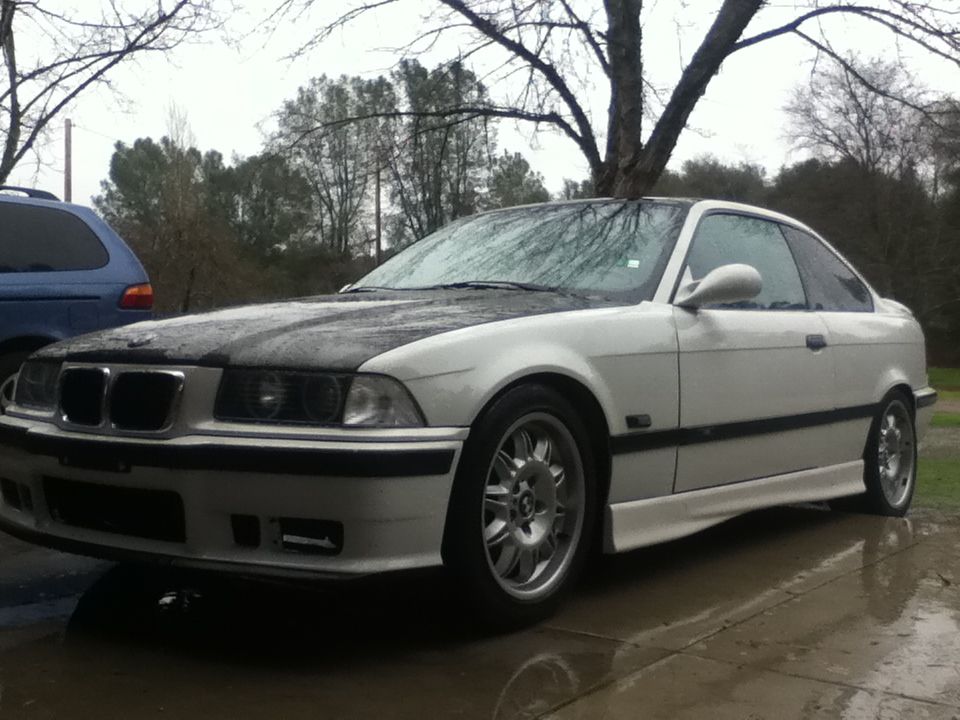 My first E30
I've had bad luck with E36's thus I decided to trade my parts from my wrecked Vivian to my brother for his E30. Then Olivia became mine. And she's been an amazing ride!
I hardly have any pics how she came to me because I immediately started modding. But this will have to do for now...
I drove her for 2 weeks and school started. I came back after my second day of class and somebody hit the front driver side fender since I nearly always park backed-in. Just my luck. I don't have any pics of that, but I replaced it with a DOT fender. BLEGH! Horrible fitment!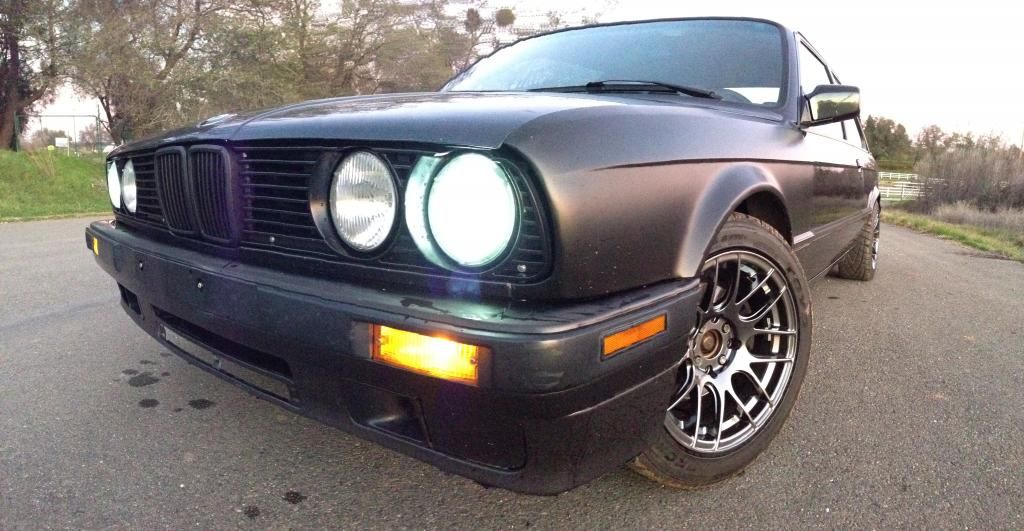 I followed somebody's stupid advice who put vinyl on their Jeep's headlights and ended up with this...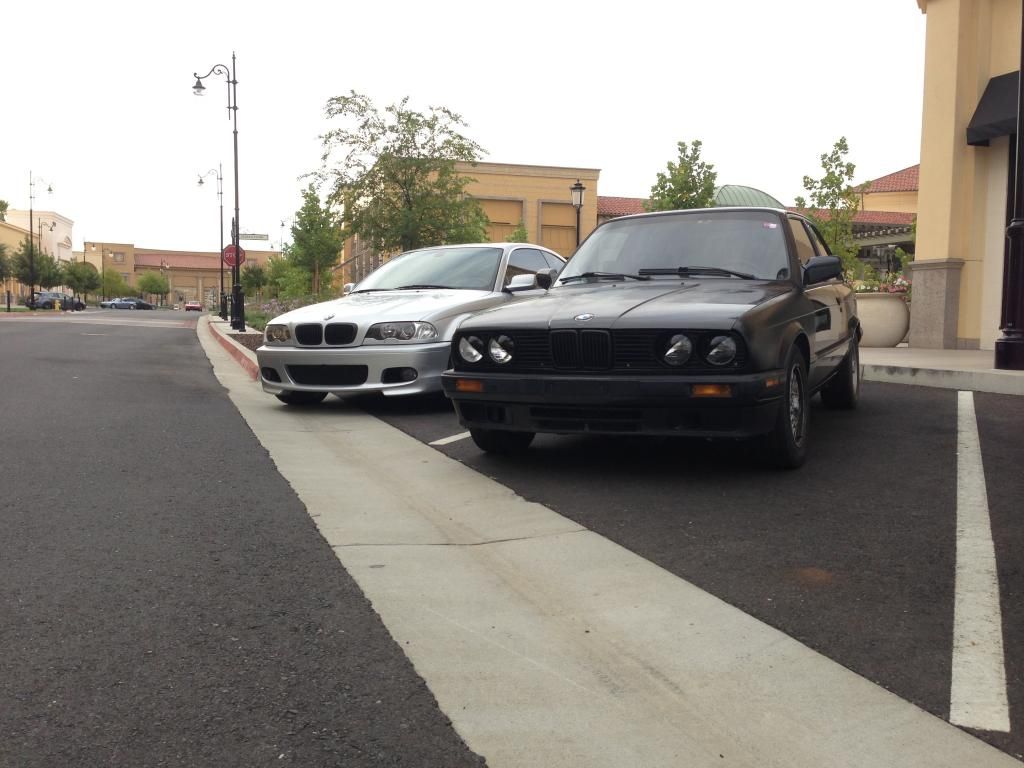 You have every right to hate... lol Well after that I got a few different mods over time. Some really good and some... not my favorite.
First I purchased some projectors, an HID kit and some Thai food.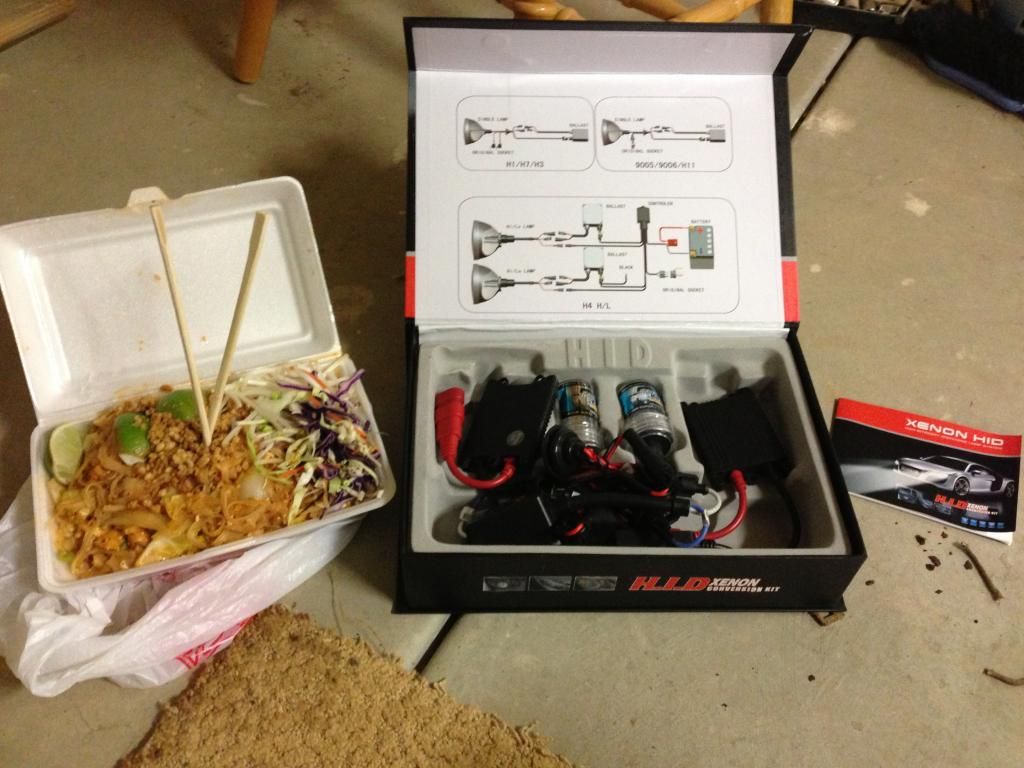 Then I painted the round headlight brackets black to make them look a little more uniform with the front end of the car.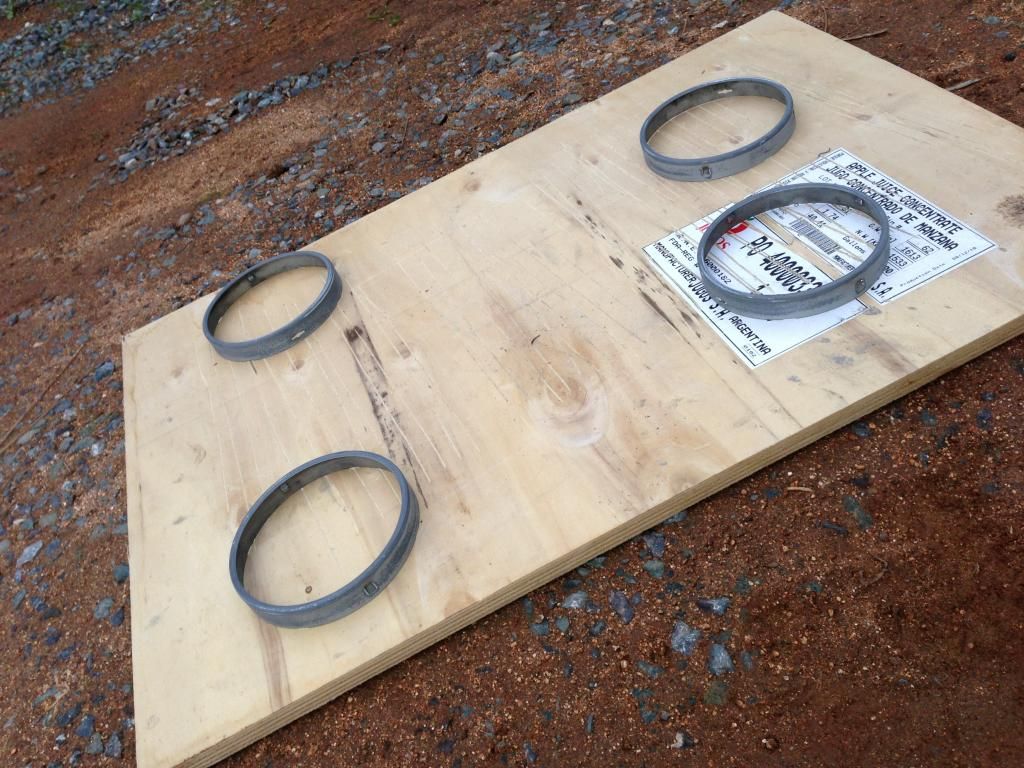 I also got some XXR 530's which weren't my best purchase but were within my price range at the time. They are 15x8 et. 25 all around.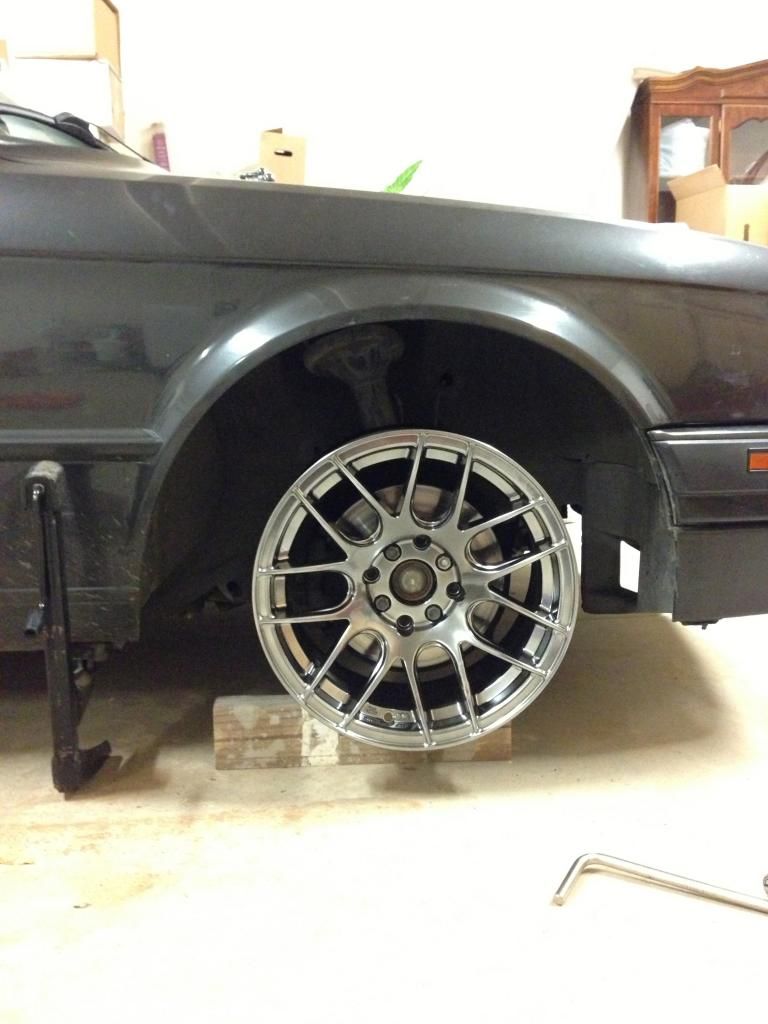 I also purchased some Toyo Proxes R1R's. They are 225/45/15r with 140 tread wear. They grip like nothing I've ever driven before.
I also got some aluminum hubcentric rings. My ride is smoother than with the stock Basketweaves which surprised me!
And this is how she sat before I finally replaced the DOT fender with a Diamond Schwarz factory fender from Pick 'n Pull!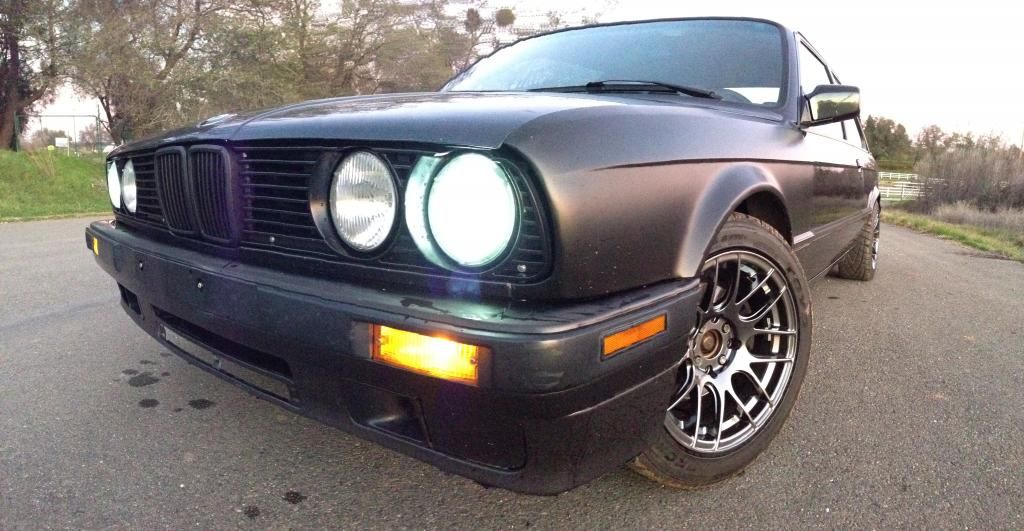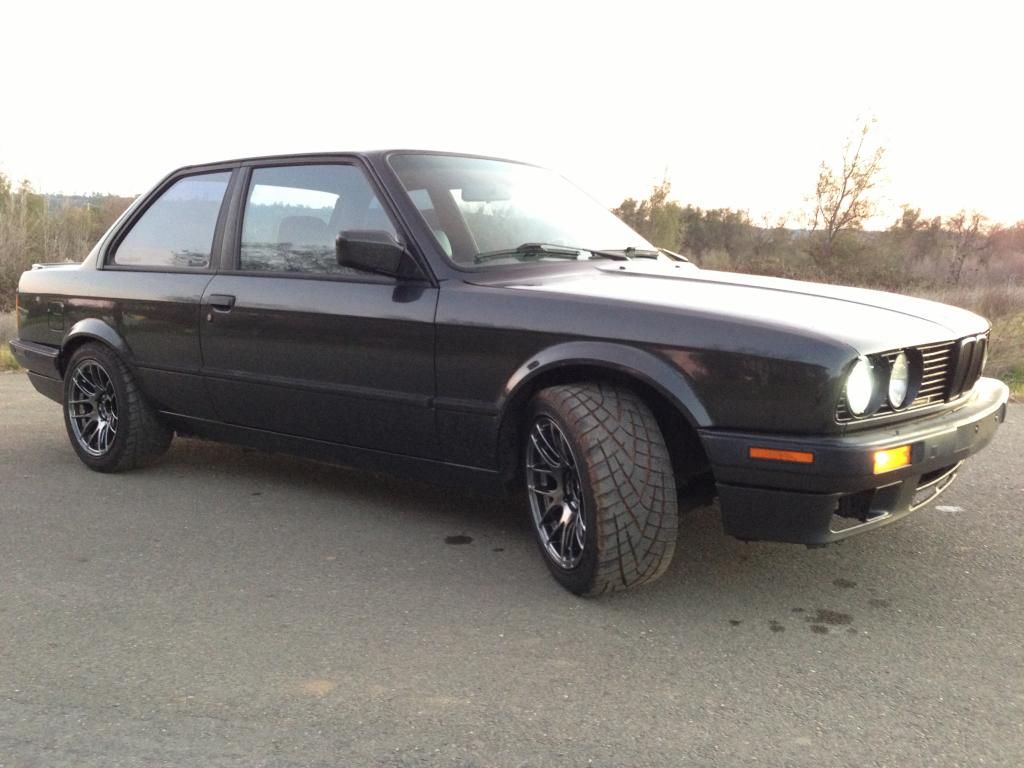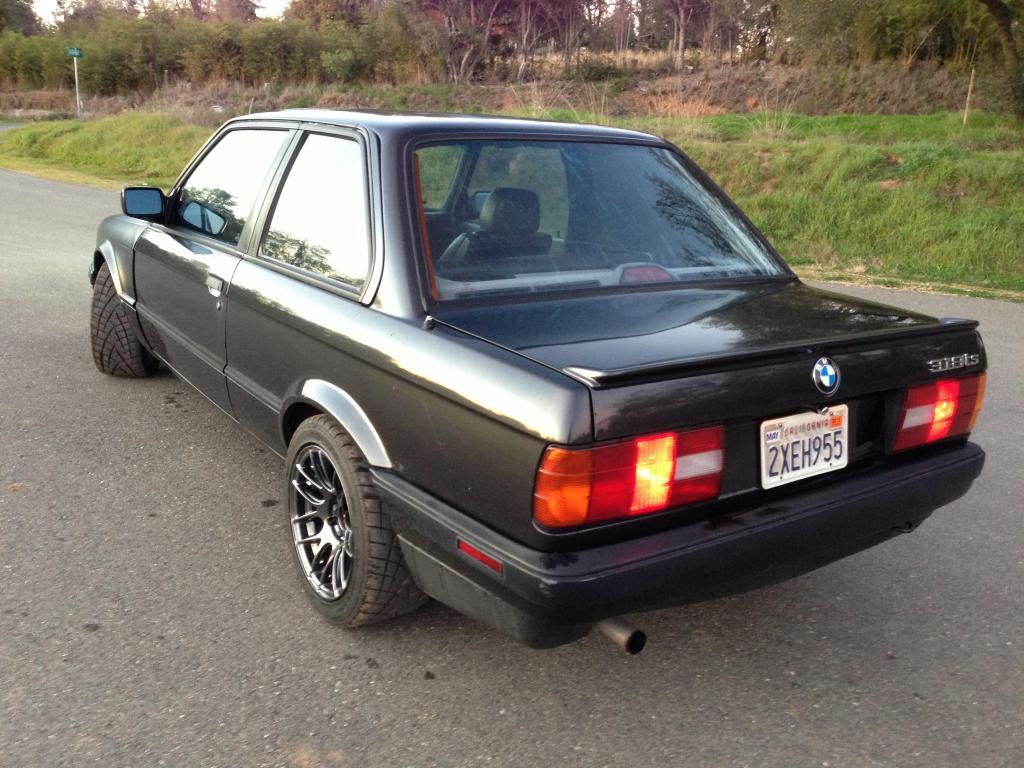 Thank Yous
I want to thank my brother for getting me into BMW's and just cars in general. He's been an awesome mentor and help in my stupid adventures and mistakes. lol
I also want to thank my lifetime buddy Matt (aka TallSkinnyMatt on e46fanatics) for helping me tear apart my car and put it back together sometimes with only pliers and a screwdriver! *you may see a few pics with his gorgeous E46 330ci in future posts
I also want to thank Joey (aka JinormousJ here on r3v) for helping me start networking with more Bimmer enthusiasts and get out of my shell. I'm happy to have finally found someone who's just as enthusiastic about E30's as I am!
Sacramento E30 Meet
I also hope you guys can make it to the Sacramento E30 meet that Joey and I organized. To participate click here!>
Sacramento E30 Meet
My Links
Lastly I want to share some stuff that I enjoy to do on my free time... I have a few Tumblr accounts.
Only E9 Tumblr
Only E10 Tumblr
Only E26 Tumblr
Only E30 Tumblr
My personal blog which of course is only BMW content doesn't get very much action but if you want to take a gander, here it is:
zumjosh's Tumblr
My last hobby I'd like to share with you is video editing. I don't have much of my own content but I still enjoy editing with existing footage. So I took a bunch of BMW vids on the internet and made a montage. Enjoy:
Beggin' for a BMW