UPDATE!!
Got up to the shop today and started the basic tear down to see what I'm working with. Started by pulling all the coolant lines off, some reusable, some not. Pulled the fuel filter off next which apparently at some point the original had been bypassed and another was installed? Strange. Next up was the removal of the a/c bracket since I won't be reusing it. Pulled the crank pulley off to reprint and clean it up. Engine arms came off for cleaning aswell. Oil filter housing and alternator bracket were next. Found I'll def need a new idler tension pulley so that was added to the list.
Pulled the thermostat and housing and noticed its looking pretty funky where the water pump was. Any suggestions how to flush and clean this out??
Then came the point I was nervous about. Pulling the valve cover. I was expecting sludge and filth but was very surprised to find the valve train very clean. The cams show almost no marring and the came gears show minimal wear. Unfortunately I forgot to take a picture for some reason.
Pulled the intake manifold next. No real surprises there other than some leaves and light debri fell into the intake port and had to blow it out. I've got a spare manifold with injectors in better shape I'll likely use. The Tb was all gunked up to. I have a spare one of those also.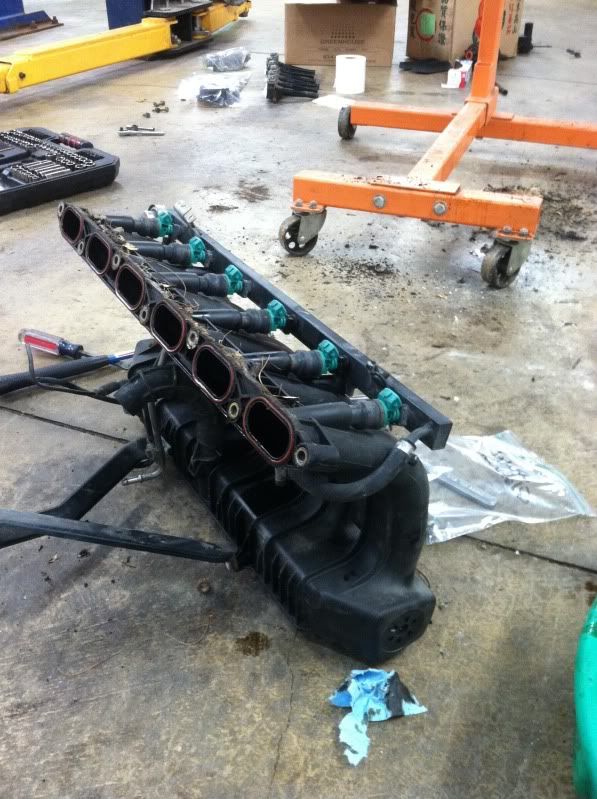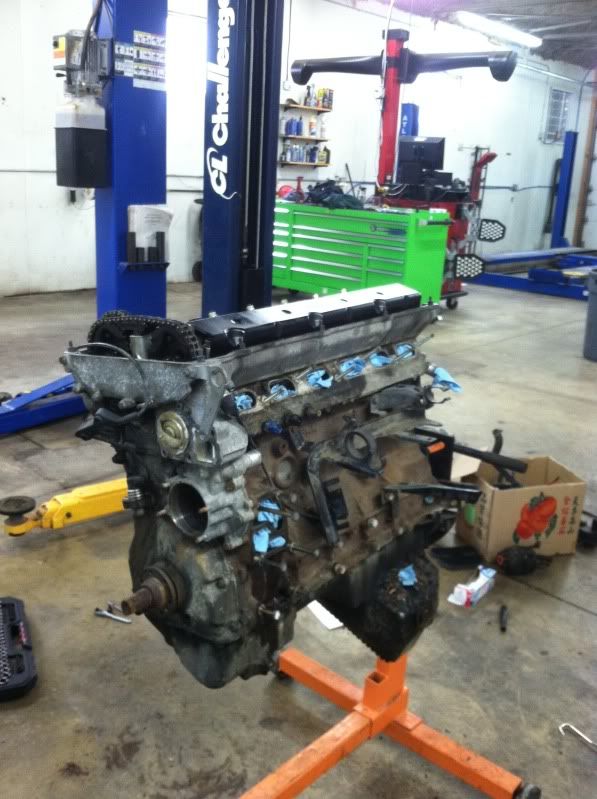 Next and lastly was to drop the oil pan. I was nervous about this because of some water that came out when I first got it. Drained the oil and it looked used and a bit dirty, but clean which was a relief. Drooped the pan to start prepping for the e34 pan swap. Although I was a tad concerned after I drained what was left. The real sludgy stuff at the bottom of the pan was a little discolored.
Again this was the sludgy stuff at the bottom. Should this be cause for immediate concern?
Overall pretty pumped to feel like I've really got this started. I'll have a pretty large order going out this week for all the gaskets and parts I'll need. Also hope to have the rest of my mandatory parts I've ordered coming in. Kinda bummed I found I'll need a new clutch and am going to go ahead and order a new lightweight flywheel.
Pile of stuff going home with me for cleaning and painting and all bolts small pieces bagged and labeled.
Ive also got the wiring harness I get to go through and figure out what connector is what and which we're cut. Heading back up this week and cleaning and painting the block. More updates to come!!