Hey everyone. Finally have an opportunity to put together an actual build thread. I have had bimmers off and on over the years, and this is my second e30. Mostly had several of them when I was younger and could only afford to go so far with a build I have big plans for this car, and I can hopefully fulfill somewhere between 75-85% of all the ideas I have for it so far.
The day I picked it up:
'87 325is. Bought it from a guy that clearly needed the money. Pretty sure he lost his house, etc. Had two cars, this and an '86 lapis blue car that he would take less for but needed even more work then the one I bought.
Drove it home, motor runs pretty decent, knew there was a little rust here and there. No big deal so I thought...
Notice the wind deflector on the roof...Turns out it was hiding more rust then I thought.
Started grinding away until I realized it was in and under the sunroof tray and that I really needed that to go away completely.
Managed to get that out all on my own. That certainly wasn't easy and I hope to never have to do it again. I ended up with a slight ripple in the roof I need to fix now due to a weld not being fully cut through, but oh well. too late.
It was at that point that I decided the car was going to get gutted and turned into more of a weekend car/track toy. Little did my fiancé know as when she left the car had a headliner and interior, and by the time she came back from work I had already gutted as much as I could and cut out the sunroof cassette.
Bought an S2R sunroof delete panel to fill in the now vacant hole.
Quality and fitment are good. But I can't really figure out a good way to mount it now as I think it was really designed to fit on the sunroof cassette. Oh well, an expensive mistake. Up for sale if anyone wants it. I have decided I'm going to use a large piece of 20-22 gauge sheet steel and create a new panel to cover the sunroof hole. Its a race car now anyways, right?
Finally bought a house of my own, so more space to work on projects (I have lots of them)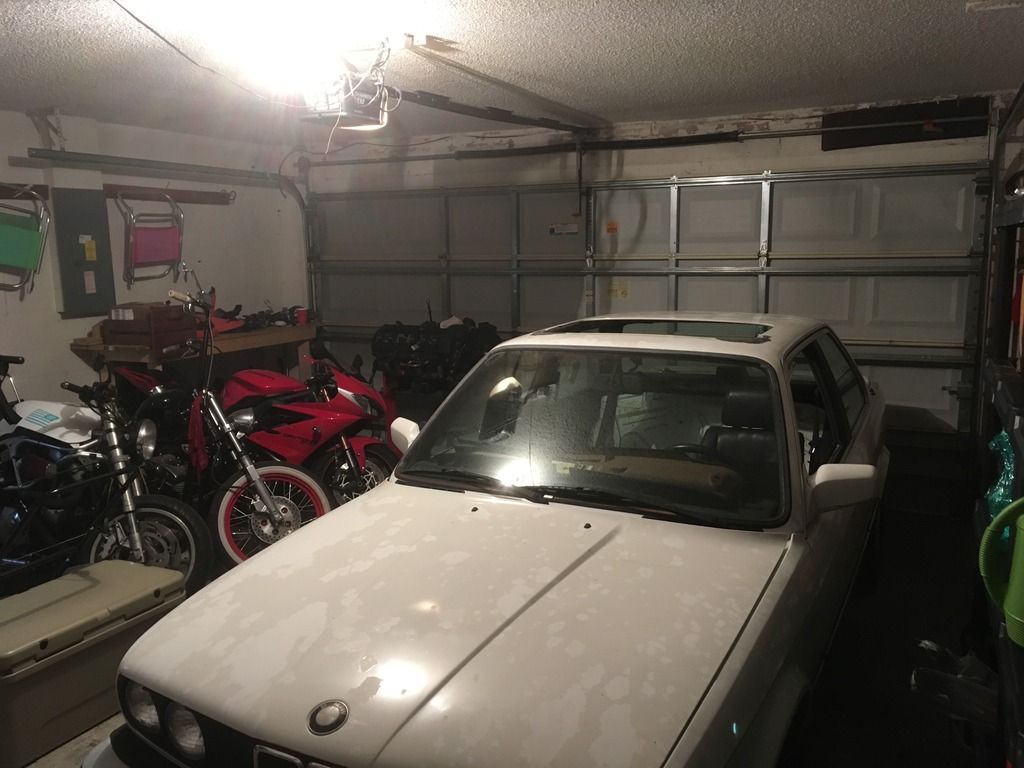 and finally, I decided to do a 24v swap.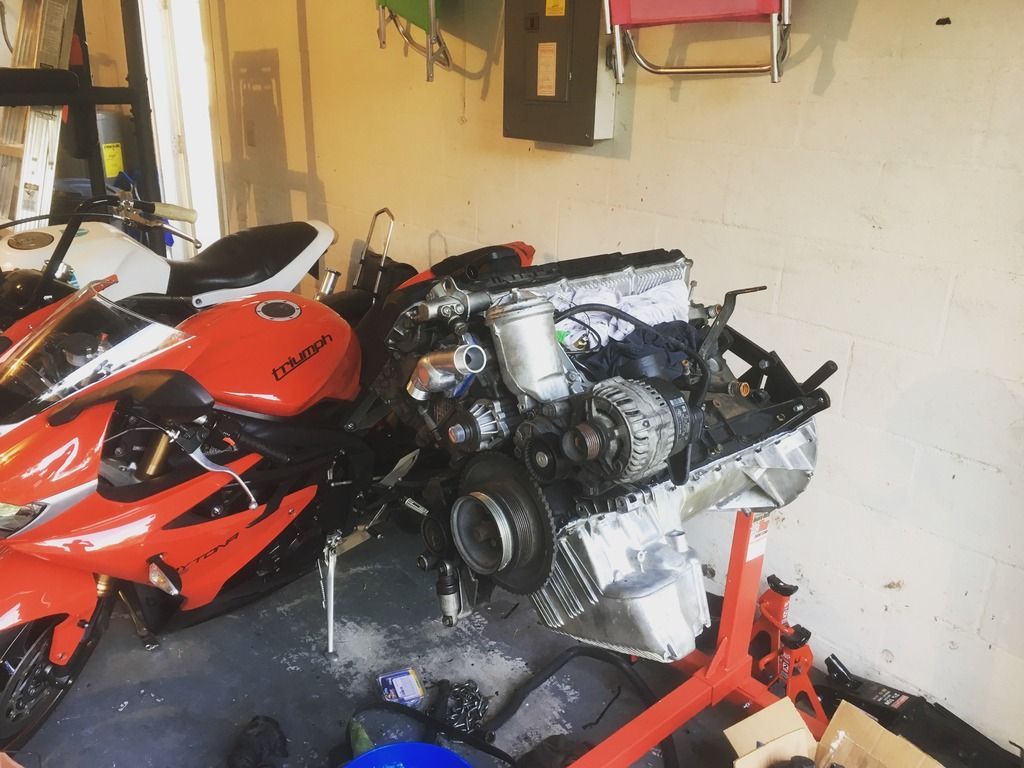 I got a good deal on a motor semi locally. Hopefully it will actually run. Everything looks to be ok inside, but you never really know. Kid I bought it from wasn't really up and aware of everything...Ironically enough I decided to do the 24v swap because I didn't want to spend all the money on good turbo parts and an ecu, and in all reality I am spending nearly that much anyways. Oh well, it should be a better track toy with the m52b28 in it anyways.
The plan is to pull the m20 this weekend, clean up the engine bay, and hopefully install the new motor potentially this sunday or maybe at some point during the week. We shall see. Ironically enough in the process of taking more things apart the other day I discovered even more rust, hence why this car shall be forever known as project rust bucket...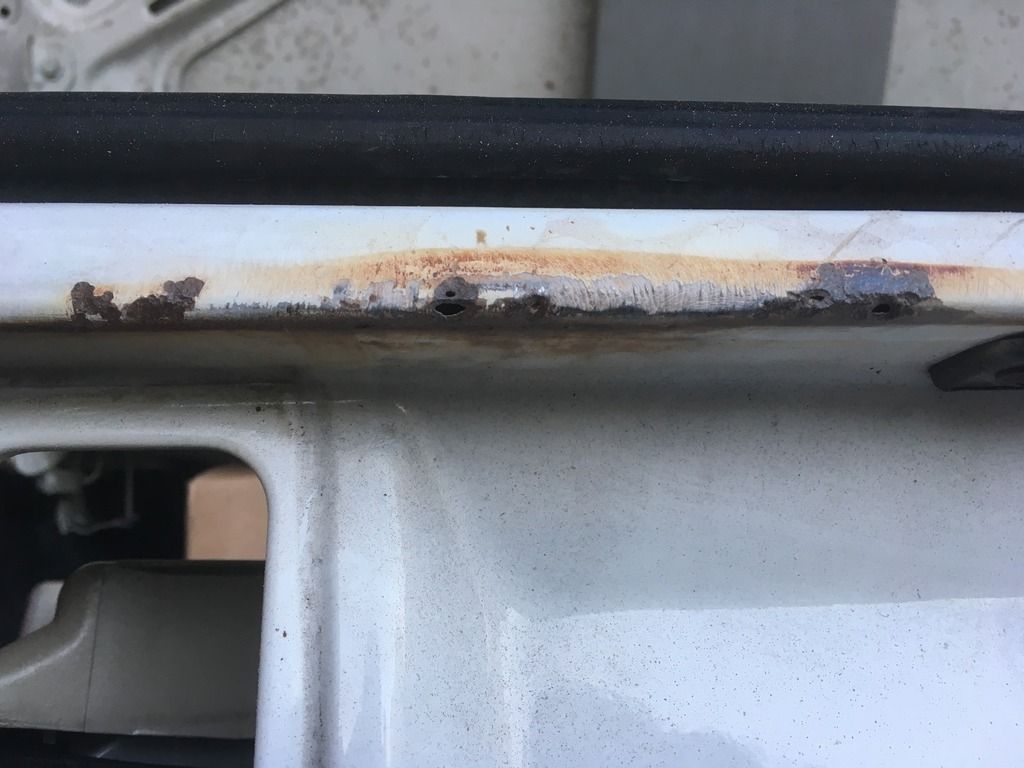 So there she is in all her rusty glory... Plans after the swap include:
fender flares
roll bar or welded in half cage
good set of wide wheels and tires
aftermarket steering wheel
customer center exit exhaust
custom rear diffuser
plastic bumper swap retaining the IS front valence and creating a custom splitter
RFID push to start needs to get wired in
Sparco or Corbeau seats
and so much more...