Next meet is: November 9th, 2014 7pm-10pm


Announcements this month:
Hello everyone! The meet is still going strong thanks to all the people on here and Instagram advertising it. There's also EuroSunday organizers that have helped the meet grow as well as a few websites that keep the meet listed as well including
http://www.riseandrive.com
.
We hope to continue making the meet more popular and vibrant within the local community. If the meet grows to where we'll be able to hold autocross events at other locations and possible drives as well, then we'd be able to make the meet an all day event. I'll keep everyone up to date if anything changes.
Schedule and Date:
The meet will be held the
2nd Sunday night of every month
starting
7:00PM
at
Bloom Coffee and Tea 1465 Eureka Road #120, Roseville, CA 95661
. The meet was originally for BMW E30s but all BMWs are more than welcome as well as all Vintage/Classic cars. Even if it's something rare that you believe will get a discussion going, please join.
Flyer:
Below is the official flyer for the meet. Please don't hesitate to copy, paste and share with your buddies in the area.
Parking:
Below is a highlighted area where we can park our cars.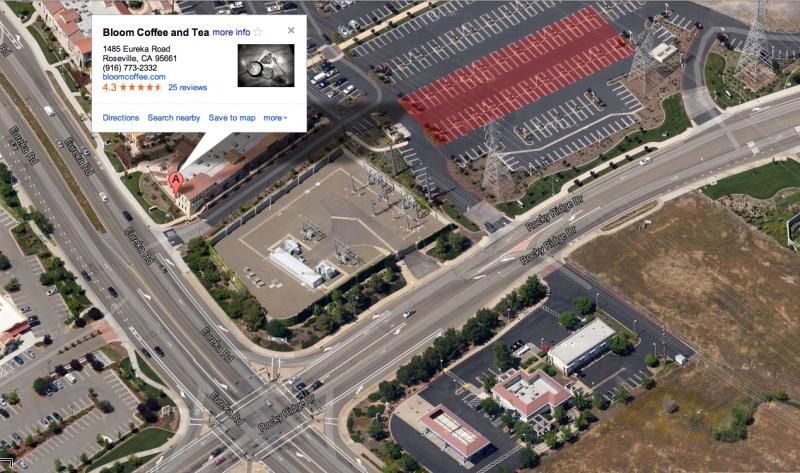 Sponsors, Discounts, Rules and Guidelines:
Bloom Coffee and Tea is hosting the location for us so please be considerate and keep your feet light on the pedal. Bloom is sponsoring the event as well, which means that during the meet hours, we will be getting a
25% discount between meet hours (7pm-10pm)
.
To get your discount just mention "BMW Meet".
Any disturbances such as burnouts, maniacal driving, erratic behavior or drinking alcohol will be terminated and I will kindly ask the parties participating in these actions to leave, and they will not be welcomed back. Please be respectful towards other people's cars even if what they've done to their vehicles is not "your cup of tea". I have not set difficult guidelines to follow so please help me out in making an awesome BMW BMW and vintage/classic cars meet a reality by following them.
Facebook Group:
If you would like to be added to the SacBMWMeet Facebook Group for updates and announcements, please don't hesitate to join.
https://www.facebook.com/groups/sacramentoe30meet/
Instagram:
For those who would like to promote this event through Instagram, here is an image you can copy and paste. If you're at the event and wish to post pictures, feel free to use the hashtag
#sace30meet
so your friends can check out the awesome cars that show up. We are keeping the old E30 hashtag since we're trying to keep to our roots and it'll be easy to find all the photos that are taken at the meet.
Thank You!
I hope to see you all there and lets talk cars!