So, I'm using an
Aeromotive 13132
fuel pressure regulator in my turbo stroker build
here
. It has a boost/vacuum reference port which is connected to my intake manifold.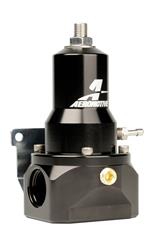 We set the fuel pressure for 45 psi with the car off and MAP reading 100 KPa. I noticed that at idle, with MAP down to 40 KPa, fuel pressure gets pulled down to 35 PSI. This makes sense.
However, Megasquirt VE tables already have fuel adjustments for RPM and MAP. Do I even need to have the FPR boost/vacuum referenced? Seems like it will interfere with the MS.
??