I've been getting occasional PMs for further detail on how I went about addressing my 'mess under the intake'..
Much of my guidance came from the 'mess under the intake' thread on m42club.com
http://www.m42club.com/forums/showthread.php?t=2742
I really want to like that site – but there's just more traffic/info exchange on r3v.
I posted a boat-load of photos in my Zen thread – but I was taking care of a lot of other things while I was at it – so it's scattered over different posts. The Zen thread is a good read of you want to know more about my take on about bumper-to bumper e30/m42 maintenance - after countless hours of research, thought, and meticulous execution. My approach was one of FULL/zero-mile, maintenance schedule reset – and 'stage-1' modifications – in the name of reliability and efficiency.
First off, when you start taking things apart – it begins to make sense. Don't be afraid to dig in. It's more tricky to write about – or take pictures of - then it is to do. Also - different people have different takes on how to go about it. Take what I'm sharing for what it's worth - my experience. Your results may vary.
In OE configuration, there are two 'multi-junction' parts shared by vacuum (air) and cooling (liquid) lines.
The OE coolant system has two 'sub-systems' in it. One is additional hose and plumbing to a heater plate between the Throttle Body and intake manifold. The other is/was a recall installation of a pressure relief valve between the 2 in/out hoses for the heater core before they enter the firewall. When most people take care of the "mess under the intake" – they are mainly referring to the removal of those two 'sub-systems' – including the two 'multi-junction' parts.
The TB heater plate adds many junctions or 'failure points' to the system with marginal/subjective benefit of keeping the TB from freezing up in extreme cold temperatures. The way I look at it – is that by the time the engine warms up enough to circulate coolant – the engine itself should be warm enough to keep the TB from freezing. Furthermore – I don't plan on driving my car in the US/midwest winters due to road salt.
The purpose of the pressure relief valve deals with minimizing risk of leak failure of the heater core. When it comes to this one, I tell myself that I will pro-actively replace heater core, valve, and plumbing w/in two years or at 150K miles. I like things 'stripped down' and simple if possible.
This diagram was helpful to me. It basically shows OE routing.
I was going to try to discuss routing here based on that diagram – but it speaks for itself – and again, it's easiest to understand when you are taking things apart.
Another helpful diagram: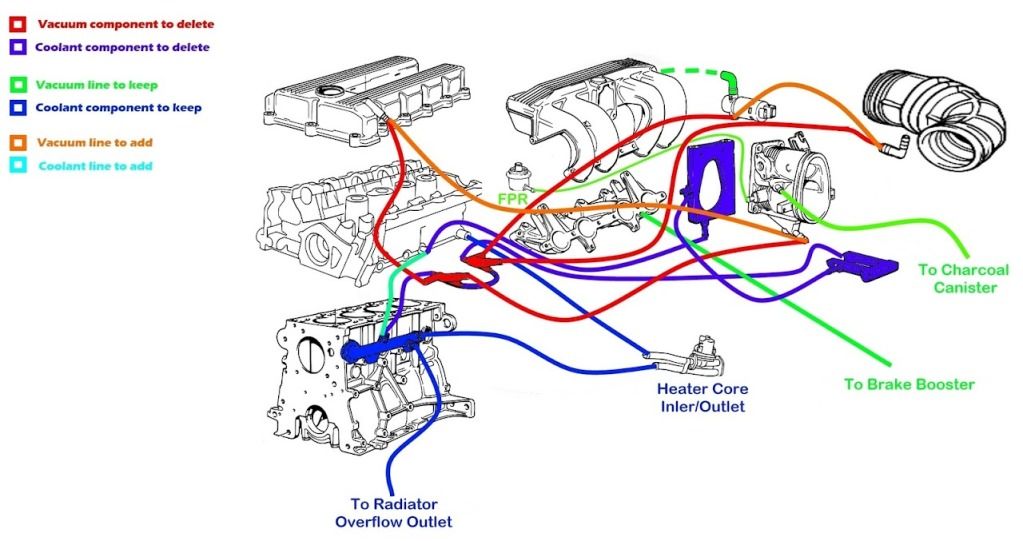 A big part of this operation involves either maintenance of cracked/leaking lines – or preventative maintenance for peace of mind and healthy operation. With that in mind, I'm going to cut right to the chase and provide specific parts/part numbers with their respective descriptions.
Line Qty Part # Description realOEM extended
1 1 13541743261 TB to intake gasket 2.02 2.02
2 1 11611717761 Upper intake gasket 12.88 12.88
3 1 11611734684 Lower intake gasket 11.46 11.46
4 2 13541726918 Fillister head screw (for throttle body switch) 7.32 14.64
5 4 07129908111 Stud bolt M6X28-ZN 0.91 3.64
6 1 ? BMW coolant (+ distilled H2O) 15.00 15
7 1 13411721971 AIR HOSE (valve cover to ICV) 7.46 7.46
8 1 13411721972 AIR HOSE (ICV to upstream air intake) 12.59 12.59
9 1 11727545323 VACUUM HOSE (fuel rail to throttle body) 18.52 18.52
10 1 11151717858 Vent hose (valve cover to throttle body) 21.16 21.16
11 1 13541739248 Vent hose (TB to Valve cover vent connection) 6.64 6.64
12 4 11151277301 L-connector 1.60 6.4
13 1 11531714738 Pipe connector from engine block 17.93 17.93
14 1 11531709157 O ring for pipe 2.04 2.04
15 1 11531717620 Radiator coolant hose 25.65 25.65
16 4 07129952119 Hose Clamps 1.15 4.6
17 1 11531709052 Radiator coolant hose 36.56 36.56
18 2 07129952115 Hose Clamp 1.27 2.54
19 3 64218367179 Hose Clamp 1.07 3.21
20 3 11531714636 Pipe to head hose (+spares) (cut short & twisted) 11.84 35.52
21 1 11151727509 Hose Clamp 1.02 1.02
22 1 07129952109 Hose Clamp 1.07 1.07
23 1 64211386691 Return hose (from core) 27.84 27.84
24 1 64211386690 Inlet hose (to core) 21.88 21.88
25 1 07129952113 Hose Clamp 0.96 0.96
26 1 13411433627 Idle Regulating Valve (ICV) 218.55 218.55
27 1 13721715881 Air Filter Element 26.34 26.34
28 8 13641730767 O-ring (fuel injector) 7,52X3,53 3.75 30
Total: $588.12
Sorry about formatting there. I wanted to post up text that could be copy/pasted to an excel file.
Prices are based on those posted on realOEM.
I would strongly recommend placing an order like this through
Blunt Tech
for first-rate service and lowest pricing.
Most all of the hose clamps I encountered were OE and of good/reusable quality. I think two were questionable. I replaced them all anyway – and kept old ones for spares.
In addition to the above OE parts, I went to a parts store for:
-- Short length of fuel line.
There are two 2" chunks worth replacing while intake is off. They deteriorate faster than other fuel lines due to heat cycles per proximity to engine heat.
and
-- Short length (~2') of vacuum hose.
In my set-up, OE vacuum hoses run from valve cover and ICV – to an area under the upper intake manifold. From that area, I connect via "L-connectors" to the parts-store hose – then run them to respective destinations on TB and air intake boot.
In order to ensure correct sizing – I brought an L-connector, along with an old chuck of fuel line to the parts store with me for comparison.
Pictures..
After removing upper and lower intake manifolds.
At a certain point - one can tie the wire harness box up on a wiper blade to get it out of the way.
Picture of TB and heater plate plumbing hardware which gets removed. (The TB is up-side-down in photo)
There are 4 studs (#07129908111) in the above parts list. They are shorter than stock ones used with the heater plate. Another little detail that helps make things look 'factory' when completed.
All coolant hoses out.
Old vs. new coolant hoses. In the old section, we can see the incorporation of the 'recall' pressure relief valve and affiliated/additional coolant hoses.
Shots taken during installation.
In the above shots, we can see the difference in diameter between the pipe outlet and cylinder head outlet. Well - the stock OE hose (#11531714636)
does
have different diameters - but it's not shaped quite right - and it's too long. I went ahead and cut the small-diameter end short - gave it a slight twist - and attached to the head. It works - but I believe I have compromised its life span due to the non-formed 'twist' that I put on it to fit. I keep a fresh one in the car for emergencies in case this one fails. I estimate the hose to be able to last about 50-90K miles in this condition.
Some opt to cap off the pipe and head outlets - but I feel more comfortable knowing there's available channels for circulation - even if they're not needed.
That's it. The stripped-down core of what my research returned.
Hope this information helps others.
Let me know if something should be added or corrected..