Hi everyone,
I recently picked up a fairly clean '91 318is (133K miles) in Atlanta, GA and drove it 10 hours home to VA. It's my first e30, so I'm still learning about these cars. Here's a photo of the car:
One thing I've noticed is a clunk/thud in the steering. I can hear and feel this thud/clunk. It doesn't happen all the time, but it happens more often than not (90% of the time).
Here are the conditions when I feel the thud/clunk:
1. I'm turning the steering wheel from 11:00 to 1:00 and back with the car parked and the engine on. I have long arms, so I've actually been able to stand outside the car, turn the wheel, and have my other hand on the steering joint in the engine bay. Most of the "thud" feels like it's in the steering u joint assembly. It's a loud clunk and I can't pinpoint where it's coming from.
2. I'm turning the seering wheel between 45 degrees and 90 degrees in either direction. The steering seems like it starts to bind up and provide more resistance than normal. Then I hear and feel the thud and the steering gets MUCH looser.
3. When the car is on jack stands (front wheels off the ground) I don't hear or feel any thuds/clunking or experience any resistance in the steering.
The car already appears to have a remanufactured rack in it. I have already replaced the power steering fluid. I have replaced the front control arms because of bad ball joints. I have tightened the coupler on the steering column under the dash (above the pedals).
So I'm *hoping* that the steering u joint assembly is the culprit (photo from ECS Tuning's site):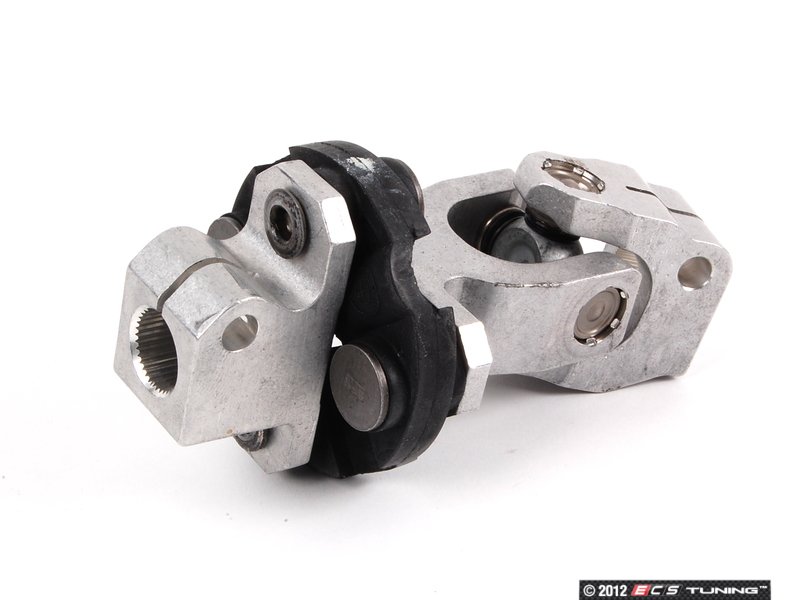 Any thoughts?
I've searched, but I can't find what is involved in replacing this part on an airbag equipped e30.
Any help appreciated! Thanks!