Let's start from the beginning, shall we? This happened the Sunday directly after The Vintage in NC this May.
Well, I guess I should talk about my weekend.
Saturday
I had an amazing time of course and it was another great year at
Vintage
. It was cool to meet Ottis and Steve Friday. There were SO many cars there that I still can't get my head around most of them.. As usual with
Vintage
. The car red head drove there with AC and purred along the interstates without any problems Friday. I put new spark plugs in and made sure all belts were good (except the timing belt cause I checked that last fall). I brought tools and the caravan of cars I rode with all did amazing. Even drove through major rain storm without any problems.
Here's what she looks like on Saturday (thanks for the pictures guys!)
Sunday
So me and the little lady get up pretty early Sunday to get on the road to Atlanta. Nothing to really type about .. Nice and easy start to a 5 - 6 hour drive. Just a matter of taking I40W -> I77S -> I485 S ->I85S then home.
Around 11AM we were trucking along I77 cruising around 70mph (about 3.5k RPM's due to the 4.10LSD out back) then..
BANG
We both were launched forward (seat belts locked up even). I pushed the clutch practically instantly. In that first millisecond I knew we didn't hit anything cause I was looking straight ahead and we were on open interstate. The 5th millisecond I looked down to see all lights were on in the car. The first second I released the clutch again while in gear to restart the car.. One full second into the event I new what had happened.
I only heard 1/2 of the engine spinning... That can only mean one thing.
So, I pulled us over to the side of the road. I tried to start the car with the starter and hear it. I popped of the rubber timing cover to verify my terror. Yep
Snapped timing belt
So, here are a few pictures of her Sunday.
You'll notice she looks the same, but if you had an X-Ray machine you would see that a bomb went off inside the engine. The AC was really working amazing....
Here's my $400 ride home. Gas mileage was excellent though..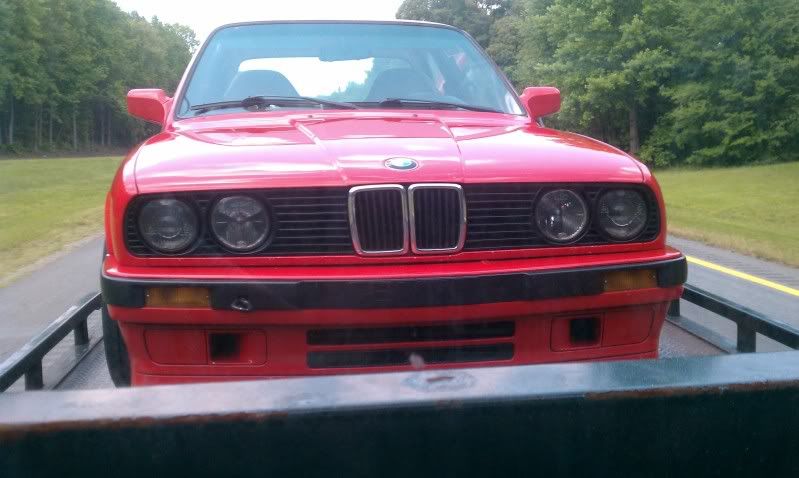 So, I'm not sure what I'm going to do now. I don't really have a shop to work out of, nor a motor standing by, nor any money 'cause I've been spending it all on the white car.
Overall, I've had better Sundays.
Cheers,
Huff
Cliffs 60k timing belt snaps on the way home from NC car show. 3.5 months later, this is where we are.
Enjoy!