Name: Dan
Age: 38
Location: Raleigh, NC
Occupation: Scientist
For fun: Besides E30s, playing and engineering music.
What got me into cars. Ive been tinkering with cars as far as I can remember. One of my favorite memories was building iirc a see-thru plastic 302 model that was battery powered. All the valves worked, the pistons went up and down and even little lights for the spark plugs. Some of you OG may remember the modeling kit. Anyway, it taught me how an engine works mechanically but a very important lesson was learned with this model. The pistons getting stuck and binding on the cylinder wall. Ive seen Pops using WD40 to lube up things under the hood of his customized van (yeah, early 80s vans!) so I thought, that should fix that! Well, as you would assume now, the WD40 melted all the plastic and was now a pile of garbage. Oh, well. After that I made the iirc a 7 cylinder airplane engine which was very cool.
After years of breaking Toys-R-Us RC cars, I decided to get a real RC car…the Tamya Grasshopper! This was the steping stone to many RC cars and the addiction, (RC-10, turbo optima, optima mid, Team losi's…) Now I knew how suspension really worked and how small adjustments changes the ride.
Even though my avatar looks like im a Honda hatter, Im not. They just don't make anything that moves me. I went thru 3 Hondas before upgrading to my current rides. My first project car while I drove my civics was a 1984 Mustang SVO. It had a 2.3 turbo. I tinkered with that car for a while but college got in the way and got rid of it since it required more cash that I actually had.
This was exactly what my first car looked like:
My next was my second car:
And a reference of my SVO: This one was fun!
Then came the BMW. This is when the internet started up(dayum, I am showing my age! Lol) and bumped into pix of BMWs. A good buddy of mine had a 79 e21. He let me take for a spin in the summer of 1990. I took it way to fast but I had room for error and it stuck to the pavement! That was it I need one.
Years went by until I can fundage a toy or have a good reason to get one. Katrina hit and with gas shooting up up and away, my wallet was taking a hit to feed my Supercharged Xterra. So I told the little lady, I was gonna get something a but better on gas. Off to ebay, I went! I found my coupe and it was even in Raleigh. It was bone stock but ran great.
The Coupe
I found a car that I wanted to model my car after online on
www.e30.de
…one of may favorite stops on the therewebz
After a couple of years, I was really close…
Then I raped the goodies off it and put it onto the cabrio.
I wasn't proud of it but it was set by the e30 gods that this will not be the end of the coupe. Time went by and then I amassed a bunch of new parts for it.
This kept me happy for a bit but I wanted to do more "hotroding." I kept a few bills in my pocket just in case I happen to find a 24V close by. Then one day, Clist pulled up one…5 miles worked for me so I picked up a M50NV engine.
And stuffed it in.
So within 9 months, this is what has happened to the coupe.
Suspension:
New control arms
New M3 CAB
New front strut bearings
New wheel bearing
New F/R stabilizer links
New front Brembo blanks
New front brake pads
New brake fluid
New front/rear Bilstein sport struts/shocks
New H&R sport springs
New 15mm drophats
Steering:
New PS Reservoir
New PS fluid
Newish 98 M3 Rack
New inner/outer tierods
Wheels:
New 225/45/16 BFG KDWs
Refurbished T-Star reps 16x7.5
Engine:
102K M50NV
New valve cover gasket
New oil pan gasket
New oil sump gasket
New rear main seal
New plugs
New intake boot
New air filter
New 88* thermostat
New pilot bearing
New throw out bearing
New exhaust from manifold to muffler
Misc.
New Fuel Filter
New Roundels through out
Leatherette sport seats with rear headre
Other options that happened before the new year.
Leatherette sport seats with rear headrest
Z4 2.5 shifter with ZHP knob
Clutch in 07
3.73 LSD
US plate filler
Readed the tails (need to redo)
Magnaflow 48513
New mats
Hella H4s with PIAA extreme bulbs
Euro grills
Shadowline
Ice:
Stock HU with premium speakers. :up:
I have soooo much time invested in the coupe that its hard to think getting rid of it. After putting a whole new suspension, M3 rack, and the M50, this car comes alive….all smiles. Still need to do:
Wiring harness covers
Maybe a puller fan.
I have a short list of things I want to do next to it.
MarkD chip
New front valence with IS lip
IS skirts
Maybe paint
Maybe red leathers
New Pix!
…the coupes story is not over.
The MtechII
Some of you followed my MT2 rescue.
Well it was slow at work one day and my local Clist was dry of anything that interest me. Im always on the hunt for a deal or even something rare to gawk at. I spread my radius a bit and came to this ad for this car about an hour away. Its been for sale for about 2 weeks by the time I saw it. I called up the owner and he was on vacation for another week and a half. Why is this car still sitting there, i thought? As many e30 nuts there are? Too far out from everybody other than farmers i guess because that is where I found it...on a farm! I went to check it out and it was well worth my low buying price. A project for sure but plenty of potential! I rescued it, drove it home, and waited for the next day to do some cleaning.
A little polish and correct wheels
I redid the seats. Comparo.
Newish interior.
And the outside.
The MT2 came to an end when I sold it. It was the plan al along but I really miss it. I sometimes regret selling it but I still feel like I made the right decision. If only I can collect these cars!
My cabrio
Well, Ive been wanting a vert even before I got my coupe but Im glad I got the coupe first...more on that later. I finally found one a few miles from me in mint condition.
Some Stats:
1991 325i Convertible
Birth date of 4/15/1991
GLETSCHERBLAU METALLIC with leather INDIGO LEDER interior and blue top.
Heated seats
Electric top...that works!
151K
The PO garaged it for 10 years and all service up to date. New shocks, brakes, tires, TB, hoses, valve adjusted...etc. It even came with a nice alpine deck with Infinity speakers and remote. I like the stock radio for looks but it is nice to have a cd player in a car again. It drives so smooth and straight. The leather has its normal separation on the back seat...minor.
I wasn't really picky about the color when looking but I saw the condition of this one and I had to buy it. I love the blue top and the blue interior is growing on me. Only upgrade was some H4's. When I got the car, the exterior was close to spotless minus some minir scratches and hood chips. The interior was quite tho opposite. I spent 9 hours cleaning it out with tooth brushes, q-tips, and tooth picks. It was covered with armor-all on top of dirt on top of armor-all and so forth. Lexol and I spent some serious time in it
I have some moderate plans for this car but its a great stock car.
The worst of it may be the auto. Not only that is that this car has some weight to it. If it wasn't for my coupe for reference, I would think that an e30 was just an ok car. I know many people can get some serious performance out of a cabbie but I cannot with my budget. When it comes down to it (for me anyway)...Coupe for the corners, cabbie for the cruisers.
Here are some quick pix...enjoy.
Here is it in my garage. It rained for 5 days the day I got it.
Left is clean right in nastiness
Its a wonder what a little soap and tooth brushing will do.
You can prolly tell which seat has been cleaned.
And the outside.
...and the their were two.
I wanted to keep this OEM so I added a few parts
Euro bumper trim
Euro grills
Smileys
Redded tails (not oem but it works for me)
Smoked signals(again, prolly not oem but it blends much better into the trim)
Rear headrest
But as I said earlier, I put some H&R coupe sport springs, Bilstein sport shocks, and euro weaves on the cabrio and this was the result.
Here are some of my favorite pix I have taken of my cabrio in the past.
These are hot off the ps press!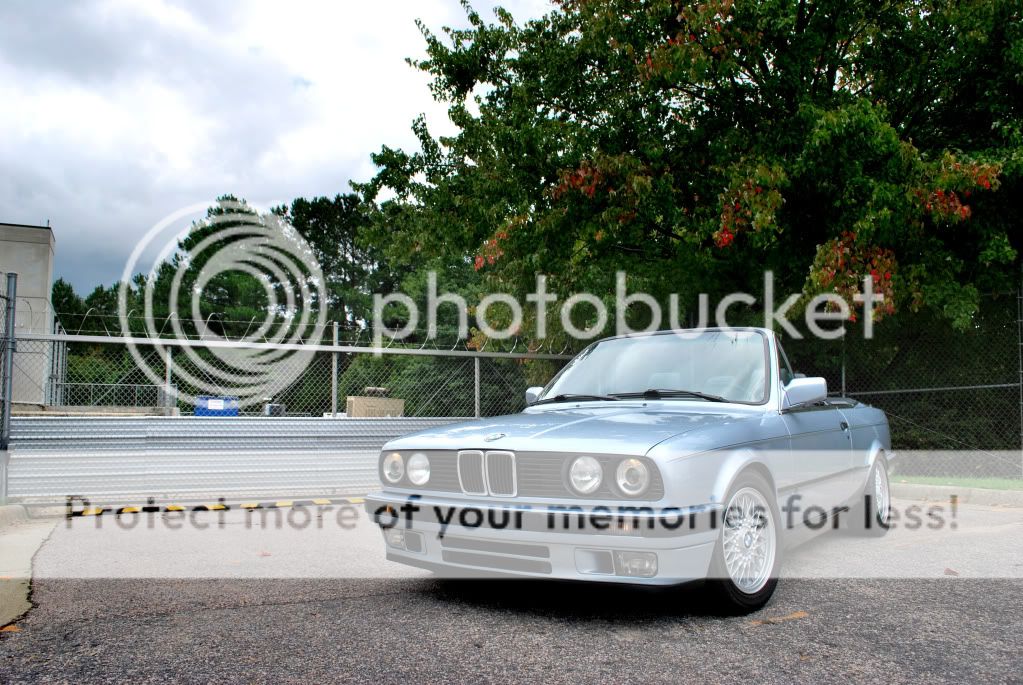 One of those photos made it to Roundel sometime last year and even our local BMWCCA Footnotes.
Future plans for the cabrio are:
Remove rear brake light
New leathers (im very picky)
5spd
Paint (im very picky)
Maintenance
I made it into these forums a bit late in my e30 game but just in time. Who knows what my head would look like if no one said "Change you Timing belt!" From noobs to the OG, there is so much info on these interwebs, ya just gotta search. Some of the projects that I have tackled are not readily available so I try to put some more info out there. Some good, some bad, but that all good…im still learning. These are great little cars and im glad (and greatful) to have e30s. J I believe that threads like these are informative to other e30 fanatics just in case there is that one reference pic that helps them get thru their own project. I honestly wished I took more pix.
I have met some great people thru e30s and have received lots of help with wrenching, parts, and info.
Most of my new parts came from Steve @ Blunttech. Levent and Turk at GPS always can track down a part. The R3v members with (mostly) good info. :p I might not have have gotten some of my mods done is a timely manner if it wasn't for my fellow wrencher e30rapidic. Our local e30 boneyard owner, Rigmaster.
Here are some of the threads I have made that show some of the projects I have done/doing. Most have been quoted here but no need to reword somethings…especially when most just want to see pix anyway.
My coupe resurrection
http://www.r3vlimited.com/board/showthread.php?t=190198
My MT2 rescue
http://www.r3vlimited.com/board/showthread.php?t=165446
I go to most of the local meets such as The Vintage, Cars-n-coffee, NCeuro, and BMWCCA. I hope to see you at one of these meets in the future!
Cheers!
Dan