~Background~
The story of my 1986 E30 M3.
It was one of the first 300 made, and is a non-cat 200h.p. Version. The original color was Diamantschwarz. The car was first registered in 1987 after sitting in a dealership showroom just outside of Münich for almost a complete year. It had 4 owners before me, one of which was the owner of that dealership.
How I came about the car is a story all in itself. In 1999 I had a 2.7 M tech II touring and one day a local guy who owns an Irish pub not too far from my house showed up at my door and asked if I would like to trade my touring plus some cash for his M3. I had seen his M3 a few times and wanted it really bad, but didn't have the money to pick it up and needed my car for a daily. I wanted to save the M, and had been watching it for a while too, his plans for it were to yank the motor and stick it in his 2002 at the time and part out the rest of the car. So after a bit of talking (he needed a new touring to haul his kegs of Guinness since he had recently wrecked his) I told him about my 1997 S10 I had that was unregistered in a neighbors barn. (A story in itself) So we agreed to trade even up for my S10 with a grand total of 11,000 miles at the time. My wife went nuts about trading a new truck for an old broke 13 year old 3 series, no one could understand what I was thinking! (only a true E30 head can) This car was at least the 40th BMW I had owned, and 20th E30 back then.
On my way home from the trade my big grin quickly disappeared. The shaved front emblem (bodyfiller) flew off the hood, and about 5 miles down the road, the car quite running. I had to tow the car the rest of the way home…. The P/S pump was held on with hose clamps, and the complete rotor and finger MELTED causing the car to stop running. Upon further inspection, the car needed a TON of work even though it only had 130,000km on it.
~Mod list~
Engine
-EVO II camshafts
-EVO III lightened flywheel
-Chip from some tuner in the 90's around here
-Non-cat exhaust with FMS stainless muffler
-E31 850i motormounts
-E28 transmounts
-M coupe rear diff cover with a 3,25 dif
Body
-Electric Orange paint (euro FORD focus ST 3 stage paint)
-EVO II front chin spoiler
-EVO III rear spoiler (fiberglass)
-EVO III hood seals
-Flared wheel wells
-Motorsport handles
-Smoked Hellas
-Star-tec taillights
-Rear plate filler
-Mosley Motorsports DTM mirrors
Suspension
-Lowered spring perches with e90 drop hats and customized strut tubes to --drop the Bilstein inserts lower into the tube
-Bilstein rear shocks w/ M coupe reinforcents and RSMs
-80mm dropped springs
-BMW camber strut plates
-Aluminum Control arms
-AC Schnitzer strut brace
-Every bushing/joint new OE BMW parts
Brakes
-Ferrado pads with Sandtler drilled and slotted rotors
-Steel braided lines
-Bigger bore master cylinder
Wheels
-BBS RS:
Front 212 et 13 8,5 X 17 w/ 215/40/17
Rear 197 et13 9,5 X 17 w/245/35/17
Interior
-All stock black leather W/rear sunshade
-EVO III M tech II steering wheel
-Backlight 1 piece shifter w/boot
-Ashtray delete w/ablagefach
Here is the oldest picture I have of the car, it had to have been taken in 2000 after I got the thing running and replaced a lot of the damaged/broken stuff.
a few other older pics in the color NEPTUNTURKISMETALLIC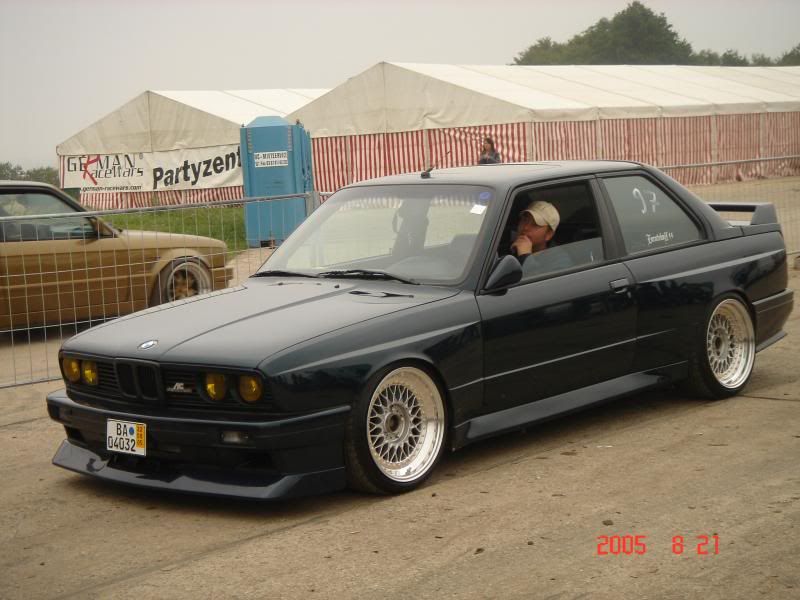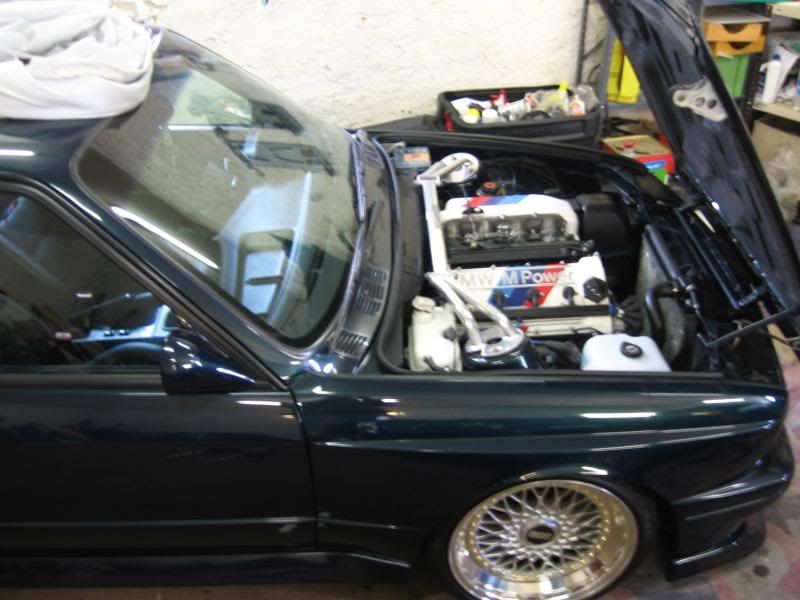 I drove the car in this color up until 2006 when I had finally had enough of always hearing "ohhh, It's Stephan's (P/O) old car" In 2006 is when I began working at the local BMW dealership, and figured, why not just rip the car completely apart and just go through everything! Up until this point, I had put about 3000km on the car in the 6,5 years of ownership.
Here's a few pics of the car in part during the "respray"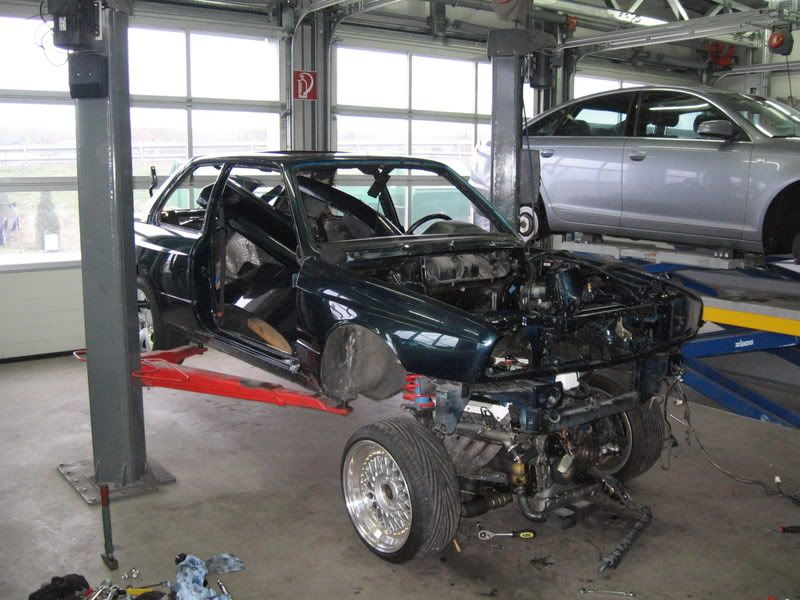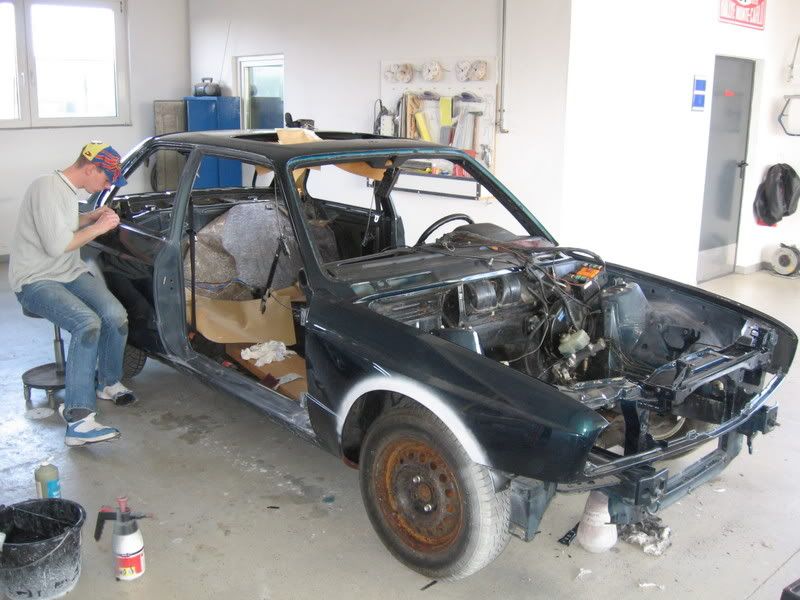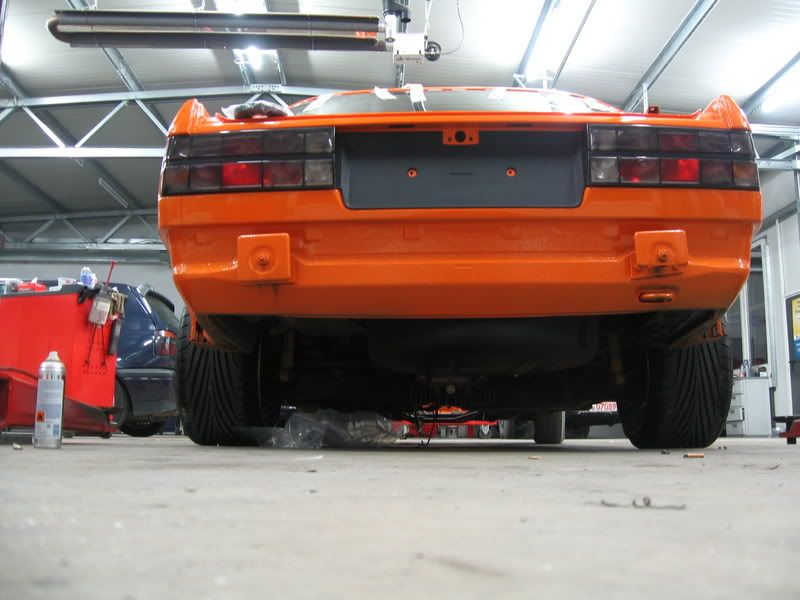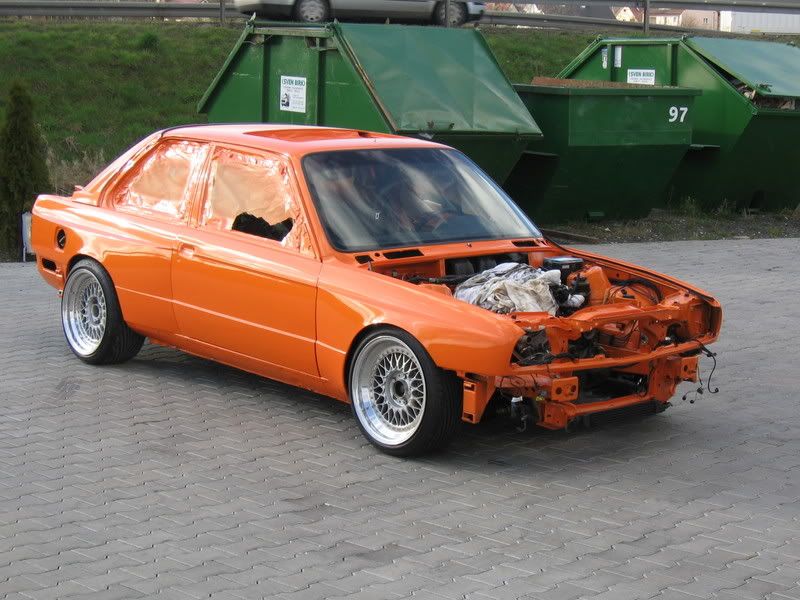 how it sits now: