So this isn't a crazy car build if that's what you clicked on the thread for, this is more of a story of me going from a car boy (a kid who can name cars, their engines and hp figures) to a car guy (a guy who actually knows something about cars, works on them while drinking beers, doesn't trust a mechanic unless 7.34 of his friends say he's trustworthy and most importantly is contacted by his family when a car problem arises).
I went from dreaming about working on cars to building a whole tool collection and learning every inch of my car.
So let's give a little background story of how I came to want my little box of joy. I was 14 looking for a car that was rwd, lightweight and of course manual. Even though I didn't know how to drive it didn't matter. I googled rwd cars and clicked on images and saw this brillantrot 325is on 14" bbs and fell in love.
More googling occurred and the love of the e30 grew I found r3vlimited and lurked on the forums. Absorbing every paragraph of information my pubescent mind could handle. I officially joined the forum in 2011 to learn more even though I didn't even have the car yet.
Since this was going to be my first car it was time to convince my parents to let me by a 20 year old car. Easy right? Needless to say I was shut down in about 0.25 milliseconds and my dreams of cruising down the i95 in this majestic das german beast were crushed. I started talking to my brother about the car and he soon fell in love with the e30 who could really blame him.
I ended up getting a 2006 lexus gs300 even though I didn't really want it, it still was a sexy ass car. Before anyone says how spoiled I am or I have a silver spoon up my ass, I've been working with my father in his supermarket business since I was 8. Could it be considered child labor? Quite possibly, but it allowed me to build a good savings account which I definitely needed for this car haha
Fast forward two years and my brother ends up buying a 91 318i vert! So I finally had the chance to drive the car that I was dreaming about. I couldn't wait to hop in, start tearing up some corners and bounce off the rev limiter! I hop in turn the car, turn the ignition on, I hear the wheezy m42 turn over with all 140hp ready to go, I put the clutch pedal in which is stiff & responsive and I put it into first. I start releasing the clutch waiting for the engagement point that my brother told me about and then the moment I had been waiting for comes to life. Not really...... I immediately stall 3 consecutive times. My brother ends up kicking me out of the driver seat and I ride passenger while I watch the smirk on his face.
My brother ends up moving to Chicago and tells me to take the car around the block and I learn to drive stick the hard way, by grinding gears, bucking, stalling and embarrassing my self every 5ft throughout my neighborhood. I can't take it out since it isn't insurance so my experience with the e30 was pretty shitty since I couldn't drive the damn car.
A year later, my infatuation with the e30 was still there just suppressed with the realization that I had no idea how to work on a car. I wanted a bike for a while to turn into a cafe racer, after seeing a few accidents that involved some deaths I got turned off to the idea. Which is when my best friend said to man up and get the e30 he had been working on cars since he was younger and told me if I needed help to bring the car over and we'll do whatever we have to until I learn how to handle it myself. So the search began.
I believe I saw a total of 16 cars that were just pure disappoint. Rusted floor pans, half assed turbo builds, questionable repairs (mainly a garden hose that was used for radiator hose and breather hose), diy electrical jobs that involved way too much audio wire for parts of the harness and just botch jobs left and right. 3 months later I found her. She had a leaky whiny diff, paper holding up the vents, no clear coat, no radio, but her body was in good shape and she sounded strong so she came home with my friend driving since I still wasn't the best with driving stick.
Sorry for all the words time for the pictures.
Jan 31, 2015
bought the car with mix and matched dry rotted tires and extreme amounts of body roll, but she was home. I drove it everyday so I could learn stick and determine what path (i guess would be the word) I wanted a street car that could handle the track.
Feb 9, 2015
bought small things that annoyed me sunroof crank, glovebox handle, ac switch
around this time i did a small tune up: oil change, spark plugs, valve cover gasket, fuel filter and spark plug wires
Feb 16, 2015
saw a random e30 possibly jasons aka abosrbtantnut??
Feb 22, 2015
of course my cousin who can't drive for shit backed into my passenger side door. this hit the bottom of my soul because she was so careless. Luckily i didnt murder her and decided to brush it off.
Feb 23, 2015
got new tires which made a huge difference (Falken ze912) and more than likely saved my life since my tires could barely hold air haha
March 1, 2015
took out my cluster for a tach refresh and si board repair since my inspection light wouldn't go off and my fuel/coolant gauges never worked
everything back in and working. new si batteries and a capacitor broke off which was annoying to find online

March19, 2015
new steering wheel (renown motorsport Which is for sale! Shameless plug) also saw jasons boosted 2002!
March 23, 2015
formula e event and my two babies
At this point I'm starting to get comfortable with working on my car with just the basic maintenance stuff.
May 5, 2015
I decided to stop my diff from leaking, my friend and I proceeded to drop my diff and put in new output flange seals for the diff solely using knowledge from the interwebz, r3v and my vast amount of car knowledge. also more tune up stuff happened fluids were changed out: tranny & diff. My tranny fluid was blacker than oil that had been used for 73,456 miles and barely a quart came out a which is always a great sign haha. The diff was Brownish in color, which was better I guess.
The whine didn't get any worse so I assumed everything went back in properly haha
May 19, 2015
my friends civic and my e30 also a random e30 I would always see at my internship
June 15, 2015
remember when i replaced my output seals with my vast amount of knowledge. well i didn't understand the concepts of torque specs and this happened haha
this is also the only time somebody else worked on my car since I had to stay at work. Lesson learned always follow torque specs. Torque specs save lives
July 3, 2015
alarm install which by the way is pretty comfortable with the seat out. I'm now just realizing I never found the horn relay if someone knows where I can find the wire let me know! parts starting to come in
August 16, 2015
new motor and tranny mounts, this changed my the entire the car, it was so much more direct. broke off the tabs that hold the fan shroud so I went with zipties because racecar
Sept 1, 2015
clean e36 I saw
Sept 6, 2015 through Sept 27, 2015
its suspension time!!!
so this is where I learned the most about the car. I started off by clearing one side of the garage which is also a gym/hair & nail salon/general chill zone/storage facility/entrance to our house. the reason it took so long was I had no idea what I was doing, things never really fit properly and I had no e30 friends to help out haha. So wheels off and on stands
Nasty ass rear shock
I also rebuilt my calipers, got new rotors and upgraded to stainless steel lines. Since my brakes were basically two pandas grabbing my rotors.
antennae delete since it looks way cleaner imo so it got pulled out
sprayed the calipers
got my struts out!!! happy moment for me since the ball joint didn't want to let go, thanks to harbor freight with the budget tools.
saw my future car on the road, but mine is definitely not going to be baby blue.
got new control arms in as well as sway bar links, tie rods
sprayed the struts
my gc coiler conversion wouldn't fit over this shock collar
took it to my school's machine shop and ground them down
Side Note: this is where I met jason aka AbsorbantNut after I ordered all my revshift bushings. Felt like a douche since I found out he works for condor haha
installed my struts
made a diy subframe tool which helped save me the trouble of burning the bushings out, which I'm sure my parents greatly appreciated
started on the subframe, but these damn bolts didn't want to come out no matter how hard I banged on them.
i thought this was metal or something but it ended up being a sort of sealant
drilled it out and the bolt popped right out after bashing on it for like 3 hours, lesson learned always check whats in the way of the bolts lol
I popped the other one out with a flathead, much cleaner
new control arm bushings
subframe out!!!
a torch definitely helps out with heating up the rubber from the oe bushings. Along with the subframe tool which helped push them out. For the trailing arm i used 3/8 threaded rod with one nut and a washer on the end, a washer in the middle and 2 nuts together to make a press. Along with the torch they popped right out
this is where I ran into my first issue the trailing arm sleeves were too tall for the trailing arm bracket which led to another setback that led to massive amounts of frustration since my mom was going to murder me soon because the garage was a mess at this point
went back to my schools machine shop and talked to my savior Fred who trimmed down the sleeves to the oe trailing arm height
subframe ready to go in!!
I don't know how i did it by myself, but a furniture dolly saved my ass putting it back in. It was a balancing act the whole time, but it went relatively smoothly. Let's just say I hit my max bench press at least twice that day haha. also R.I.P Harbor Freight Creeper you'll be missed
swapped out the front & rear sway bar links
new guibo!!
that tuck dddoooooeeee!!!!! (don't worry i adjusted it)
another beetle!!
victory beers!!! also a clean ass garage after a tidal wave of degreaser haha
back to way it was
fuck this blue box. I could never find anything I ever needed
Oct 16, 2015
had to take my struts off again to get the perches welded by jason who did a f*****g awesome job and adjusted the height this is how she officially sits
Nov 7, 2015
went to a drift event at pbir and saw this e36
Everything was going fine a dandy with the car, the suspension had finally started settling in. There was no more bump steer, she ate corners like it was a pregnant woman's midnight snack. The car was responsive and fun. Nothing was mechanically wrong with the car. It was paradise that I dreamed of when I wanted the car at 14.
Aaaaaaaaaaaaaaaaaaaaaaaaaaaaaaaaaaaaaaaaannnnnnnnn nnnnnnnnnnnnnddddddddddddddddd
this happened
I was coming home from school from a 12 hour study session for my exam tomorrow. I wasn't really paying attention since I was thinking of my exam. I went to turn into my community and my driver rear tire clipped the curb since I took the turn too sharp. I spun out and tried to catch it, I just wasn't able to whip the car around and ended up in the grass. My front bumper clipped a sign and I smacked my oil pan pretty hard.
I honestly felt like crying I thought my motor was dead since I drove it 50 ft to my house while oil was leaking out. She also shut off on my once I got to my house. The frustration and disappoint was starting to set in. I thought she was done for, my budget wouldn't be enough for a swap and a new motor was still too much. I was a little depressed at this point, but on the bright side I got into an engineering fraternity for being a smart cookie lmfao
So i thought I only needed a lower oil pan, but then I saw this
What a great feeling it was to see this :)
I went to chicago for thanksgiving and the car sat on stands for a little. Finals were coming up so I didn't have time to work on it. So she sat for a few days staring at me and never breaking eye contact. I could sense her disappoint with me. I did see turbovargs e30 though!
So I searched for parts and ended up posting ads here and got everything I needed thanks to the good people of r3v!!!
Got the upper pan in and let it sit so the rtv would set in. I'll post a vid of it first cranking and my reaction haha

Reaction Video
https://goo.gl/photos/YzsxvCvq4QLnvd9k8
Dec 15, 2015
got the bumper on couldn't find a silver one so decided to settle for this
Dec 19, 2015
New steering wheel!! Deep dish is a very good thing
Dec 20, 2015
went to wekfest to and met these beauties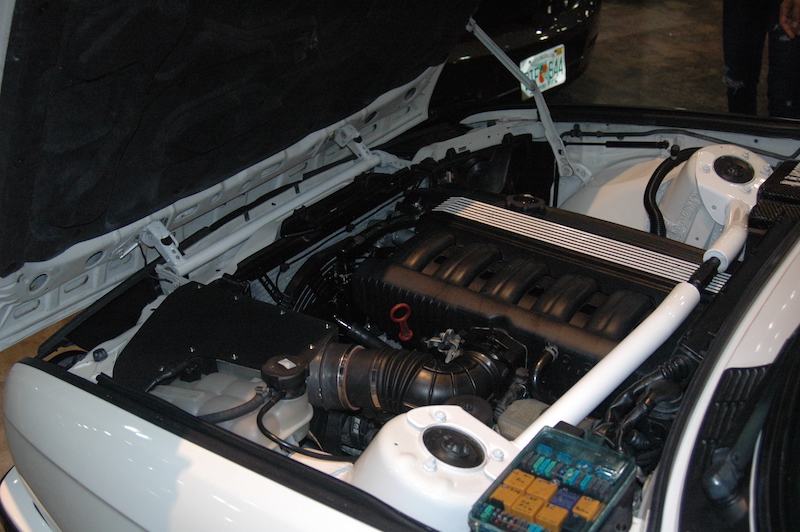 Dec 25, 2015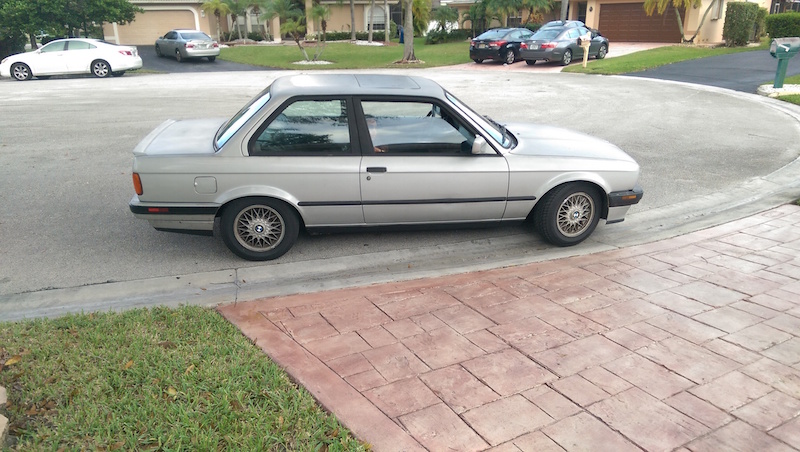 not looking too bad
Finally got a toolbox and my ocd kicked!!! I will repeat this again fuck that blue box haha
That's all I've done with the car so far. There have been a lot of ups and downs, but for the most part everything has gone pretty well. My plans before summer are to overhaul the cooling system: water pump, thermostat, and new hoses, do the mess under the intake (for you m20 guys it's basically replacing the vacuum lines), new clutch slave and master since I don't want it to spontaneously die on me, and new accessory belts. In my head I'm making it road trip worthy without having to worrying. During summer I plan on respraying the car if my budget will allow me. So there's going to be a lot of car details to help make me some money throughout the semester, I'm also planning on designing a drop in led kit for my e30. If all goes well I'll start selling those as well.
It's nearly a year now with my baby and things are going pretty well. I'm still learning of course, but now I'm able to help friends & family with anything invovling cars. This would've never happened if it weren't for my best friend which I thank him for, although my bank account hates him with a passion right now haha. Also, thanks to my girlfriend for never questioning why I was up till 3 am and why I was constantly broke, also for helping me put my exhaust back in and throwing tools to me haha
Anyways hope you guys enjoy my little story and my tiny portion of a "build" haha