Editors Note: If you've been around r3v for a little while, you know about Otis and his turbo setups. Ive lusted after them myself for my own "318" but Im not as crazy as Otis and some of you. I love seeing updates on this car, but when you see the story behind what he's built, its pretty amazing. Especially when you can credit a M10 318 for essentially creating the Good& Tight empire! haha Congrats Otis on being selected July 2016 Car of the Month
Color:
Alpine white
Factory options:
only factory option functional on the car are the power windows.
Interior color:
Two aluminum race seats
Engine modifications:
Stock bottom end M30B34, Cometic HG, ARP's, Schrick 280/284 cam, 1000cc injectors, Dual Bosch 044, custom aluminum intake, custom Twinscroll turbo manifold with twin 38mm Tial wastegates, Borg Warner SX300 91/79 Turbo. Megasquirt ECU, runs on E85.
Exhaust:
4" aluminum, no muffler
Transmission:
Ford C4 3 speed, 3200 stall converter, reverse manual valve body, 3" single piece drive shaft.
Differential:
Welded open 2:93
Suspension:
Rear: 5 lug MCoupe rear trailing arms and axles, 1000# TC Kline coilovers, Bilsteins. Front: 65# coil overs, touring shocks.
Wheels:
Rear: stock spare E36 steelies widened to 10", 275/50/15. Front: 3.5" Aluminum Pro Star 15/3.5 Drag skinnies
Exterior modifications:
Fiberglass front bumper/Valence, Carbon fiber hood
Interior modifications:
10 point roll cage, Kirkey aluminum drag race seats, 5 point seat belts. Interior gutted, sunroof delete, aluminum door cards, too many gauges and switches.
Story behind the car:
Owned the car 22 years, it was my wife's DD when we meet, just a regular 318i. Modded the M10, still slow, got into turbocharging, built a Turbo 2.0 M10, it finally blew a rod at 27psi. Wanted to go faster, installed the Turbo M30 and it's a scary ride now, last dyno it laid down 554rwhp & 622ftlbsTQ. Runs 10.00 in 1/4 mile @ 137mph with 22psi. Everything on the car was fabricated by me except the transmission driveshaft.
Tuned by myself also..!!
Damn I've put a lot of time over the years in this car.
-Otis
Most recent setup pics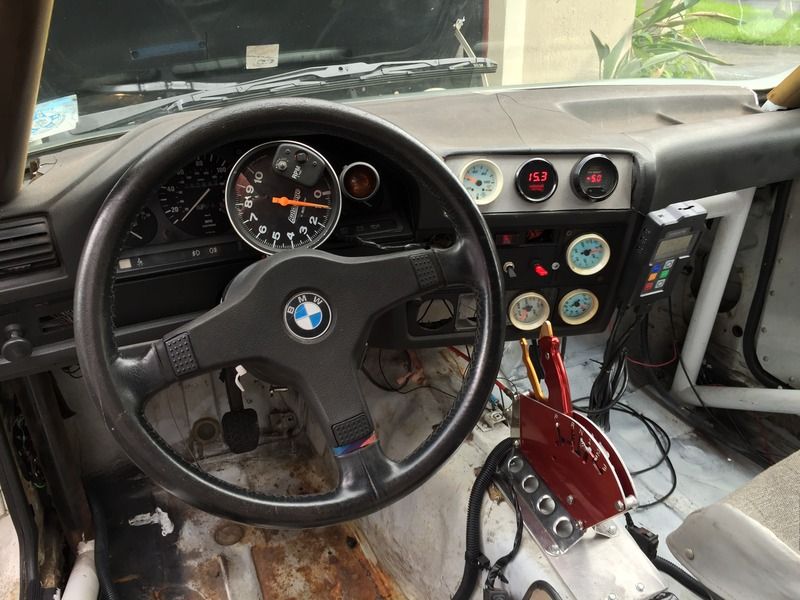 another of the old setup before he put her on a diet
Heres an older pic after he stretched a 6" steel wheel to 10" Love that meat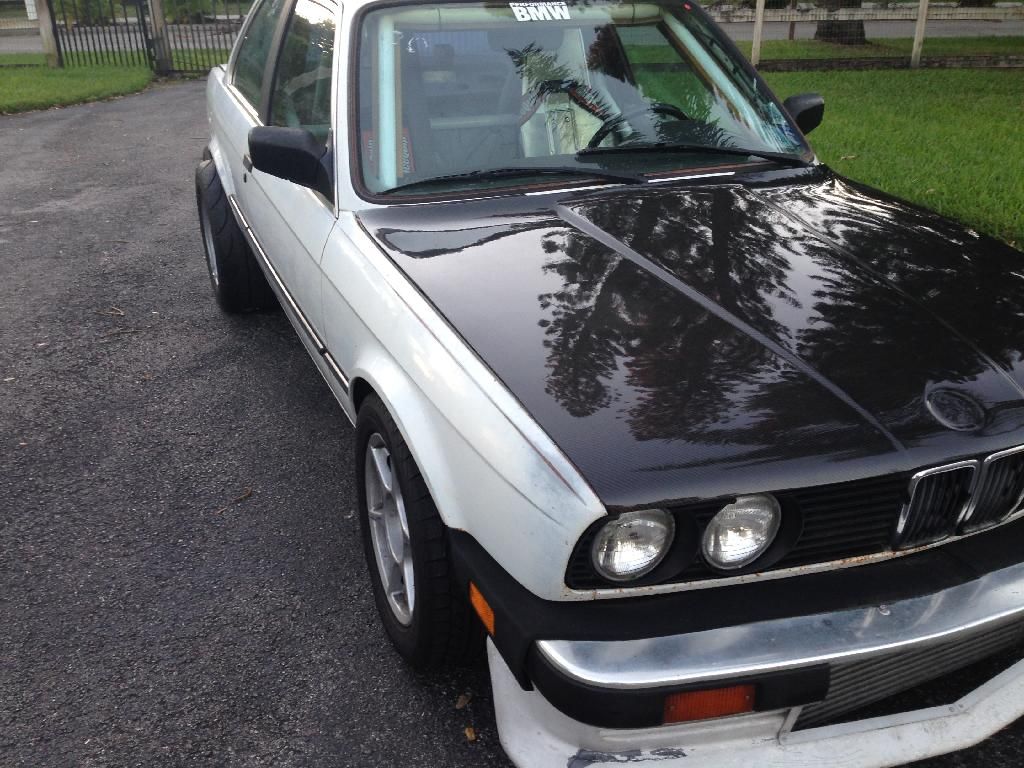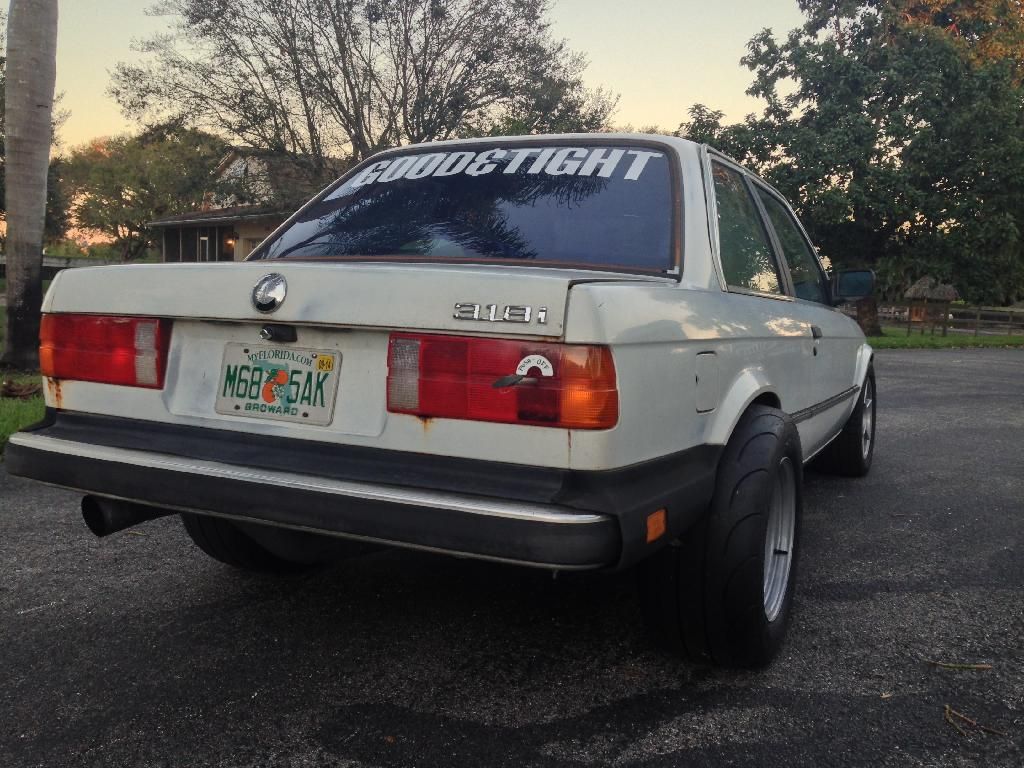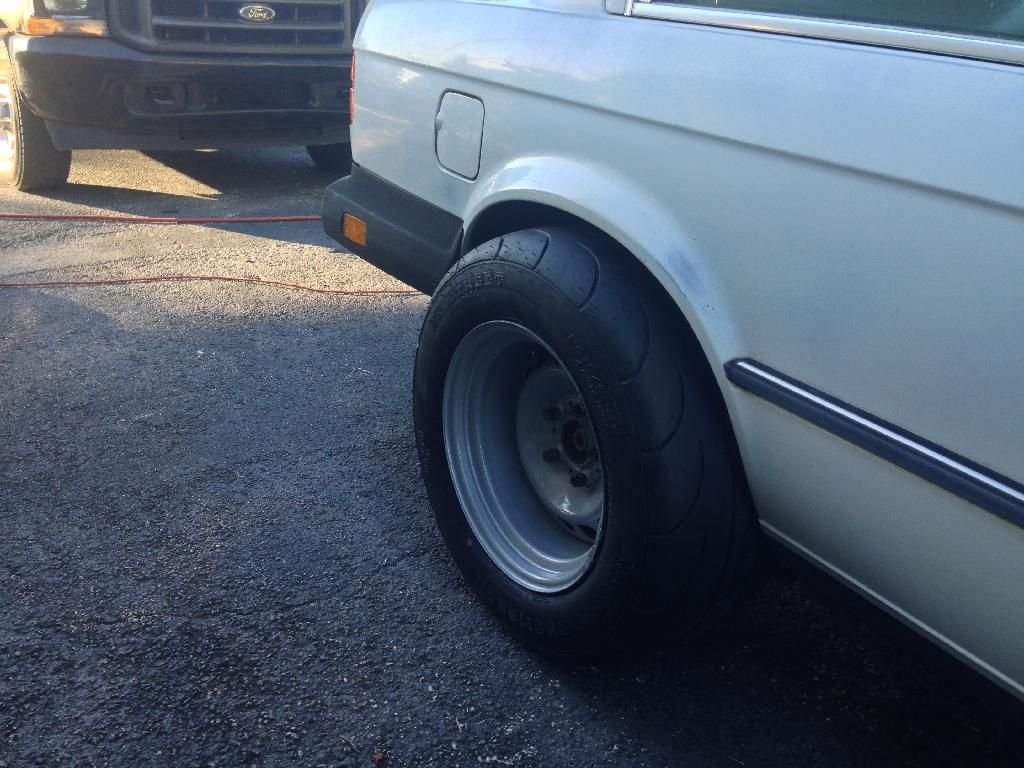 Dig through his old posts and you find gold like this!

And I leave you with this, a good ol burnout with the American Flag in the background. Happy 4th everyone! God Bless America!! hah