Some background behind the car & ownership:
I used to work a job in Beverly Hills and on the weekends I'd always catch this laguna green e31 driving around. One day it was parked up the street so I walked over and checked it out while burning time. You could tell it was a daily driver, which was awesome to see since a majority are garage queens. It was a 840ci with 3 piece Schnitzers, tan interior, and looked pretty clean for its age. Years back I remember seeing them for such insane prices it seemed unobtainable that I never considered searching for let alone owning one. Prior to even searching I did some research on these cars and found a few interesting things. For one, as cool as v12s are they brought about problems and working around them seemed insane. Since I was pretty familiar with the m60/62 due to my e30 project I felt a lot more comfortable handling those instead of the moneypit v12. Two of everything just struck me as breaking my wallet and would be down more than driving around.
I picked up this e36 off a friend of a friend who was planning to sell it to the junkyard. Nothing wrong with it, just saw it as an old car and didn't think it was worth anything. It was a 95 325i m50NV 5 spd black on black with 252k on the clock. I purchased it and fixed it up a bit over a couple months, then the throw out bearing begun to go. I started collecting parts in preparation to do the clutch/flywheel since the seller had no idea of its age/miles. Otherwise it was a great car & was extremely fun to drive around as a commuter. Especially on the freeway it felt very light and solid zipping around.
I found myself searching craigslist one evening after buying yet more parts for this clutch project. I stumbled upon this e31 & don't believe it had a price listed if memory serves right; but it had a list of cars he wanted to trade for. That list had mentioned an e36, so figured why not give it a shot. The e31 had been sitting for a year, transmission blew out and he just hadn't been interested in fixing it. I figured this would be a hell of a gamble trading a driving, running car for a mystery flat bed special. So we arranged to meet, brought a buddy & pink slip in hand incase this proved to be a worthy deal. After all the photos were semi-vague even the paint code was hard to make out. *Note this was not the actual clist photo but one that I later found.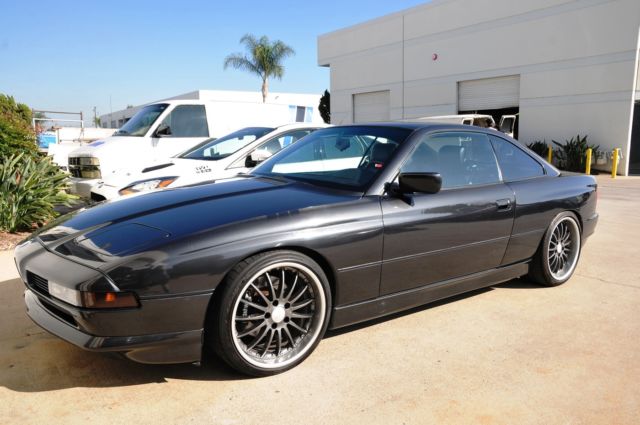 It was 1994 840ci Diamond Schwartz on Black Nappa Leather, how could that combo be beat. Upon inspection the body was very straight and clean, little tiny dings here and there but very good shape. The interior looked decent for its age, and motor didn't have any major signs screaming out at me. Just looked like it needed some good ol TLC and elbow grease since it was getting up there in miles and age.
I stumbled across this link/ad a while back after purchase and couldn't believe that my PO took out the wood trim and what not. One day I might try and source it but finding the veneer without the price gouging will be tough.
We swapped pink slips that night, and I came the following morning with a flatbed to haul it on home. I put together a list in the morning of what typical wear and tear items would most likely need to be replaced. Some items were dirt-cheap e32/e34/e38 stuff & other 8 series specific parts. This made me wonder if this was the right choice to really start with for an semi unknown project car. With it home I began to assess the car better and started poking around noticing little quirky things the PO did to either fix or replace things. A couple of things kind of stood out to me that shouldn't have been touched by someone inexperienced. More was to come later on the more I dug into the car and left me shaking my head each time.
Before you begin to think it's all sounding too good to be true… The transmission pan was leaking like crazy, the owner had a spare filter for it, and a ton of RP ATF in the trunk. I found the cable for the shifter in the trunk along with some other mystery items. The passenger door handle would lift but not engage the latch, common e31 problem I found out later on. The drivers side was soon to follow later that month going from only engaging 50% of the time to failing all together. Alright no big deal, it has 149k miles and had spent a lot of time outside. Paint was burned on the drivers side, and the tail lights were cracking from the sun. He had it in the same spot for about 6-8 months since the transmission failure and the sun took its toll on the paint.
On the plus side it did have new front arms and sway links installed, along with the tires on the 19" Breyton's that it came with. The 19x9 / 19x10 combo looked kinda of decent but not my style, and there was a lot of rubbing on the front splashguards. Not sure if I lost one of the lenses for the FTP on the tow home or not since I didn't notice it that night. Going under the vehicle, I noticed only 4 of 10(?) torx bolts were holding the motor onto the transmission. So I wasn't sure if he tried to remove it and stopped or not?
I'm compiling the photos so I will update the following post & continue from there after cleaning up. Figured its about time to just make a thread on this car since its getting pretty deep & its kinda like an e30 right?