So thought I'd finally share the story of my E30, and its progress to date. I recently almost sold this car after buying a house..just no more time to work on it. But My interest has been renewed, and now I'm going at the project again full bore.
Started out as a non-running 1990 Calypso 5spd Coupe from craigslist.
Went and checked the car out, had a bad fuel pump. The previous owner had wanted to get into E30's, but was not mechanically inclined. Having done serious research for 1.5 years before I finally convinced my wife to let me get one, I was able to determine the Fuel pump was bad. So fairly confident that was the issue, I bought it without even hearing it run..had it towed home.
Fast forward two years and over 5k later in various mods and maintenance items.. Now sitting on h&R sports/Billy sports all around, fully re-done suspension, new exhaust, Miller MAF, HID's, pretty much have replaced everything under the hood except engine internals...Car is still in need of a paint job, and a good set of rims.
Also planning on getting the entire interior re-done. I had retro-fit a set of E46 Powered sport seats in here, but I think I'd rather just have the sport seats.
Car in it's prime, before sitting for 6 months while I bought my house and lost the time to dedicate to it.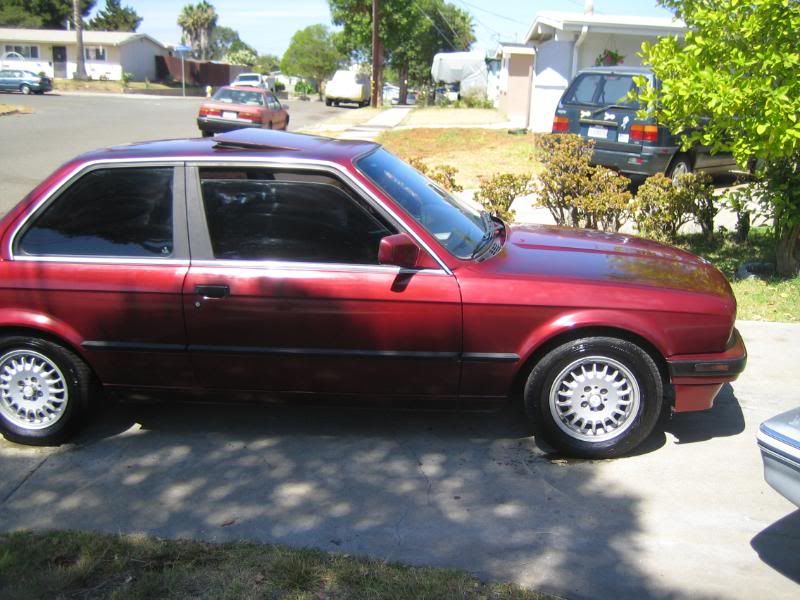 Most recently had to get a new cat installed to pass CA smog. $335 OTD for a magnaflow. Car sounds gnarly with it. Pass smog with flying colors.
So I spent today ripping my tranny back out to fix a persistent leak that's been going on since I did the clutch job last year. I'm thinking that I put the input shaft seal cover on wrong, and the oil channel was pissing out down and out the bell housing. This would be the third time the tranny has been out, but previous 2 times were with access to a lift and help. Now that I can't get on base anymore..I had to settle for ramps and jack stands, and go at it solo.
Car as it sits now, awaiting an SSK from Blunt, some redline, and time to re-install everything.
Next after this will be new rotors/pads/lines all around.
I can't believe I almost sold thing thing, would have taken a huge loss. I've done everything myself on the car with the exception of the tint and welding up the cat.
More to come!