I've been working on the restoration of my 1987 325is (Mk II, as I coded her) for the past 5 years now.
She's my second e30 and I love her to death. The restoration has been a slow process since I've been doing all the work in my garage on jack stands and trying to get to it when I can. My plan is to have her on the road by the summer.
Here's a little back story
I'm pretty passionate about BMW and a proud owner of a 2004 325xi and a 1987 325is (currently restoring)
My addiction all started about 10 years ago when I got my first bmw, a 2003 e46 330ci, it was beautiful, Topaz blue, manual transmission, fully loaded, I feel in love with it, became my garage queen.
As I dived hard into the bmw realm, I was introduced to the e30s by a friend, talked about how small, adgile they were and farly easy to work on. It just so happend there was a '88 325is sitting in a driveway in my neighborhood, it was there for a while, passed it everyday not realizing how special it was. As I got more into the e30s i knew I had to have it. Turned out it belonged to a friend of my sister, it was his first car in high school but lost interest in it. I called him up, and made a deal to purchase it, without even looking at it or what kind of work needed to be done. Picked it up, drove it home 5 miles away, holding the door closed since it the lock catch didn't even work, wheel bearing whining, who cares! haha I was so excited didn't even want to go to work that day... Finally ready to start assessing it, the first thing I did was pull the hood release to check out the motor and the release cable snapped... off to a great start haha, but I was determined to rebuild and make it awesome...
here's some photos of what she looked like a day or two after I pick here up, in 2005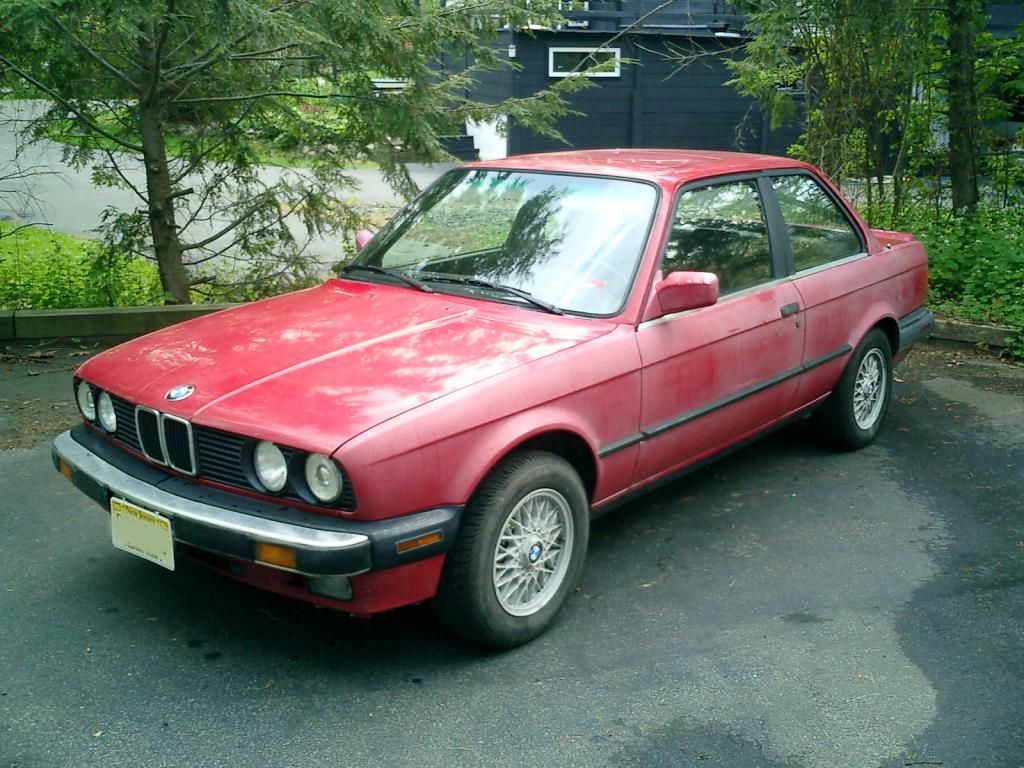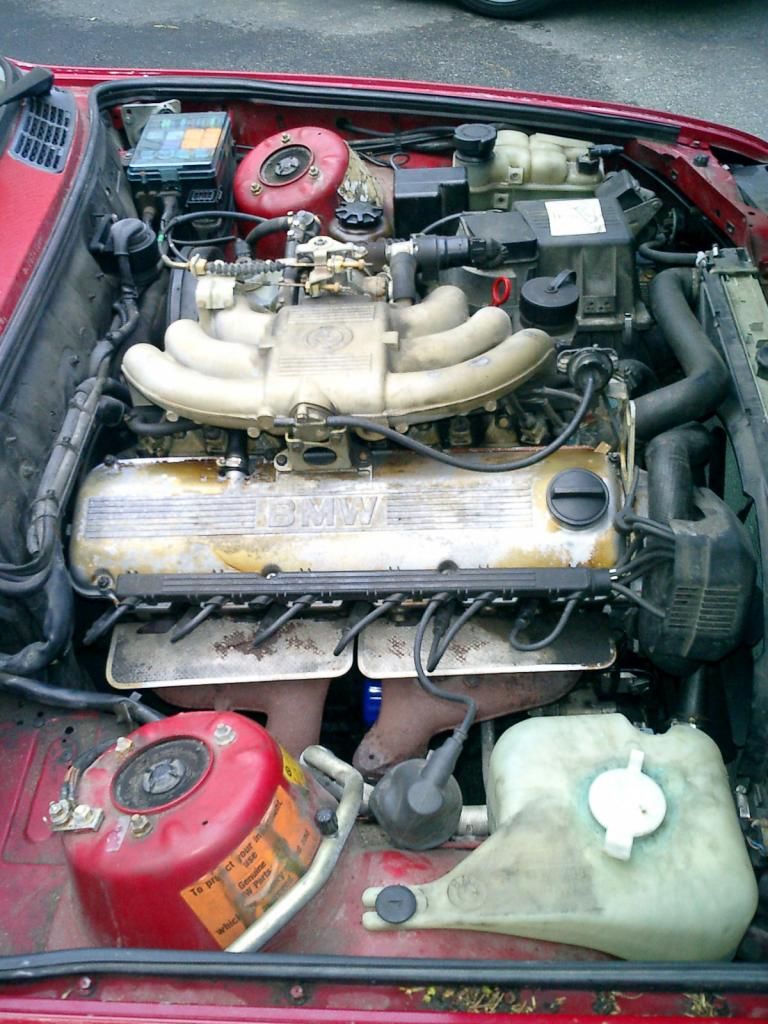 and after 3-4 years of cleaning here up, she was mighty fine. 2008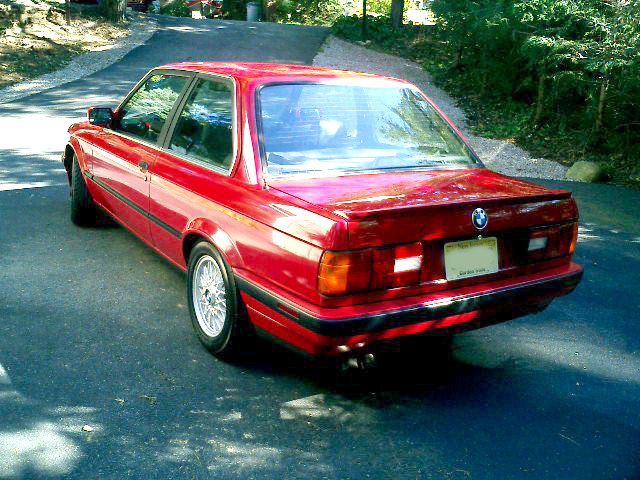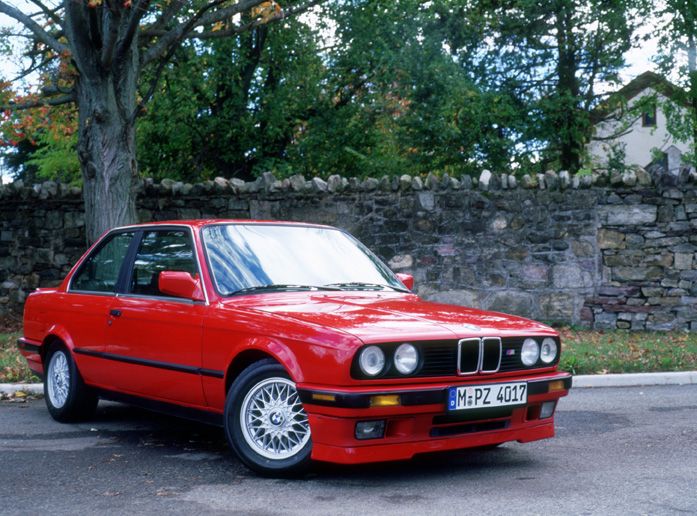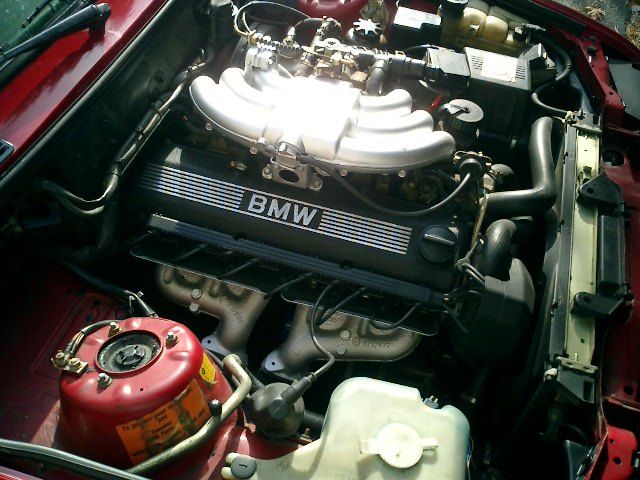 Then when all is right in the world the most unimaginable diasters decent upon us...
driving on the highway, Labor day 2009, cruising in the left lane, minding my own business, a Mercedes from Maryland (wish i got the plate number), changed lanes without warning cut into the left lane, I swerved to the shoulder to avoid him hitting me (probably would have been better to let him hit me) as my wheels hit the rumble strips the rear wheels locked up, sending my car into a fish tail, I remember being sidways sliding down the shoulder, I cut the wheel back to stay out of the lanes of traffic to avoid being hit and the car spun into the concrete divider, and then rear spun hitting the concrete divider again... and the damn Mercedes who cut me off just drove off.. never to be seen. There I was, on the side of the highway, my car totally destroyed....but on the positive note I was able to walk away without a scratch or any injuries. Definitely a wake up call...
here's some shots of the damage...RIP my 88 325is, you were one sweet ride...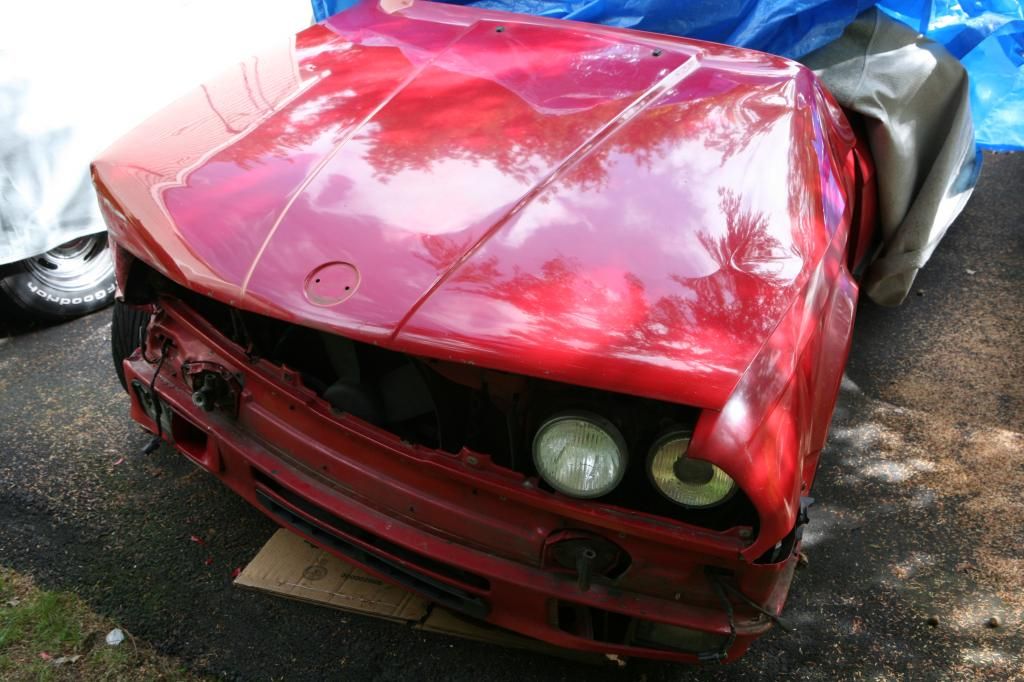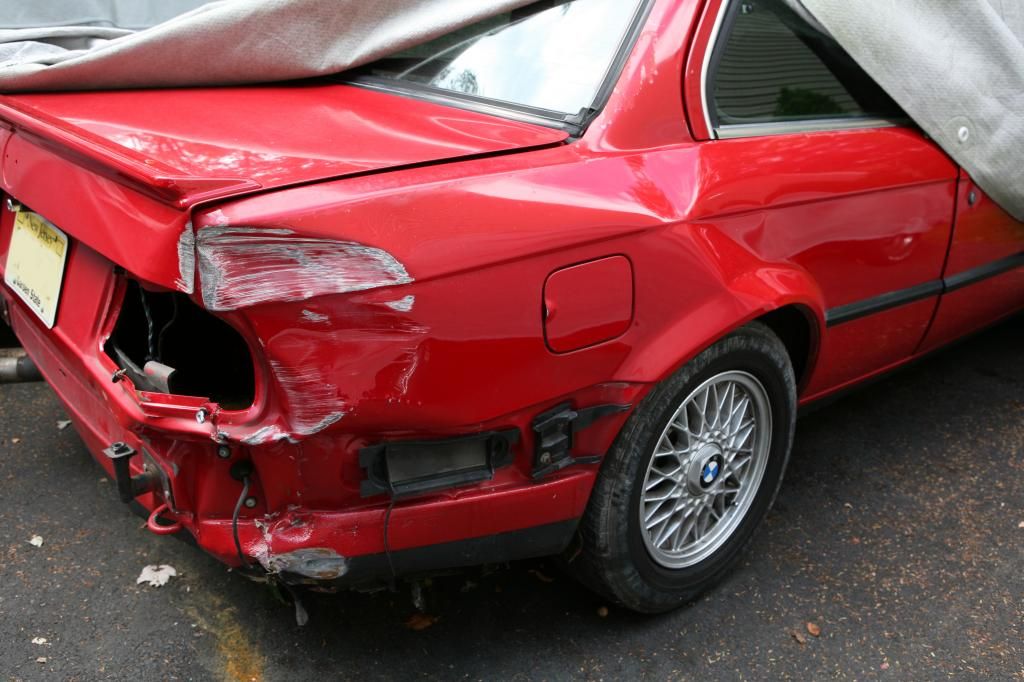 Unfortunately at the time I was an idiot and only had liablity insurance on the car so it ended up being a total loss. stupid me
I was devistated to lose her, but the next day I started searching for my Mark II. While I searched everywhere for my next e30, I took apart the 88 piece by piece, screw by screw and saved everything in hopes to transfer it to the next build.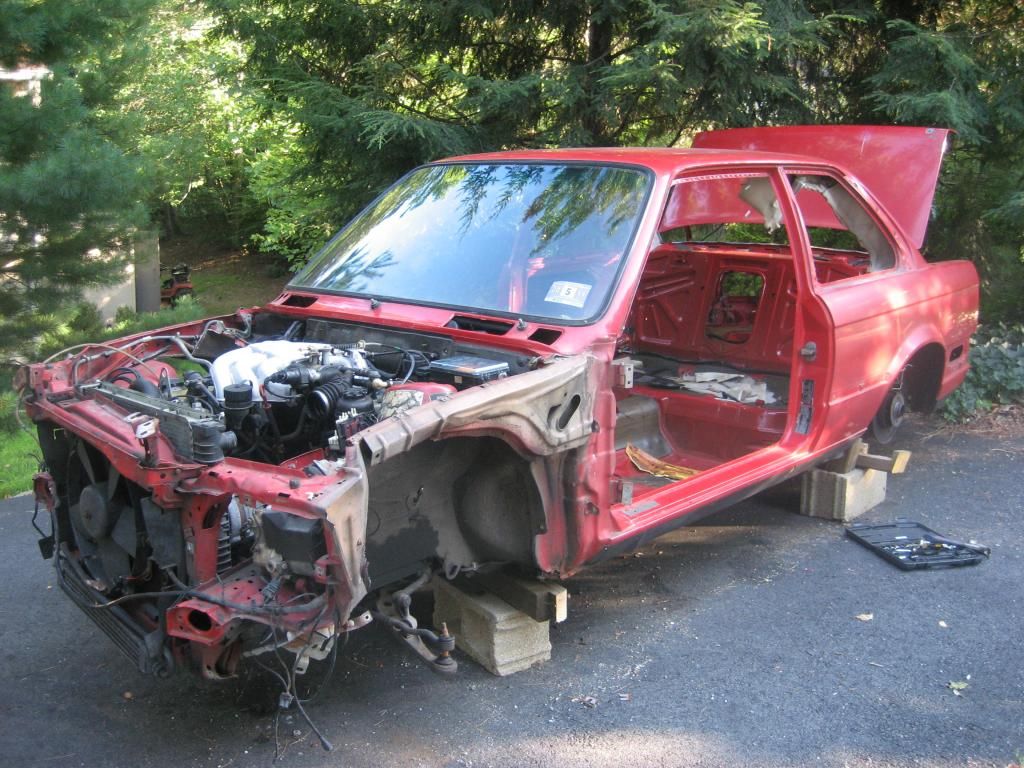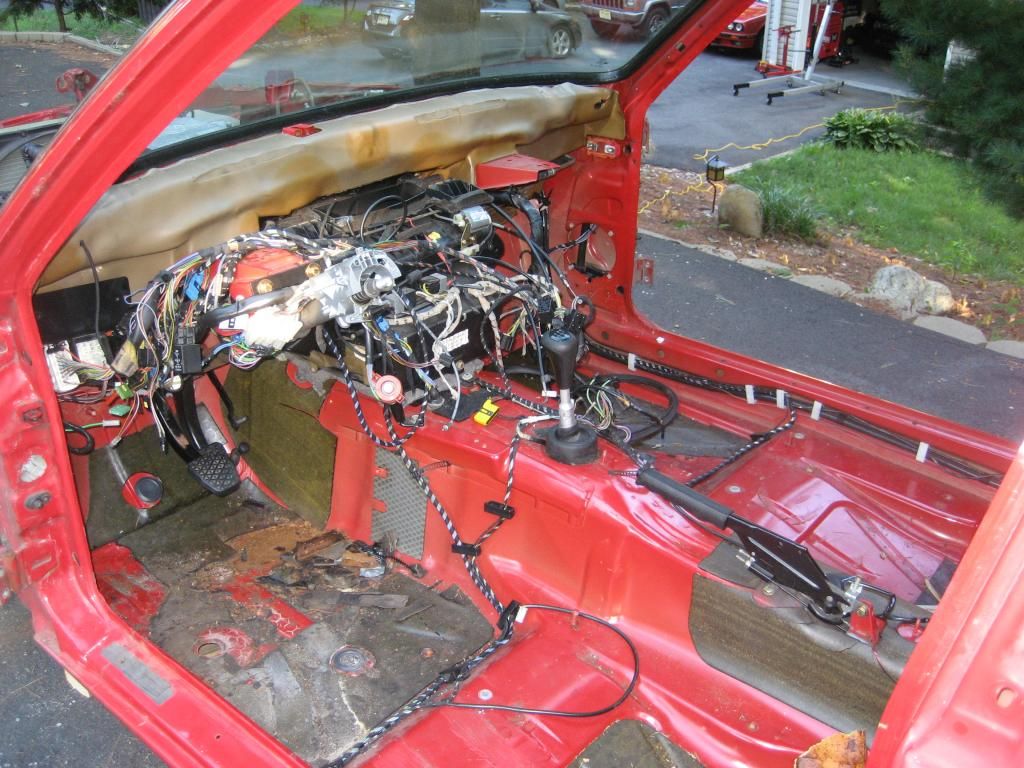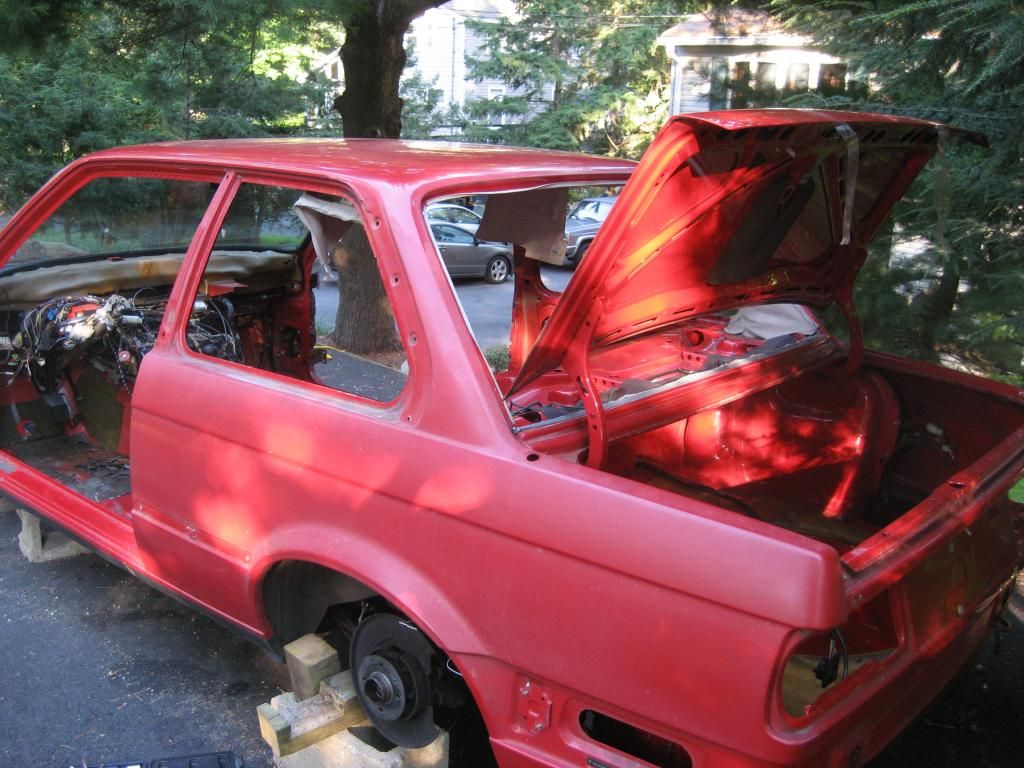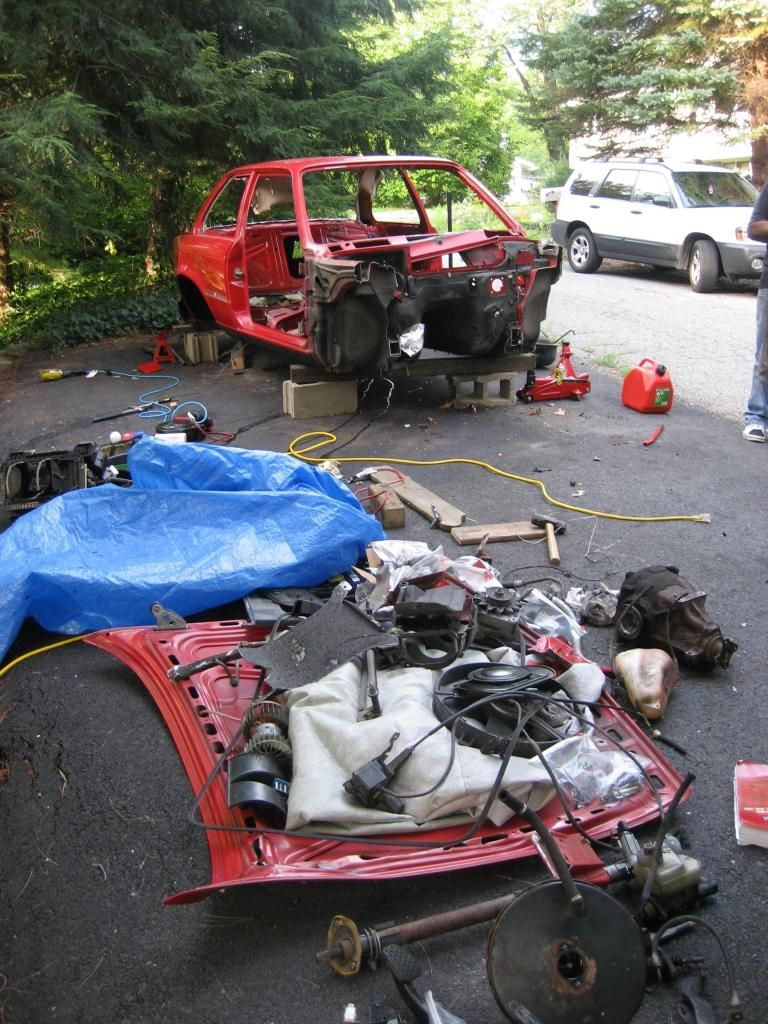 Then Finally, After two months of searching I found her, in west Nyack, New York, an 1987 325is posted on Craigslist, a one owner car, all service records and manuals, the whole 9
On first site I knew she needed a ton of work, but I got lots of signs that day that this car was beckoning me, I knew that this car wouldn't last so I made the deal, $1500. Needed to tow it home for the clutch master cylinder was leaking and the clutch petal was to the floor and unfortunately it was a daily driver up in the mountains so the salt rotted every typical rust area on the car but i knew with a lot of work, it would be great again one day...
Back in 2009 I was so focused on getting my e30 back on the road that didn't take alot of photos of it as I was gutting her to see what need to be repaired. and some how lost all the photos I did take in the beginning, so here's the photos I got right before I picked her up.
In the beginning I was determined to make her like my original 88 so I swapped the front valance out and added plastic front bumper. Initally not realizing that the 87 were quite different from the later 88. The 87 has the smaller M3 style tail lights, higher rear wheel fendar arches, full chrome trim around the windows, no lower valance. I was hesitant on the rear because so much modification had to be done.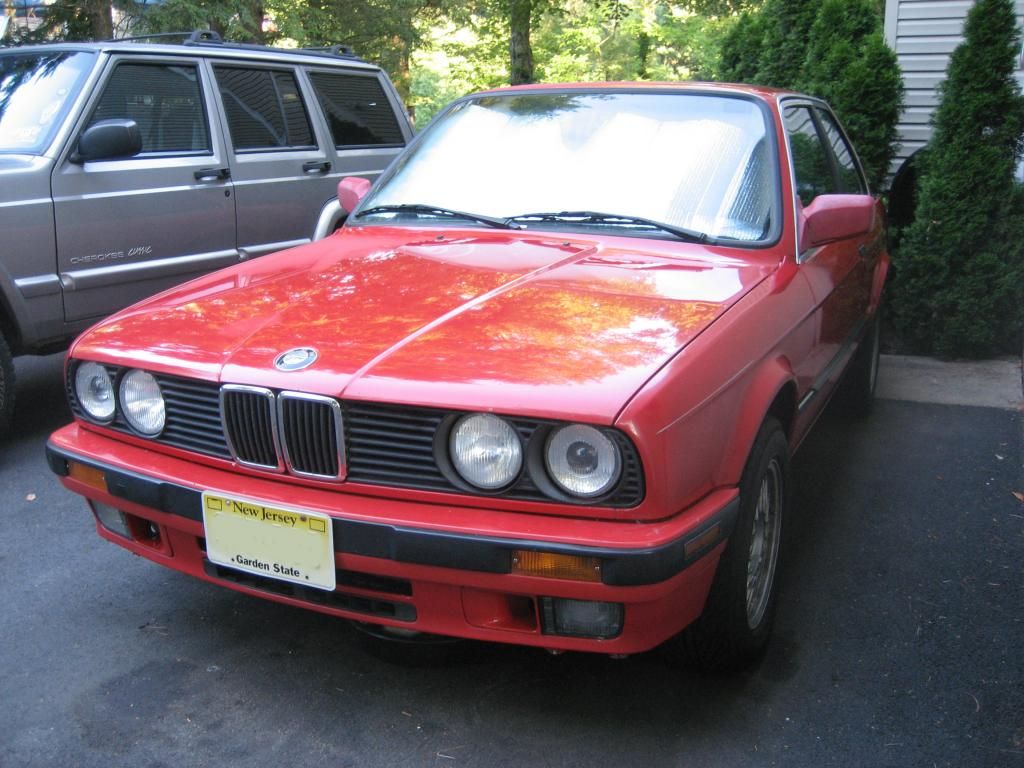 As time went on i started to appreciate the look of vintage cars and especially thanks to Petrolicious.com, love that site! and felt that the early model 87 325is has a really unique look compared to the late models, so decided to switch gears and getting her back to her original stock look. Time to dig out the diving boards and strap on the beautiful cow catcher
I've done a lot of work over the years so far: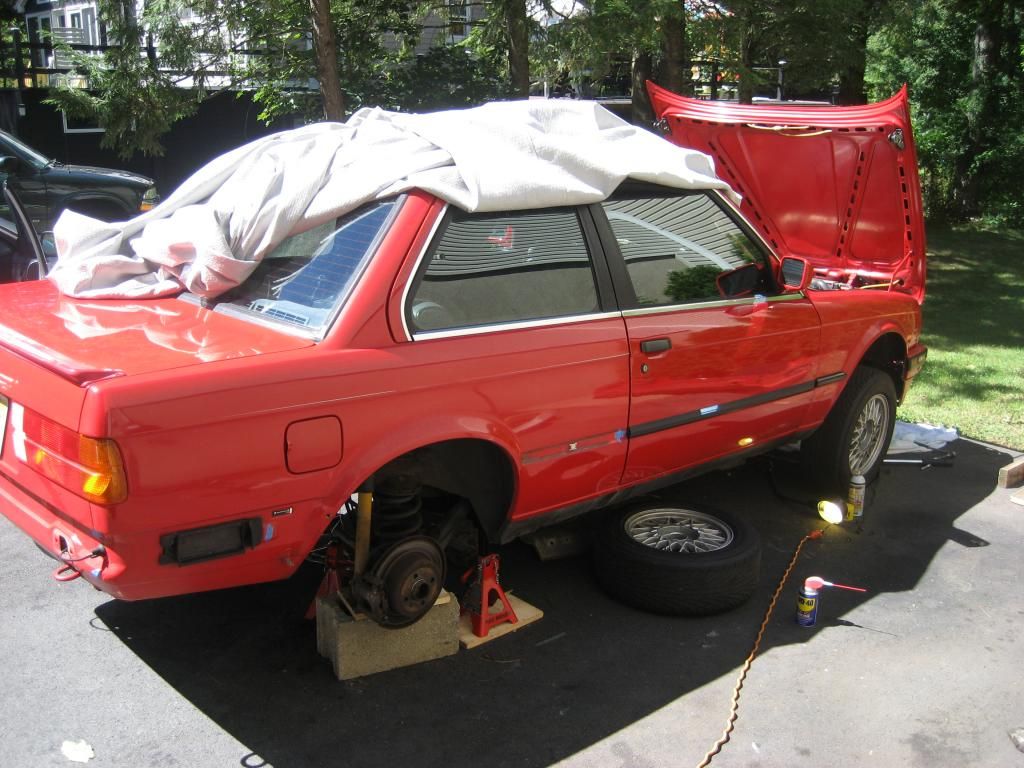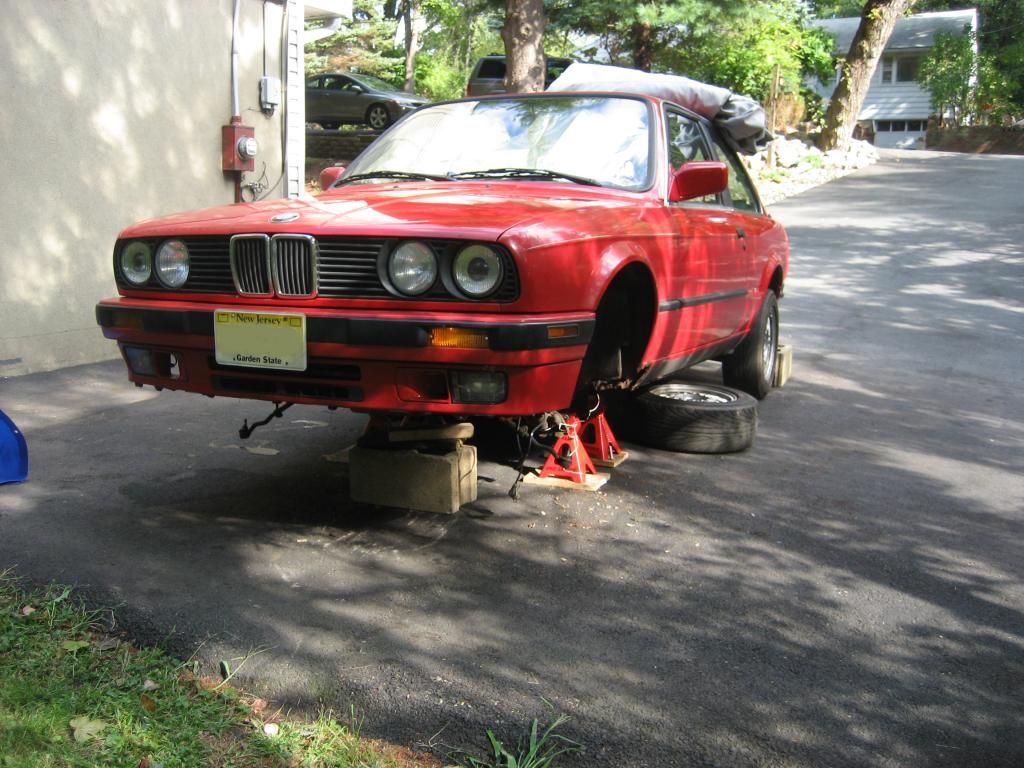 new front control arms with new bushings
new tie-rods
new front sway links
New Clutch Slave
Clutch Master Cylindar
rear overhaul
found I had leak in the brake line T distributor connection above there subframe.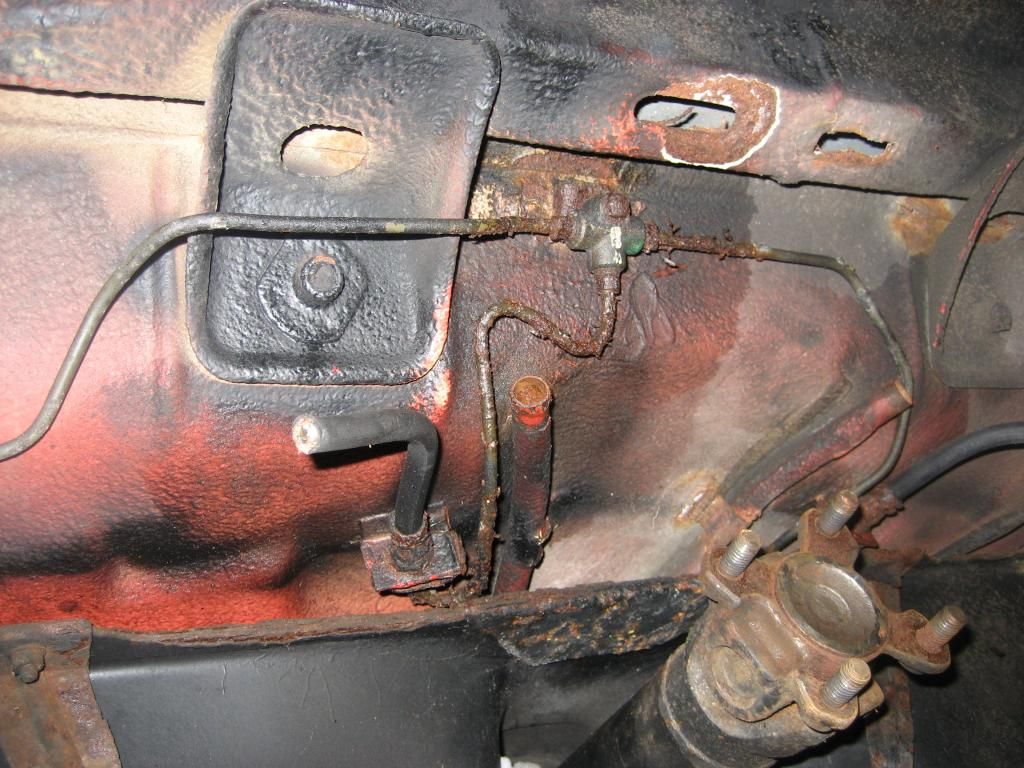 Decided to get her up on jackstands and just clean everything, take care of the rust and replace almost everything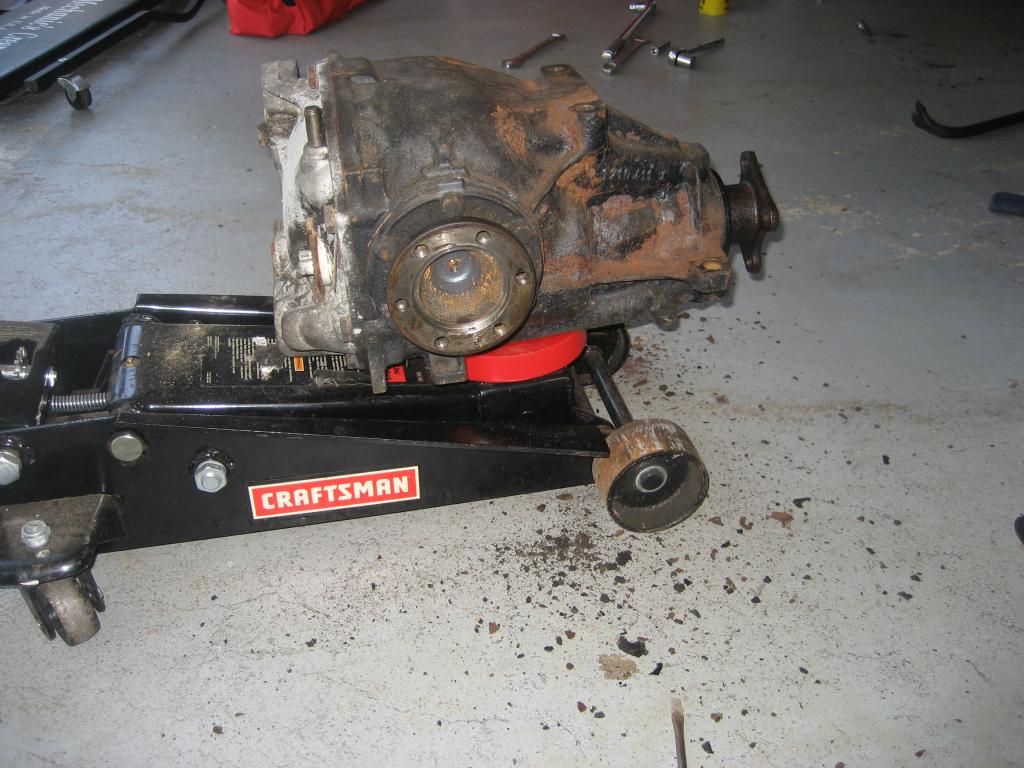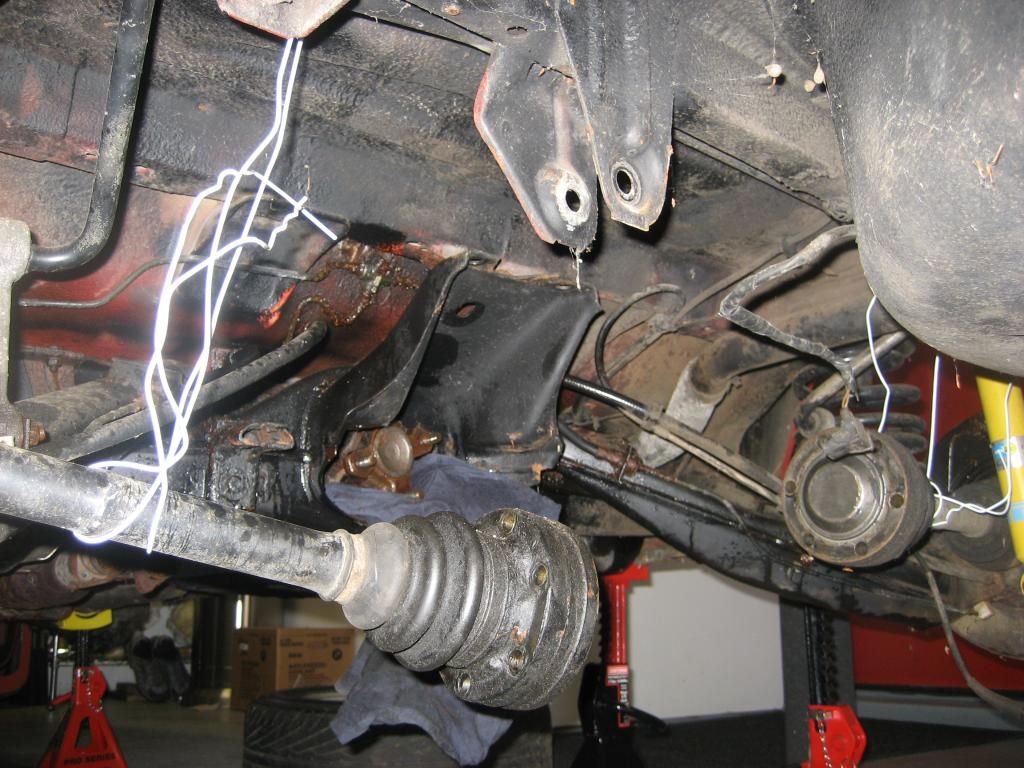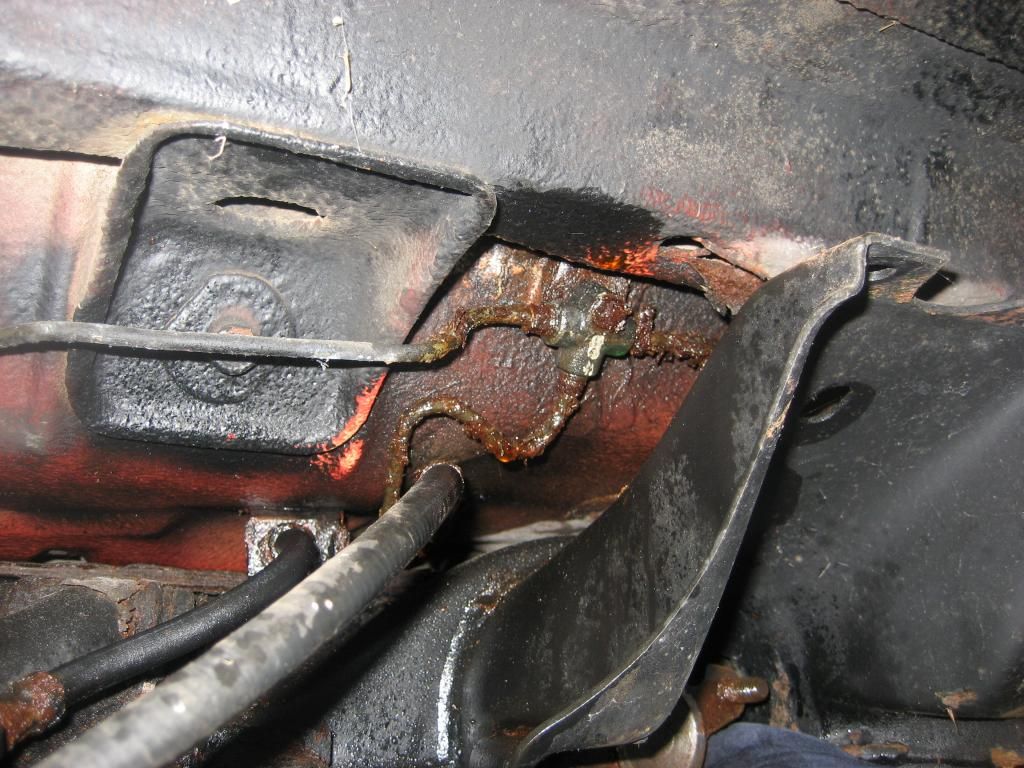 Jack stands on the factory jack point worked well, got the jack pads from harbor freight and the stands from sears. Used a bike tire inner tube to soften the wedge. Made it easier to remove the rear subframe
Used damaged brake hard line to mirror a new line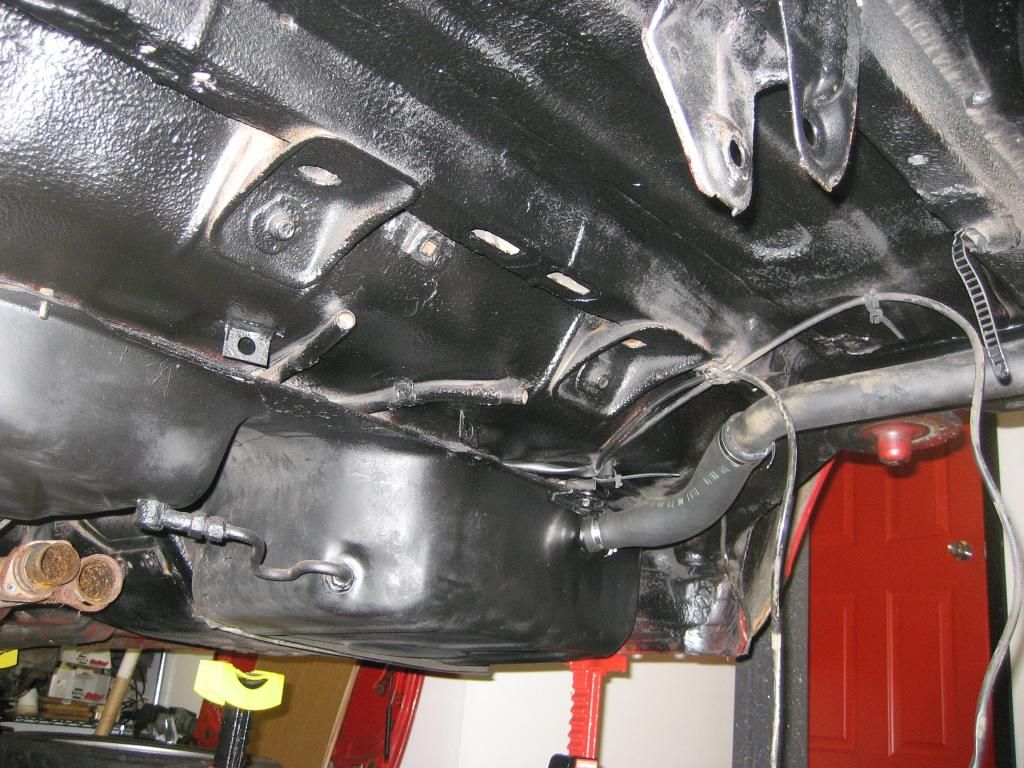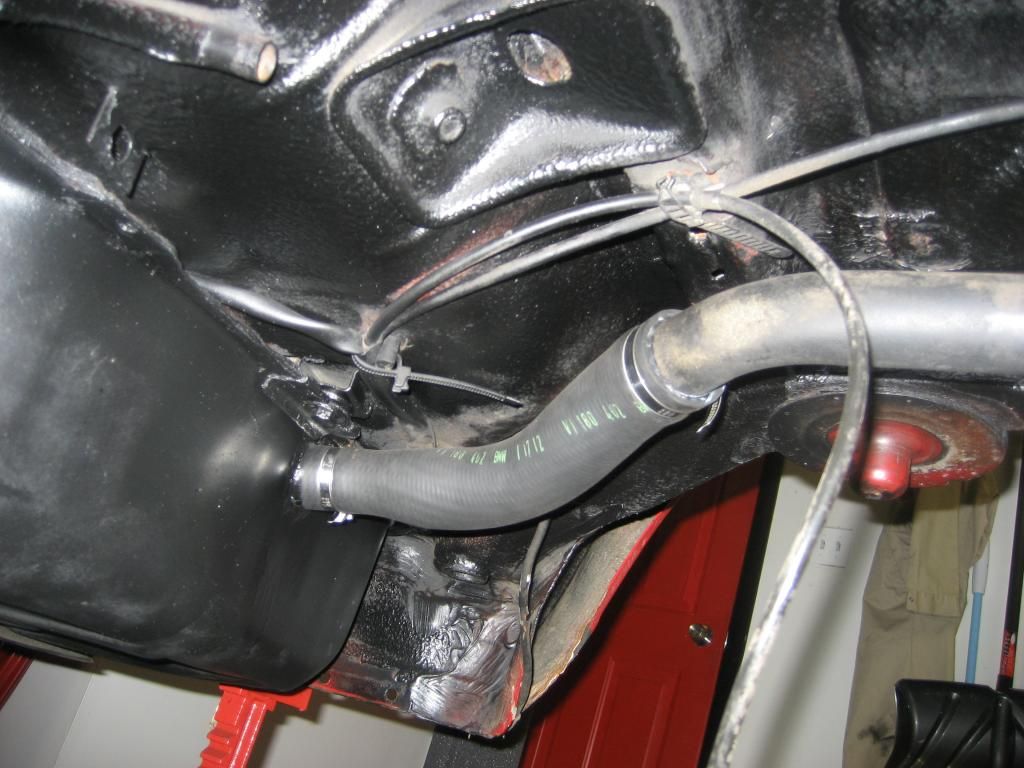 New T-Distributor Brake Line Installed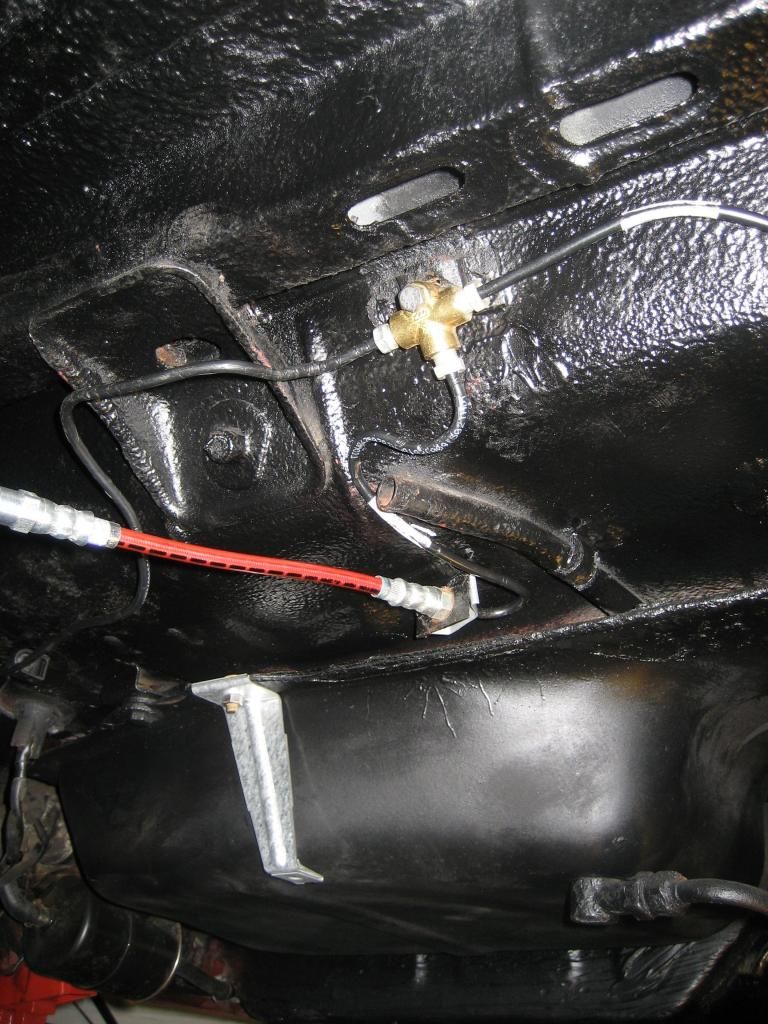 Rebuilt Subframe ready to be installed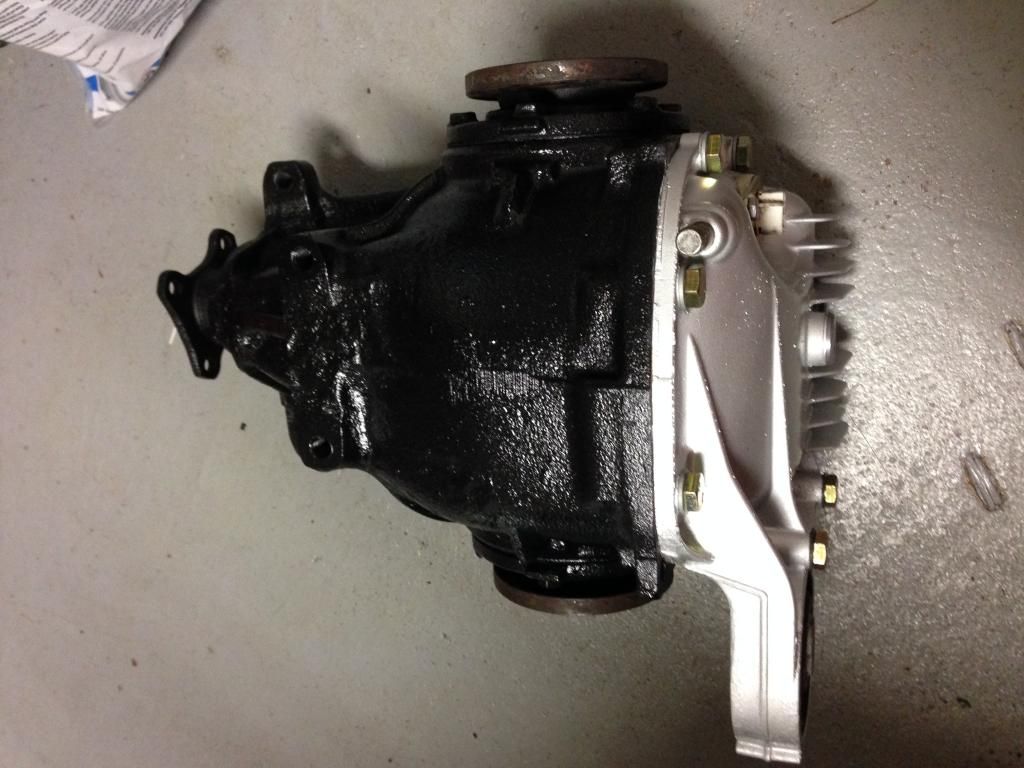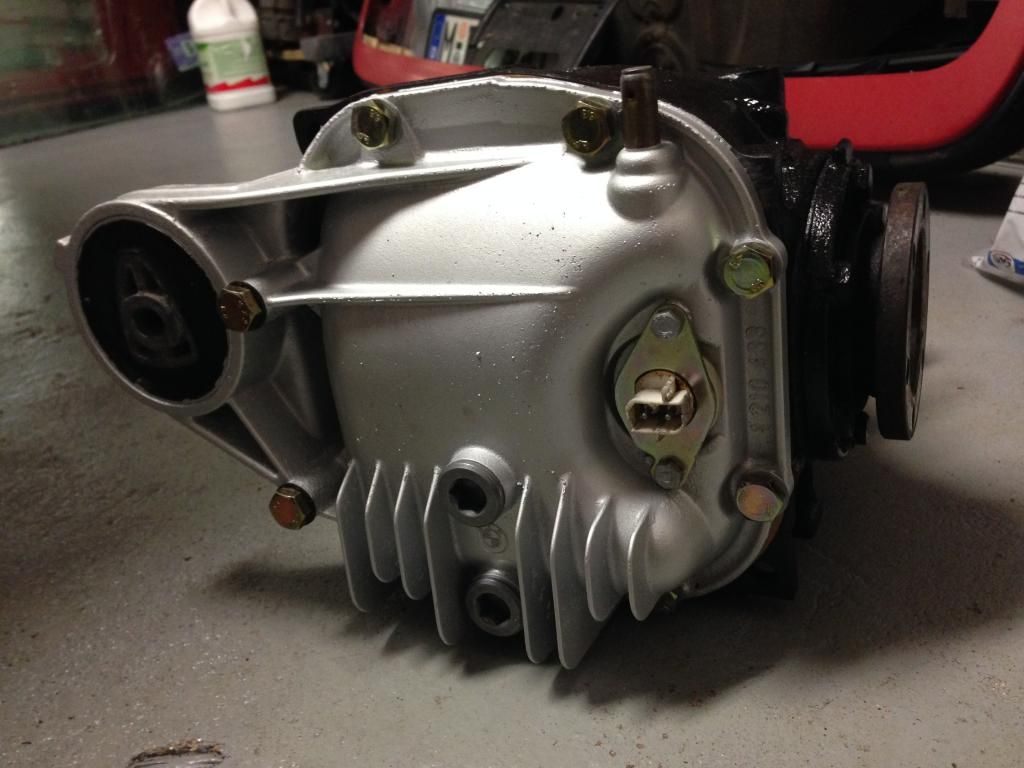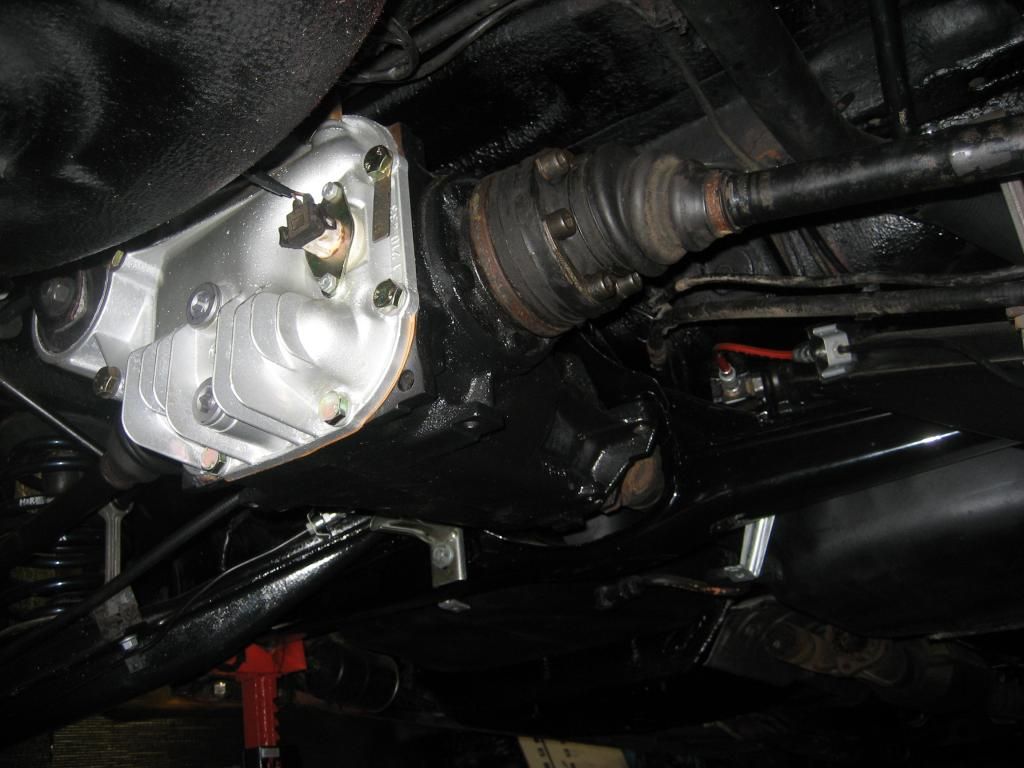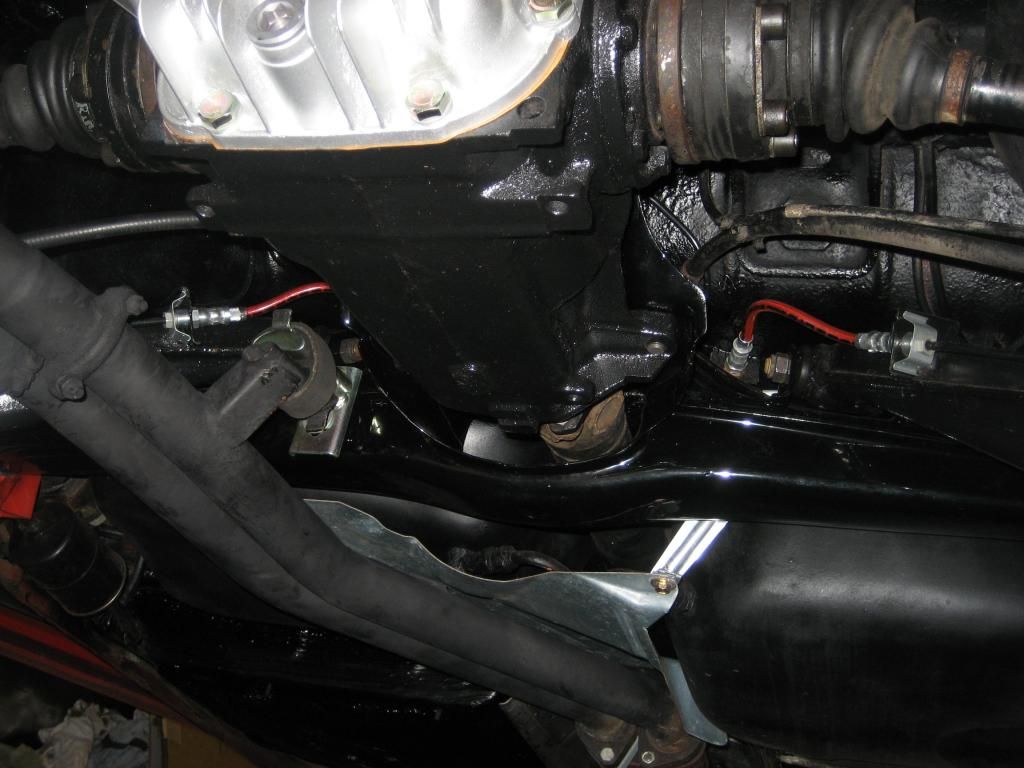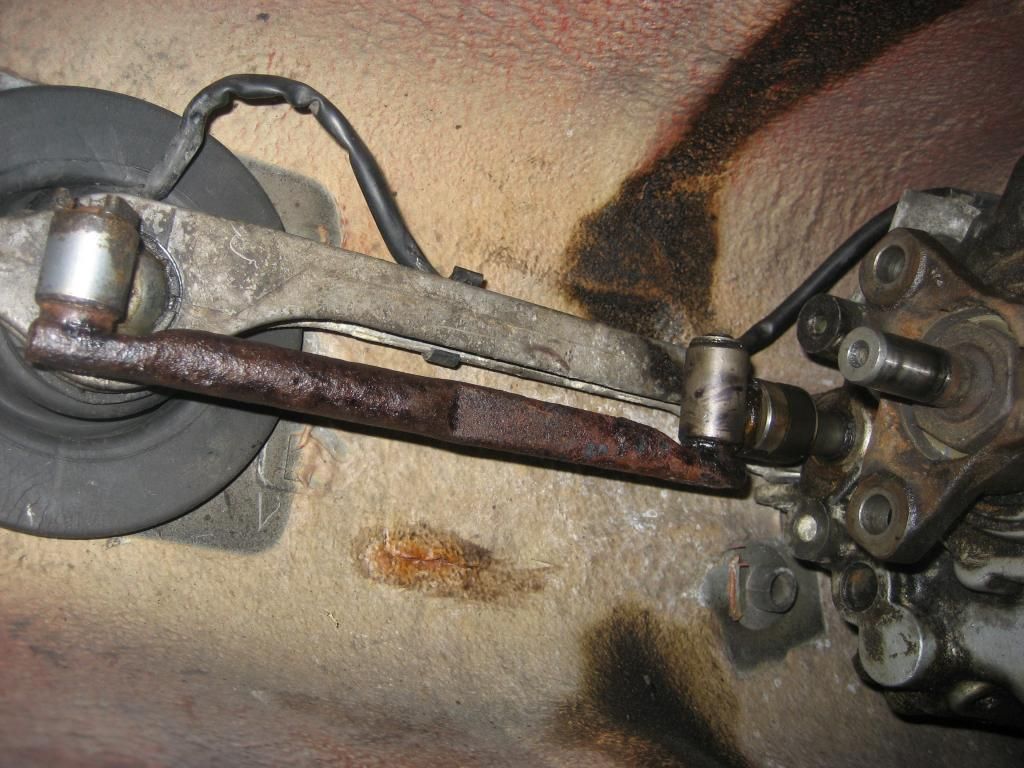 New Shifter Linkage and bushings
New brake hard lines from front to rear
new brake distributor
new painted subframe from Guten parts
new OEM rear subframe bushings
Painted Trailing Arms
New OEM bushings
SS brake lines
New Fluid in 3.73 Differential
Painted and cleaned Differential
new rear sway bar bushing and sway linkage
new spring pads
Swapped in my H&R and bilstens shocks
new gas line hose with clamps
New Driveshaft center bearing
New Flex Guibo
Replaced shifter linkage
Replaced shifter rubber boot
Replaced parking brake assembly
new studs for exhaust sheild
new exhuast shield
Fixed the holes in floor pan and behind clutch stop with a harbor frieght welder and Por15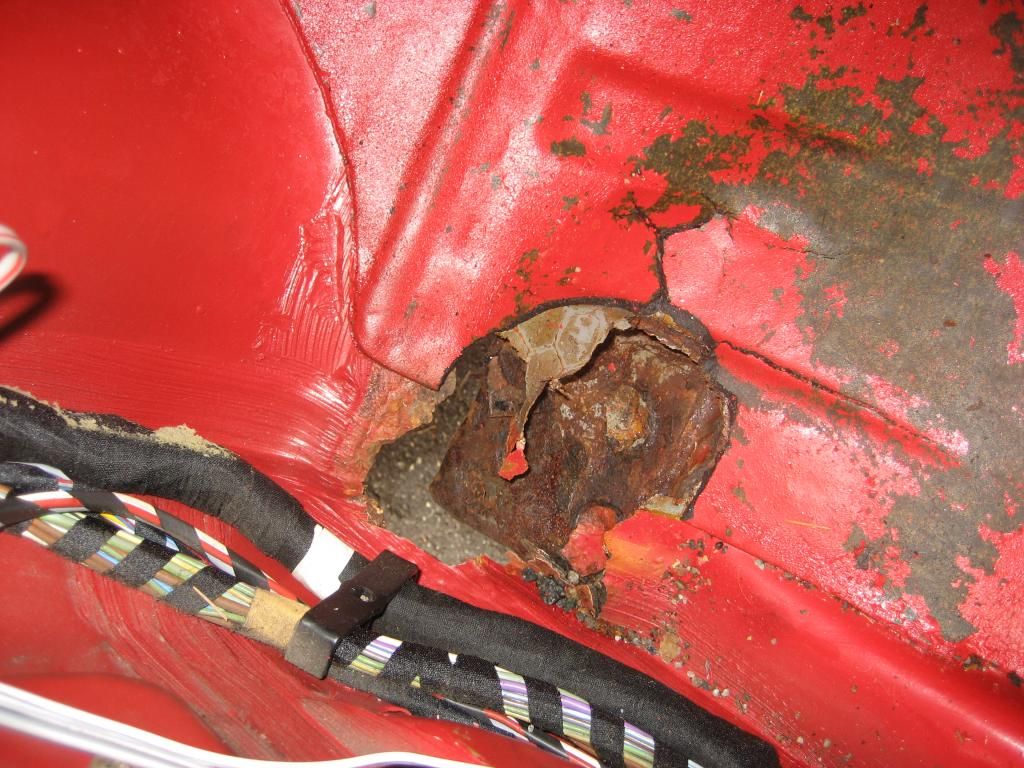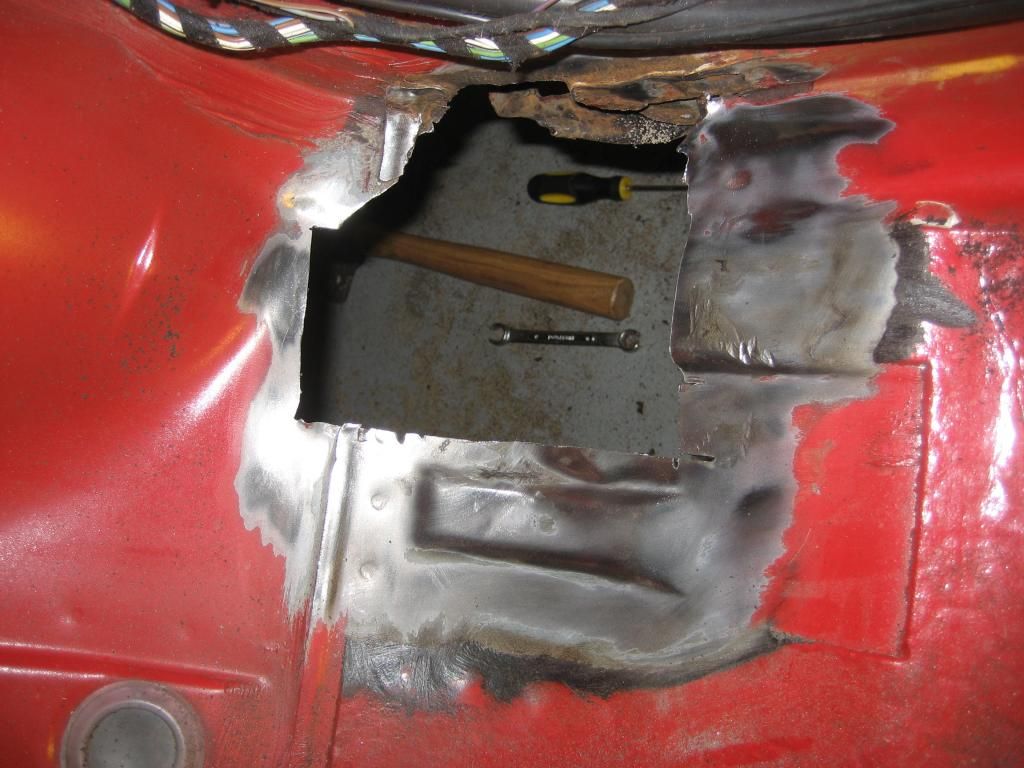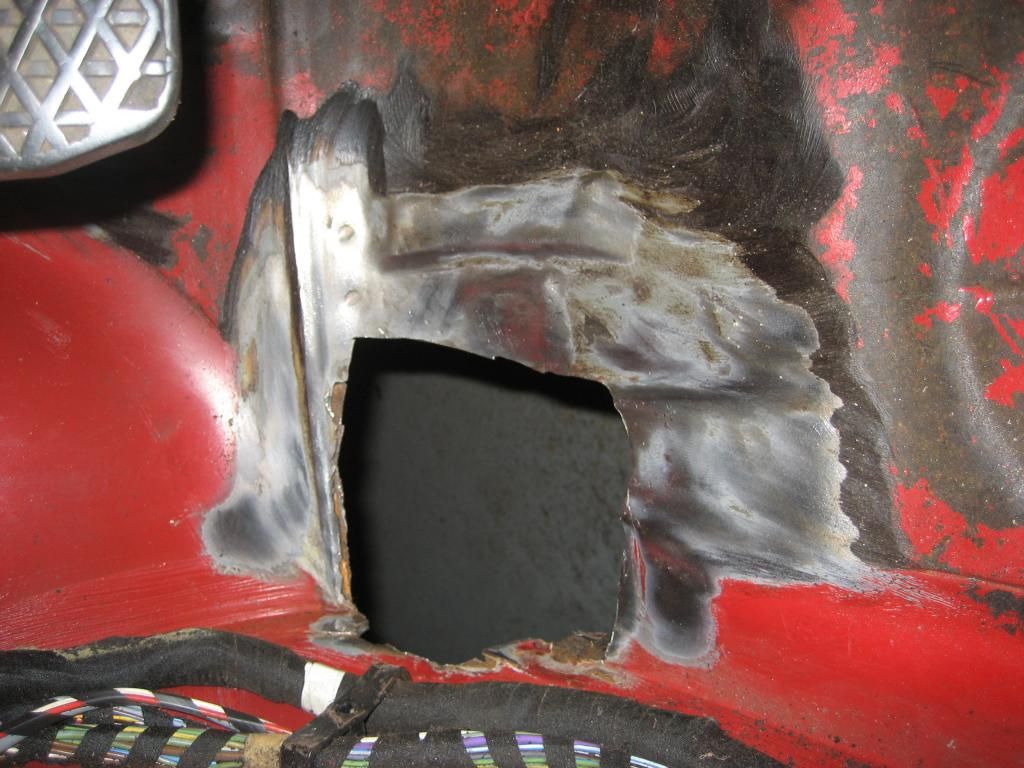 not the best weld job for my first attempt but serves the purpose and will be covered by the carpet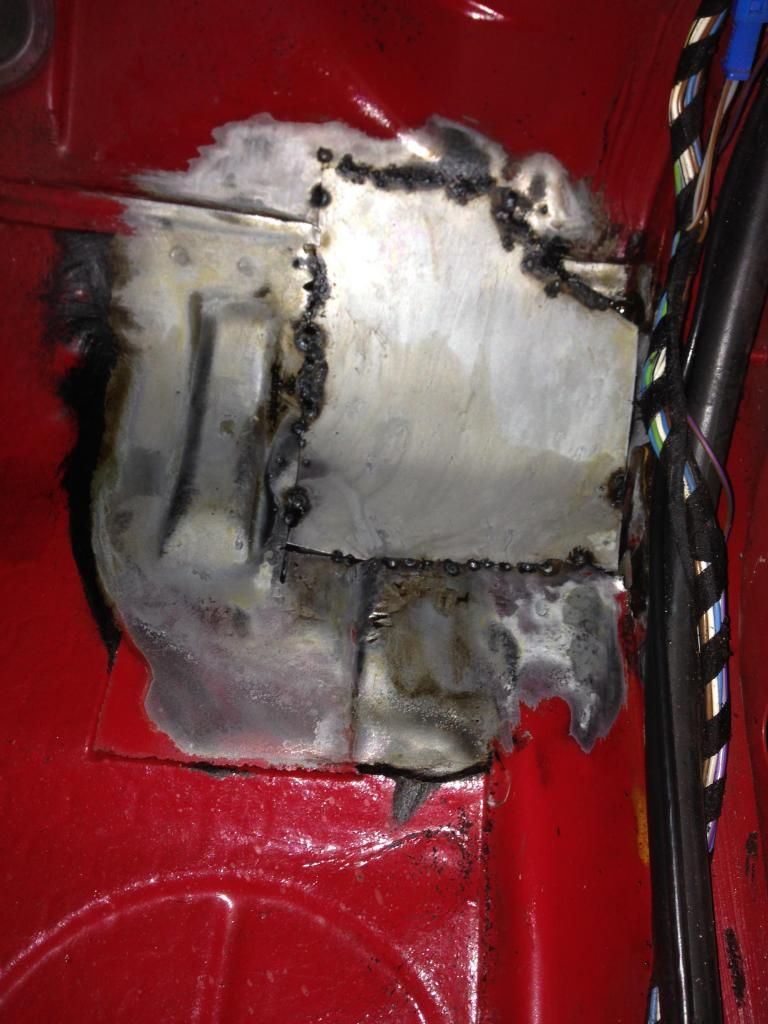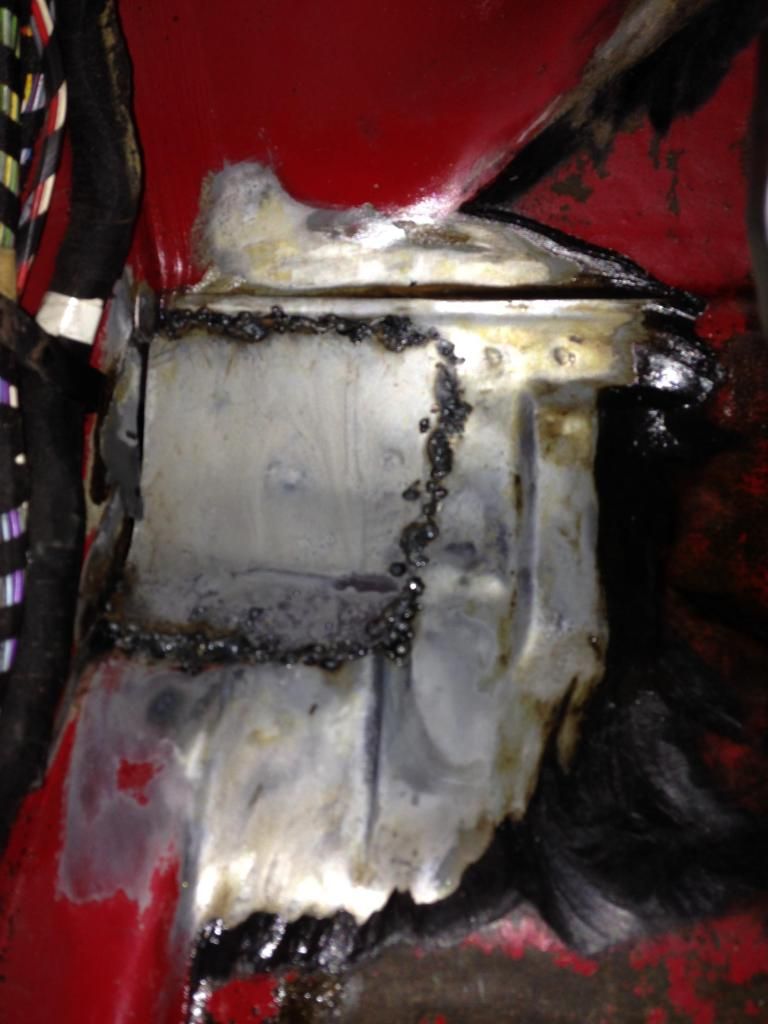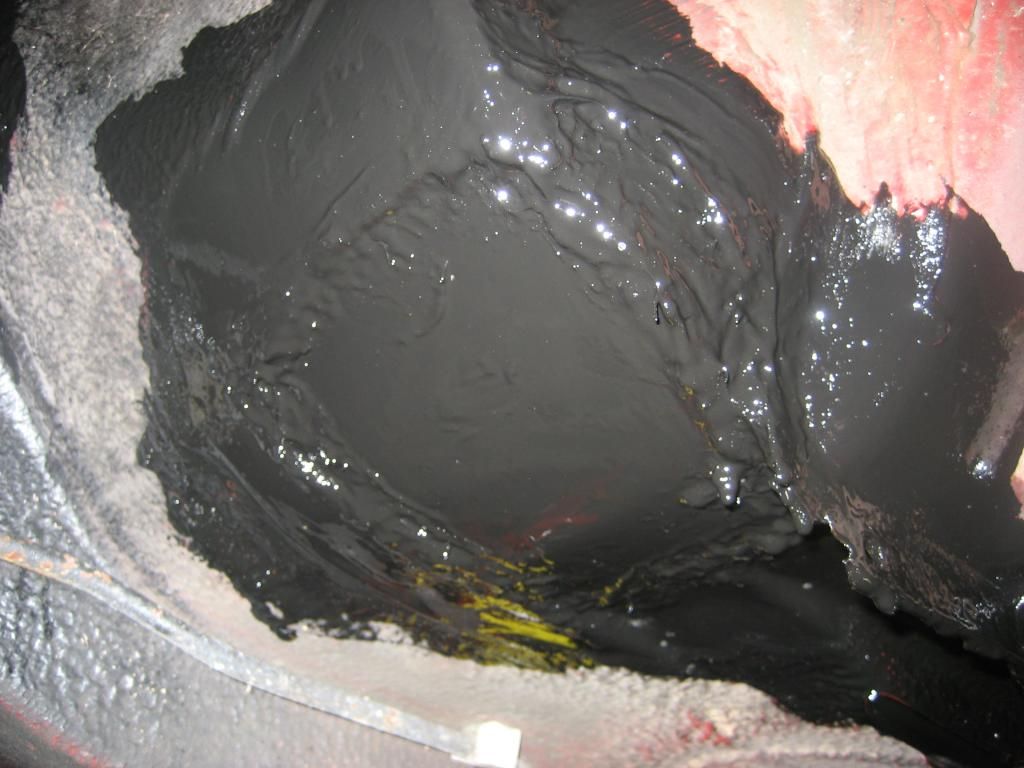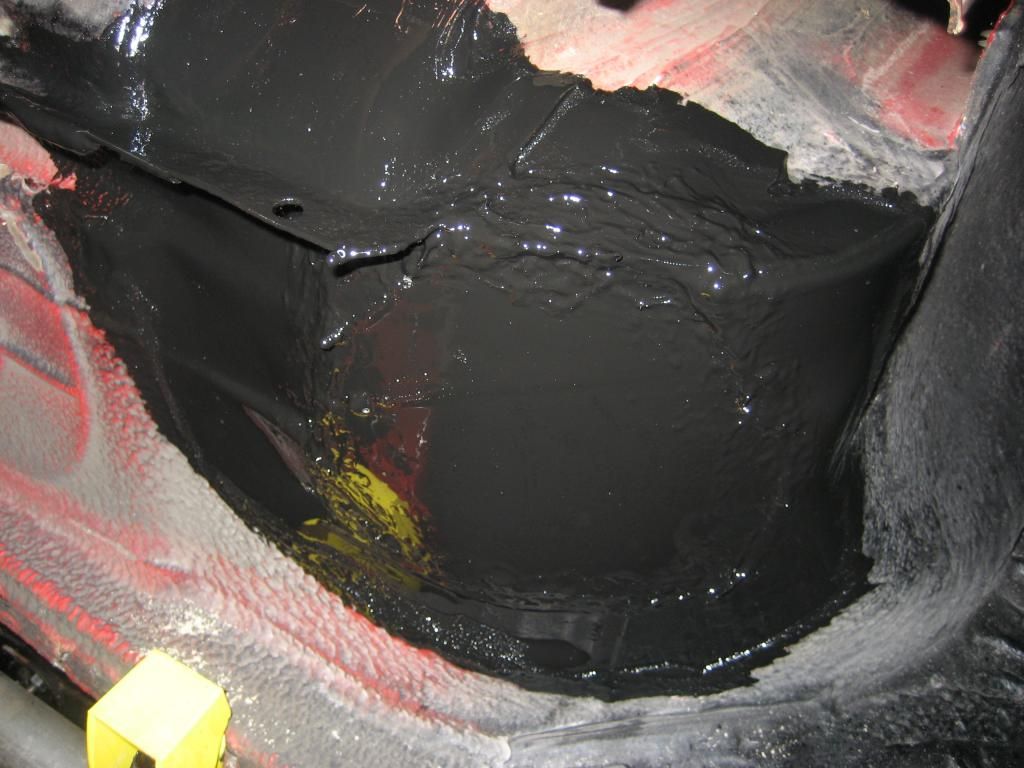 Got ride of the dirty beige interior and carpet and swapped to black (from my 88)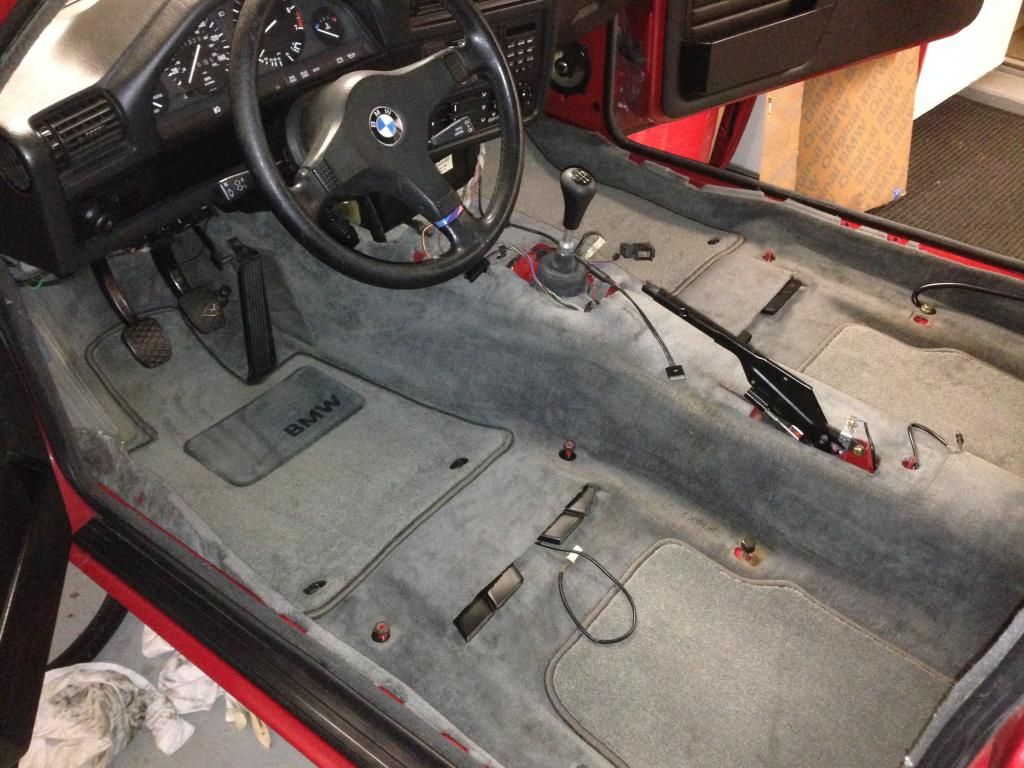 Got the Ansa exhaust painted and installed, hooked up the battery and got to her fire right up. Finally got her on the all 4 wheels, and out of the garage to breathe some fresh air
getting close to getting her back on the road.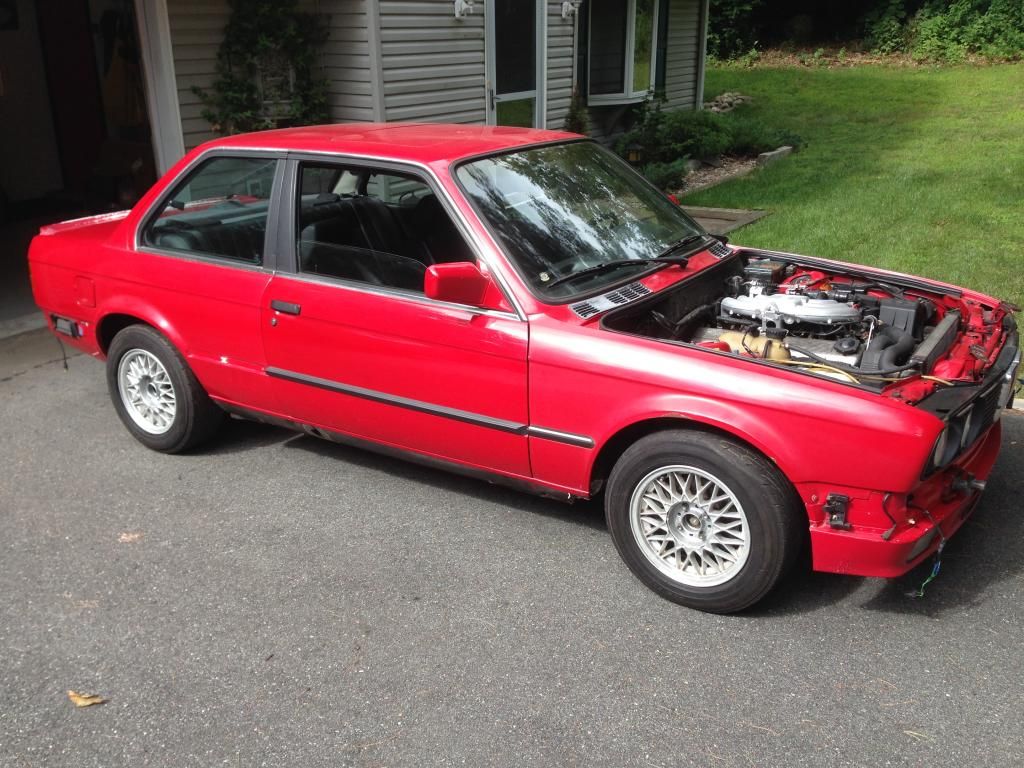 Next up, Welding the holes in around the license plate lights and the trunk battery tray. Have replacement pieces from a rust free e30, thanks member ncsubowen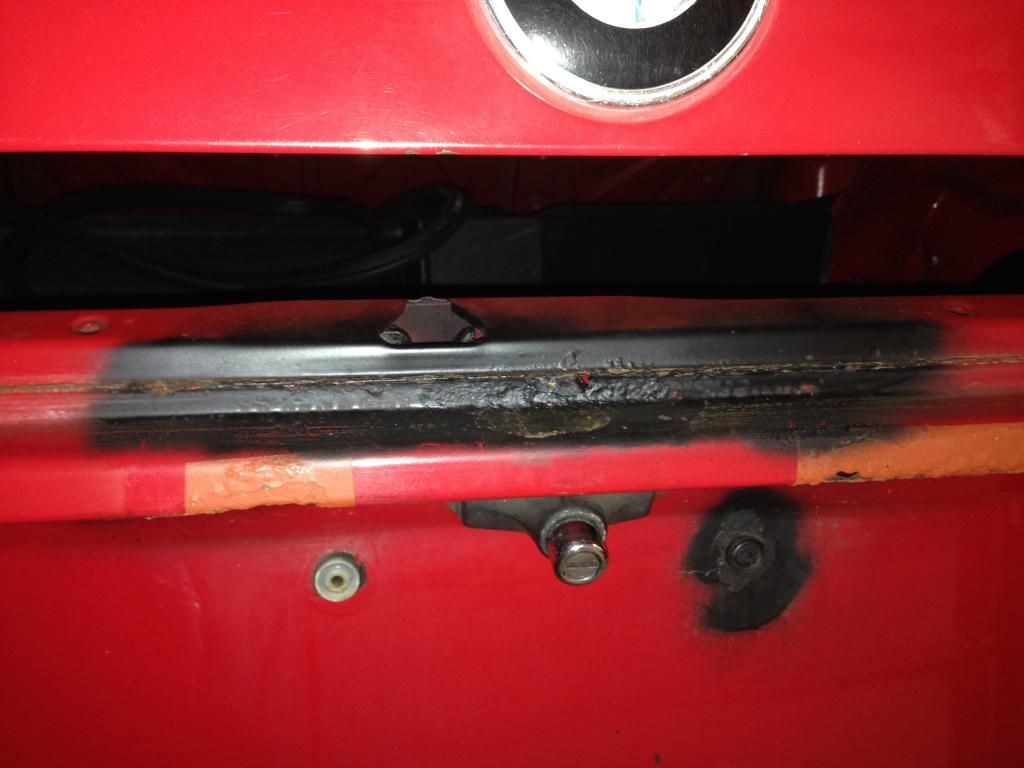 ***STAY TUNED***