Hey guys it's finally time to start a legit build thread for my 1990 325i Touring. I've been waiting for this and putting things together and buying parts and planning but am ready to start.
So I bought the car roughly 2 years ago in Toronto and drove it back home to Edmonton. It's a Japanese import and when I got it it had an AC Schnitzer S3 body package (essentially just badging and wheels), had already been converted from auto to manual, but had a couple issues. I sorted the suspension, lowered it with an H&R Race cup kit, installed UUC sway bars, a Mason Engineering x-brace and skid-plate, and then Ireland Engineering 310mm Wilwood brake kits front and rear and their front strut tower brace. I left the engine basically stock, only IE headers and exhaust and a Miller MAF conversion. Rocked the car like this for a while. Pics at that time: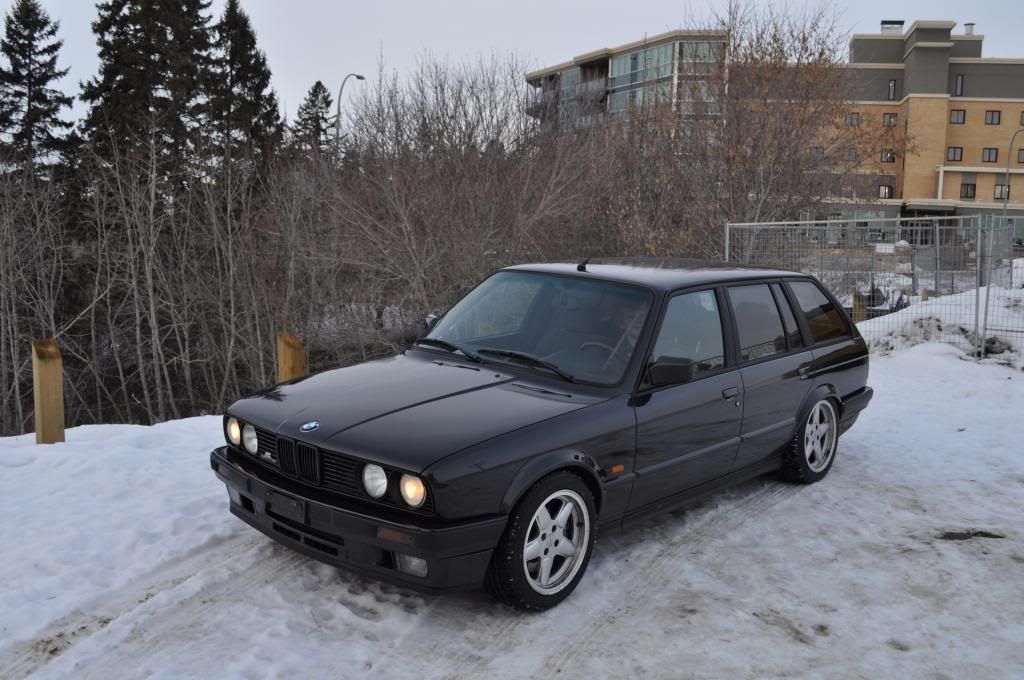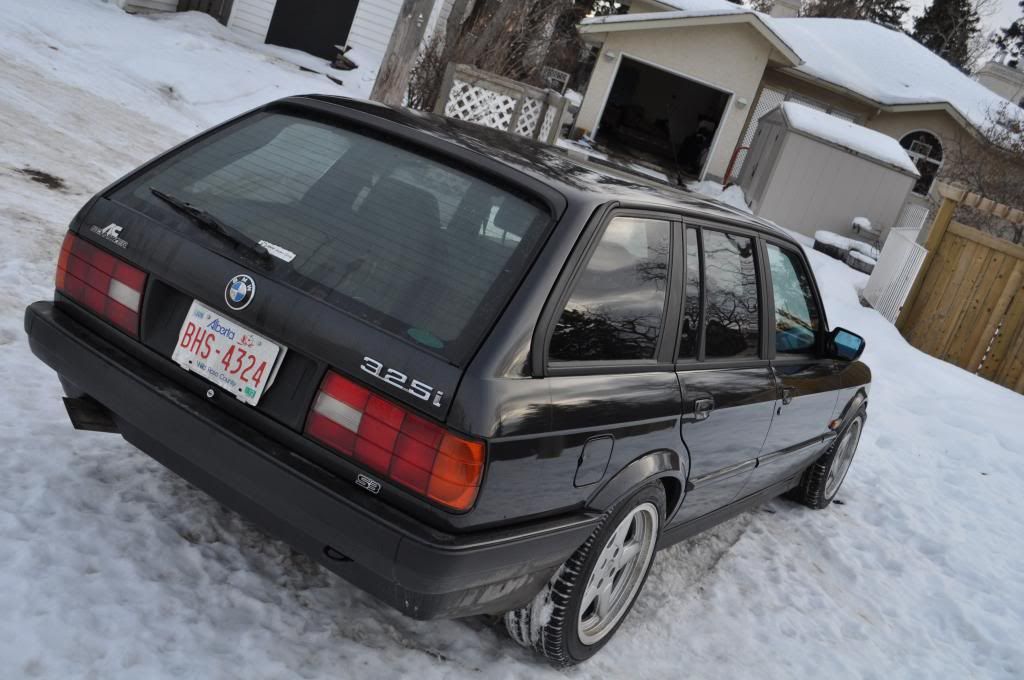 Then came the addition of these puppies: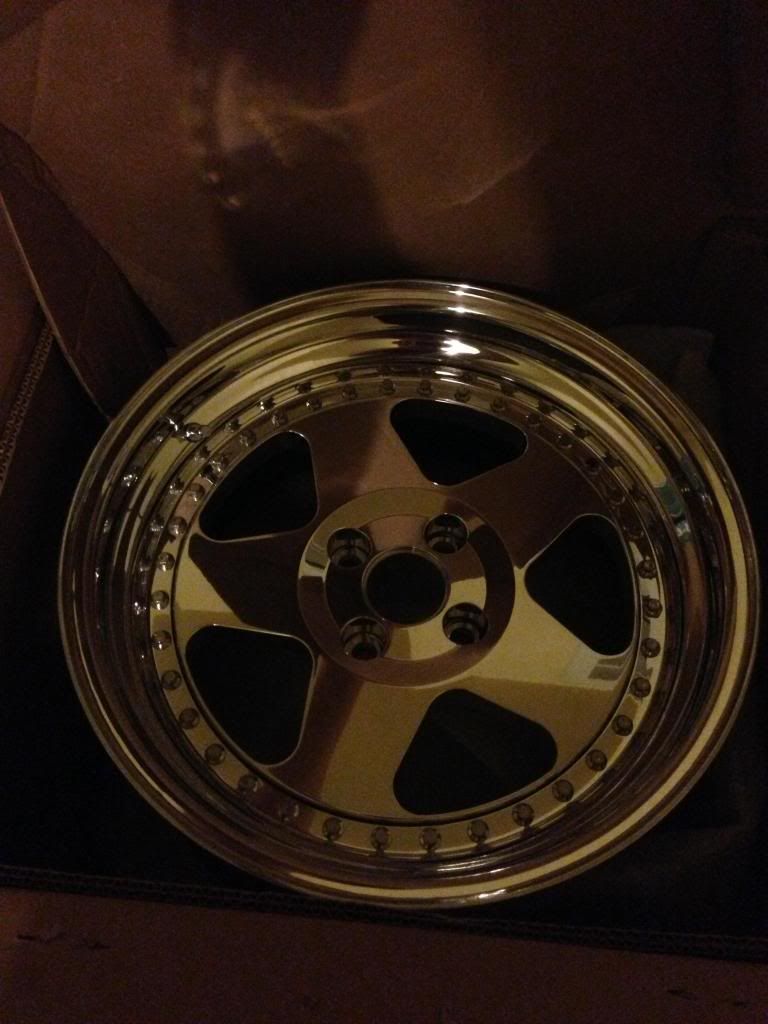 Rotiform ROC 3-piece race wheels and then installed them with KA Motors ultra-wide flares: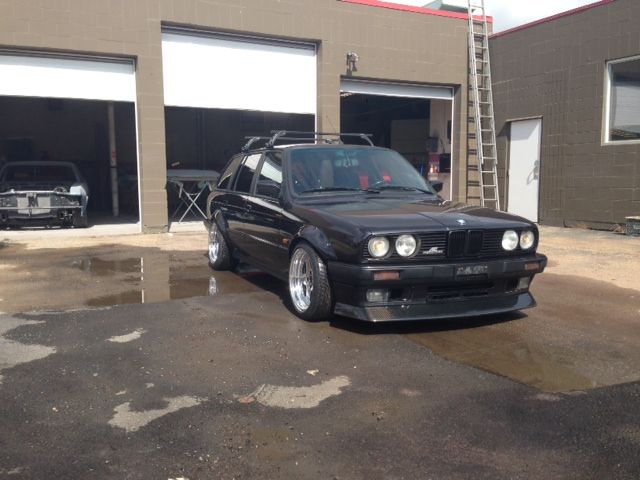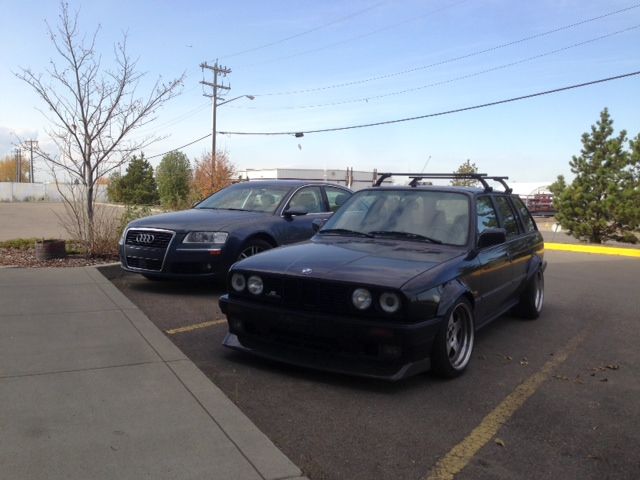 After that I aquired this bad boy from Brandon's (F34R's) group buy that never took off so I think I have the only one.
It is a divided T4 flange with twin 38mm wastegate flanges. I regret making one a two-bolt: I had a spare at the time but have since used it elsewhere and have two MVS v-band wastegates as well as a Tial Q BOV.
I bought and sold countless turbos (still selling some) trying to trade my way up to the perfect turbo but have now resolved to buy a new Borg Warner S256SX divided T4 0.83 a/r unit.
So then today it was time to finally put everything into action so I pulled the motor (I'd smashed the oil pan last spring and had this car sitting because I never winter drive it). Pics of that: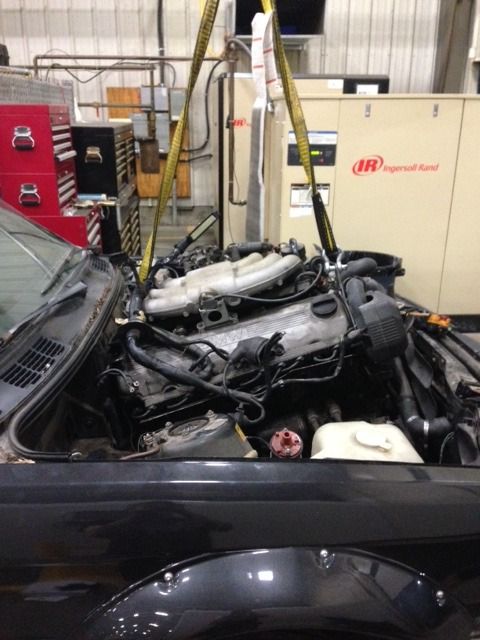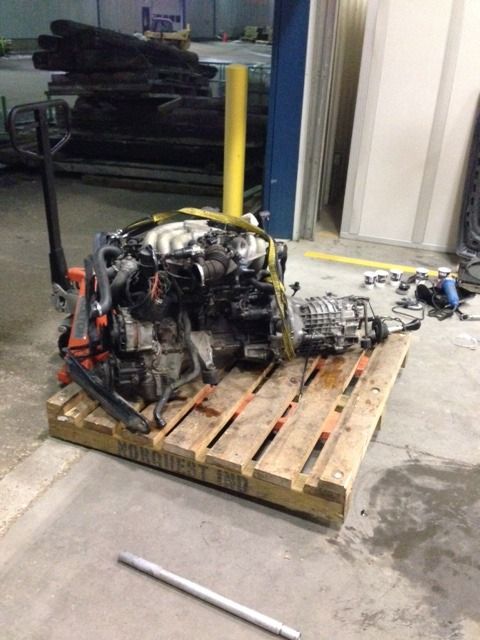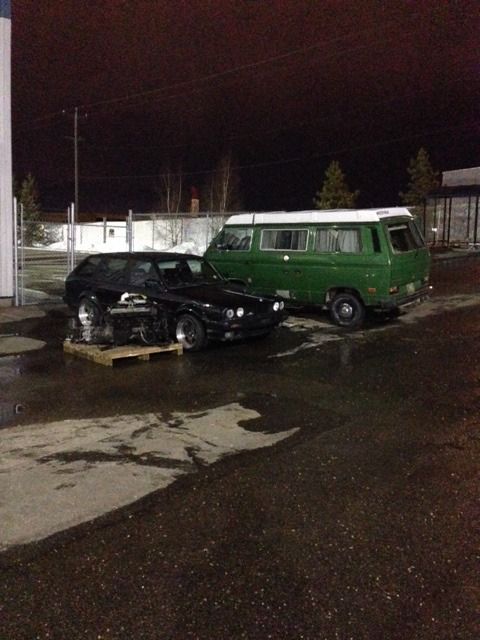 And in case you're wondering, that beautiful 1984 Volkswagen Vanagon is my brother's. That thing is such a dope daily.
Okay so plans. The plan is to turbo this motor, I have almost everything I need or it is coming in the mail soon. Hoping for roughly 360-380hp at 11psi and have this as a fun summer toy car.
I already have:
-Megasquirt tuned for 11psi, 30# injectors and single coil
-ARP headstuds
-Goetze head gasket, new VC and oil pan gaskets, rear main seal etc.
-Oil filter sandwhich for turbo feed (ordered)
-Misc fittings (ordered and have)
-UUC clutch (the 500hp or less full face one)
-Gates timing belt. Only the belt because I did the water pump, timing belt and tensioner, thermostat blah blah blah ~7500km ago
-Tial 38mm wastegates
-Tial 50mm BOV
-CX Racing intercooler
-Awesome intake manifold and valve cover that I picked up locally. The intake with extra vacuum nipples welded on and the VC with a fitting to run a catch can
-ATP Turbo aluminum catch can
-Garagistic power steering delete (ordered). I already had the PS belt removed because I like manual steering better, but I'm just going to clean it all up and properly remove it while it's convenient. I also am deleting AC because it didn't work and I'm not sure the manifold would clear it anyway. Also by removing the AC cooler I will have space for an electric fan, the intercooler etc.
-16" Spal electric fan
I still need:
-Turbo oil lines
-Fittings, lines and cooler for a new oil cooler setup
-Charge piping, couplers and clamps
-Turbo
-Exhaust piping to make downpipe
-Turbocharging Dynamics ignition wires and MSD blaster coil
-CA Tuned in-tank Walbro 255 fuel pump
-Probably some other shit and I'll add some new aspects to the whole build so we'll see
I think that's it for now, I may have some progress this week but most likely not until the weekend. Stay tuned!