This will be updated as the project progresses (so, it will be slow).
I rarely post on r3v, but I lurk frequently since there is a lot of decent information here. Since a member here gave me a lot of help via PM, I suppose that I should try to add what I can here through the course of my project. Here it goes...
Well, it all began with me making an uninformed purchase on eBay of a CD43 head unit. For those who don't know what the CD43 is, it is basically the last (and best) DIN-sized head unit produced for BMW by Blaupunkt. It is also called the "BMW Business CD" head unit. Anyway, I say that it was an uninformed decision because I planned to just run the speakers directly from it. I wanted stock equipment in the dash again, and supposedly the unit has better distortion specs than most after-market HU's.
While one CAN run the speakers from it directly, it is apparently not entirely recommended. The CD43 was always used in conjunction with an amplifier in factory installations, and was meant to supply low-power audio signals to that rather than to speakers. So, I looked at amplifiers. Then decided to see what would be required for a "proper" setup, combining things I have wanted for a long time and knowledge I have acquired from my home audio projects.
The cost of the equipment comes in a bit above what I want to spend, so I am still considering a passively crossed over system. That would take almost 40% off of the price (no need for the 6XS or dedicated sub amp). The diagrams below show what I WANT to install. I suppose that I should do it now, because a year from now I will have mortgage payments to make & a lot less cash for fun projects!
11/5/2010
I have put in new, accurate diagrams of the system. Click the images to see the full-sized versions.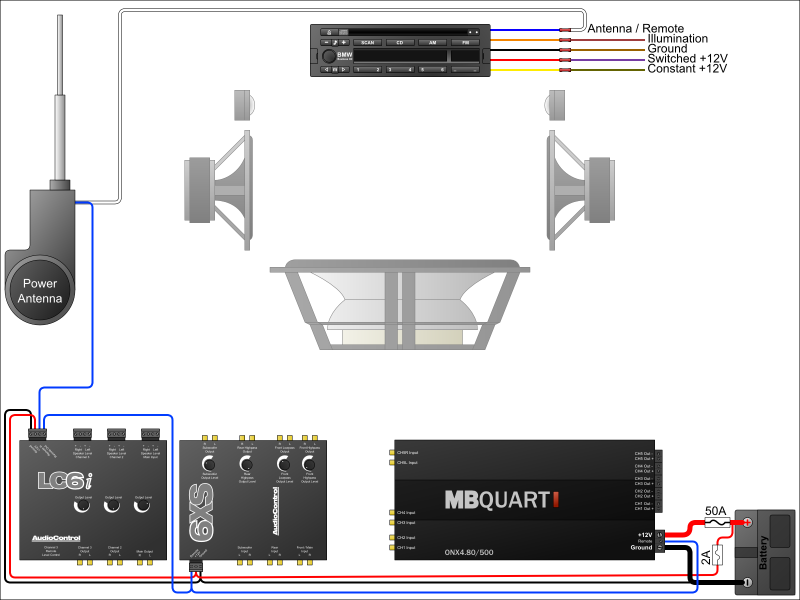 Power wire to the amp is 8ga, and LC/XO power wires/remote are 14ga.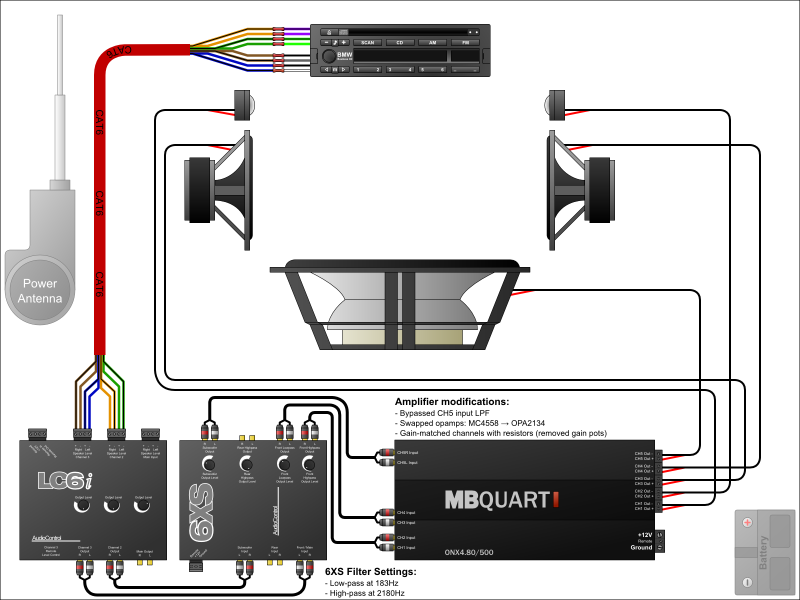 Speaker wire is 14ga. I switched to CAT6 cable for the signal running from the HU to the LC6i. It has better noise-rejection properties than the multi-conductor car-audio junk I tried at first. Note that this will ONLY make a difference if you are running differential signals into a device that has differential inputs!
Subwoofer =
SB Acoustics SW26DAC76-4
, mounted in the ski-pass hole.
Front woofers =
SB Acoustics SB17NRXC35-4
7" drivers
Front tweeters =
Seas Prestige 27TAFNC/G
1" tweeters
LC6i = Audio Control line level converter, model LC6i
6XS = Audio Control active crossover, model 6XS
MB Quart ONX4.80/500 = 5 Channel amp to drive everything (my "space saver" solution)
I will not be running rear speakers, other than the sub. Rear signal lines will be LPF'ed, summed in the amp & fed to the sub. Some people like having rears, I don't. Personal preference, there.
One big trick will be getting 75mm deep woofers mounted up front. The existing cavities are only 69-71mm deep. I might try some hammering, as well as a few mm of Damplifier stacked for spacing under the driver frame.
Anyone have any comments or critiques? Thanks!