This will be my project log + my questions thread that I document as I sort things out. It may well be a couple of months from now until it's finished.
It looks like it is time for more M42 wrenching. Other than replacing the crank damper wheel and some miscellaneous stuff around there earlier in the year, I have not had to touch this engine since ~2013. Some of you will recall that I had Metric Mechanic build me a 2.1L stroker, which at the time had a couple of valve spring failures, so I had the head off and replaced the HG back then. Maybe I messed something up then, or maybe when the crank damper was coming apart and the timing was way off some of the resulting detonations damaged it, or maybe it is just the result of me driving the living shit out of it lol. Whatever the case, I am 95% sure that the HG is toast between cylinders 2 & 3.
I got a loaner compression test set from the local parts store and saw:
Cyl 1: 70 PSI
Cyl 2: 0 PSI
Cyl 3: 0 PSI
Cyl 4: 50 PSI
This was on a luke-warm engine with a loaner gauge that was probably abused, so I am not really super concerned about #1 and #4. The fitting for the spark plug holes could only be tightened down onto the o-ring with the hose coming off of it, so there was probably just a ton of leakage. Anyway, given that two adjacent cylinders have no compression and I can basically hear air exchanging between them if I put the shop vac onto one spark plug hole, I am assuming that the web in the HG between these went out. I was maybe a mile from home on the expressway when I noticed that the car would not make more power when I got onto the throttle, and I thought that I heard some pinging or other not-good noise for a few seconds before it just kind of ran poorly. I got it home and it certainly seemed to not be running on all cylinders, as well as intake+exhaust notes which sounded like air moving to wrong places at the wrong times. My very first thought was that I got bad gas since this all started about 2 minutes after refueling.
As far as I can tell, the oil is not milky. It's pretty clean since I just changed it 1500 miles ago, which at first made me think it was contaminated, but I think I was just being paranoid. Also, the coolant level in the expansion tank was not altered, so exhaust products don't seem to be making their way into the cooling system.
Anyway, how long do you usually find that it takes to turn the oil noticeably milky when a HG is going?
I suppose it varies depending on the severity. If I am having this hard a time telling, then either no coolant got in, or I caught it early. I'll drain the oil anyway just to make sure later on in this project.
The M42 HG is pretty straightforward to swap, assuming it is the only casualty there. I am going to have the head milled, but I am also going to check with MM about some newer cams. Apparently a few years after my build, they came up with a new cam profile which boosts top end power 10-15HP, with minimal loss in the mid-range. Maybe I will send them the head for a little refresh and new cams while I am at it. If not, then I will just do it locally since there are competent head machining shops in the area. Decisions, decisions.
So far, here is a list of what all I am replacing as part of the project:
Head Gasket (OEM metal M44, probably)
Head bolts
Inner profile gasket
Outer profile gasket
Upper timing case cover gasket set
Thermostat housing gasket
Thermostat o-ring
TB gaskets
Lower intake manifold gasket
Upper intake manifold gasket
Exhaust manifold gaskets (head and cat pipe)
Rubber exhaust hangers
Engine-to-chassis ground strap
Alternator-to-engine ground strap
Hood-to-chassis ground strap
Spark plugs (all)
Ignition coils (all)
Is there anything else I am forgetting?
Earlier in the year I did the water pump, thermostat, alternator bushings, belts, VC gasket, coolant temp senders (both), cam & crank position sensors and crank damper.
Other thoughts/questions:
I recently picked up a 2006
Jetta TDI
, which has been my DD. So the E30 has been getting driven a LOT less, like once every 2 weeks. This makes it a little tougher to diagnose recent symptoms since I have not been driving the E30 much.
I am curious about whether some of my mysterious intermittent poor running is maybe from this thing being partially failed for several months? The car has been acting weird in that about 60 seconds after a cold start, it has trouble idling for maybe 5-10 seconds, and then it goes away after blipping the throttle a couple of times. The ICV is clean, so I am pretty sure it is not that. Could the HG have been leaking a little between #2 & #3 for a while, and it just now fully blew out? It's been doing this for maybe the last 5000-7000 miles, slowly getting worse. I have probably replaced every sensor on the car, and none of it completely fixed the issue.
The last couple of times I drove it, it seemed to be a little hard to start as well. Other than that, it has been running strong all the way up to 7500RPM.
The ICV is making an audible clicking/whirring noise when the car is parked in accessory-II mode. I don't ever recall noticing that before. The tone seems to change if I push on it / move it around. Is this a sign of a dying one?
Here are some shots of the spark plugs that I took today when doing the compression test. These are maybe 15K miles old, and have been through a LOT of fuel/ignition tuning. Do you agree that they mostly look like they have been through some rich running, and hard driving, but nothing much else obvious?
#1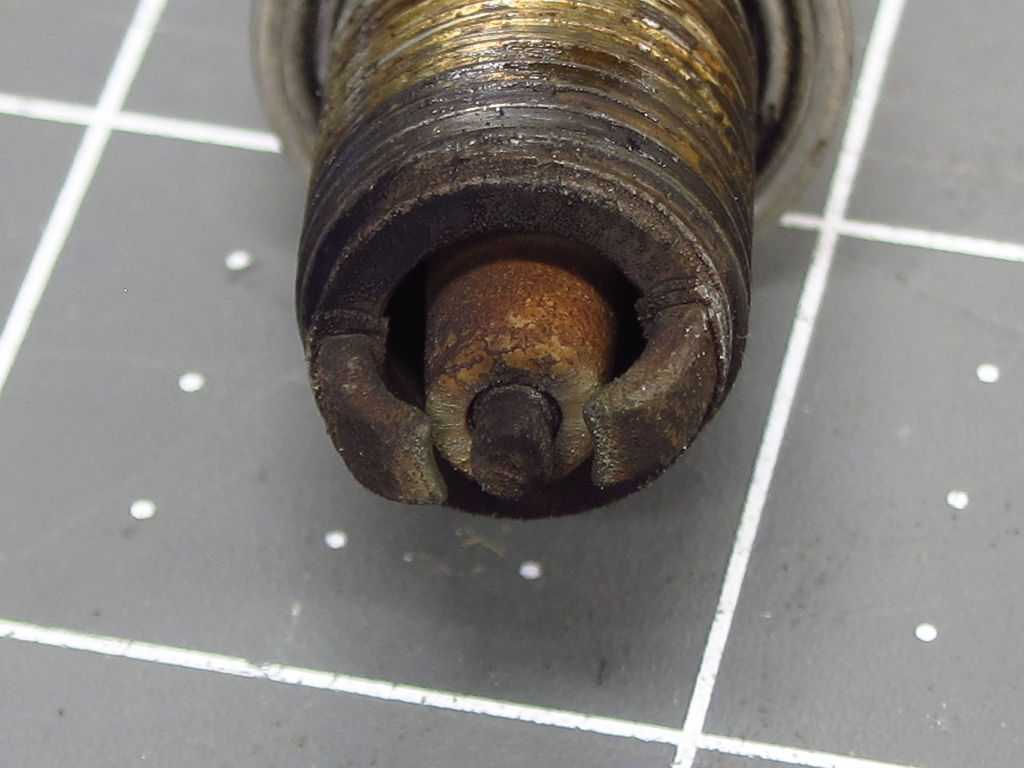 #2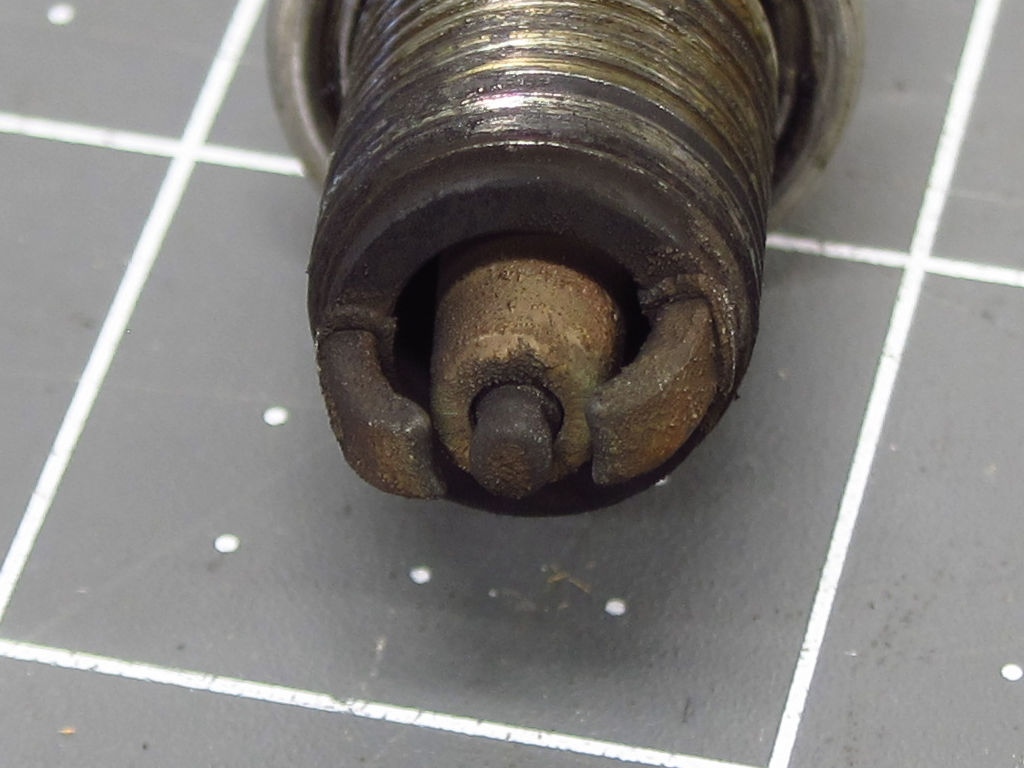 #3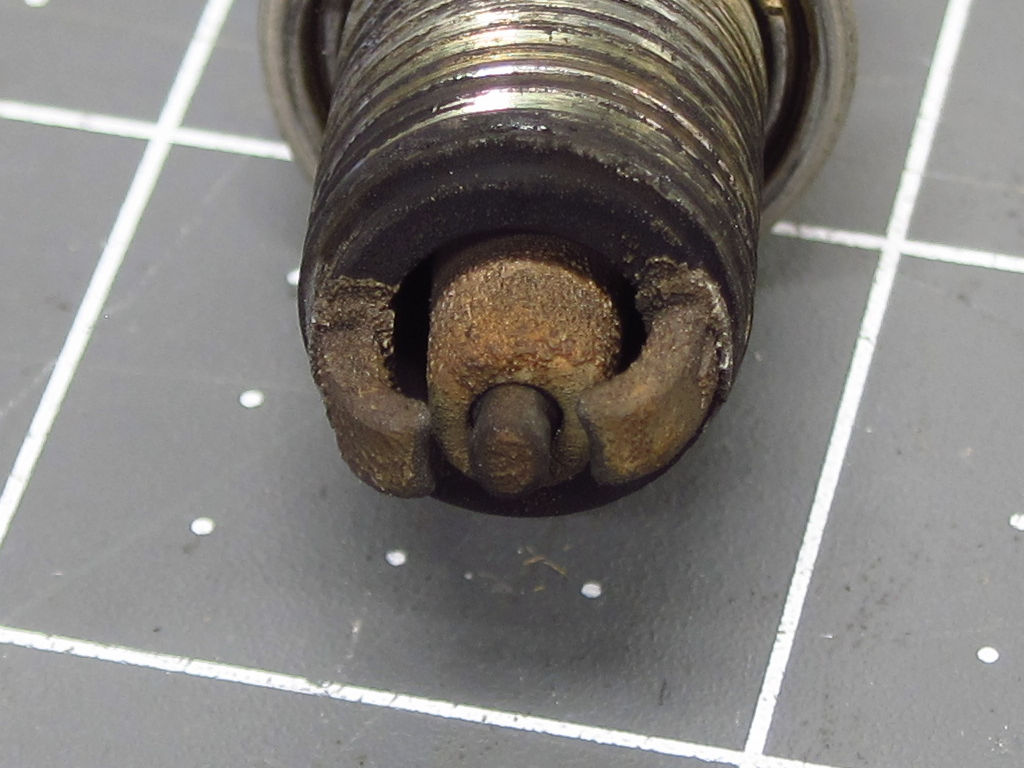 #4