Eric took it upon himself to submit his gorgeous M3 to be COTM, I know we have not had a COTM in a long time. This is due to people flaking like no other, THANK YOU Eric for stepping up and completing the hard bit; info and pictures. I am taking PMs now for October's COTM, please send me a PM of your build!
Enjoy!
Background:
I bought my 2nd (kinda 3rd if you count a shell) E30 M3 in February of 2014. To be honest, it's not a crazy S62/S85 E30 build like some of the previous COTM
features since I bought it with the euro 3.2l motor swap already completed.
When I saw this M3 pop up for sale on R3v, I already had my euro S50B30 swapped sedan sitting in the garage, so why was this M3 so appealing?
Simple: A happy wife is a happy life!
My wonderful bride has an acute disdain for the sedan, one I cannot completely understand. She says she doesn't like it because it's loud, she cannot reach
the pedals, or see over the dash, or wipe the condensation from the windshield on cool days, and she thinks it's ugly. I think it really is the rants she hears
from me when something doesn't go right, the countless dollars sunk into something that moves 4 times a year, the fact that it will never be "done" or how
it slowly evolving into something less and less street friendly and she know's that means an upcoming discussion about how I "need" a diesel truck and 28'
car transport trailer...
For years, I would present my best persuasion techniques to conjure up some kind of sentimental attachment.
- "But it's the car i built to drive on the Nurburgring."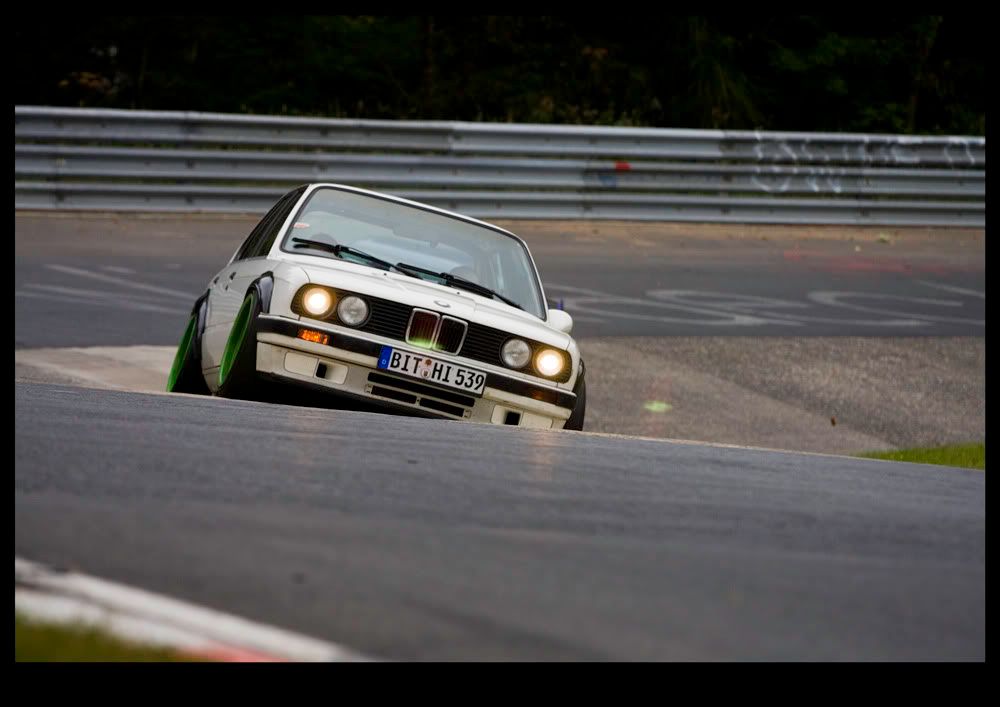 - "But the first time we hung out together, we scrapped the sound deadening out of the trunk... remember when we did cool things like
that before we had kids?"
- "but it's the car i've owned the longest in my entire life. I have so much money, blood, sweat & tears invested into it!"
None of this works, she see's through it with no emotional attachment, so when I see this M3 for sale add, a whirlwind of thoughts go through my mind.
- As fast as my sedan? check
- Not ugly? check
- Has a heater? check
- Is on my short list of dream cars? check
- Nearly an exact copy of what I wanted to build my recently sold M3 shell? check
- No way in hell you can build that car for his asking price (scars from the sedan build still healing). Check
And with that. Deposit sent. Co-driver secured. And this new adventure began!
Picking the car up was an adventure in itself, my buddy alex did a nice writeup on our adventure:
http://cloudbaseimaging.blogspot.com...road-trip.html
Current use
This car is awesome. The motor has the perfect amount of power for the chassis, the suspension is wonderfully neutral, it's fast as hell and gets 27mpg on
the highway. Currently, the car just crossed 198,000 miles (87k on the motor), it's not a garage queen, but it isn't a jalopy beater. To me it's the perfect
E30 M3 to enjoy the heck out of! I've taken it to a few car show type events, but I'd rather smash some cones in a parking lot instead of stand around in a
parking lot with a bunch of dudes and their spray wax. The Henna M3 kicks ass at autocross. Now there is no way it'd be competitive in SCCA because of the
mods, but in our local club, it's a killer.
It's also been great fun on track, here is a vid of me playing cat & mouse with a very well prepared M3 LTW on Hoosiers.
And a few days later doing my very first Time Trial (which I won!). 2:04.5 was my fastest lap on NT01's, 2:11.3 was my fastest lap on wider Kuhmo XS's in
the sedan... I don't think tires are worth 5 seconds... this car is fast!
Current configuration
--Drivetrain--
- Euro S50B32 "tested superb"
- Hammann style carbon fiber airbox
- OE tunning Alpha-N tune
- Stainless steel mid section into an eissman E36 M3 catback
- Incredibly tight E36 M3 ZF 5-speed
- Autosolutions SSK, which is unbelievably good
- E28 3.25lsd diff rebuilt by diffs online with M-coupe finned cover
- Euro E36 M3 radiator w/ pusher fan
--Suspension & brakes--
- Ground Control S/A coilovers
- Ground Control camber plates
- Ground Control rear shock mounts
- Ground Control 650#/400# springs (might up the rates)
- Sparco strut brace front and rear (thanks again Yan!)
- Massivebrakes rallye kit front and rear
- Massive brakes bump steer spacers
- Slotted/eccentric bolt rear subframe adjustments
- Purple poly bushings (unknown brand, guessing power flex)
- Treehouse racing eyeball arms
- New Z3 steering rack
-- wheels/tires --
- Brand new OE E30 M3 Sport EVO 16x7.5 et24 BBS wheels in Nargo silver w/ 225/45/16 Dunlop ZII's for street/auto-x
- OZ Superlaggera 17x8 et38 wheels w/ 235/40/17 Nitto NT01's for track/HPDE's etc
-- Exterior --
- EVO II chin spoiler recently removed
- Flossman style lower splitter. I need to lower the car to make this more functional and look better
- EVO III rear spoiler w/ carbon gurney flap
- EVO III hood seals
- Euro headlight grills
- Euro plate filler
- OE frenchies, soon to be removed
- Smoked front turn signals from Abrahams motorsports
-- Interior --
- NRG quick release hub - thin version
- Momo Champion steering wheel
- Recaro SR3 seats
- Currently using a Recaro Pole Position SPG on stock sliders and Massivebrakes mounts on the drivers seat, and it is perfect!
- VDO cluster gauges (oil temp, oil pressure, water temp)
- BMP instrument console for the VDO gauges
- Custom ///M floor mats
- Alpine head unit
- ZHP weighted shift knob
Future plans
- Schrick 284's cams are sitting in the garage ready to go in
- Precautionary VANOS rebuild when swapping the cams
- MAC Autosport dyno tune after the cam install
- New crankcase ventilation solution, current one gets backed up during long periods of high RPM use (on track)
- electric water pump conversion
- electric power steering conversion, the current one gets a bit overwhelmed by the Z3 rack on fast transitions on autocross courses
- Ireland Engineering "posi-lock" rear subframe adjustments. The current eccentrics have needed to be re-adjusted 3 times in 9 months...
- Euro E30 M3 anthrazit 0211 cloth interior
I must thank Justin Chan for these amazing photo's. If your in the Savannah Georgia area, look him up!
http://www.justinchanphotography.com
Check out my on-going progress of the car here(click text)