After reading through JackBenny's massive and very detailed project thread, I was compelled to share my story as well.
I feel as though my E30 is special enough to have its own thread, and I can use it as a source of motivation to get the work done and also use it as a place to ask questions and share my knowledge with others. I live eat and breath E30's, and have been personally responsible for passing the addiction onto 6 of my friends.
I am not a stickler for perfection, but I am working on trying to get more meticulous about things. I am not the type of guy who cleans every part as I take it off. I repaint things that I deem necessary, but thats not too many things. I am not a looks guy whatsoever, and yes I do realize the paint is in extreme need of some work, but I enjoy the look and think it gives the E30 character. To me its more about the drive, and making everything look like its supposed to be there.
For now, I am forced to do all of the work to my E30 in a parking lot, and I unfortunately do not have the privilege of having a garage, or special tools to get some jobs done, but I will do the best that I can, with what I have.
I am going to start at the beginning, and create new posts for the big dramatic updates until I get to how the car sits today.
*Cracks Knuckles*
Here We Go...........

On August 12th 2009 I put a 1000 dollar deposit on the NV M50 1991 318is. The following day I take the remaining balance to the seller and pick up my first 24v E30. This is my fourth E30, and by far, this is the most modded one to date. I am excited as all hell, and think that its the fastest coolest thing on the road. Here are a few pictures of it, exactly as I picked it up from the PO.
A list of big things this E30 has to offer.
- 1992 NV M50 with tranny
- B&G Coilovers
- 3.25 LSD
- Style 5's
- E36 5 lug, with E36 M3 brakes, front and rear
- Z3 SS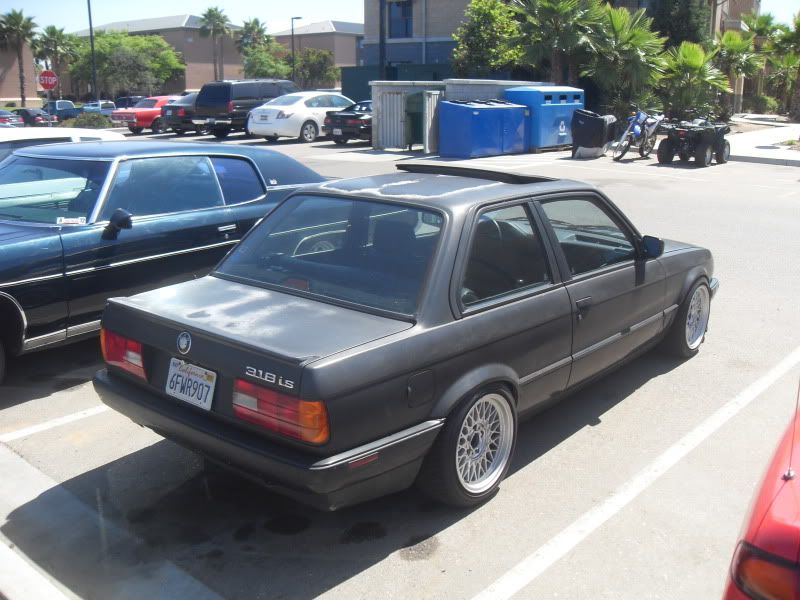 After an hour, and a bunch of parts from my previous E30, I get it to look like this.
I like how its going, the roof rack ties the mean, ratrod look together, and who doesnt love smilies!?
Though there are a few problems right off of the bat. First off, the rear is way too low, and the exhaust scraps off of the tiniest of bumps. I fix that by simply raising the rear by adjusting the rear spring. Next, that little fan isnt doing jack squat to keep the M50 cool, and continues to overheat even after rigorous bleeding.
So, I fix that problem by pulling out the entire cooling system from my previous E30. I reinstall the engine fan, and I wire up the stock aux fan to a switch in the cabin. For some reason, even after following the Bentley, I cant get the fan to turn on on its own, so switched it became.
After all of this, the overheating issue is resolved and I can drive the car without worrying about doing damage on a long drive.
I drive the car 400 miles to my residence in Phoenix without any problems, and take the car to get smogged. I was kinda worried, but it passed with flying colors. I head over to the DMV and get the infamous MR E30 (which, contrary to popular belief, doesnt stand for Mr. E30, but MR are my initials, and E30 is E30) license plate on the car. Its starting to feel more and more like mine every minute.
I have a short dry spell without any work. Back in the day I didnt photograph the work I did too often, which I am kinda bummed about now, cause I cant create an accurate chain of events. Its hard to go off of memory only!
Next up was the dashboard............