I'm the pround new owner of a 1991 325ic. I bought the car for cheap, because it was a project car in pieces and the motor snapped a timing belt. I figured its cheap enough to have a winter project and perhaps sell it in the summer. It's been only two months since I bought it, but I think I'm starting to see the appeal of E30's. I mean besides the classic good looks and legendary build quality, the community is really really helpful and friendly.
First Night:
The next day taking the head off:
Look at that Carbon!
My machine shop tells me that 6 valve guides need to be replaced....is that oil all from leaky guides?
This kinda looks like all the oil is all coming from the guides in this pic
I don't think the oil is from the rings take a look at the cylinder walls, you can still see cross hatching - unbelievable because the motor has over 286,000 Km (almost 178,000 miles) Did I mention the motor rotates incredibly smooth
5 Bent Valves and one broken Rocker!
Not too bad... the pistons don't even look too damaged
oil was leaking in #1 for sure
Quick clean up:
And now porting and polishing:
3 Gasket Matched 3 polished and left OEM dimensions (Grouped like this: 1,2,3 & 4,5,6 - works with the firing order)
I'm hoping it will increase the scavanging effect in the exhaust
Cleaned up the bowls and polished the combustion chambers
While the head is in the machine shop, I've been buying parts to put it back together. At the moment I'm trying to figure out if the injectors used in these motors are maxxed out and should be upgraded.
My old VR6 motor made 200whp with the same size valves, but from the factory come with 19lbs injectors in a 2.8
A 2.8 is only 12% bigger then a 2.5 so simple math tells me to achieve 200whp I should use 16lbs injectors (14lbs x 1.12 = 15.6)
However I don't think the BMW engineers made a mistake when choosing the injectors, because the head flows and tumbles air really well. 2nd only to Porsche in terms of filling the combustion chamber. Maybe the intake velocity makes up for the smallish injectors. This info is from this guy, using a AVL Tippelmann flow bench in Germany:
http://speedtalk.com/forum/viewtopic...3c2ac64713b4b8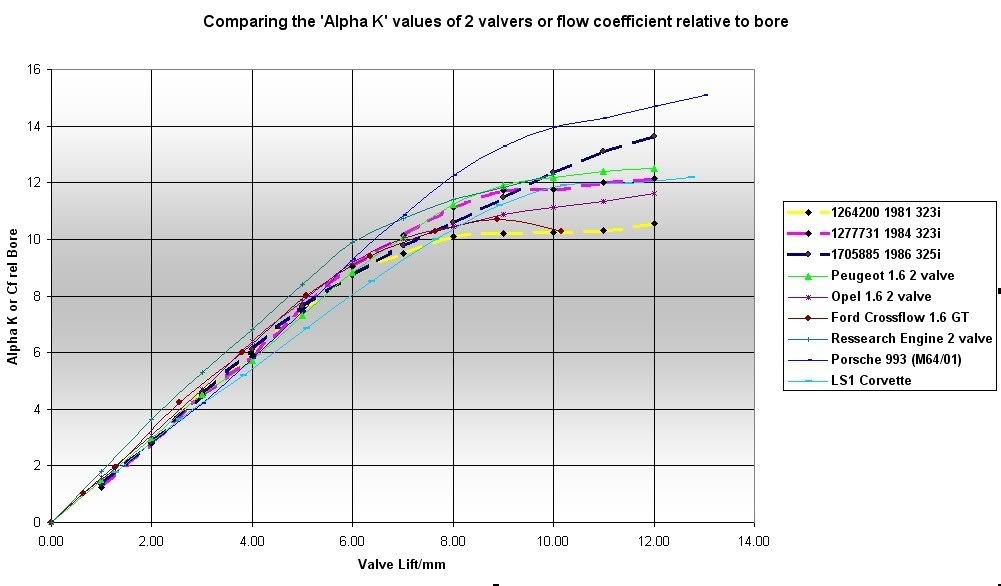 Perhaps all I need to do is clean the injectors and buy an adjustable Fuel Pressure regulator...kinda like what Alpina did.
More to come!