Hi R3vlimited! After just stalking around in here for a while i thought i would make a contribution to the forum, since i have gotten a lot of good information and inspiration from threads in here. I have also enjoyed several of the projects on the board.
Warning wall of text here, if you dont wanna read, then scroll down, and there will be lots of pictures.
First a little story of how i got started. I just spend 6 months in Afghanistan with the Danish Army. With the infantry in Helmand. The original plan was to turbocharge a M52B28 i had from another E30, which i wrecked before leaving home in August 2011.
That changed when my sergeant suggested that i got an M3 engine instead, so i thought what the hell, lets look into that. So i made an offer to a local dealer and got a S54 from a Z4 pretty cheap considering it had only run for 50 km. When my bid was accepted i also got the 6 speed ZF box from the same Z4.
This opened up a whole new world. What would i do for engine management, the OEM one dident come with the engine so i decided to go for a SC Typhoon from the UK, since its cheap and i dont have to do a ton of wiring myself. All of this happened while i was still in Helmand. When i got back on leave in December i then ordered the Typhoon, and that required the engine harness to be shipped to the UK for modification.
First of a couple of shots of the tranny:
Engine pictures - Before removing the harness
Random parts i ordered while still in Helmand - Including a HFM(Correct english term? The air sensor) which i later have found out that i dont need.
EVO3 Steering wheel :pimp:
And finally the removal of the engine harness. Suck a new and modern engine got tons of sensors, and as a result even more wires :o
Airbox has to come of, lots of wires underneath
4 months without beer....
Wiring harness! Weighed 9,5 kg!
Engine ready for storage while i went back to finish my tour after leave
Now some pictures of the car the engine is going into:
Its in pretty decent shape(On the outside at least). Some rust underneath, and a bad exhaustjob means that the exhaust is rubbing against the rearfender.
Apparently the small VANOS controlbox was needed for modification also, so of it came.
A very annoying part to remove, at first i thought i had to remove the entire waterpump, but found that i could just loosen the top.
---------------------------------------------------------------------------------------
When i got home again after finishing my tour lots were to happen!
Got parts from VAC, and half of my harness from Specialist Components. Got an engine stand, some pics of that first.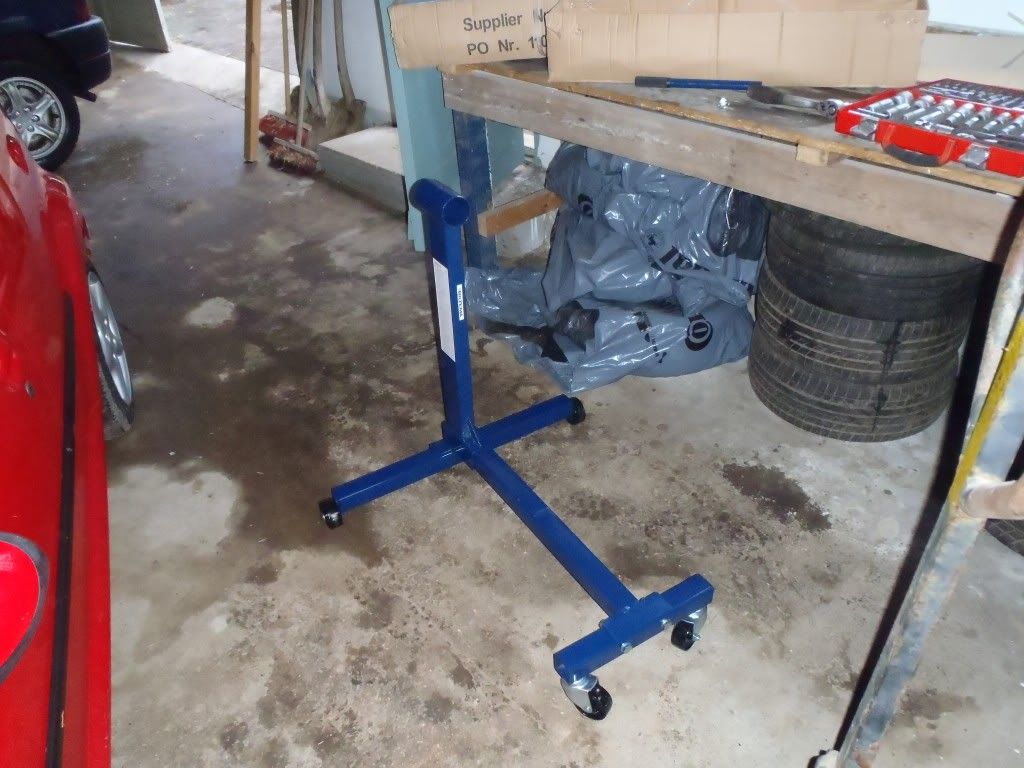 Off with the clutch and flywheel: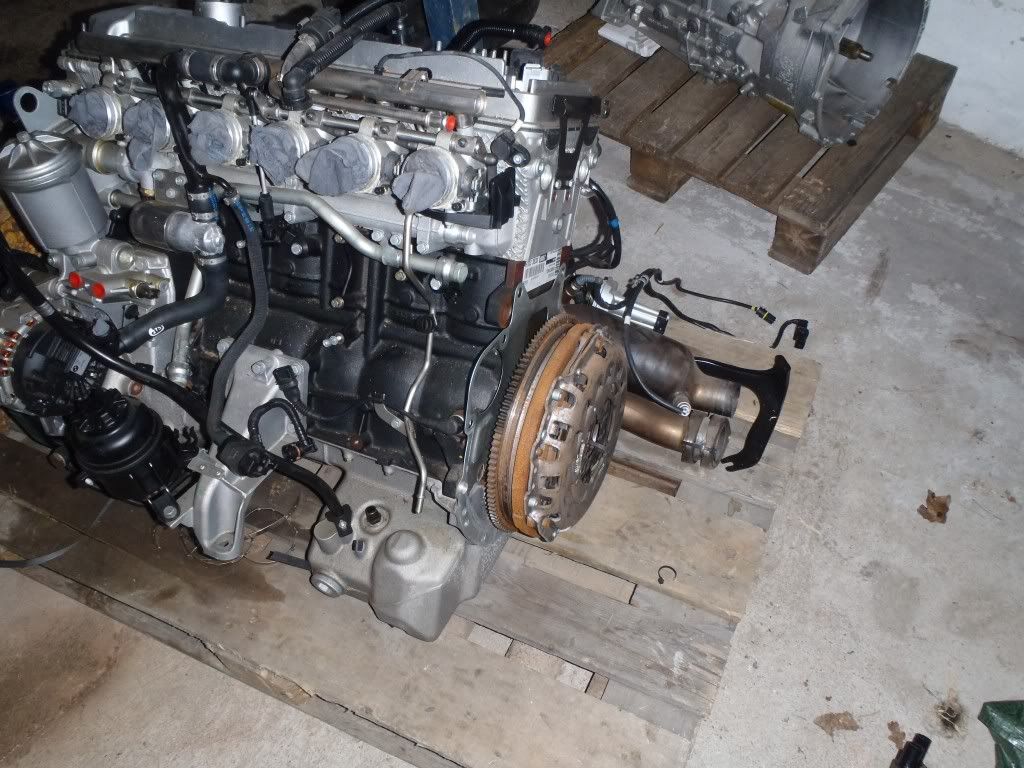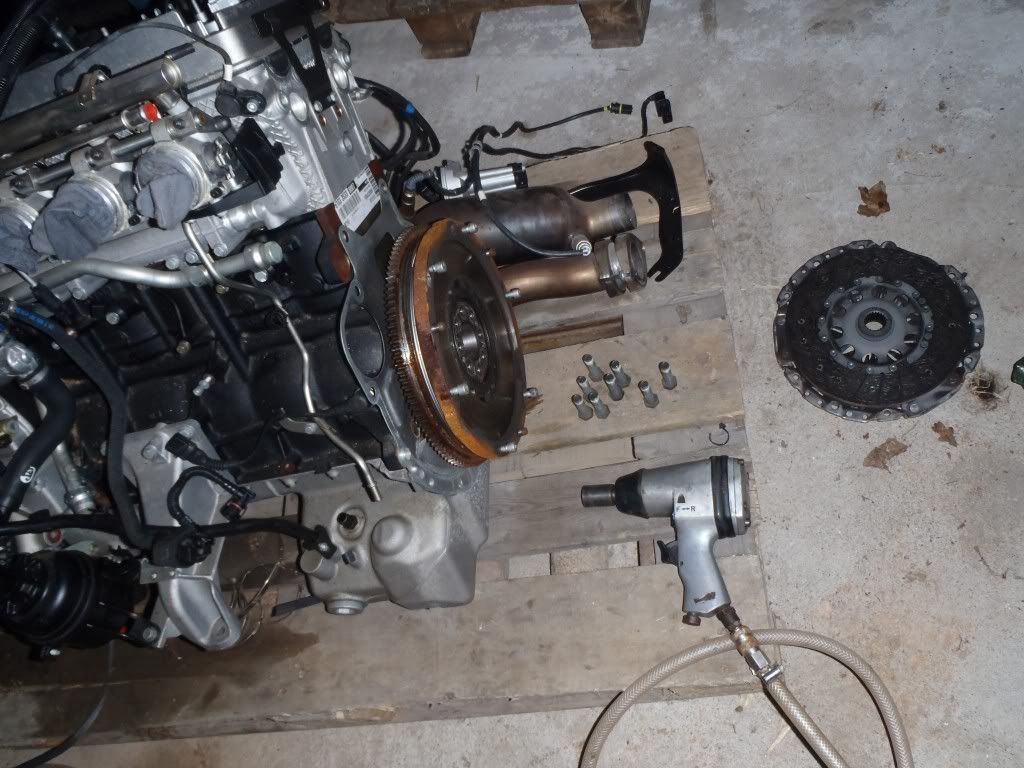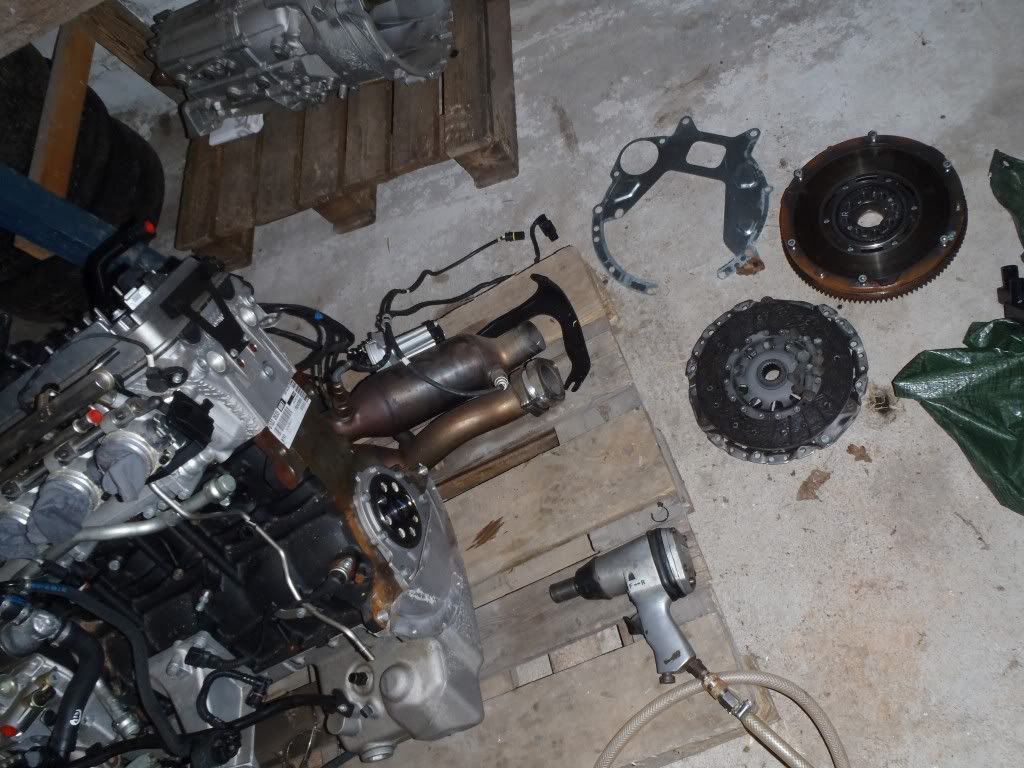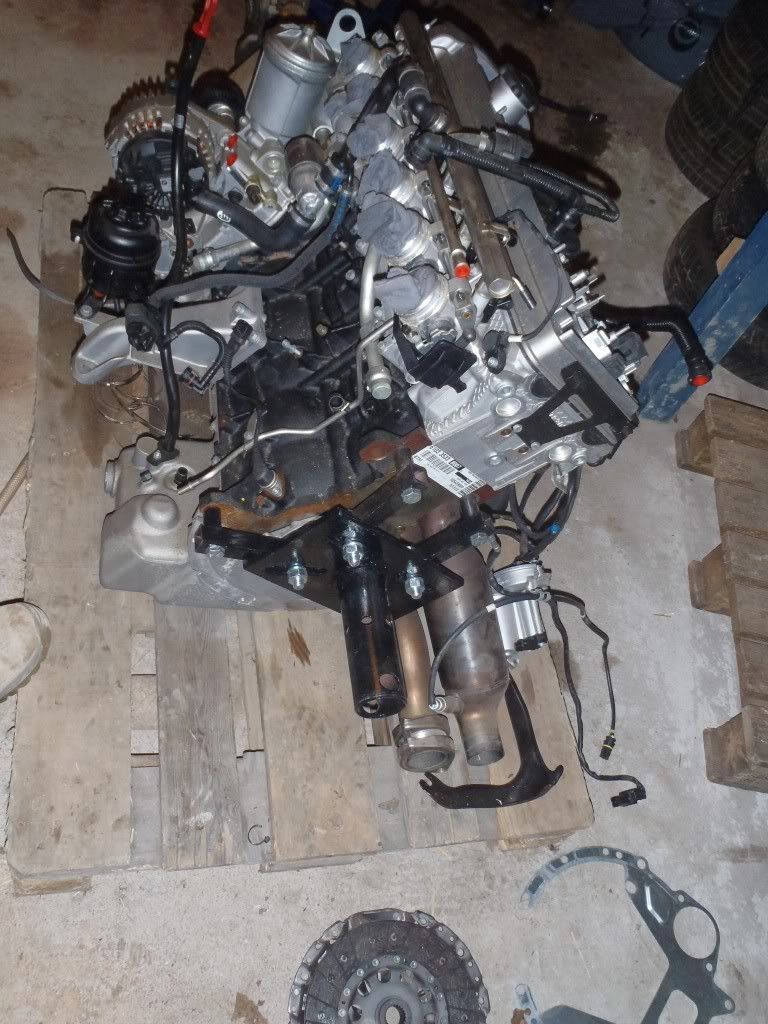 Engine hoist was found: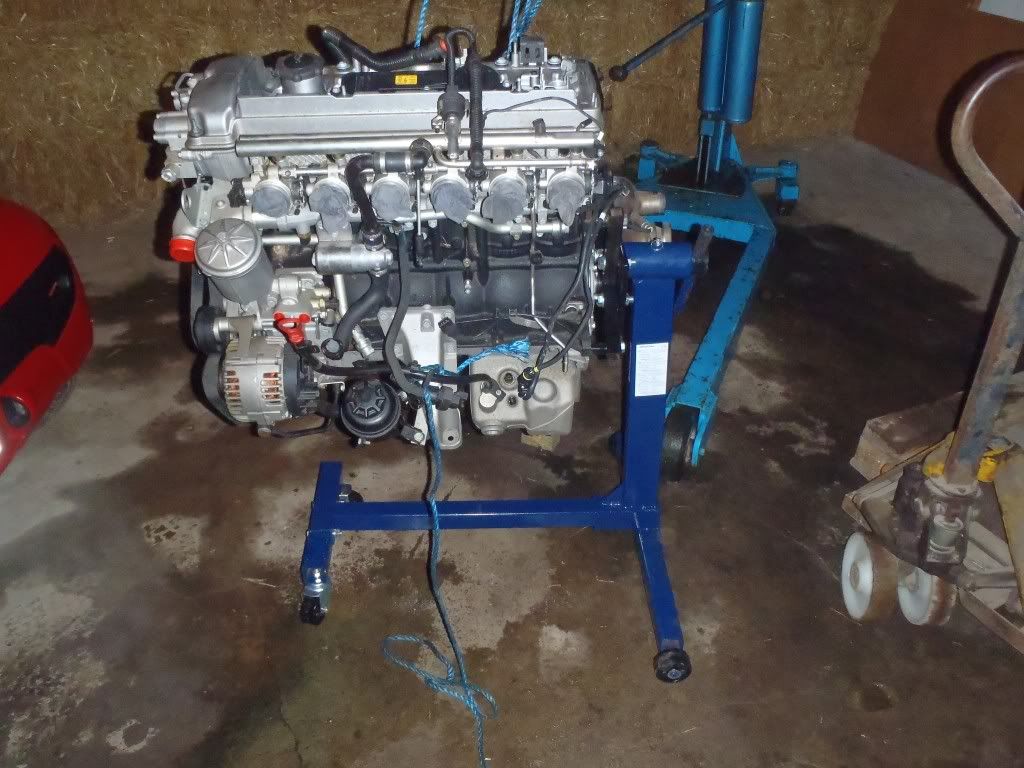 One of the items i got from VAC
Ultra Light S54 Underdrive Pulley Set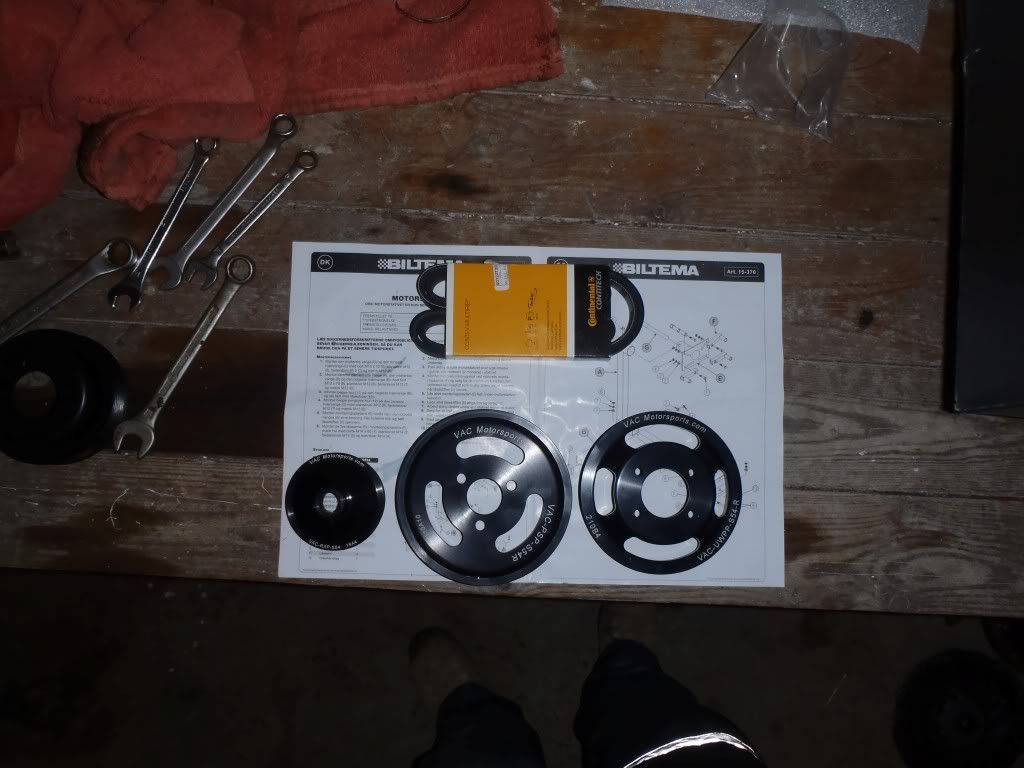 OEM pulleys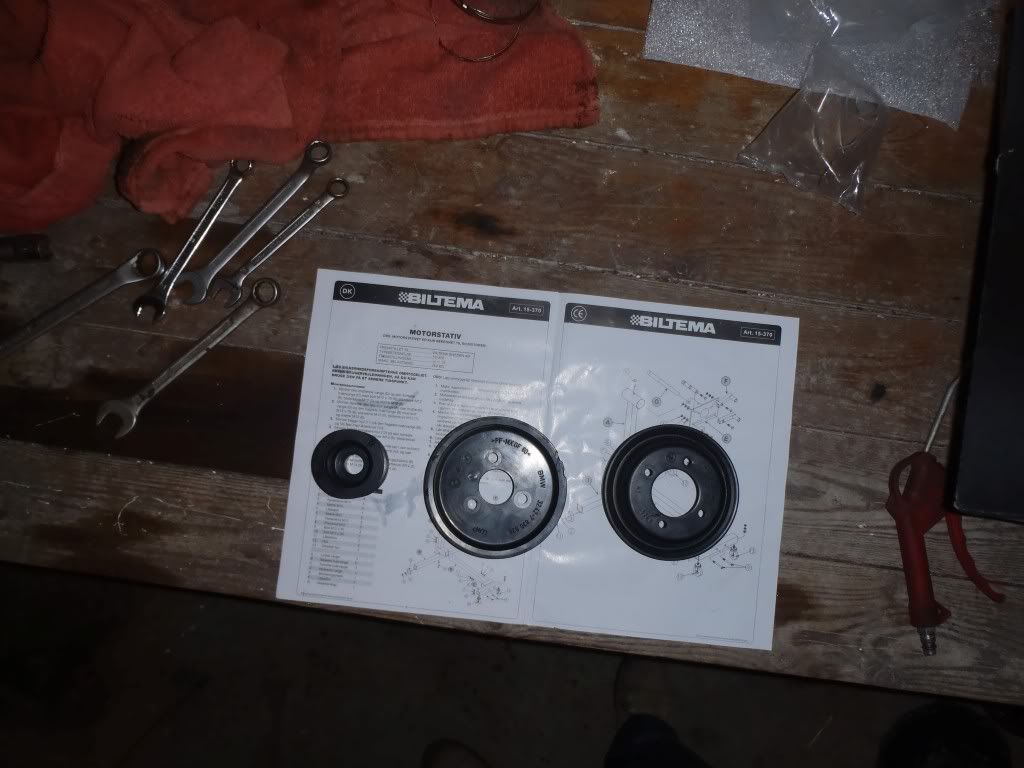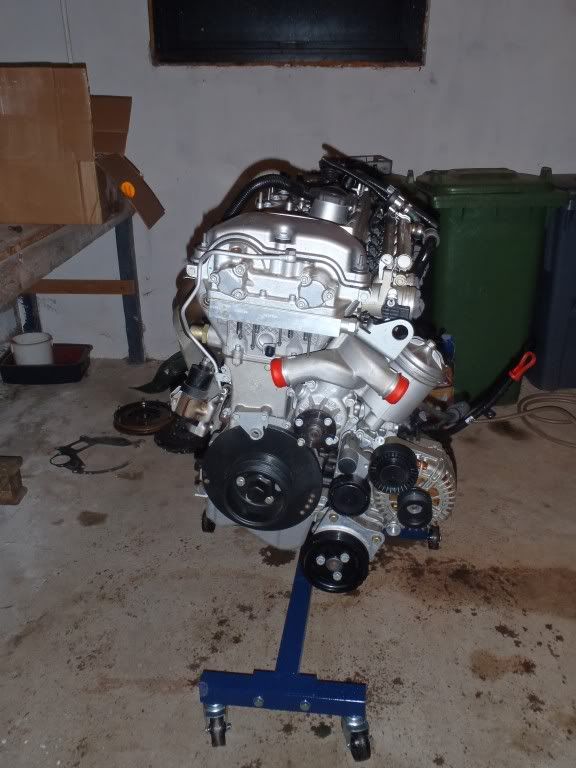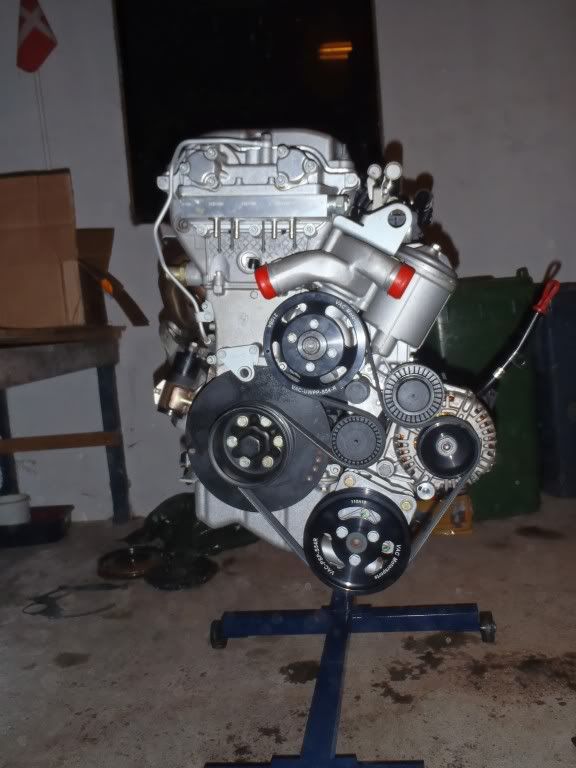 Also got a
VAC - E46 M3 (S54) Budget Race Exhaust Header
So the OEM headers needs to come off! Its an US spec engine, so its the restrictive headers with cats on them.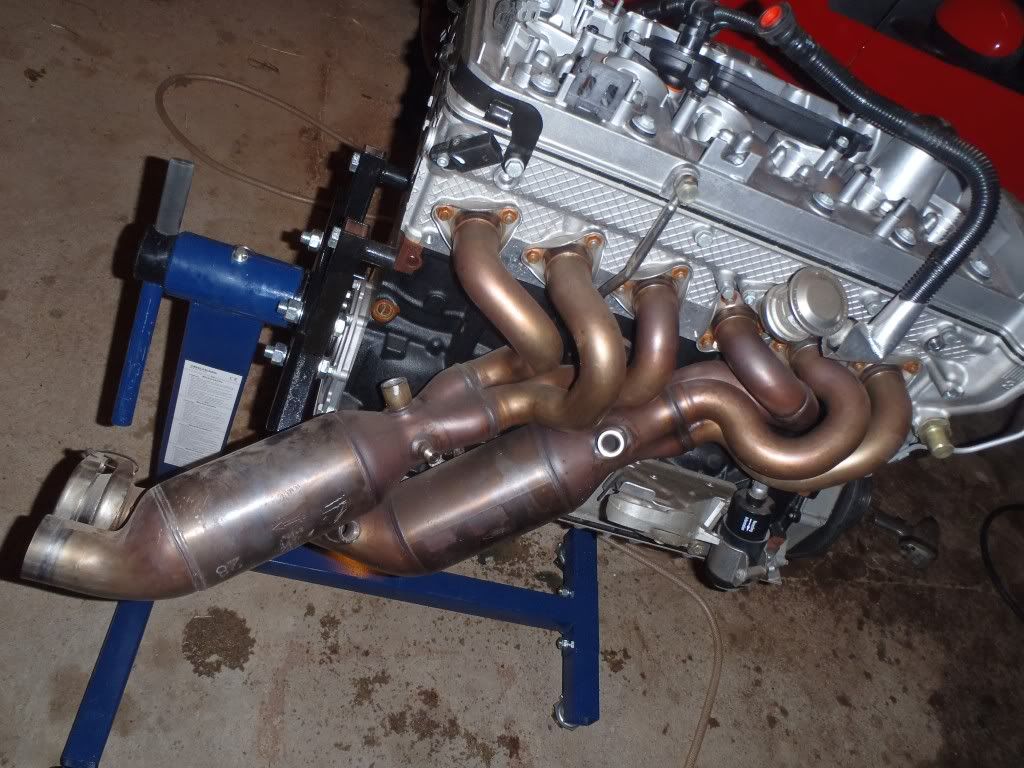 Lambda sensors comes off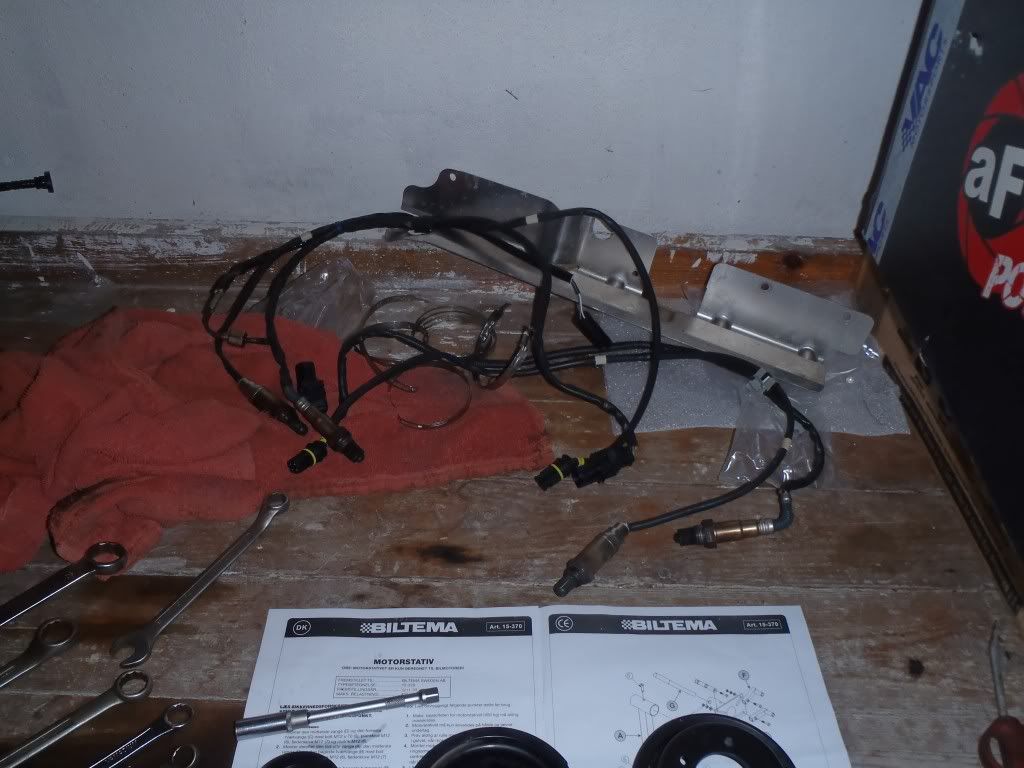 Comparison of the headers: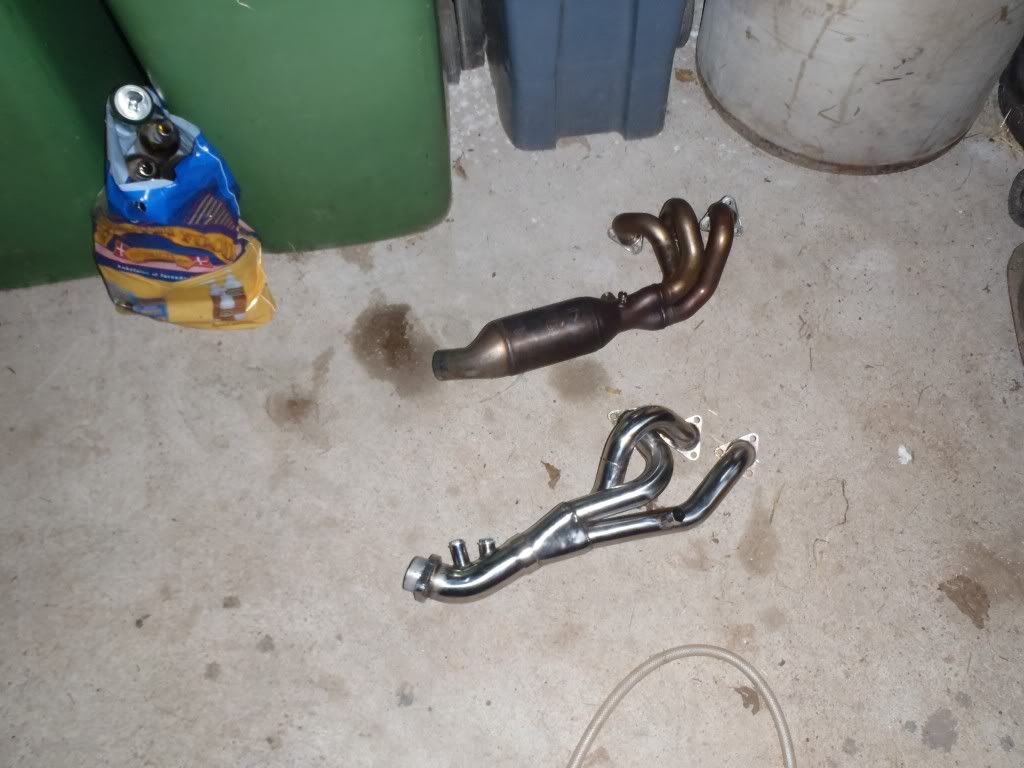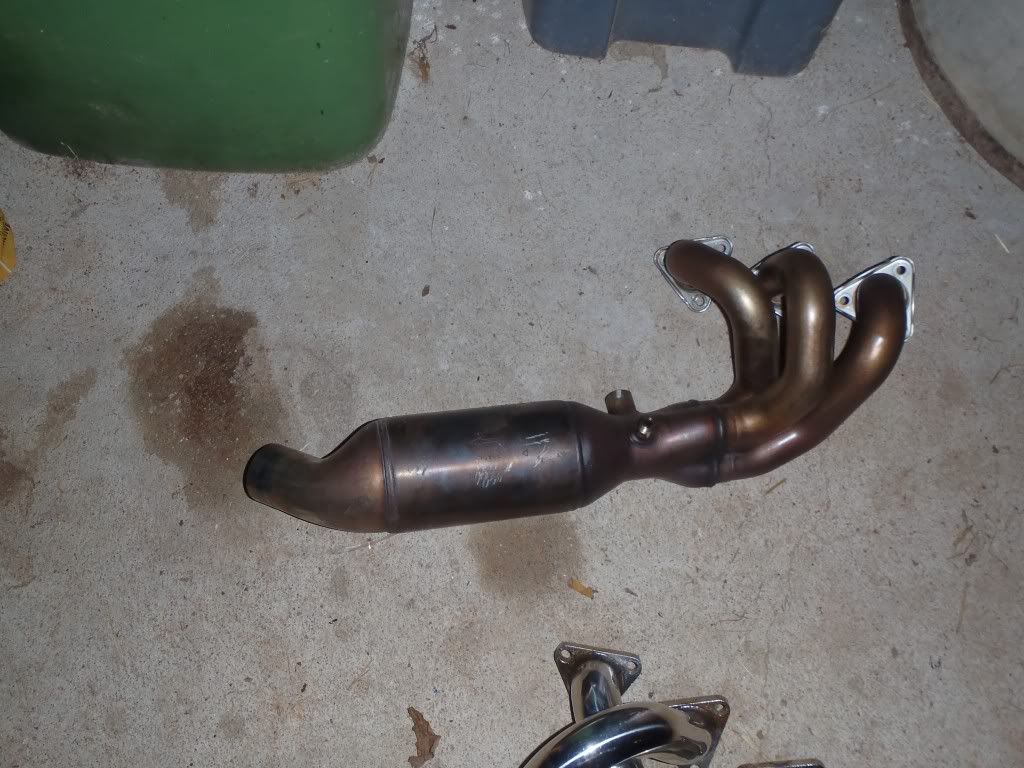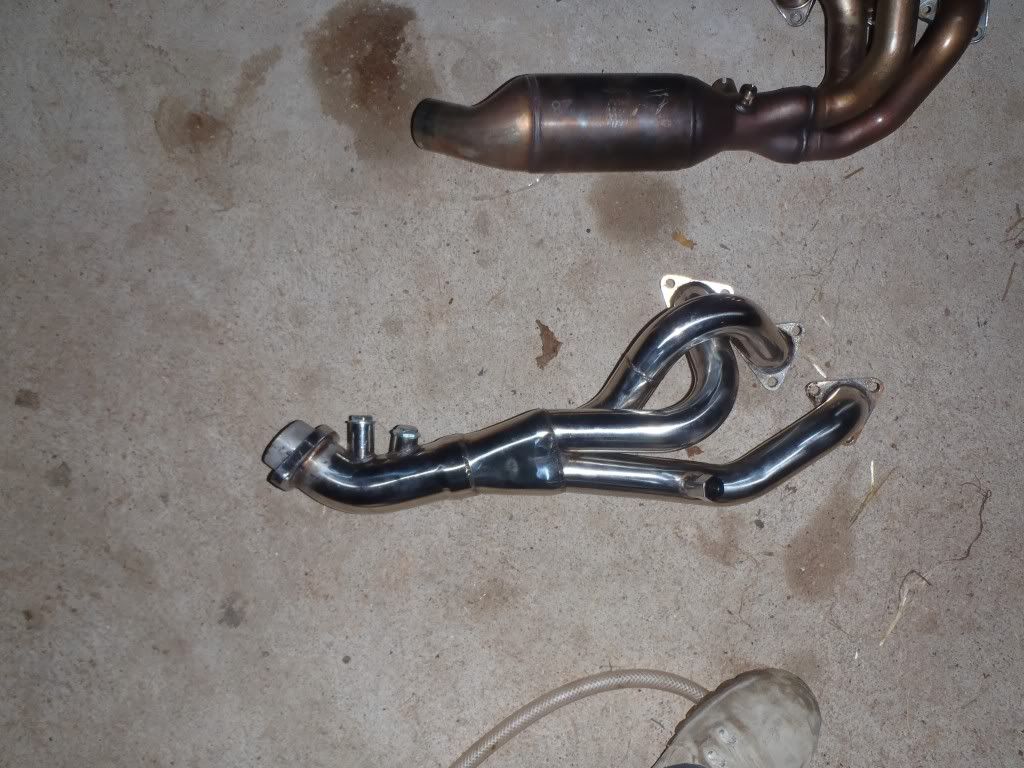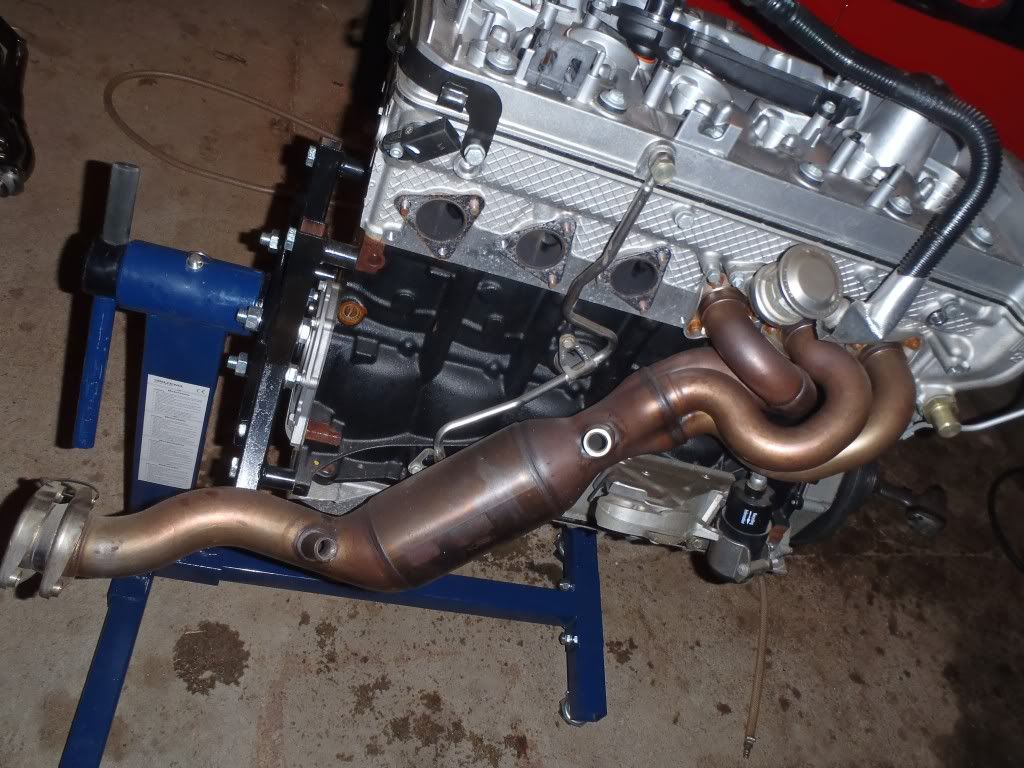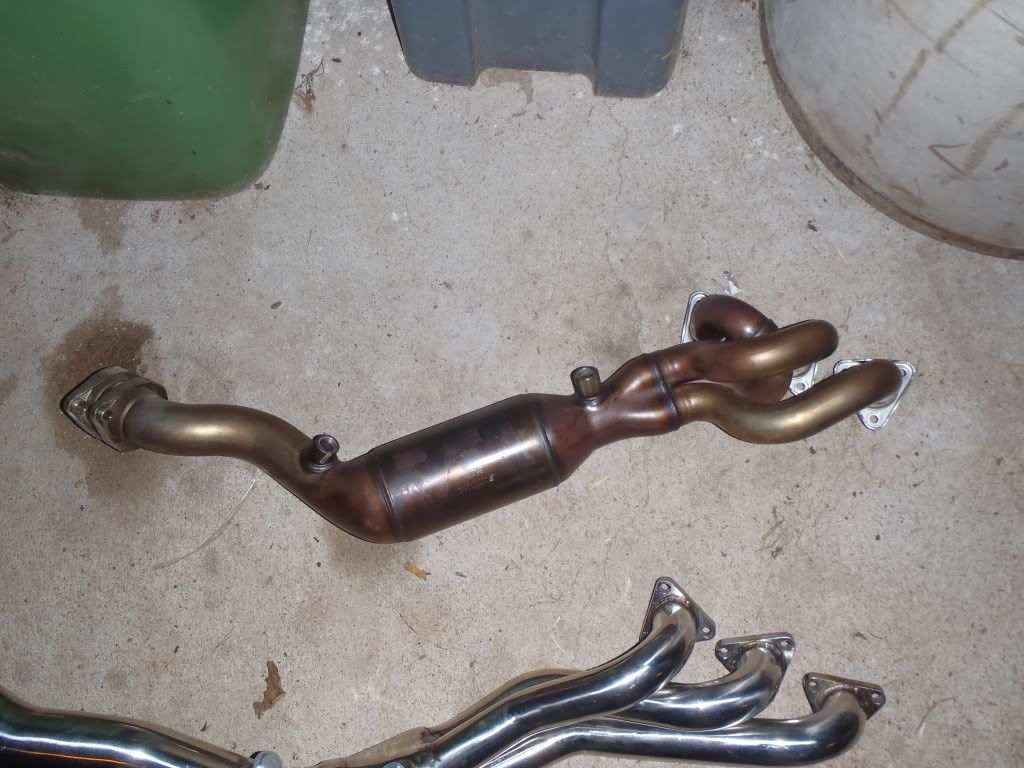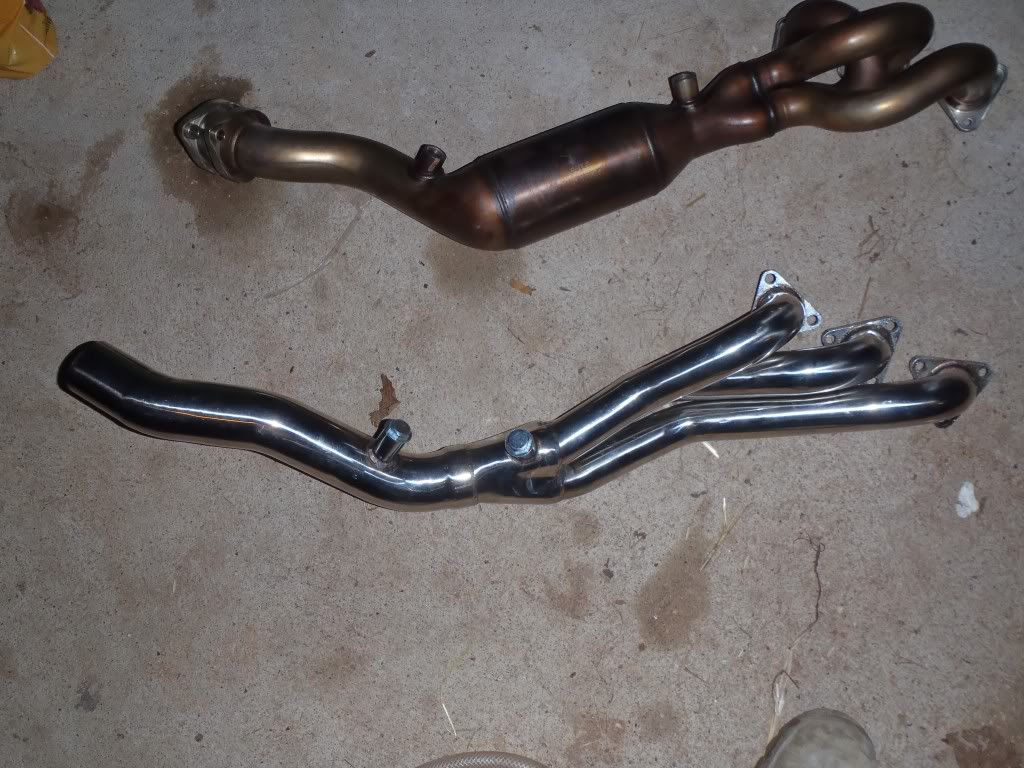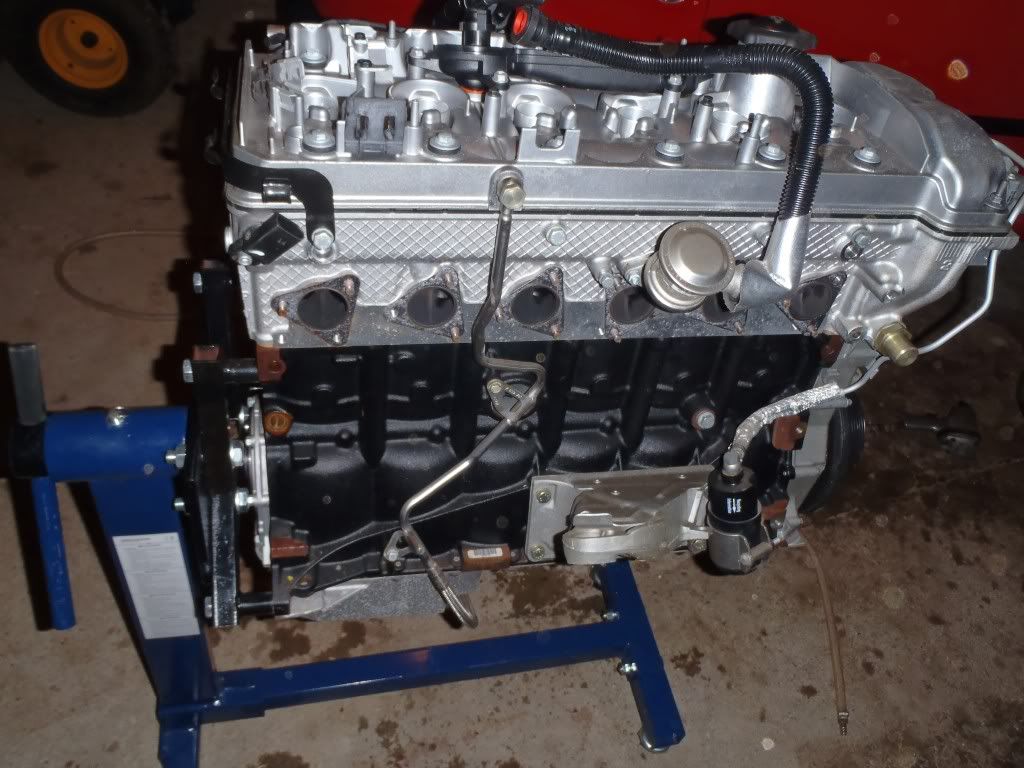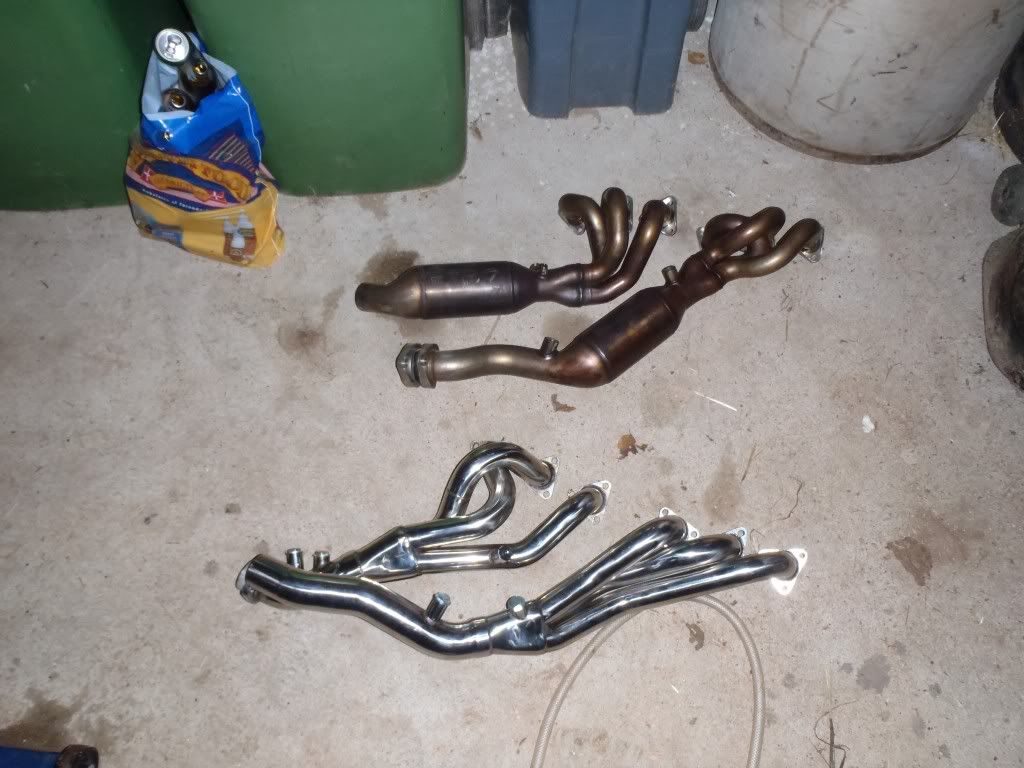 Out with the OEM header studs. The flanges on the new header is thicker than OEM, so new studs are needed.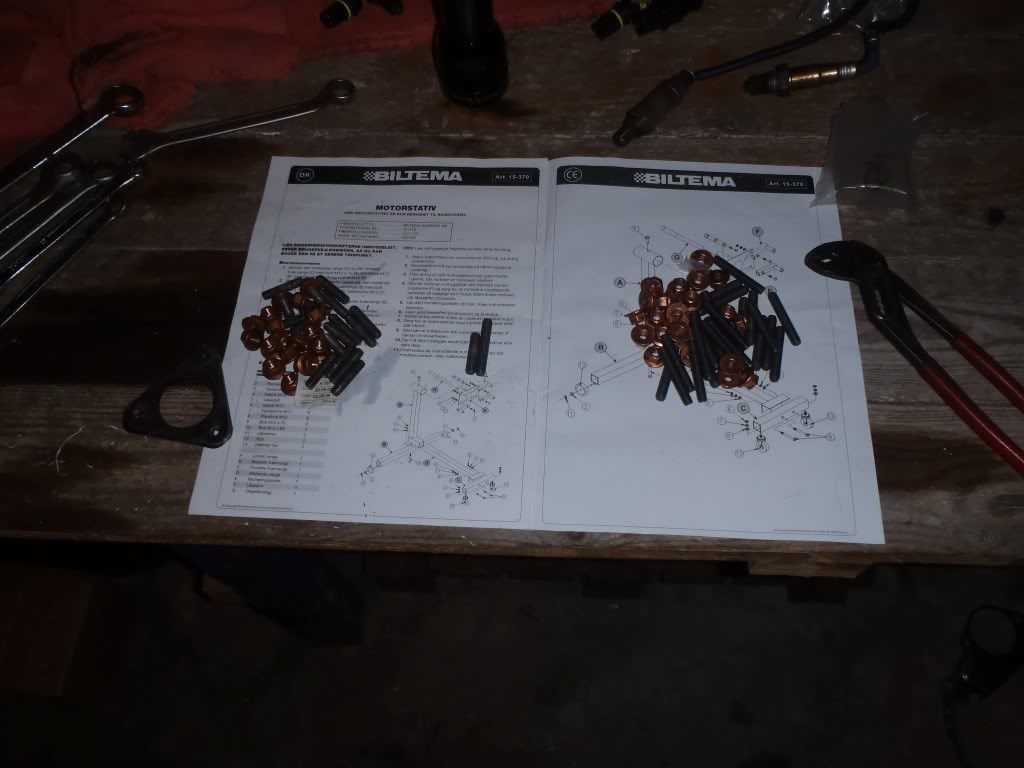 VAC - S54 Drive by Wire Elimination kit
next to the OEM electric motor.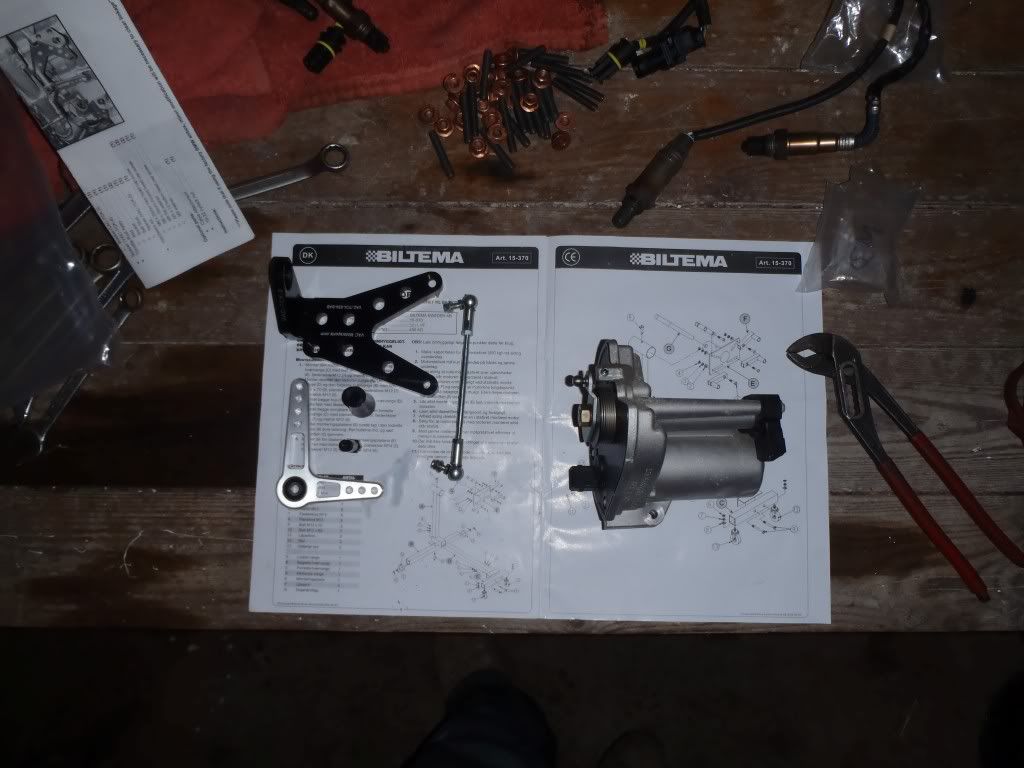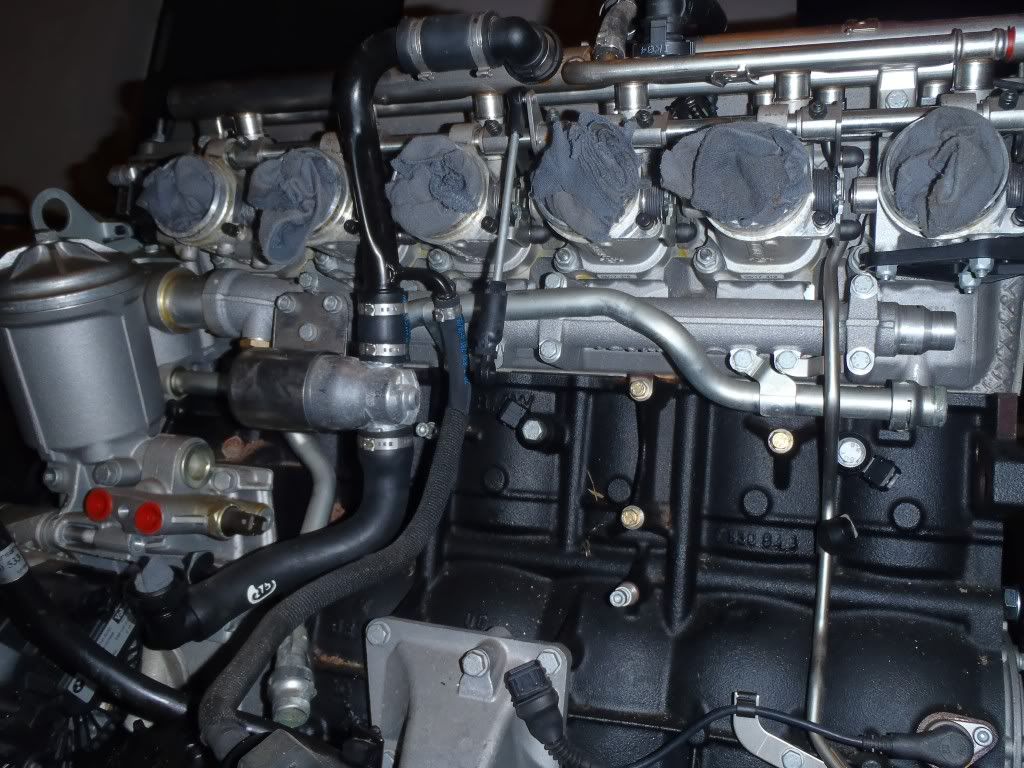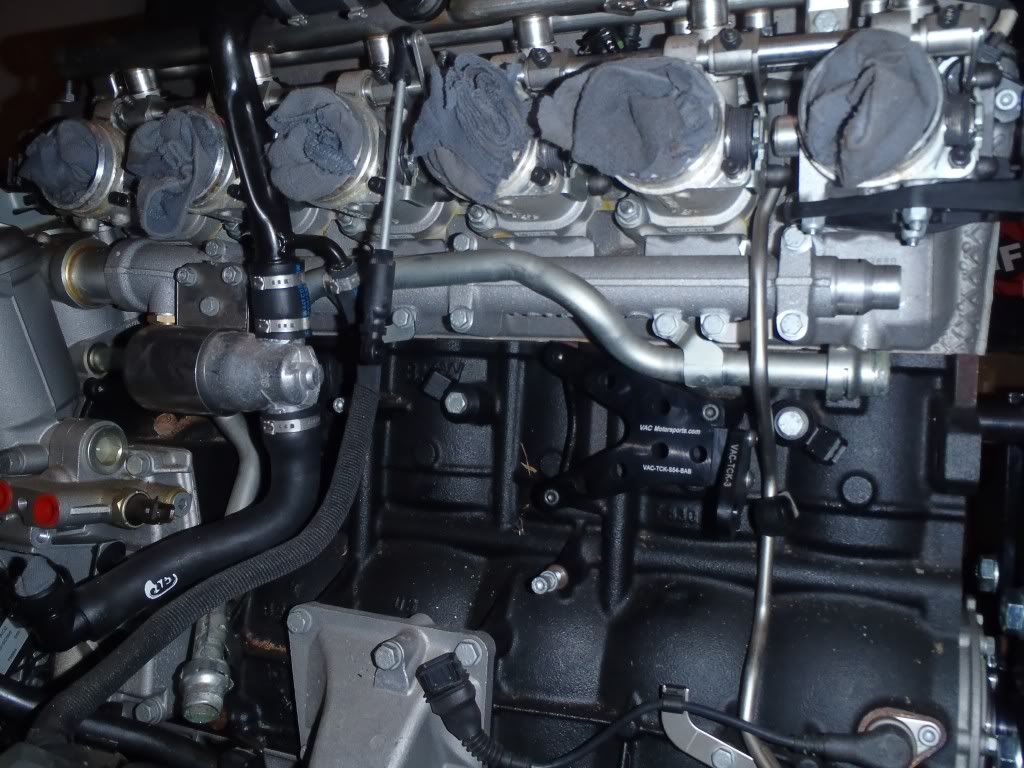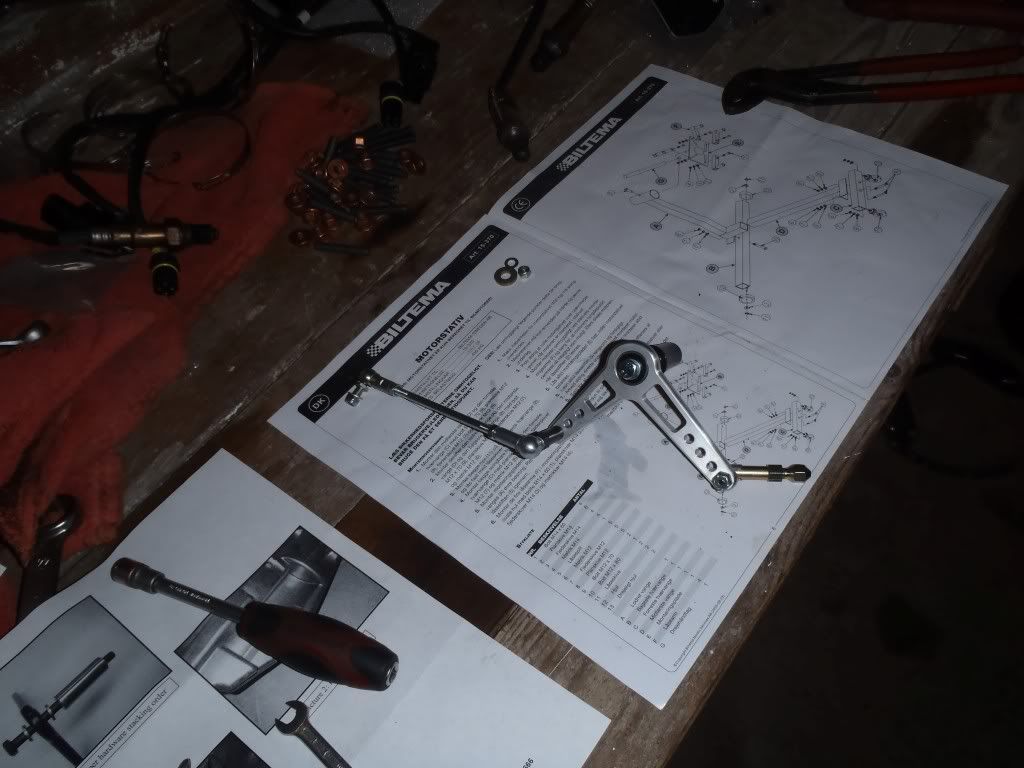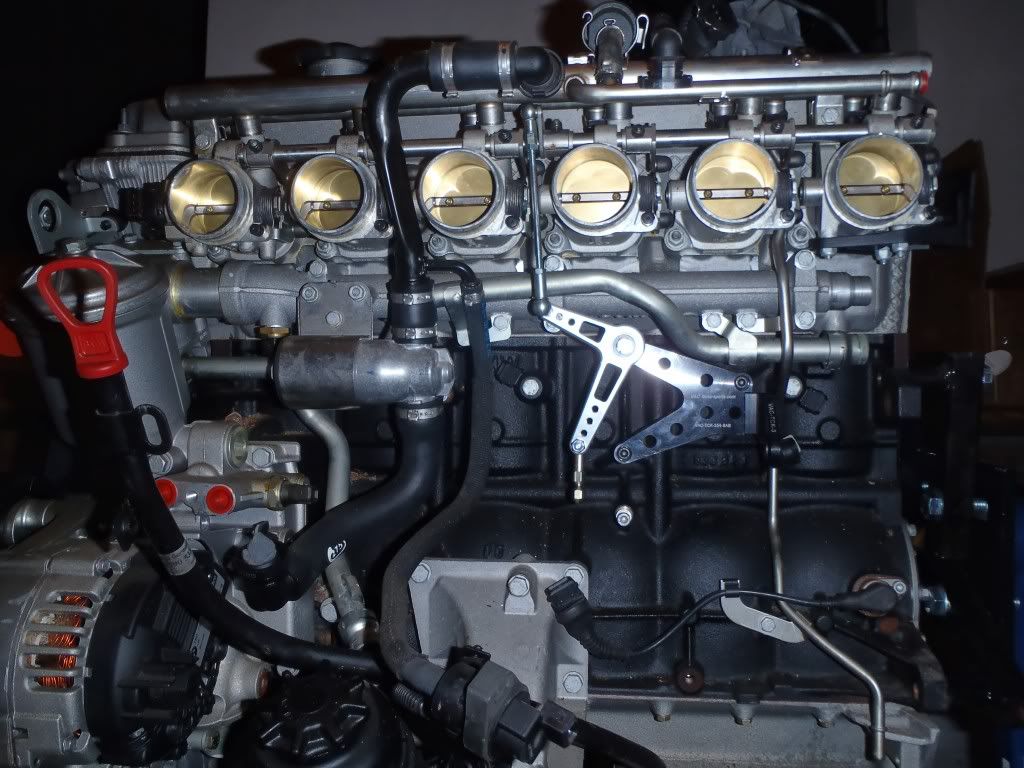 Testfitting the Airbox. Apparently you need to cut off a little dent in it, in order to get enough clearence, but hopefully i will get to that later on.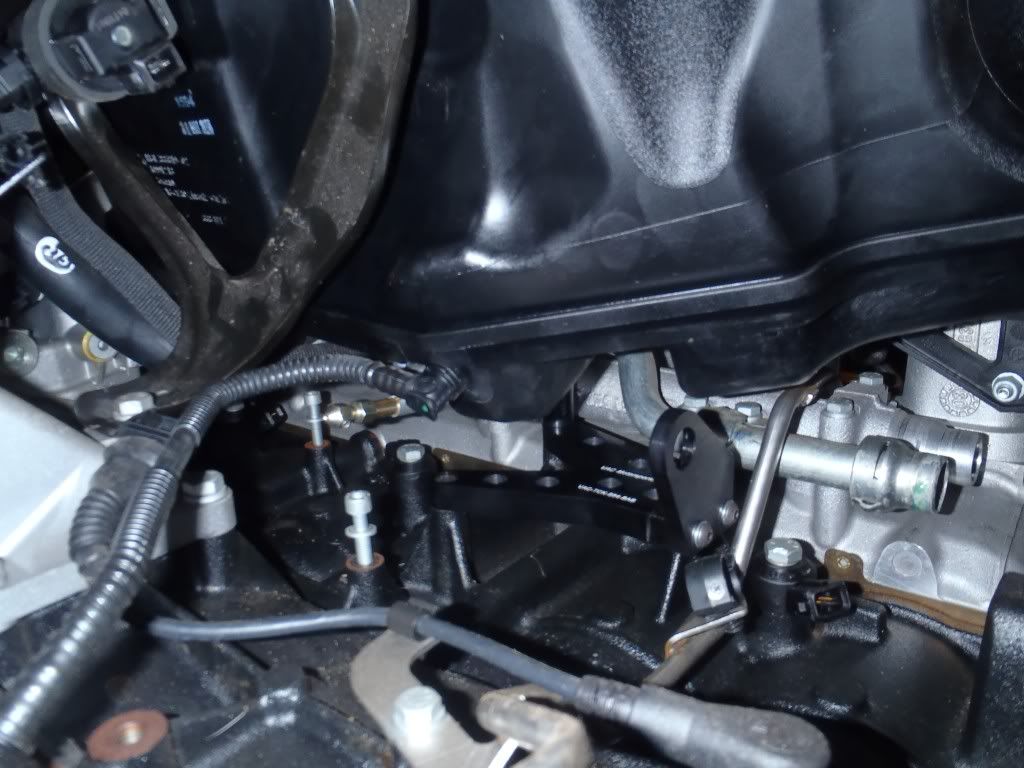 Typhoon EMS and wiring harness: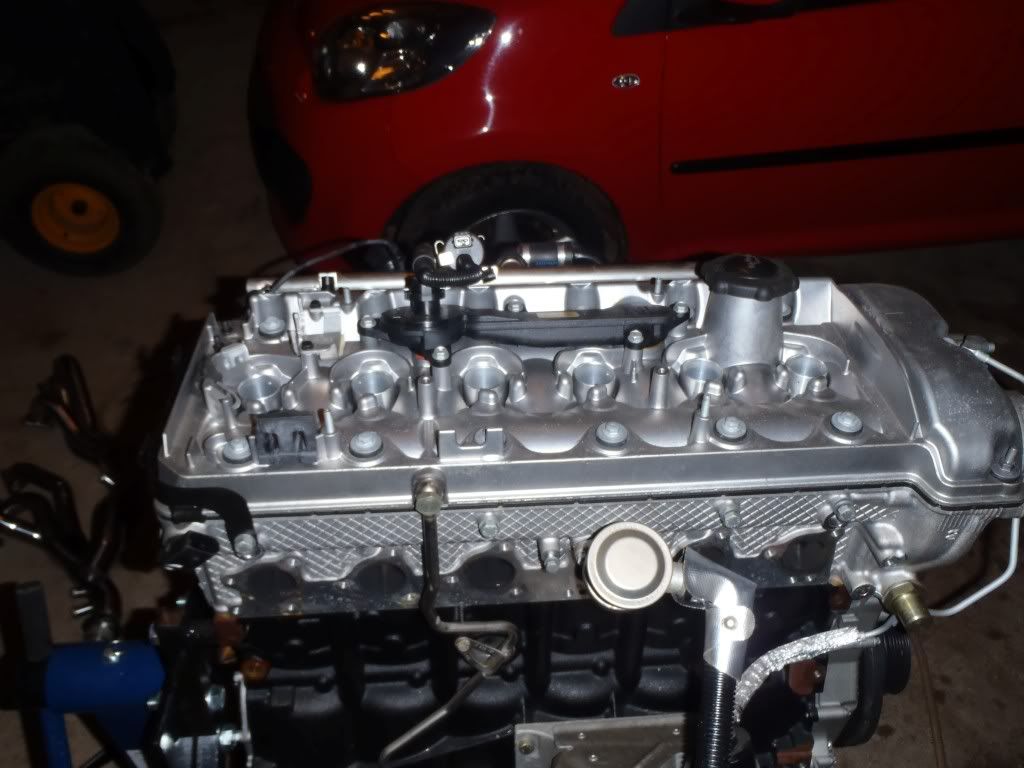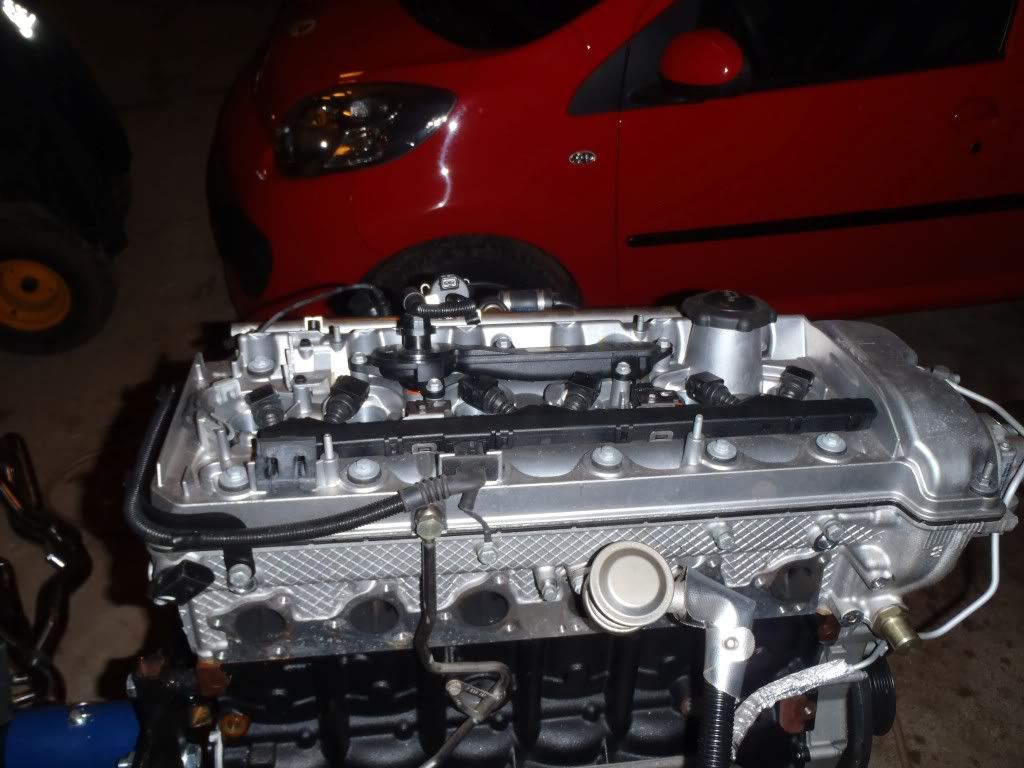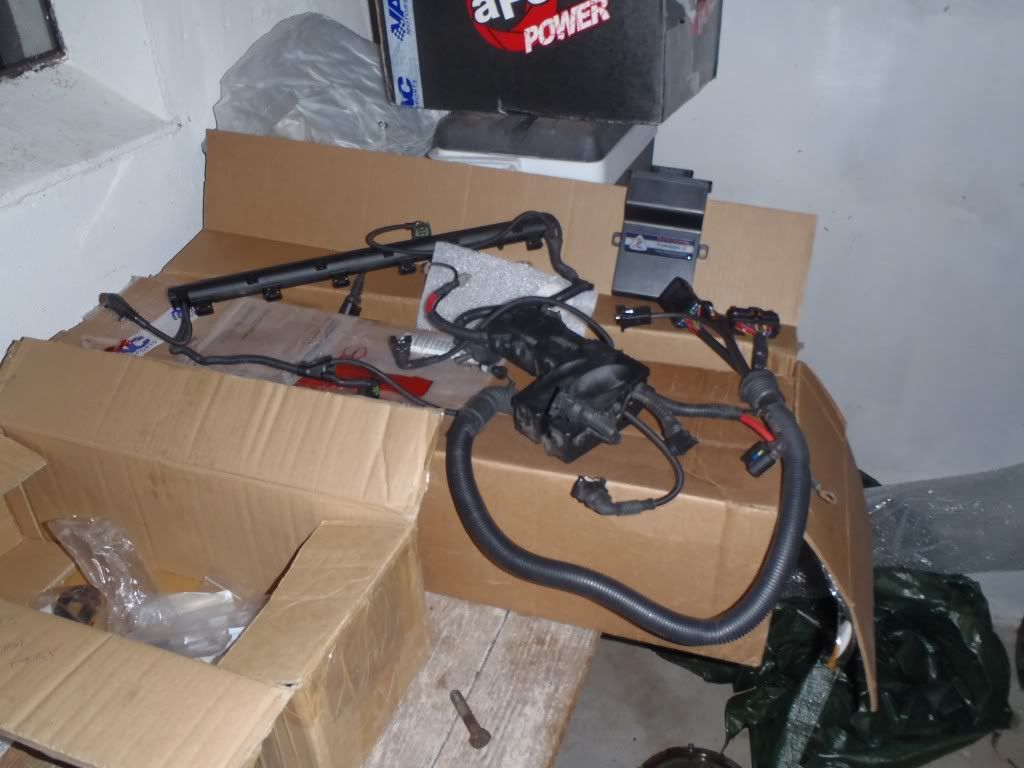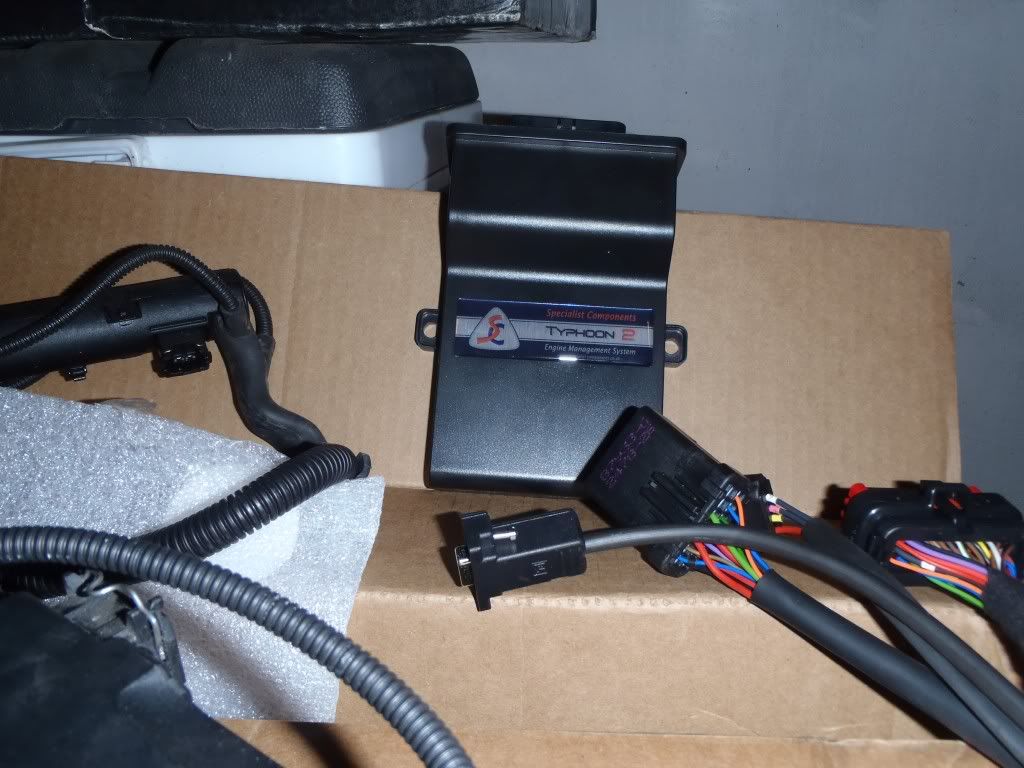 Getting the harness back on: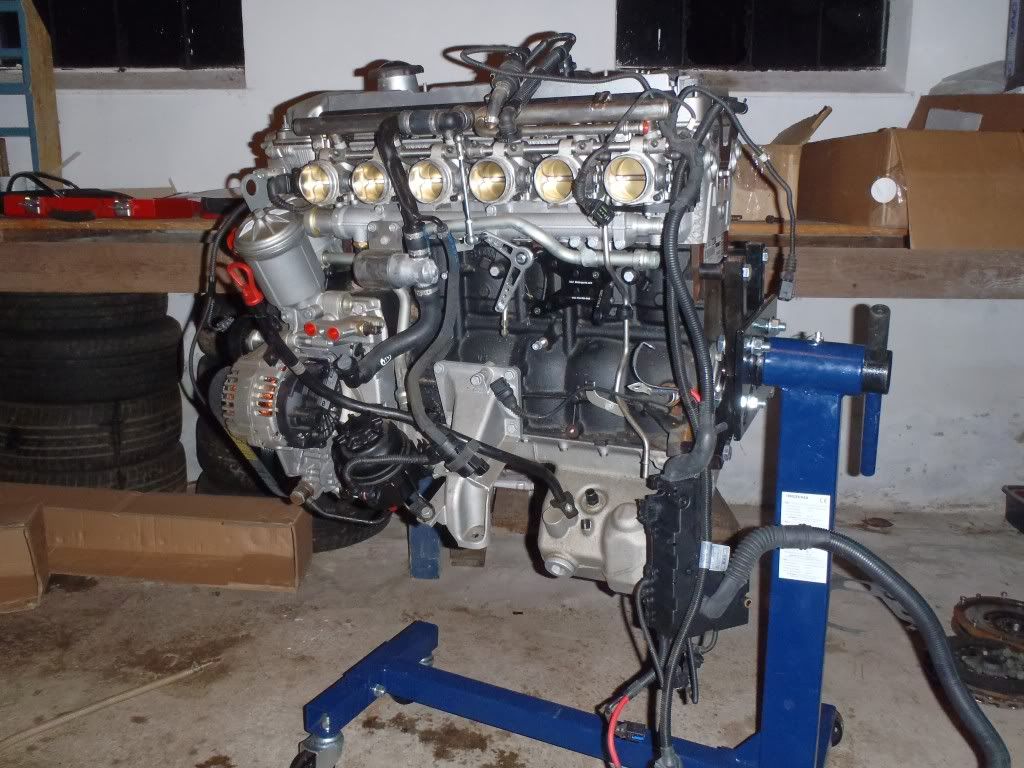 And the VANOS controlbox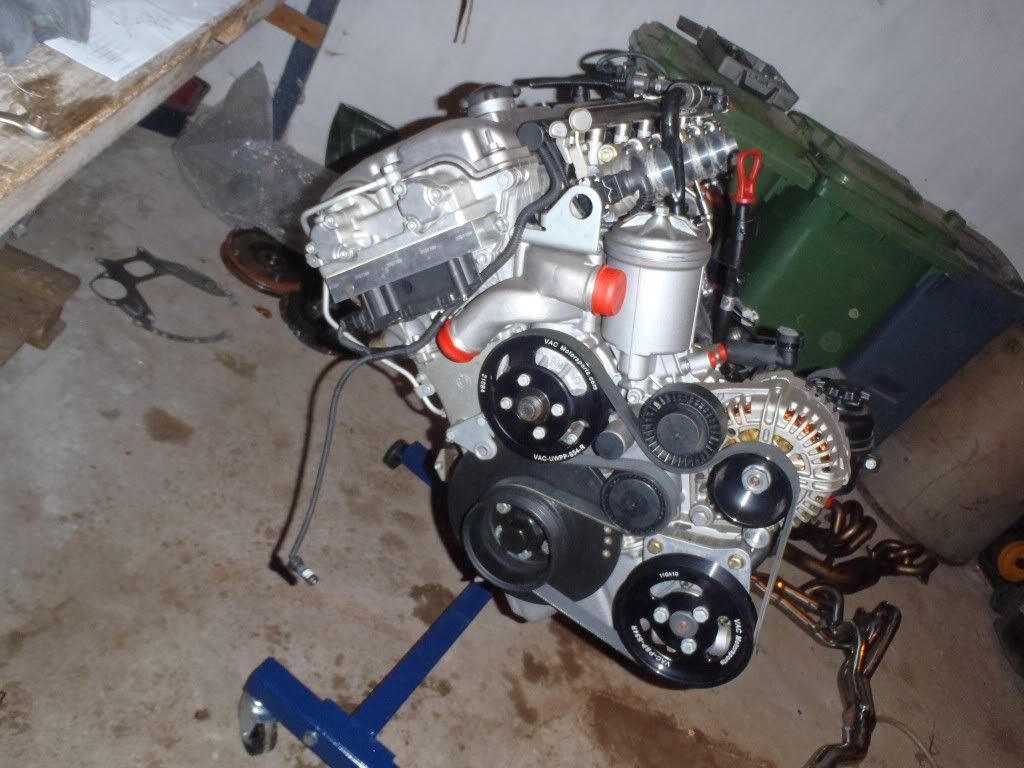 ---------------------------------------------------------------------------------------
The original plan was to go with an E34 oilpan and pickup pipe, but after reading some horror stories about oilstarvation when tracked i found Tyler (TinyT). I went to my garage and removed the oilpan and got it shipped to the US for modification. Tyler was then to find a local subframe for me, because that would be cheaper than sending my own

No pictures from oilpan removal though(forgot my camera).
Got some more stuff. Coils and some other stuff from Specialist Components. Picked up an E34 brakebooster, but that proved to be WAY to big. Also got an IS speedo, which goes to 8000 rpm, and has oiltempgauge, just like a M3 one. Also got engine mounts.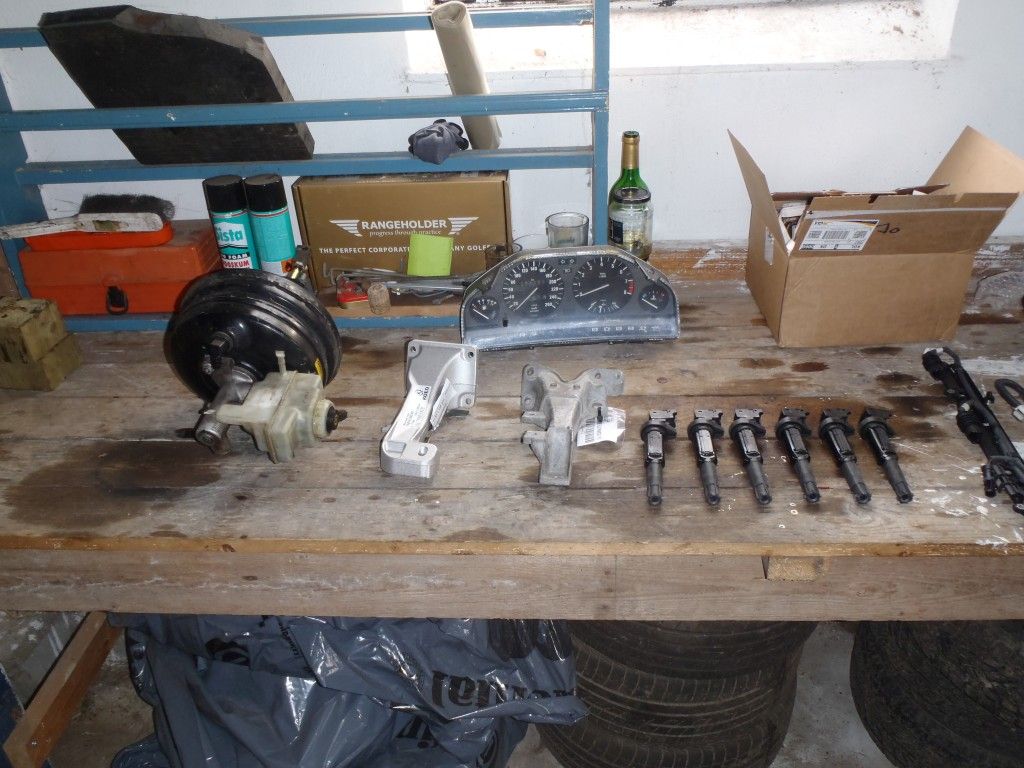 Also got a
VAC - Oil Line Adapter Kit
for AN10 fittings.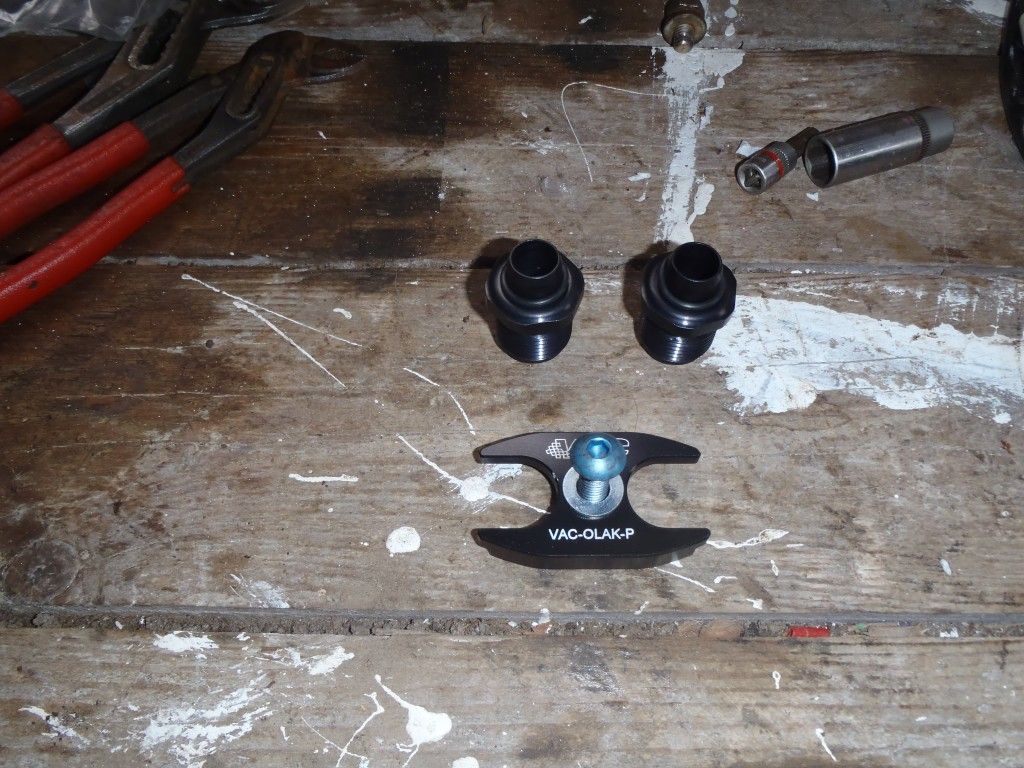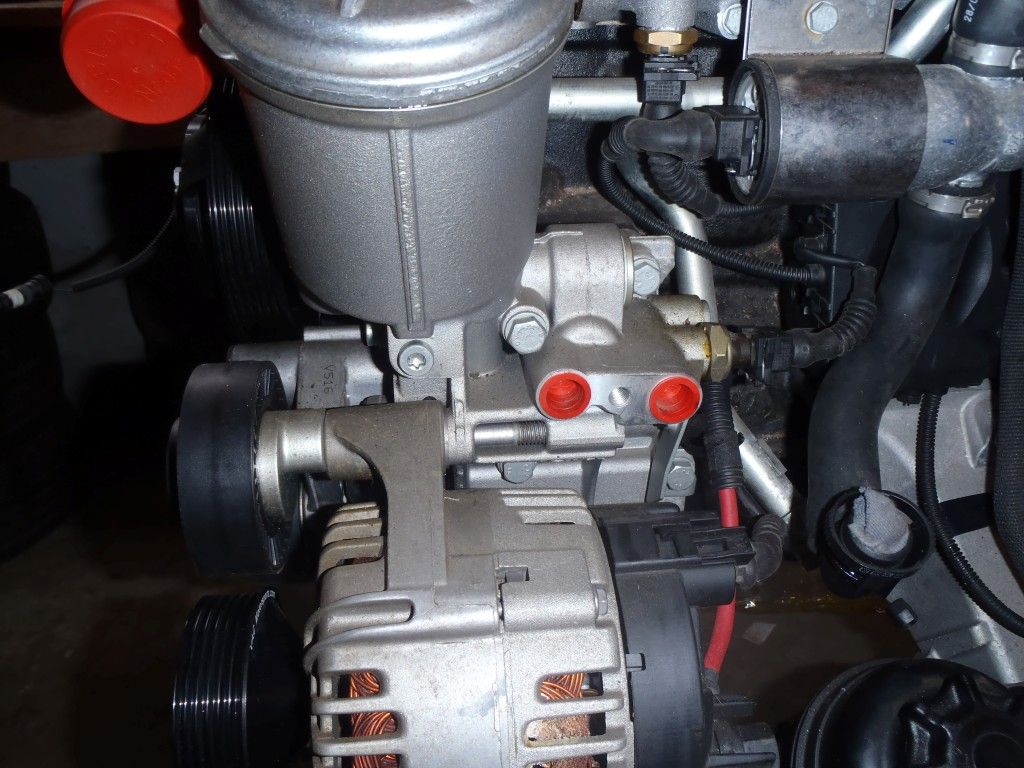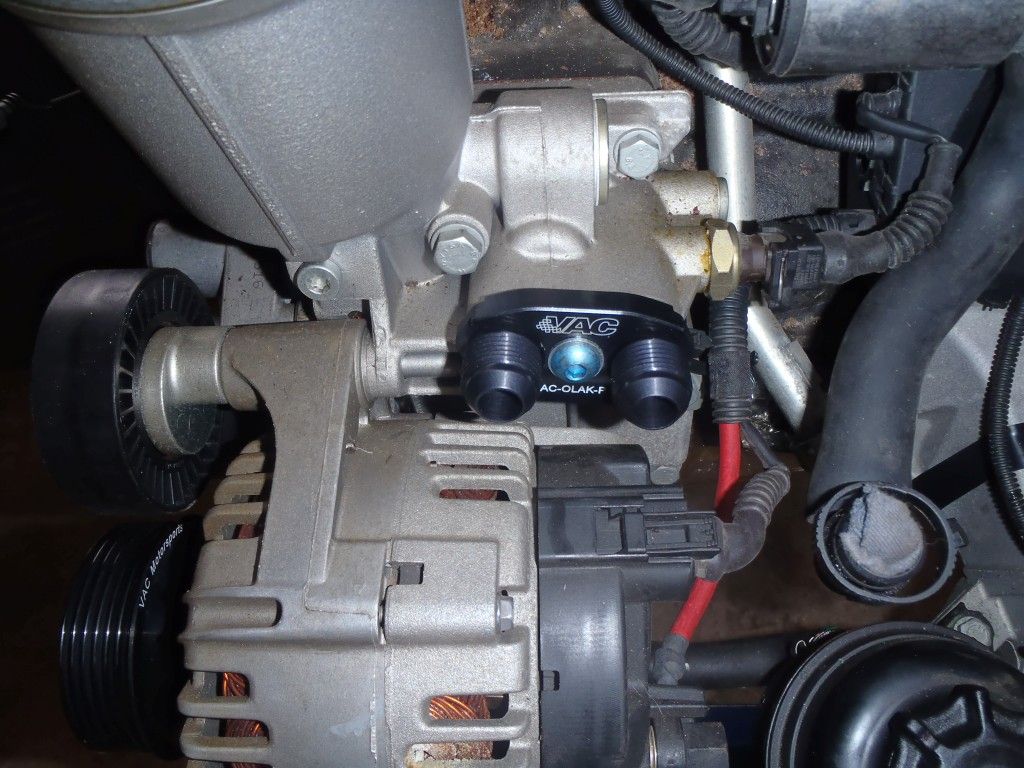 Coils installed: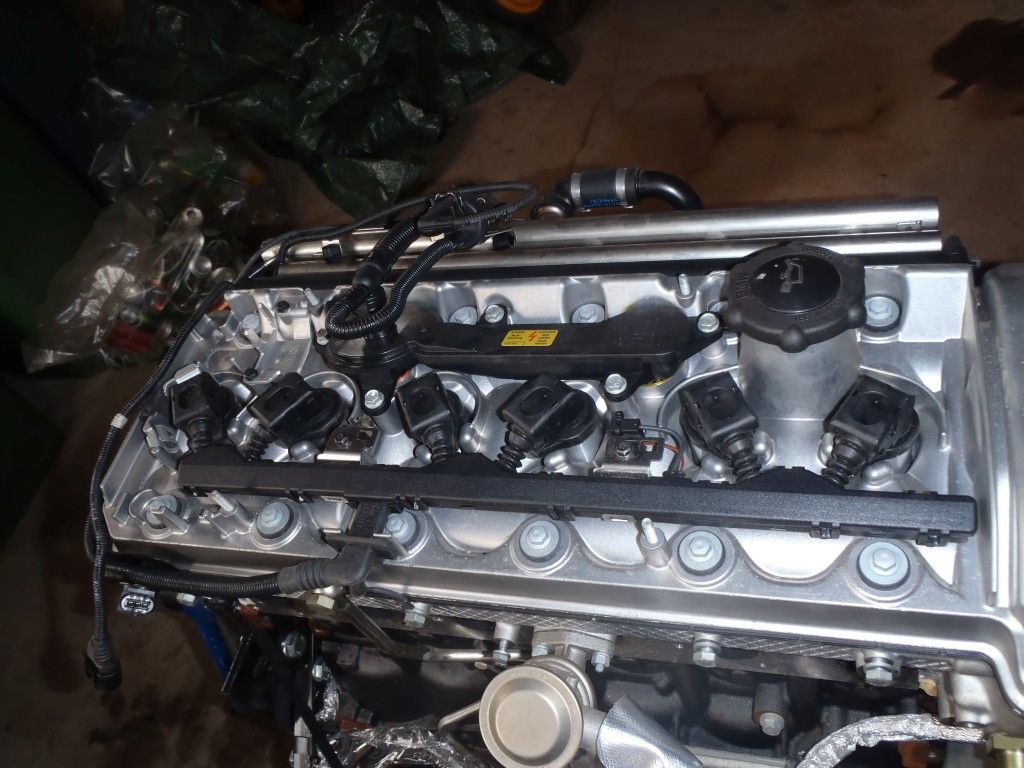 Testing header fitment. The rear one doesn't fit very well, but with my awesome infantry strength i was able to get it over the studs. As VAC say themselves, it is the one with the worst fitment.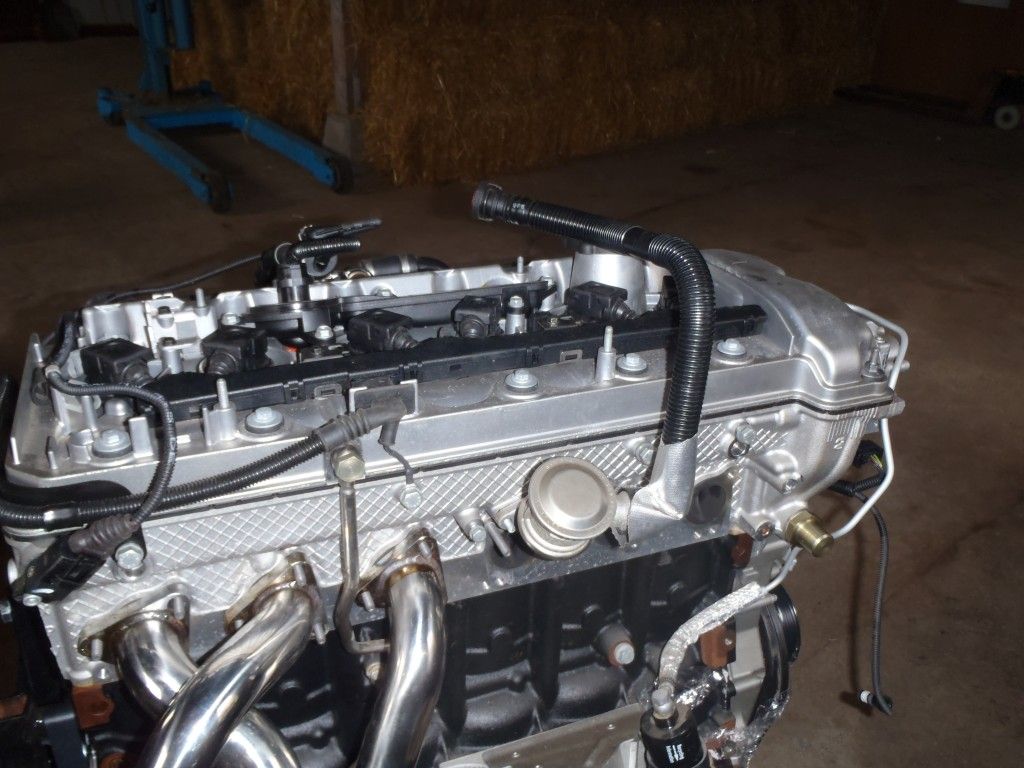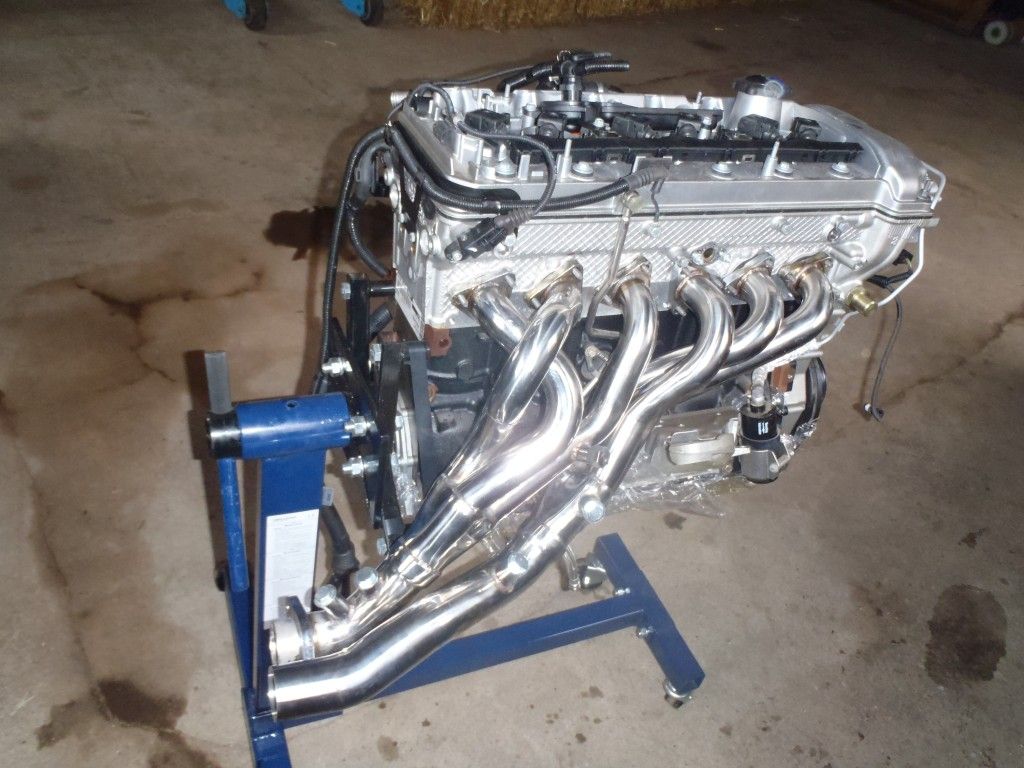 Z4 mount comes off: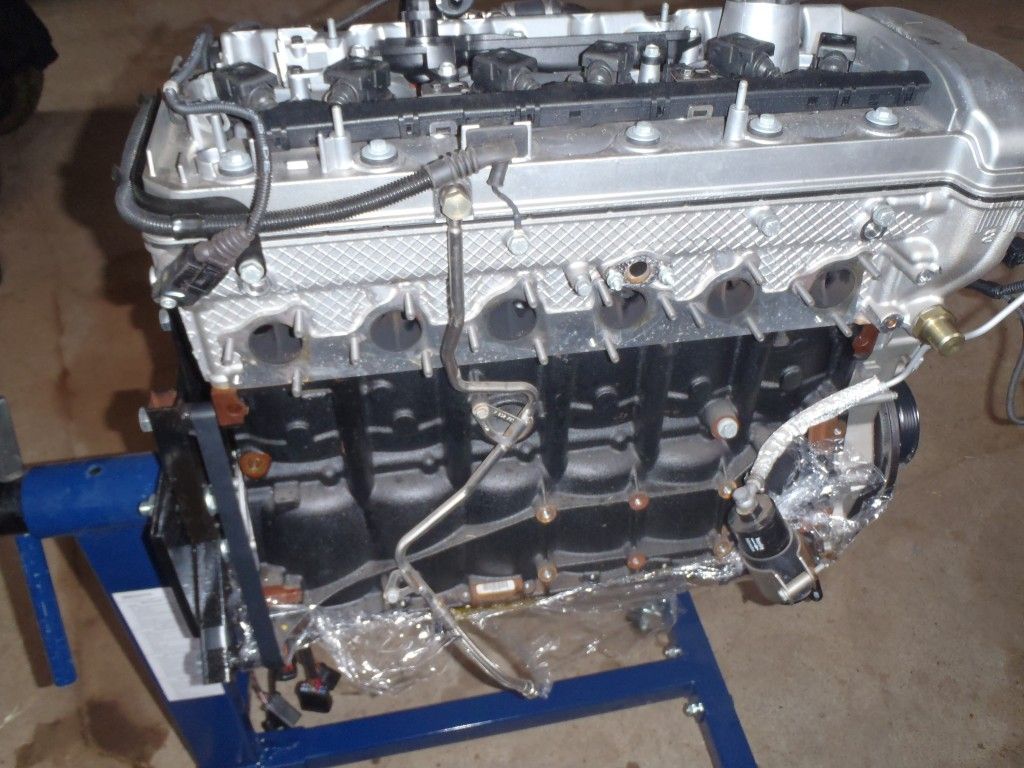 New E36 mount: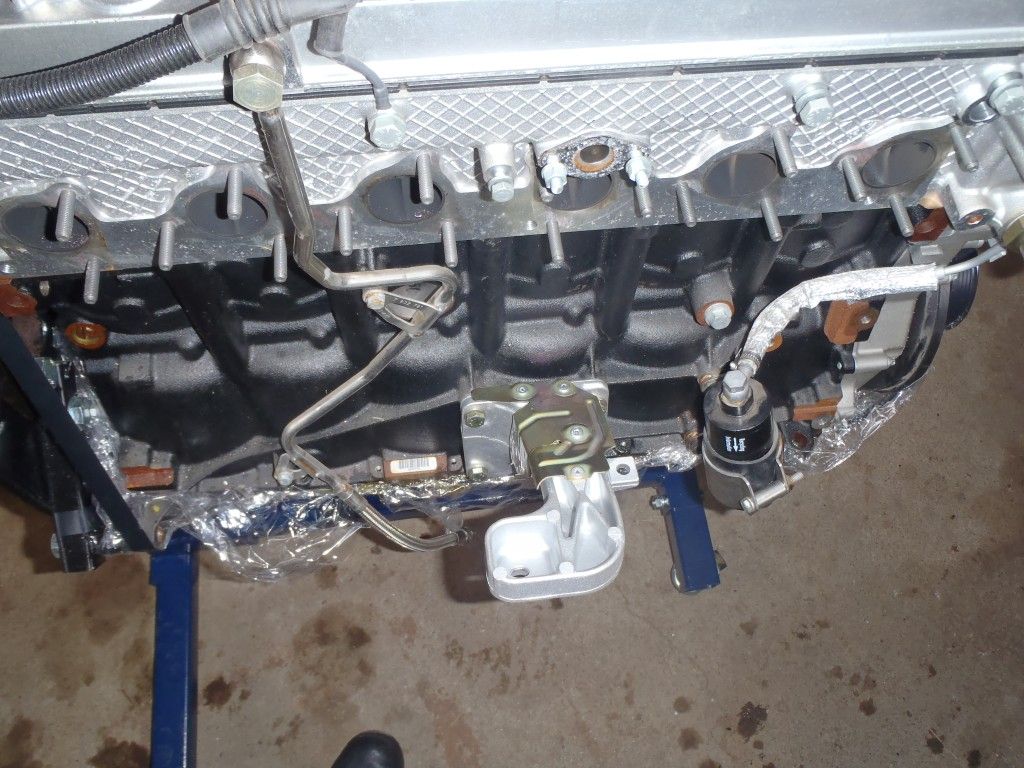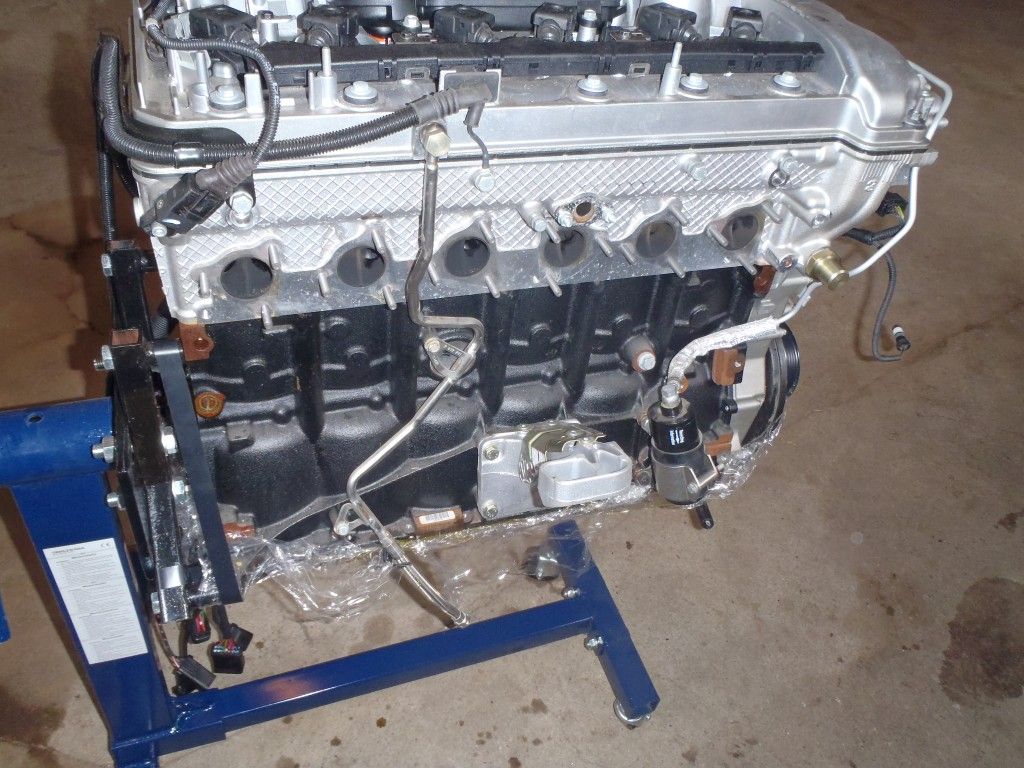 From my wrecked E30 i had a nice pair of Recaro seats, so out comes the old ones: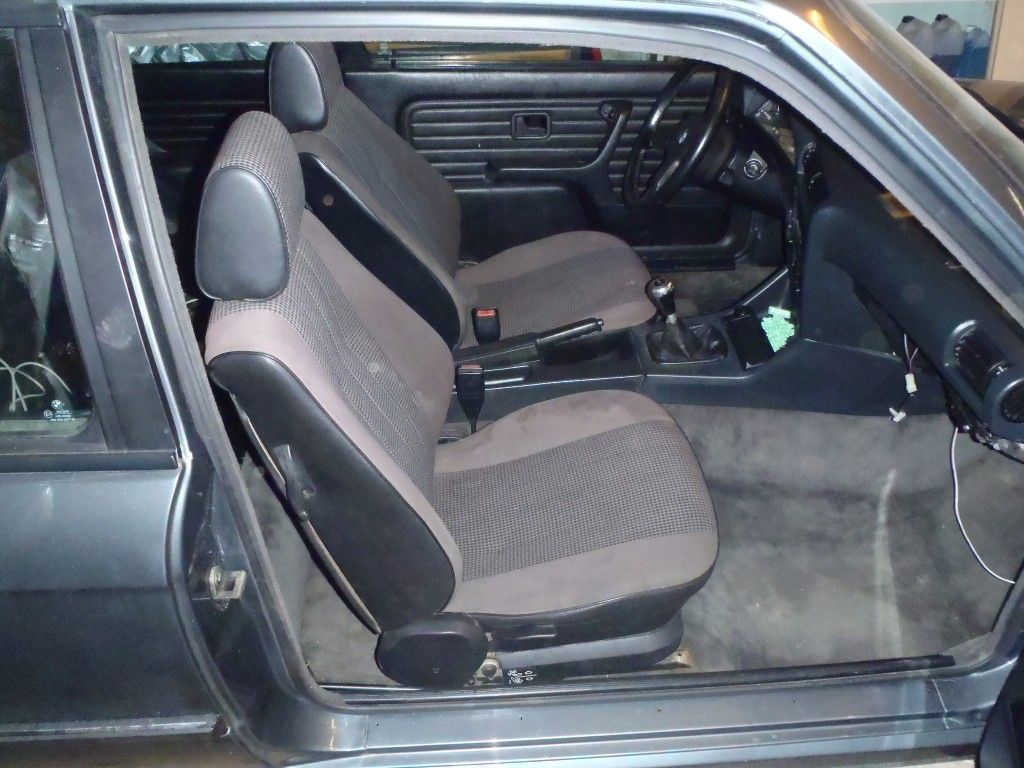 And in goes the other old ones :p Also the EVO3 wheel.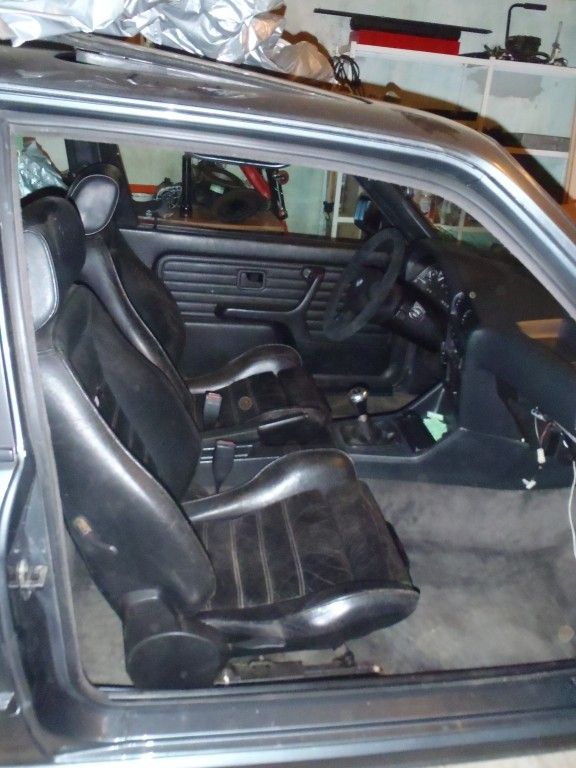 ---------------------------------------------------------------------------------------
Well, i ran into some problems! Rob from UUC have stopped answering my mails, and i was supposed to get tranny mounts and shifter parts from him, so i might have to find some alternatives!
Got some more parts:
-
Mishimoto Z3 Radiator
-
Mishimoto 16" Fan
-Borla 40349 (It says ProXS, but on their site its called Turbo XL).
-
BimmerWorld E36 S54 Conversion Exhaust Adaptor Pipe
-Z3 Rack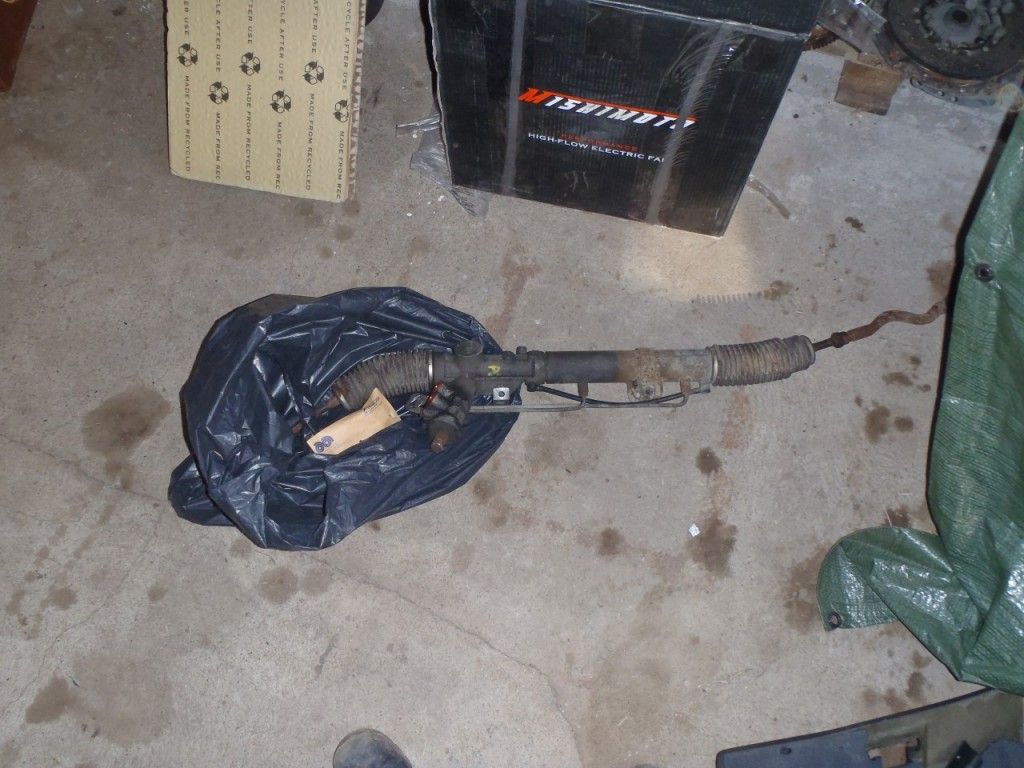 Parts without pictures:
-
BimmerWorld S54 EGR Plate
- E30 to E36 rack kit from e30tech.com
Oilpan and subframe are now in the mail!
Pictures from Tyler
Unfinished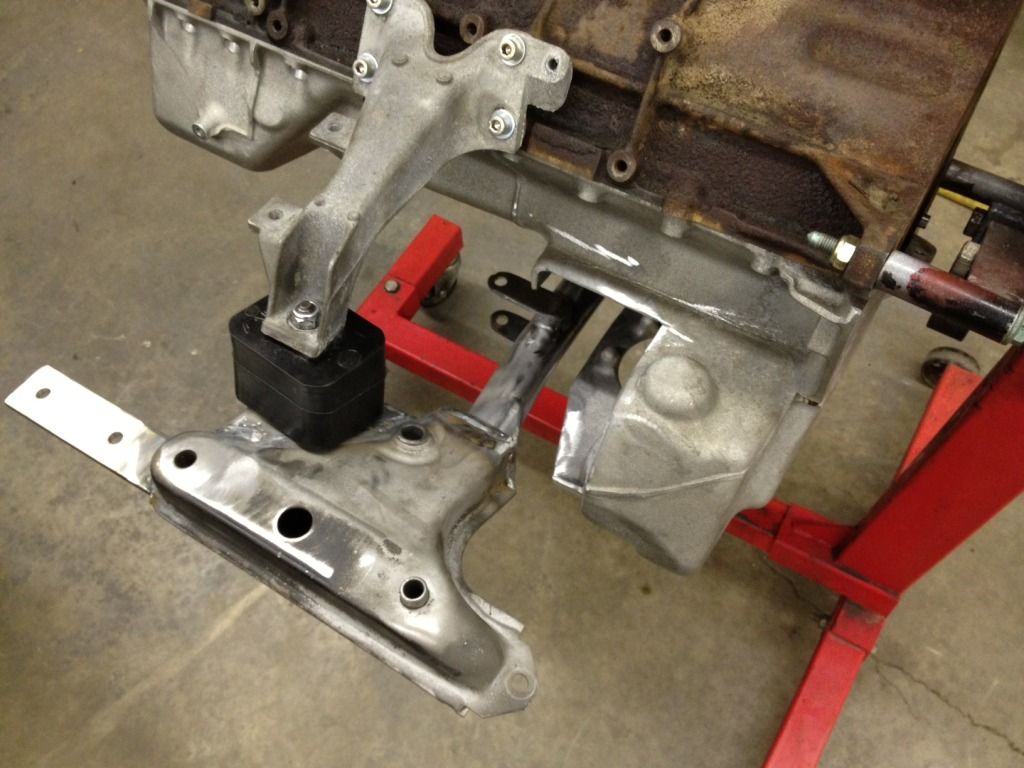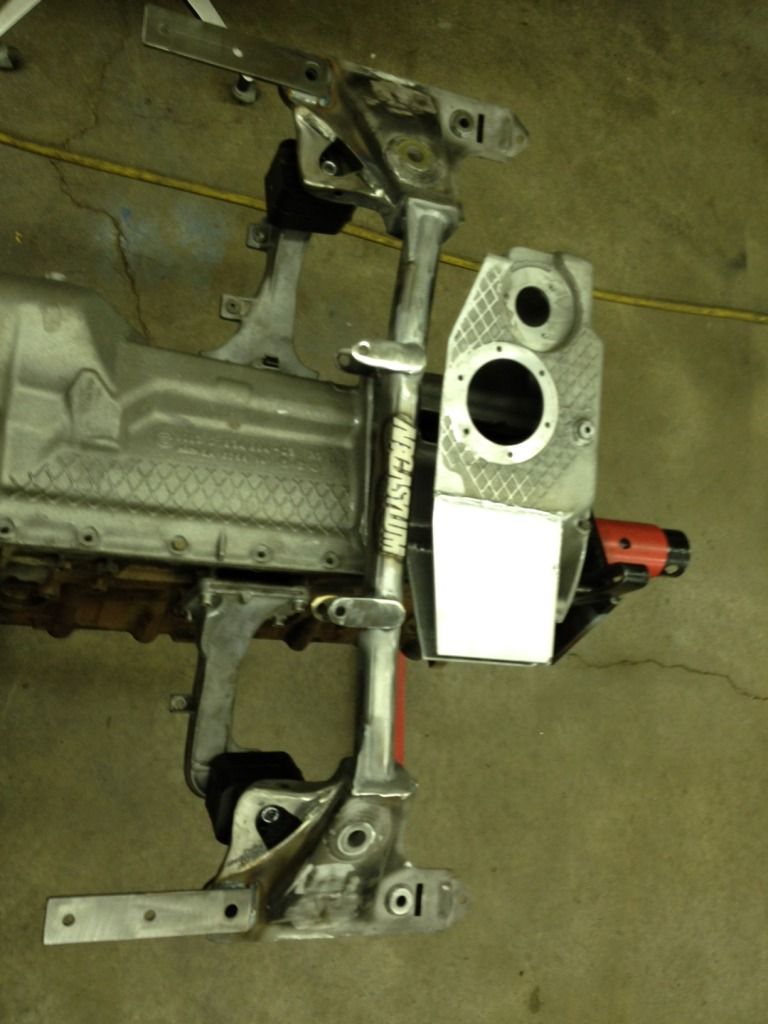 Finished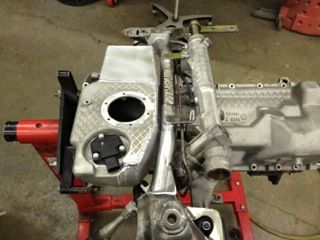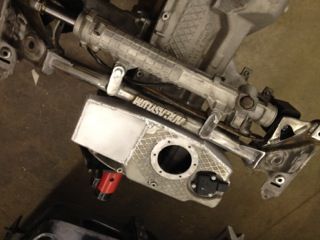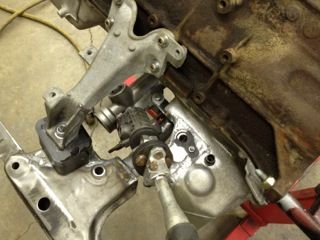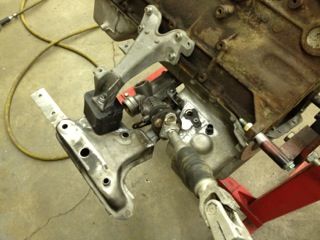 ---------------------------------------------------------------------------------------