I have been a long time lurker here, havent ever made a build thread for any of my builds, but I think it is time. My name is Mitch. I am a senior mechanical engineering major at UMD. I am part of the FSAE team at school and work part time at BEHE performance, a small shop focused mainly on LS GM motors and porsches, but we really work on anything. My boss is a pretty well known tuner and we have an AWD dynapak dyno. A large part of my build will happen after hours or on slow days at work, and during school I am working 2, sometimes 3 days a week. I am horrible at documenting everything so ill try my best here. This first post is going to be a bit of a story of how I got to today. This build started with a trip to PA. I found a nice recaro LSB for 100 dollars with e30 brackets for my vert. Ended up being the most uncomfortable seat ive ever sat in. The guy said he had a 318is project in his garage that was for sale. I went and took a look. 2 weeks later,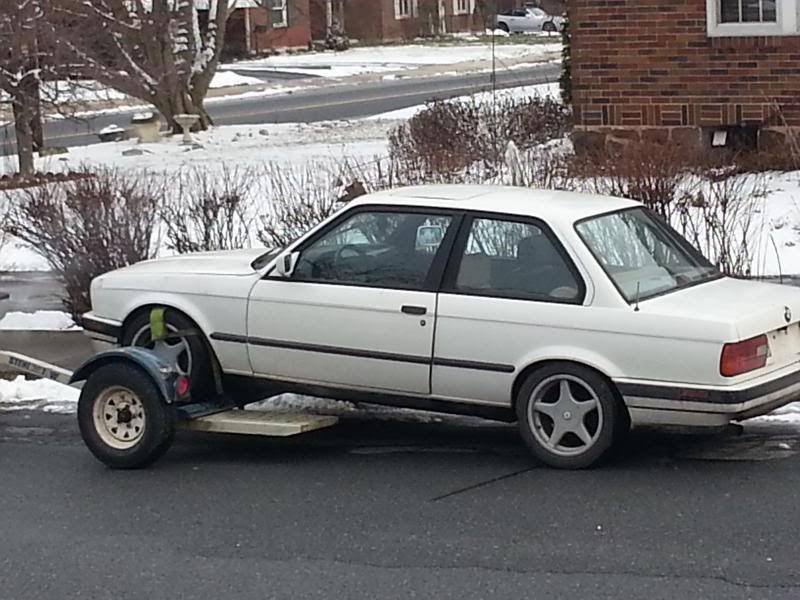 I felt like a stole it. 2200 bought me...
it has the rare (well in the U.S.) z3 2.8l single vanos m52 with alloy block.
pretty clean interior minus the cracked dash
m3 springs with billie sports
grant steering wheel (really small)
p.s. "delete"- P.O. literally just took the P.S. components off and left the rack open....
VANOS delete- i believe/hope its a proper VAC vanos delete, but it still rattles to hell at certain RPMS
16x7.5 racing dynamic rgps - from what I can tell these are SUPER rare in 16s and 4x100.
mismatched sport seats
and it came with a box of parts (lights, harness parts, ecus, 3inch 5 point harnesses)
s52 cams
nice headers- not sure of the brand
solid aluminum mounts
e36 trans
akg trans mounts
full obd1 conversion
2.93s rear end
new driveshaft
no rust on the bottom of the car
P.O. said it was putting down 240 wheel. I take that with a grain of salt, and I may get it dynoed just for a before and after. However, it is a hell of a lot faster then my iron m52 with the same cams, and it REALLY pulls on the top end
the bad-
most of the rear lights didnt work- ended up being a rats nest behind the light switch- everything was melted together
battery tray rusted through
surface rust- in the trunk and a few other spots
some bad dents and sunroof was rusty
paint sucked
looks like the car or all the front end parts were from another car- the alpine is peeling at showing red underneath
vanos rattle is super loud
exhaust is rusty and is flattened near the gas tank- super loud and raspy
wiring is a little sketchy
fan didnt work- would overheat if it sat idling
idled at 1200rpms
odo broke
unknown amount of miles on the motor and the car
front bumper is crooked- possible collision
I had ALOT of work ahead of me. This was around december that bought the car. Meanwhile, I was working on my vert, which in its prime looked like this
This car had a few problems that were making me really frustrated. I never got the full mtech 2 kit on, although I had the rest. The interior needed to be redone and I eventually wanted to make the engine bay look pretty and redo the trunk setup and exhaust. It was a project too.
I was also in the process of getting rid of this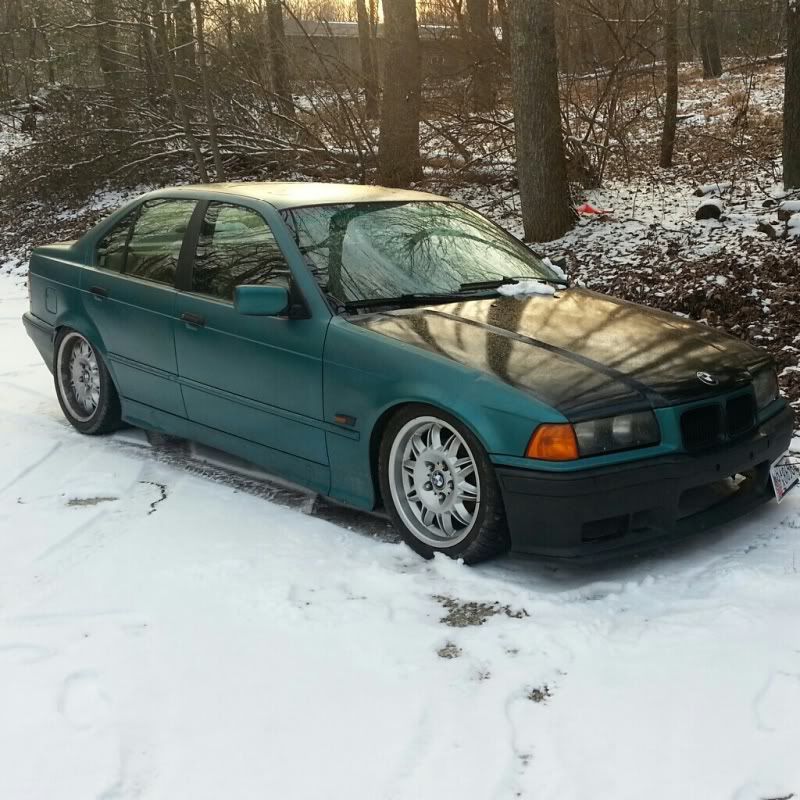 325i with a horrible paint job, shitty coilovers, rusty, and I lost a good 2k on it. apparently it was s50 swapped, but details on that were sketchy. Dude who sold it to me lied as much as he could to get me to buy it. lesson learned.
At this time I was working a co-op instead of going to school. It was full time, and was an hour metro ride each way. Helped pay for alot of car parts but I was miserable. I didn't learn anything. Pay was mediocre and had to work through the night on rooftops installing anchorage systems. Nice views of downtown D.C. before the hustle started in the morning. During this time I spent alot of time at my buddies house working on the car until 3 in the morning, waking up at 6 and going to work.
I started fixing things that needed to be fixed to drive
-radiator had a small leak, got a new one, that leaked too
-shadowline was missing on the pass side, got a new one, but not the clip, so it flew off again. Got another one, clipped it on. fixed
-spent a night figuring out all the wiring. NONE of the rear lights worked except the brake lights. Replaced all the melted wire and made sure it was all legit
-I had a set of vaders with e30 adapters so I threw them in, but it made the seatbelts no longer work, so I got some schroth harnesses.
-wipers kept blowing the fuse, motor is going out- waiting on this until the motor is out.
-speedo didnt work
I was on the cusp of ordering a autopower bar when a local had a cage that he just cut out of his drift e30. 500 dollars bought me this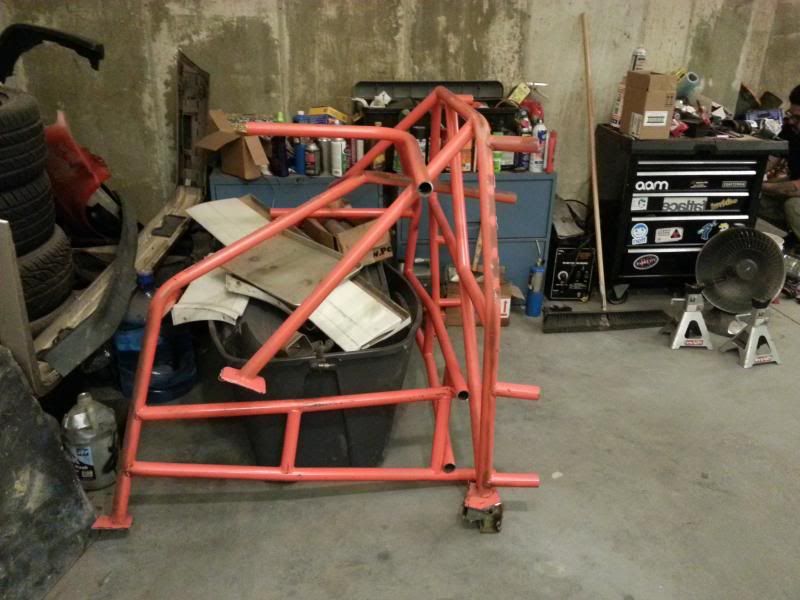 which turned into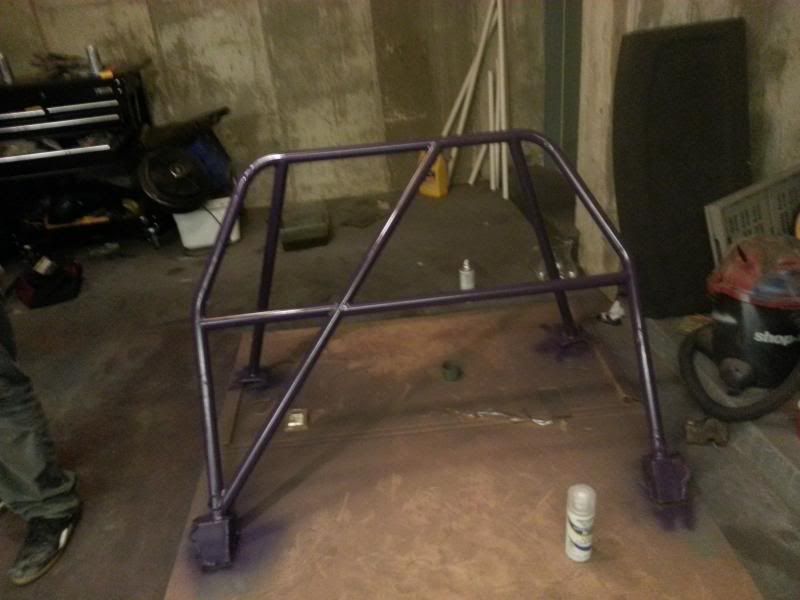 I didn't want to run a full cage because I would still drive it on the street, and I am not experienced enough racing to do anything that needed a full cage.
The rest of the cage became an opportunity to practice on my new TIG welder.
and painted and finished...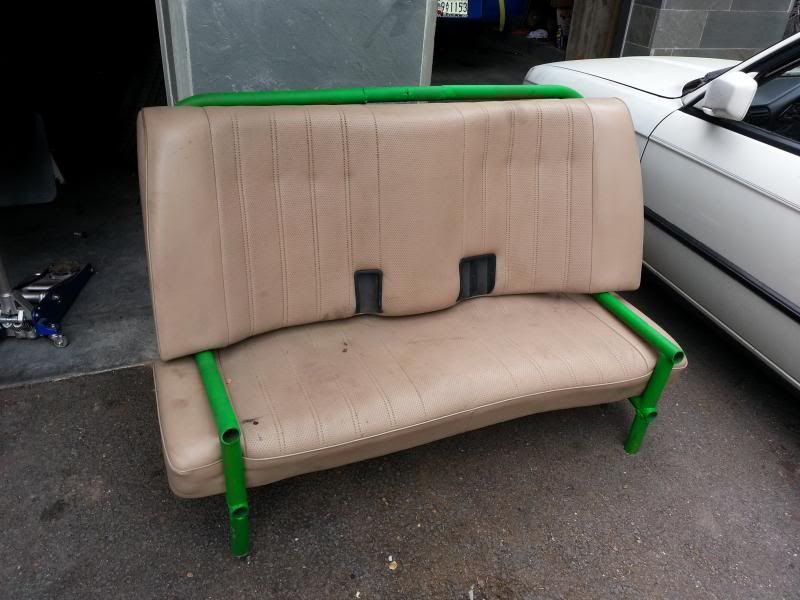 Now we had a bench to hang out in my buddies garage, made of e30 parts
Now the "roll bar" of course had be built in another car, and would not fit with the sunroof. I deleted the sunroof, bought a sheet of diamond plate, cut it to size, and riveted it to the roof with some silicone. I went too hard drilling out some spot welds, so now I have a hole in my roof. *facepalm* I plan on fixing it when I have access to a good mig welder. This whole thing ended up being less waterproof then i thought.
Now the roll bar, well being built in a car, there was no way to properly get it in. The downbars on most of the bolt in bars are removable, but this was welded together. We tried everything, every angle, ratchet straps. And the second it touched the windshield...... *crack*. Now i need a new windshield. I cut off one of the downbars and got it in. The next problem was the baseplates didnt really fit, i couldnt reweld a new bar because I couldnt get a full weld on the downbar as the main hoop touches the roof, actually it pushes it out a little bit. As of now, its partially welded in, but i plan on scrapping this bar. My boss and his son have made tons of cages, and I am hoping they will guide me on building a new one.
Next obsticle.... WHO DYNAMATS A CAR WITH NO STEREO!? (car has tweeters and thats all)There is dynamat everywhere. No access to the fuel pump/sender because its covered in dynamat. And when the roof leaks, i try to catch the water, but it all just sits on the dynamat and rusts really quickly. The car is mindnumbingly loud anyways.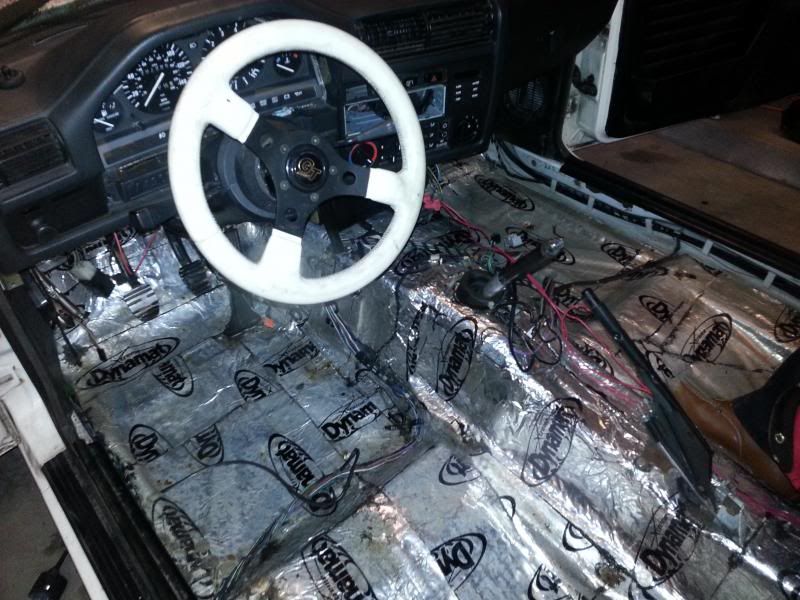 I had an extra set of fresh billie sports so I bought some GE coilovers and IE race plates and also a Red46 skidplate. I would highly reccoment all these products. The only problem I had is the skidplate came with a bar with nuts welded on it, but my rad support that it bolts onto is far from straight, so i just used it as a drilling template and put regular nuts on it.
I only have a pic of the rear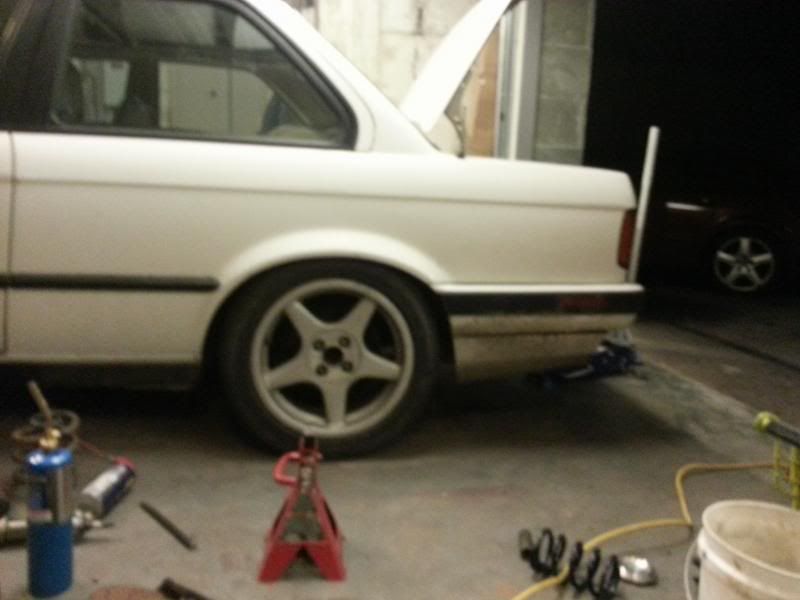 The front didn't go quite as low as I wanted them to/ at ride height the shock didn't have as much travel as I would like. so i ordered ix billstiens and got control arms, bushings and tie rods while I was at it. Unfortunatley, the spacer i used wasn't strong enough, and crushed, leaving alot of play in the assembly and messing up the bearings in the camber plates. I plan on putting a new spacer in and shortening the spring perch a little bit to make sure the gland nut stays in. sorry no pics of this.
over the summer, I decided to part out my vert to make funds and time to work on this car.
Alot of it didn't sell as fast as I needed it to and alot of things got throw out and sold really cheap. . I took some parts for my car like the cluster (working odometer) I JUST sold the mtech bumpers last weekend Still have all the sides. wheels havent sold. tried em on the car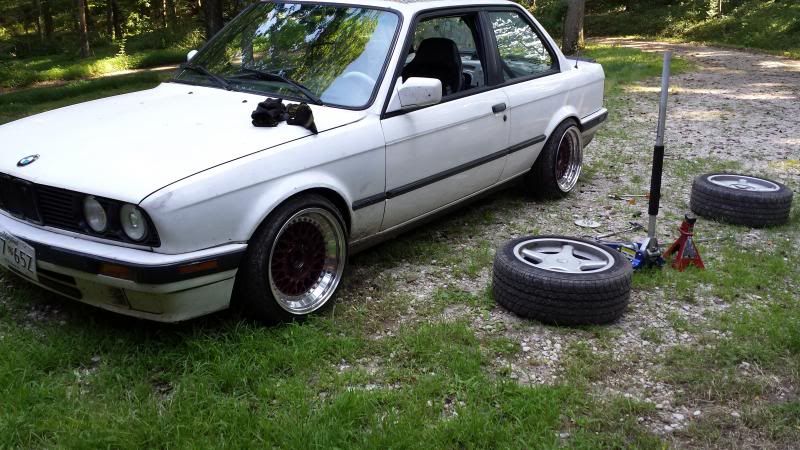 The tires are small so the overall diameter was alot smaller, making the car closer to the ground. I smacked the skidplate on EVERYTHING. the rear needed the fenders rolled and pulled to not rub. offsets were -11 all around and 9 inch wide in the back. More on the wheels later....racing dynamics are back on.
I picked up a new daily. At this point the car is stripped out, suspension needs work and the roll bar isn't really ideal. Wipers went out intermittenly, the tires SUCK in the rain, and the P.O "wired" a switch for the HVAC fan, which melted the switch and it kept sticking on. i just took the wires out.
During the summer I worked at Durrani Engineering, and we were working on some really cool stuff. We were prototyping a way to spin forge magnesium and not let them catch fire in the process. Our wheel design was set to be 20% lighter then the lightest wheel on the market, in 18x8 and 10. We also had some engine prototypes and other cool stuff going on. Unfortunately, as I was working to turn a chinese lathe into a CNC machine, we lost some investors and went on hiatus. It was a cool experience working with someone with alot of experience and patents, but it bummed me out that it didn't go anywhere.
Daily- 1989 Toyota Cressida- megan coilovers, personal steering wheel, sound system, staggered wheels, 130k wheels, roll center adjusters, r32 front brakes (a little overkill) and a sweet red cloth interior. Its a great daily but its super slow and boring compared to the e30.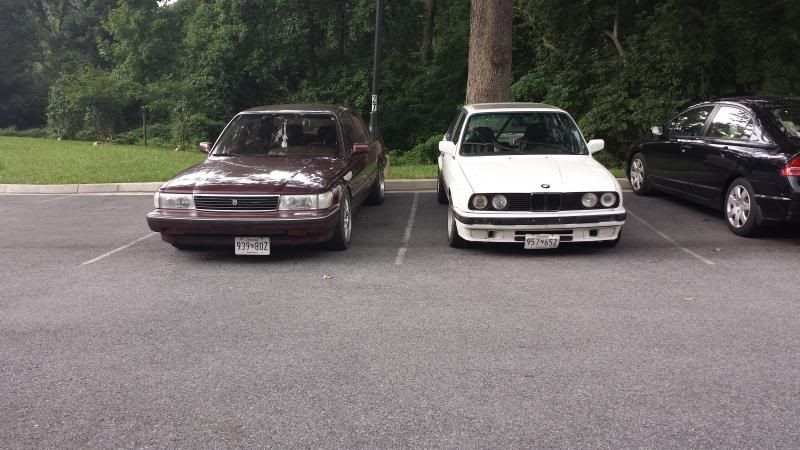 also got a NRG suede wheel and quick release. however, the steering column was stripped. It was beyond repair, so I bought a new column, and switched out the main part. PITA, alot of bearings and circlips holding it all together.
As of now, im in the research and parts collection stage.
80k iron block m52- bought from the P.O. of this car actually. Took it apart, super good shape inside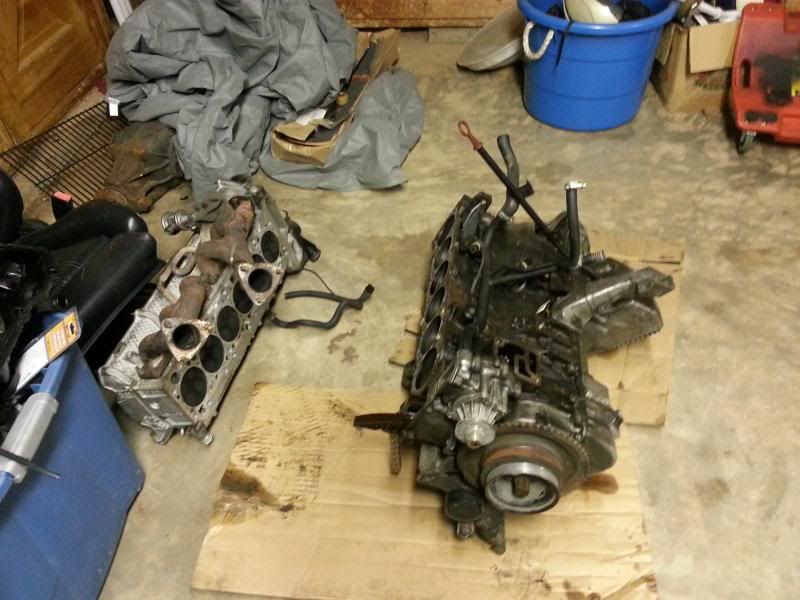 Just made a huge order from gutenparts. new bearings, gaskets, rod and main bolts, valve seals. I also ordered a .120 MLS headgasket and arp headstuds,
Also ordered the F1 stg 3 clutch and LTW aluminum flywheel. The reviews were pretty good, so I went for it.
ATM the motor is stripped, but i need a puller to get the crank sprockets off. and I need to get the timing cover off. Gotta borrow some tools from work to get that done, and find a free weekend to do that.
I am bringing it to the machine shop when I am done, getting the head and block decked. maybe get the crank polished. Many people are not fans of the MLS, but if you do not get the head AND block decked and properly finished it will leak. I am on the fence about O-ringing the block, for piece of mind and the ability to go for higher boost if the time comes.
I was planning on buying the Good and Tight Manifold, but my ebay searches found this...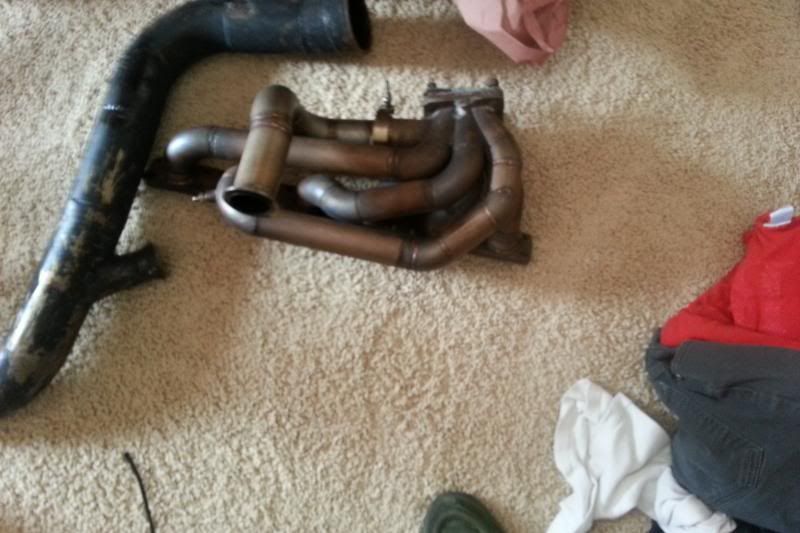 The guy I bought it from was running sequential turbos on his 24v e30. not sure on the details. Looks like a very high quality set, all stainless, sched 10.
The downside is this meant i needed to use a t4 turbo, with a 3in vband outlet, and a 46mm wastegate. The manifold also came with all the vbands, and a prosport boost gauge, egt gauge, oil pressure and oil temp gauges.... the gauges are worth almost what i paid for the whole package.
I found this turbo locally through a friend. Precision internals. .73ar exhaust, not sure on the cold side, t4, 3inch vband garret hotside. ceramic coated hot, polished cold.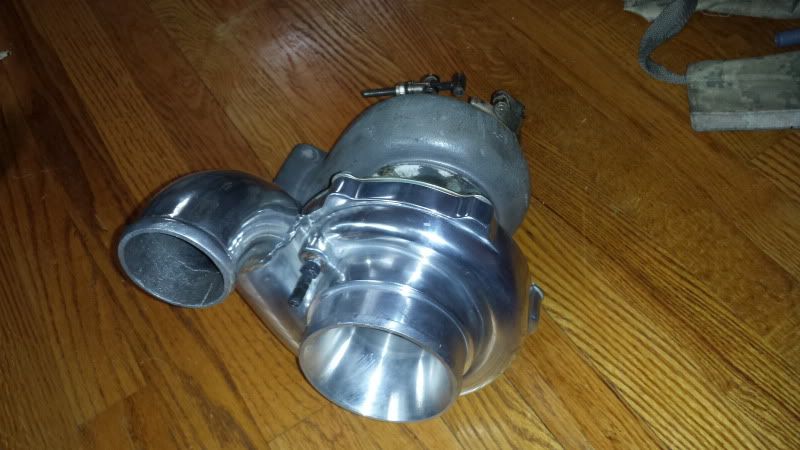 The 46mm wastegate was a little hard to find. They were much more expensive then the normal 38mm ones. I found a deal on a slightly used one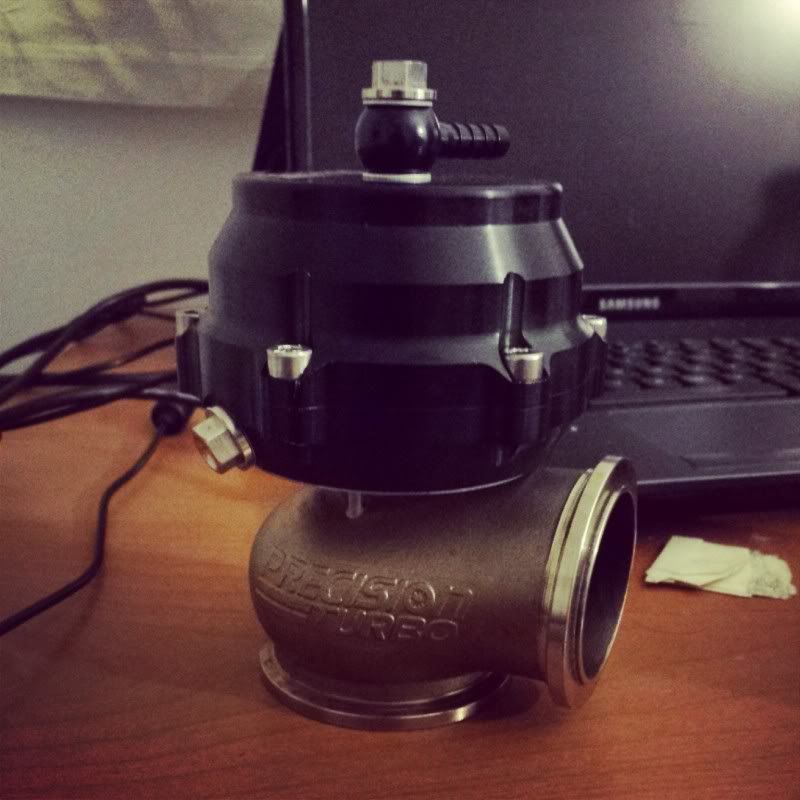 I also ordered some 3" ss exhaust pipes and mandrel bends and a manual exhaust cutout. I was planning on an electric cutout, but it seemed like another failure point, and weight. my goal was to make a reasonable sounding exhaust (muffler plus maybe a resonator) and be able to be obnoxious when I wanted to. I also hear that the electric cutouts can get gummed up with carbon, and alot of them are cheap and the electronics can fail. Manual = foolproof.
Now, fueling. The original plan was a MS3X setup, lc1 wideband, 60lb injectors and a bluetooth adapter so I can run MS droid on my tablet, and fab a mount to have a nice 10.1 inch wireless dash, and I can switch tunes on the go.
Total Cost of that would have been about 1300 dollars. plus injectors and fuel pump.......but then this came up
This is a DTA Pro P8. These used to go for 1300. They are very powerful. Sequential fuel and spark, launch and traction control, relatively simple wiring. It came with an s52 obd1 80lb injector map already on it (i plan on dialing back some of the timing and adjusting the fuel and using it as a base tune)
and an obd1 adapter, made up of a gutted 413 ecu. This was not useable. The way it was made it looked like it was gonna catch fire. I also didn't have a wiring diagram for it, which was too sketchy for me. I would rather know what is going on. I will have full wiring diagrams made in excel so I can track everything, and if it ever has another owner, everything is documented.
With this ECU I cant really connect my tablet like I wanted to, but thats what my netbook will be for. I still planning on running 60lbs instead of the 80 thats in the tune. Found new siemens deka on ebay for 250ish. I am going to run a PLX wideband. There around the same price, a little more (200) then the lc1. but it comes with a really good gauge, and it is calibration free. I installed one on a customers car at work and it was pretty awesome, and works well with the P8.
For fuel pump I plan on using a warlboro 300lph in-tank replacement, although I am leaning a little towards an aeromotive pump, a little more expensive, but we use alot of them at work on cars with too much power for their own good, and they hold up great.
Locally I found a rally road oil cooler cap and a mishimoto oil cooler for 100 bucks. Can run my gauges and oil feed line from it and it came with an fittings.
I bought a rx7 front BBK for stopping with pbr pads. Still need to get the corrado rotors and get them machined. I may order them so I can take them to the machine shop with the motor. I also plan on deleting ABS and installing a drift brake. I plan on taking the car to drift nirvana next year, but this is not going to be setup for only drifting. The abs isnt working now anyways, I think it isnt getting power from the wiring harness like it is supposed to.
I'm going to order a ebay intercooler and a pipe to install the HKS SSQV my friend had on his WRX. May look for something quieter at some point, it is really loud in his car.
A few weeks ago I bought an e28 mtech wing for a good deal, it will replace the current is lip i have on there, and I will order a rieger infinity front lip. I like them better then the is front lip. I also have some taurus sideskirts I got at the pick and pull.
I ordered a set of KA motors fender flares a few weeks ago. I am excited to receive them. Because of my decision to go widebody, I should be able to fit the rs, with some fat rubber of course. I may even make them wider, either by replacing the front 2inch lips with 3.5 or 4 inch lips, and moving them to the back, or just running them as is, maybe a rebuilt to replace the bolts that are in there, and bend one of the lips back into shape. I like the rs more then the racing dynamics because they are alot wider and lighter. The RD's are about 19lbs, while the rear rs are only 16lb, while being 2 inches wider.
This semester I am very busy with school and FSAE, so I am limited on time to work on it, and I am only working 2 days a week, so cashflow is tight. I hope to sell the rest of my mtech kit and the alloy m52 soon and get some funds to get the rest of the pieces. I hope to get the motor removed and the new motor built before finals roll around, and work full time over winter break to get this thing done!
Im hoping for 450-500rwhp at 16-18lbs of boost. Lets see how this goes!