I hereby introduce my new project. Not much in the way of details in this first post but I will add a few pictures to hold the place for now.
http://www.realoem.com/bmw/partgrp.d...3&mospid=47326
The car is a 1989 325i with some pretty significant suspension modifications. I would never have done this much work to the suspension of a weekend cruiser but that is how I bought it, so that is probably how it will stay. The Yellow Speed Racing coilovers are low- lower than I want them- and for now she is riding on a set of yellow-painted bottlecaps from my RallyX car.
That build thread can be found here: http://www.r3vlimited.com/board/showthread.php?t=257210
I started with this:
And as of September 2015 I have made it to this:
Details on the process cover the following pages.
Enjoy!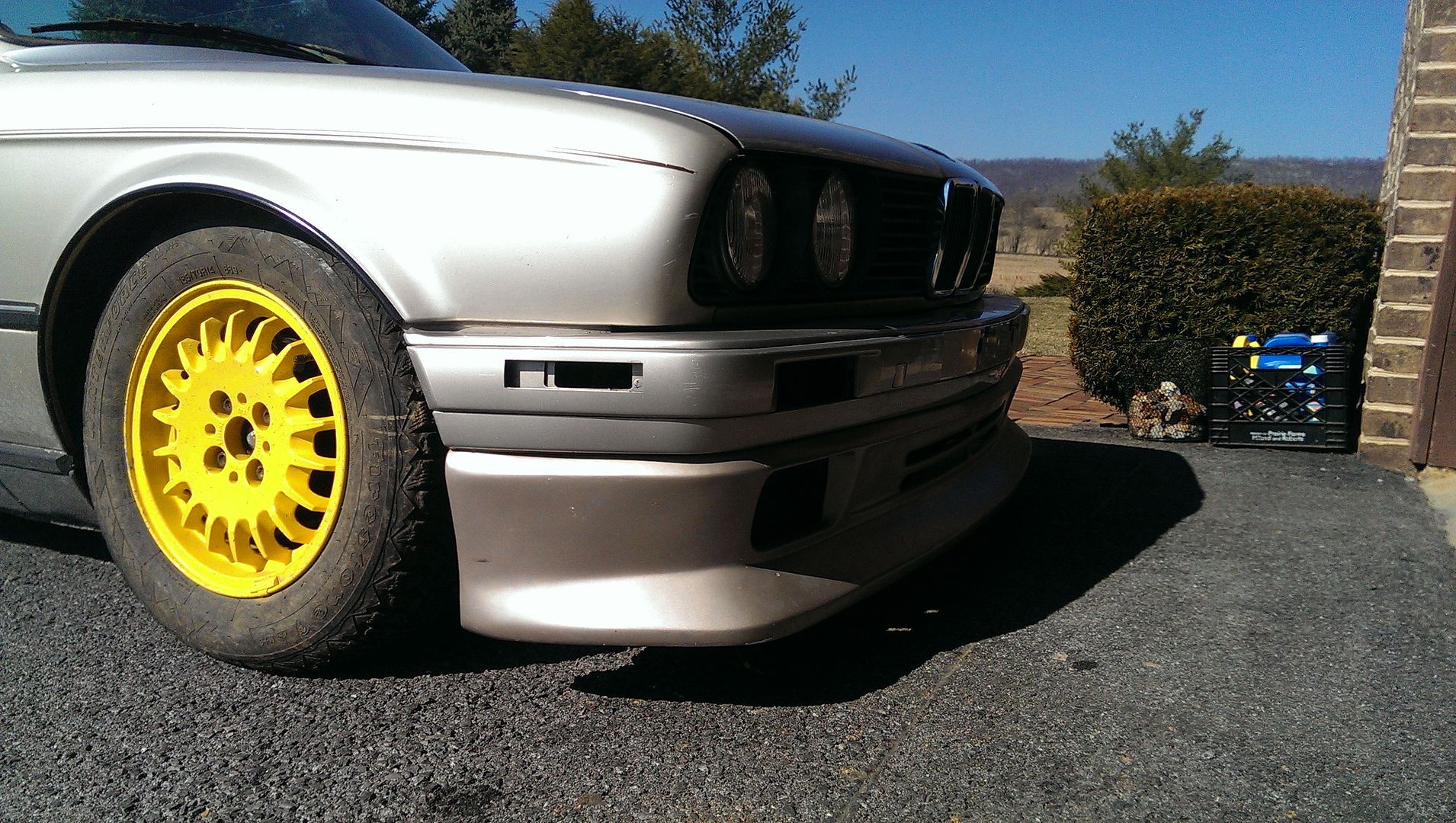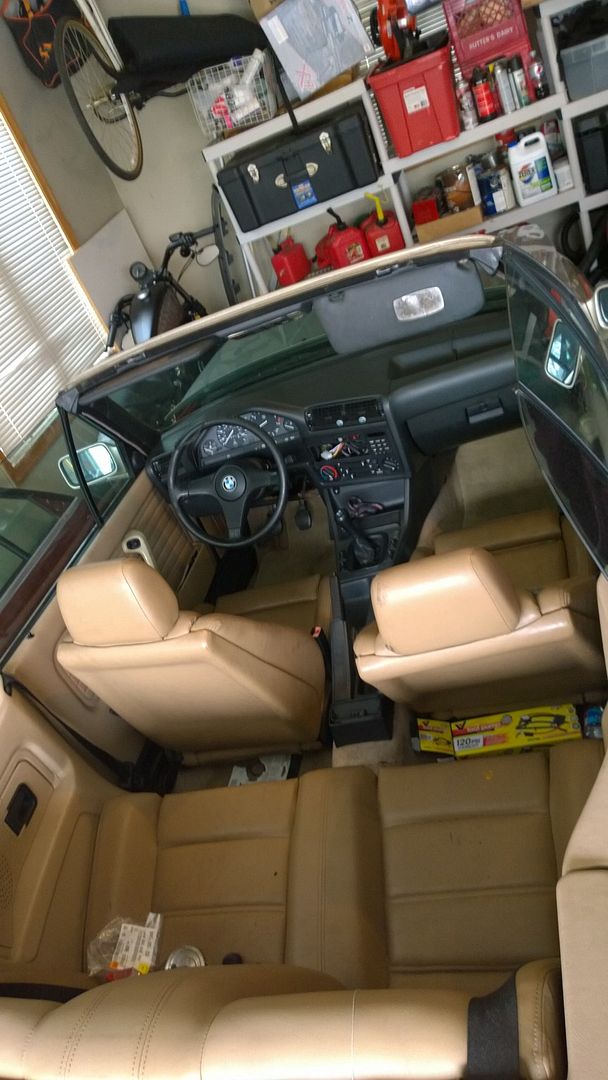 It also has some sort of body kit on it. I am still torn on what to do about that. It rubs on the garage apron so it may need to come off if raising the coilovers does not eliminate the rubbing.
In addition to coilovers the car has adjustable camber plates and adjustable swaybars. The camber plates are also Yellow Speed Racing and appear to be in great shape- supposedly the car has under 500 miles of street driving since the suspension install and from the looks of things, that is accurate.
Link to the coilovers:
http://www.yellow-speed.com/dynamic-pro-sport.php
and
http://www.amazon.com/1982-92-3-SERI.../dp/B005CZL9LC
Also, the car had new tie rods and the front brakes appear to be pretty new. Interior is in great shape as well, though it needs a few small things.
The top is not in great shape but that can be rectified. One cable is snapped, so that needs to be replaced.
So far the only "mod" to it was the install of a quiet and known-good 3.73S differential with a clean cover and a new poly bushing.
It needed a new muffler so I ordered an OEM-replacement Walker stainless steel muffler. I also plan to get some other parts ASAP- skidplate, new shift knob, new steering wheel, and probably a new set of Motorsports Hardware wheel studs.
I have a set of TireRack Morotsports TRM C1 wheels wearing the new StarSpecs still on my tire rack. They were going to go on the track car but I may run them as street tires on this car. The black wheels (15x7) with sticky 205 tires would make for fun without being too harsh.
That is it for now- more updates coming soon.
Parking Lot (for links, parts, etc. that I might need later):
Cabrio plastic bumper swap:
http://www.r3vlimited.com/board/showthread.php?t=257693
Charcoal canister removal info:
http://spece30.com/forum/43-fuel-sys...nister-removal
BMW ashtray storage:
http://www.amazon.com/BMW-Genuine-As.../dp/B002GL4AY8
Parts needed:
Steering washer 33311125916
Steering nut 31106774714
Trunk seal 51711884149
Expanding Rivet (at trunk) 51481905599 (need 4)
Green Grommet (valance) 51711932996 (need several)
(White) Plug 51711927439 (need several)
Grille Clamp 51131872146 (need 4-6)
(Black oval) Grommet (valance) 51131840154 (need several)
Cowl seal 51711933992 (need 1)
Fender seal 51711933209 (need 2)
GATES # T131RB
http://www.walletwerks.com/products/bmw-alpina-bifold
Need 1 of each, rear window outer weatherstripping... 51131961794, 51131961793
Folding top cover gasket: 51712230857
Brake retaining screws: (4) 34111123072
Brake line replacement:
http://www.r3vlimited.com/board/showthread.php?t=165682
Convertible window adjustment:
http://www.r3vlimited.com/board/showthread.php?t=342229
Armrest:
http://www.ebay.com/itm/260964559377
Seat back/bottom info:
http://www.r3vlimited.com/board/show...26&postcount=9
Seat repair:
http://www.esatclear.ie/~bpurcell/318isseat.html
http://www.r3vlimited.com/board/showthread.php?t=347892
Rear Headrests:
http://bmw.e30tuner.com/articles_rrest.php
DIY Soda Blaster:
http://www.aircooledtech.com/tools-o.../soda_blaster/
Electronics manual:
http://www.armchair.mb.ca/~dave/BMW/e30/e30co_89.pdf
Rear brakelight wiring diagram:
http://www.r3vlimited.com/board/show...07&postcount=5
Brake light modification service:
http://www.r3vlimited.com/board/showthread.php?t=190578
Carpet:
http://www.roadworksauto.com/carpets/bmw.htm
SI Board Battery:
http://store.batteryspecialists.com/...cr14250se.html
SI Board info:
http://www.e30zone.net/e30zonewiki/i...hp/Instruments
Interior ideas:
http://www.r3vlimited.com/board/show...=195498&page=3
Parts Needed:
Outer Window Weatherstripping:
Left Rear: 51131961793
Right Rear: 51131961794
Left Front: 51361933751
Right Front: 51361933752
(Reference:
http://www.r3vlimited.com/board/show...0&postcount=38
)
Steering shaft diagrams:
http://www.realoem.com/bmw/enUS/show...diagId=32_0448
http://www.realoem.com/bmw/enUS/show...diagId=32_0427
Oil Pan Rethreading tool:
http://www.globalindustrial.com/p/me...mpaignId%3DT9F
Mubflaps idea:
http://www.sparcousa.com/product/mud-flap
Door speaker pod ideas:
http://unqshop.com/bmw-3-series-spea...,number,660032
http://www.brrperformance.com/blog/?paged=9
Steering wheel recovering:
http://www.instructables.com/id/Reup...heel/?ALLSTEPS
http://navyaviation.tpub.com/14218/css/14218_243.htm