I have sold the car, but the new owner said he may try and keep the thread updated.
I thought I would start a "build thread" so I can see my progress. I think its awesome to read through other people's builds and see were they started and how they got to were they are now. So here we go. I picked up the car in December of 2013. But didn't start working on the car until June 2014. I'd like to preface this won't be a fast project, cause life will probably get in the way. But I like to work on her when I get free time. Here is how she looked when I picked her up.
Its an 87' 325iS with just over 200,000 miles. I think the PO bought it as a parts car. Trade what parts he wanted, then sell it. As you can see, it was missing the iS valance. The interior had some miss matched seats, and it had an open 2.93 rear diff. But it ran well and the body seems in decent enough shape. And there wasn't much rust. So that's good :) We'll see where things go and where she takes me. Thought is to make it a weekend track / canyon carver.
And this is how she sits now. I'll try and keep this up to date so you can see the comparison.
[IMG]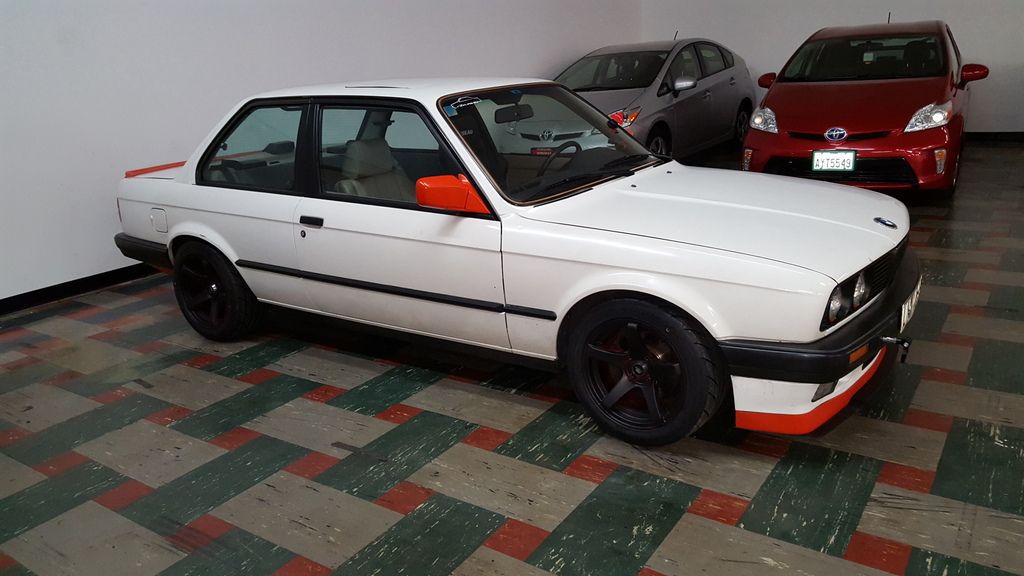 [/IMG]
Suspension / Drivetrain
H&R race springs
Koni adjustables
Kmac adjustable camber plates
IE 22mm rear sway bar with adjustable links
IE 25mm front sway bar with adjustable links
Sparco Front strut brace
Rear strut brace
CondorSS offset CABs
CondorSS Diff bushing
Condor SS subframe and trailing arms
3.73LSD
ECS stainless brake lines
Engine
CondorSS engine mounts
Condor SS tyranny mounts
Interior
Corbeau fixed back bucket seat
Rear seat delete
Body
RaceSkids skid plate
Euro Grills
Euro plastic front/rear bumper conversion
Late valance with iS lip
RyanG front splitter
Homemade wood roof rack with Thule risers
Wheels
Miro STP 1
Front 16/7.5 with 205/40 and 10mm spacers
Rear 16/9 with 225/50
Track wheels
MTS 15x8" wheels
Hankook Ventus R-S3 225/45/15