I have an excellent welder who is experienced with building exhausts and we've recently talked of building a prototype complete stainless steel bolt on E30 24v swap exhaust setup that would also include a set of the typical euro SS ebay headers modified for perfect E30 fitment and vband flanges at both collectors. Similar to what we did on netcsk's E30 S52 Swap.
http://www.r3vlimited.com/board/showthread.php?t=296994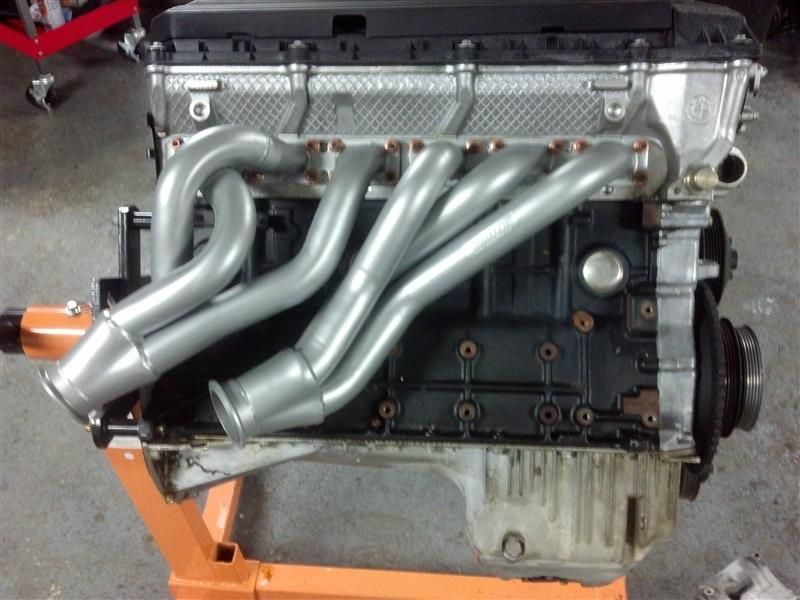 Our end goal is to build a complete SS E30 24v swap exhaust that includes SS headers, catalytic converter, SS chambered muffler, vband connected mid-section (for easy maintenance of the drive train), and all mandrel bent SS pipe front to rear while keeping the price around $1000.
This would be a complete exhaust that would only require you to install the headers and mount the mid section and muffler.
Details:
- Euro SS Ebay Headers (Modified for direct E30 fitment)
- 2x 2" SS v-band flanges -> 2x 2" SS flex pipes (in 4" long sections for easy mounting)
- 2" SS mandrel bent pipe to SS Catalytic Converter (2" Dual In / 2.5" Single Out)
- 2.5" SS mandrel bent pipe to 2.5" SS v-band flange
- 2.5" SS mandrel bent pipe to SS chambered muffler (not Vibrant)
- Dual 3" Polished SS angled exhaust tips (angle cut w/ rolled lip)
Basically a dual 2" to the cat then 2.5" to the muffler.
We should have the prototype and with it the jig to reproduce it within the next few weeks. If enough initial demand exists I can get a better price on material with a group buy. Of course I wouldn't ask anyone to commit to one until I provided pictures and video of the prototype.
As always I'm open to suggestions and comments.