Hey Guys,
It's been a while since I've been on here, I got married in July, and have been super busy with work, but I should give an update on what I've acquired.
As some of you know, I sold the lachssilber m50 e30 after I bought my dream car, an 88 BMW M3 with a 2.5l rebuild. Zinnoberrot was not my first favorite color, but the modifications, price, and location of this one was too sweet. This car was a California car until 2007, it was Jim Butterworth's car, whose engine was built side-by-side with e30 legend Gustave Stroes. It was rebuilt in 2000. It was sold to a guy in Wisconsin in 2007, and sold again in 2009 to the guy I bought it from. It has had some track time on it, never a winter driver in Wisconsin (whew), and is in overall great condition.
The original motor (matching vins) was rebuilt about 30k miles ago. No expense spared. Everything was replaced. Even the nuts, bolts and fasteners. Some of the engine highlights:
Authentic Evo III crankshaft and oil pump
JE forged pistons. Large valve pockets
Total seal rings
Larger valves, ported, stiffer springs - Turner stage III head
Schrick 284/276 cams
Pauter H beam rods
Oil pan baffle
ARP head and main studs
740 motor mounts. Trans spaced properly.
Evo green top large injectors in 46mm throttle bodies
Evo air flow meter and boot
Turner 2.5l chip
Blanton fully rebuilt transmission
Evo lightweight flywheel / new clutch
Ground control coilovers, camber plates, and rear camber/toe adjusters
Front roll center / bumb steer spacers
BMW type 5 wheels with Michelin Pilot Sport PS2s
It makes roughly 220whp.
A lot of the engine build can be logged on Gustave's website. This car is labeled JRB for the dyno graph.
http://www.e30m3project.com/e30m3per...sp-2/index.htm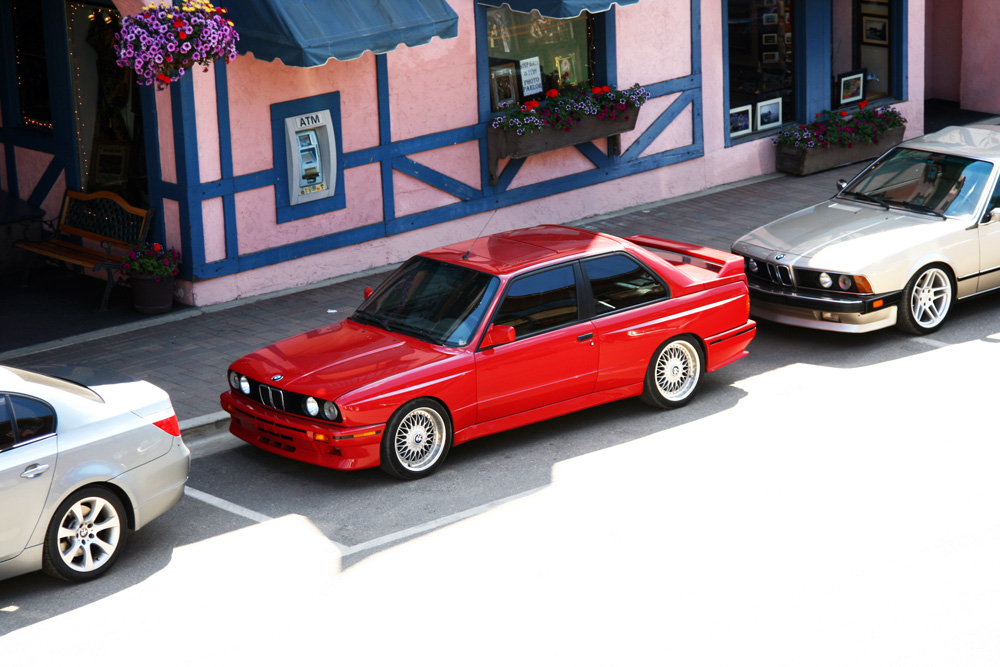 And for nostalgia, the day I sold the silver car...
Cheers,
Matt Kosonen