If you don't want to read the story, scroll ahead to the pictures. Get some popcorn. :popcorn:
I was not actively looking for another car. I have been working on my 325iX Stroker turbo build and was planning to drive it to the
2015 Drive 4 Corners
Rocky Mountain BMW Meet happening in August.


So a week ago today I planned to head to Denver at some point due to my grandmother's 80th birthday party. I am a runner and was planning to get in a solid 12 mile run before heading to denver(only an hour away from here). The weather last week was dreary for Colorado. We usually only get a day of rain here, an afternoon of rain there, or a brief shower once in a while. Saturday was supposed to be decent. I got up and hit the trail behind my house in the light mist. I didn't get more than a mile into it when it started raining harder. Then the rain turned to little hail that was pelting me as I ran. I decided to turn around and head for home before I got welts. The rain picked up and I decided not to take chances on the run.
So I decided to hop on r3v and do my usual website checks, you know email, facebook, craigslist. I usually do a series of searches on craigslist just to keep an eye on the market. Searches like 540i, z3, 4x100, 325ix, and e30 are the common ones lately. This day a new e30 popped up so I clicked it. This is the ad word for word. There were pictures but no pictures under the hood.
1984 BMW E30 with a M5 S38b36 motor swap.
Bought while stationed in Germany. Have all the customs paperwork showing it is for sale in the US.
Low miles and perfect interior. Paint on car is still in great shape and very few minor dings on body.
Asking 4000.00 with little negotiating room. Don't have the time to put into the car since we just had a
baby and bought a full size SUV. Moving to Texas so need to get rid if quick. We do have a friend in
the springs with the vehicle for showings.
The thought process going through my mind. Okay, S38b36, e34 M5 engine, I've never seen one of those in an e30 but I have driven 2 e28 M5's and 2 e24 M6's and I know this engine has more power than the b35. Euro bumpers? Sweet! Smileys? This thing must have been imported. Wow, very clean houndstooth interior, never seen one that wasn't ripped. Blacked out turns and tails, no federalized side markers, I can always change the tails. 5 Spoke wheels I have never seen, they look kind of goofy with skinny tires but they are overall pretty nice.
I looked at the listing and it was posted 12 minutes before I clicked on it (!!!). What? Either this guy is 1. smoking crack, 2. doesn't know what he has, 3. it has some major problem, 4. this is a scam, or 5. I may have finally found a once in a lifetime deal! So I gave the guy a phone call and asked a few questions, does it run? No, battery is dead and I am not the owner, but I can show it to you, and it was running before it was put into storage 2 years ago. Ok, is there rust? Not really, just a little shown in the picture by the rear license plate, there are only a few dents and dings as noted in the photos but it is clean. Ok great, well I am available now, can I come take a look-- from the location on the ad, it is pretty close to me. Sure, I will be around all day, come on down.
So I jump in my iX and head to his place. I am impatient behind the wheel, wondering why all of these cars can't just hurry up. This deal may not even be there when I get there so I feel like I can't let it get away. Rats, another red light. I'm waiting for this light to change thinking, there is no way I am leaving without this car. I have a couple hundred dollars in my pocket for a deposit and the engine alone is worth his asking price, let alone a mint euro e30! The 15 miles to his house feels like 30, the anticipation is killing me.
I turn left onto the street he told me and can see the front end of an e30 poking out from behind a suburban. Same car as the photos. This may actually be legit. I look at the time and it is within an hour of when I made the phone call. The car looks clean, and it seems surreal with the photos matching what I see in person. Euro bumpers, and euro fogs that aren't trashed. Eye brows, hmm, well those can always be removed with original euro grilles. I get out of my iX and walk up to the open 2 car garage. I notice somewhere along the way the rain stopped and the ground is dry down here.
I meet Mike who I talked to on the phone. He has a black hoodie, black hat, and the beginning stages of a goatee that you would see on Duck Dynasty. He points me toward the car and I give it a once over. Euro bumpers are very shiny and correct. The car is silver, but the half cloudy half clear sky gives it a light blue hue that is extremely attractive. The rear end is interrupted by those funky blacked out tail lights. A trail of rust can be seen seeping down from both license plate lights. No license plates are in sight. I ask about what details Mike knows about the car. The car was imported a few years ago but has been in storage in the back of Mike's trailer ever since. The engine came out of a '92 M5 that was rear ended. Mike and the owner were stationed in Germany together in the army so this car traveled around Germany for about 5000 miles with the swap completed. They were deployed for a while and the car sat during the entire deployment and since they came back.
For those of you unfamiliar, the military has a large presence in Colorado Springs. Not only is there the Air Force Academy but there are several other bases here in town that stabilizes the economy. (Fort Carson Military Base, Shriever Air Force Base, and NORAD) There are always people from different places here which can be frustrating at times, but is good for the car market. I have noticed most military guys that have been stationed here get paid and don't mind buying a house or a car when they get back from the deployment. This helps stabilize the housing market. Also, if they are stationed somewhere internationally, they are permitted to ship a vehicle, essentially free, back to the states. One example of this is Eric's infamous s50 swapped 325i (who is ironically stationed here now).
So Mike points to the trunk where there is a folder of documents in german. I can't distinguish any of them. I flip through them as he tells me about the two of them cruising around on the autobahn in this car. He says it was a lot of fun and that this car was a hoot. I make my way to the driver's door and pull it open. I notice the crank windows immediately as I have only seen them on my friend's '84 323. The interior is immaculate and I sit down in the drivers sport seat. Mike comments how much of a neat freak the owner is. No tears in a clean houndstooth interior. An aroma of air freshener hits my nostrils. I scan the car. No radio. German check panel. Euro clock. Cassette tape player center console. Mike tells me he isn't sure if the battery is any good and that he only hooked it up to his motorcycle battery charger when I called. He also points out a tire low on air and mentions his air chuck is at work.
I pull the hood release and the hood jumps forward with enthusiasm. Mike lifts it up as I step out of the drivers seat to see what jewel or nightmare lay beneath. The first thing I see is six glorious intakes connected to a plenum I have seen before many times under the hood of M5's, M6's, and M635CSi's. A gaudy air filter hangs off the snout of the plenum and a red strut bar holds the engine tucked gently beneath it. There is no space for a cooling fan on the front of the engine, but everything seems there. I did not research s38 swaps in e30s before I came to look, so it seems straightforward with a completed swap sitting in front of me. I ask Mike if he ever drove this on the Autobahn and he denies it. He also tells me he is a diesel mechanic but knows nothing about BMWs. I suggest we check fluids since it has been sitting so long. Coolant is full, brake fluid is there, and engine oil is clean and at a good level. We decide to see if she will fire up.
I slide back into the cloth sport interior. This time I notice the crack free dash, the front/rear fog light switch, and a Chilton manual on the passenger floor board. Mike hands me the key and I insert it into the ignition. I turn the key and nothing. Thinking fast I realized I had the battery from my iX right across the street and I offer to try that. I unbolt it from my car and strap it up. I slide back into the drivers seat and repeat the process. This time I turn my wrist and the engine is cranking. After about 3 seconds she fires up and give her a little gas to calm her down. To my amazement, not a single light is on on the dash except the ebrake light and the washer fluid signal on the check panel.
I roll the window down and get out to check for leaks. I notice how low the car is and without seeing anything alarming get back in so we can check turn signals and lights. Mike directs me to a new neighborhood that doesn't have much traffic and no cops. I let him know I'll be back and that I can't go anywhere with my battery in this car. I ease her out of the sloped driveway and hear something scrape. Yep, we are low. The gearbox feels like the M5's I have driven with a long throw and a thud as I engage second gear. I take Mike's directions out of the neighborhood and as I turn to the back road, I see a police car sitting at the bottom of the hill. I come to a complete stop, turn left, and take off with a Jeremy Clarkson 'Nothing to see here' early shift. As I crest the hill I notice the car isn't running right in the lower RPMs. I test the brakes and they ensure about as much confidence as a Miss USA contestant at a spelling bee. I'm not jumping to any conclusions because I have only gone a mile.
I decide to give it some gas but she hesitates in the lower revs. Something definitely isn't right. But she picks up the slack and I hear that glorious sound. Something like this. (skip to 17 seconds)
The sound was intoxicating. As I returned back to Mike's I came to a stop sign and noticed some smoke. I pulled into Mike's driveway as the hood was engulfed with white smoke. I popped the hood and coolant was spewing out from the coolant reservoir. I shut her down and we determined the cause was a cracked coolant reservoir cap. I told Mike my offer and he contacted the seller. The seller said he would accept my offer, but only if another interested party passed. I was worried because the owner had said he brought it to a local shop and cylinder number 5 had some issue. He said it had only traveled about 50 miles from the port to where it was now and that the engine was running fine before it came to the altitude. S38 engine work scared me so I didn't offer what he was asking.
I had mentioned I needed to go to Denver and told Mike I had to head out. Rain clouds were on their way back to town. I was so unsure what was going to happen and as I drove away I wondered if I had made a mistake on my offer. I drove to Denver and rain and snow ensued. As I drove up, I texted Mike and asked what the second party had said. He texted me back saying the car was sold and thanks for the time.
Damn it.

I realized I will never have another opportunity to buy an s38 swapped e30 in such good condition. I had just let a one of a kind car slip through my fingertips. In denver I got caught in a snow storm and it seemed the weather was dumping and was angry I had let this one go. I tried to look on the bright side with my Turbo stroked 325iX project nearing completion.
This is the slush and summer tires that night. And the ad for the car was deleted from craigslist as fast as it appeared.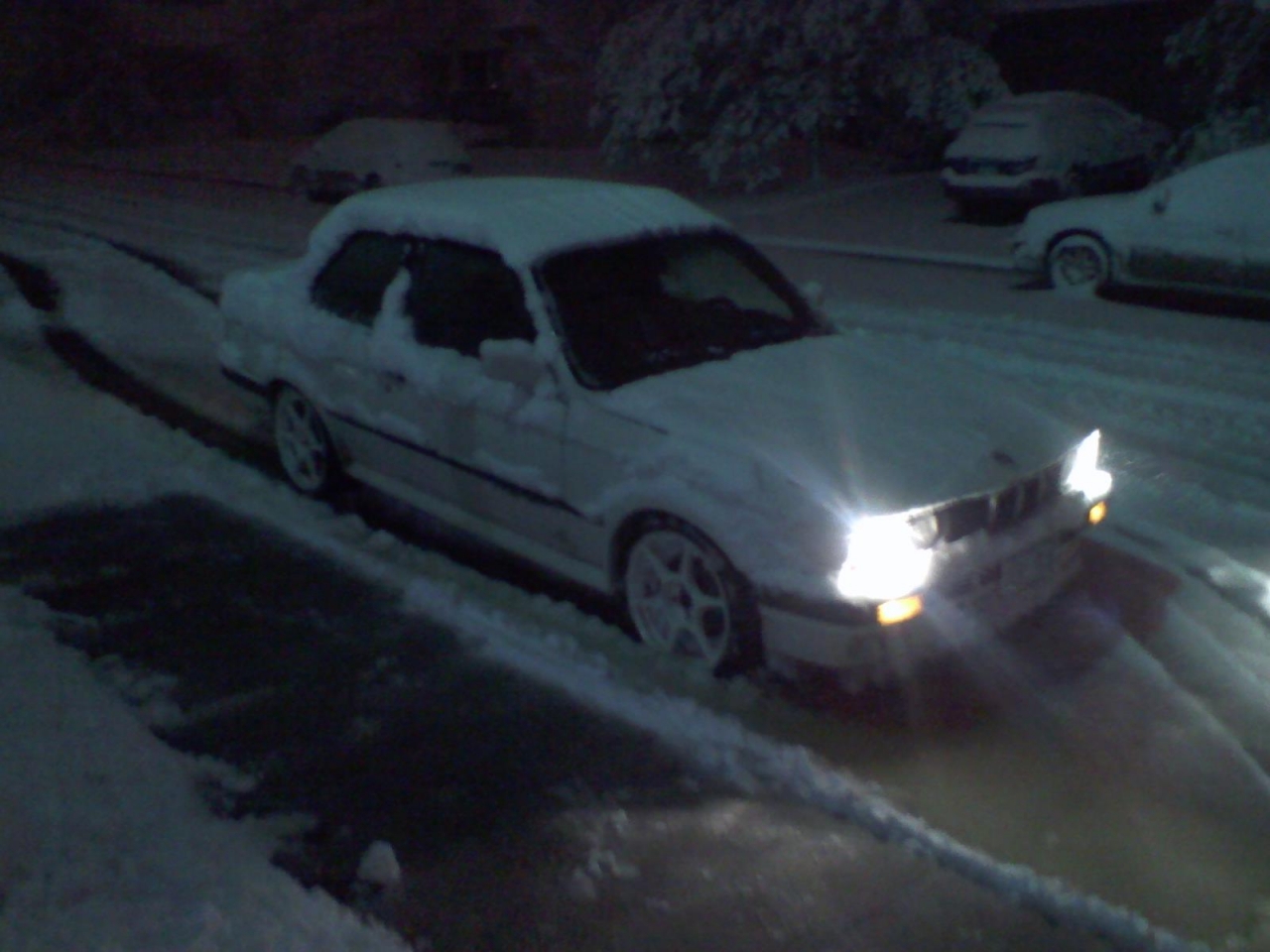 So the next morning when I awoke to a text from Mike saying the seller was uncomfortable with the other party's method of payment and that he would accept my offer if I could put a deposit down, I immediately replied with a yes and set in motion a plan to get him a deposit. Keep in mind this was mothers day. After I made the deposit, we made a plan to get a signed bill of sale shipped to Mike. To make the story end here, I picked up the car on wednesday and am now the owner. Now to figure out registering and titling a car that was just imported. Does anybody have any helpful tips?
And now for what you have been waiting for, pictures.
The first thing I did was throw on my Jimmy Hill Spoiler and today after looking at the car, I took off the stupid eyebrows. When I ran the VIN it calls it a 1986 but the paperwork calls it a 1984

Its lachsilver and was originally a 325iA. Ironically, the last 3 digits of her VIN are 336 which would be the naming convention of this car if it followed BMW's standards. I guess this car was meant to have the auto swapped out and the s38b36 swapped in.
Staggered 17x7.5 out front and 17x8.5 out back Azev wheels.
After looking into the s38 swaps, I took pictures of the important parts.
The rust
Rust free battery tray
Turns out these tails are NLA
http://www.hk5motors.com/index.php/l...aillights.html
Wasps like them though
I ordered some spark plugs and I think she needs a valve adjustment, but I am going to get the engine diagnosed to see what exactly is going on. Stay tuned.