Chassis Stiffening
Chassis and suspensions gussets.
Going back to my teenage years and playing gran turismo I was always enjoyed upgrading the cars and seeing what upgrades did what. I was really interested in the section of chassis stiffening and lightening packaged stage 1,2,&3.
Growing up and now with a real car it's been quite fun doing these modifications to my personal car and driving and seeing the fruit of my labor.
Over the years I have met and collaborated with some great people. Thankfully they have been willing to share there knowledge with me.
First off is Ron Jones (Rongineer)
I frequently go to Barnes and Noble and read car magazines early in the month when they release the current issue. Several times I noticed a clean BMW red m6. One day I noticed the owner walking up to it and introduced myself and we striked up a conversation ends up he was there for the same reason, goes in reads car magazines for a while every month. He showed me his m6 and he had done euro m6 headers and a maf conversion. He was definitely a BMW car enthusiasts. We exchange numbers and a few weeks later we end up using my car as a Guinea pig for some prototype parts he was making.
We ended up installing this sexy rear chassis shock tower brace
It uses factory holes in the parcel shelf with rivnuts inserted in the holes.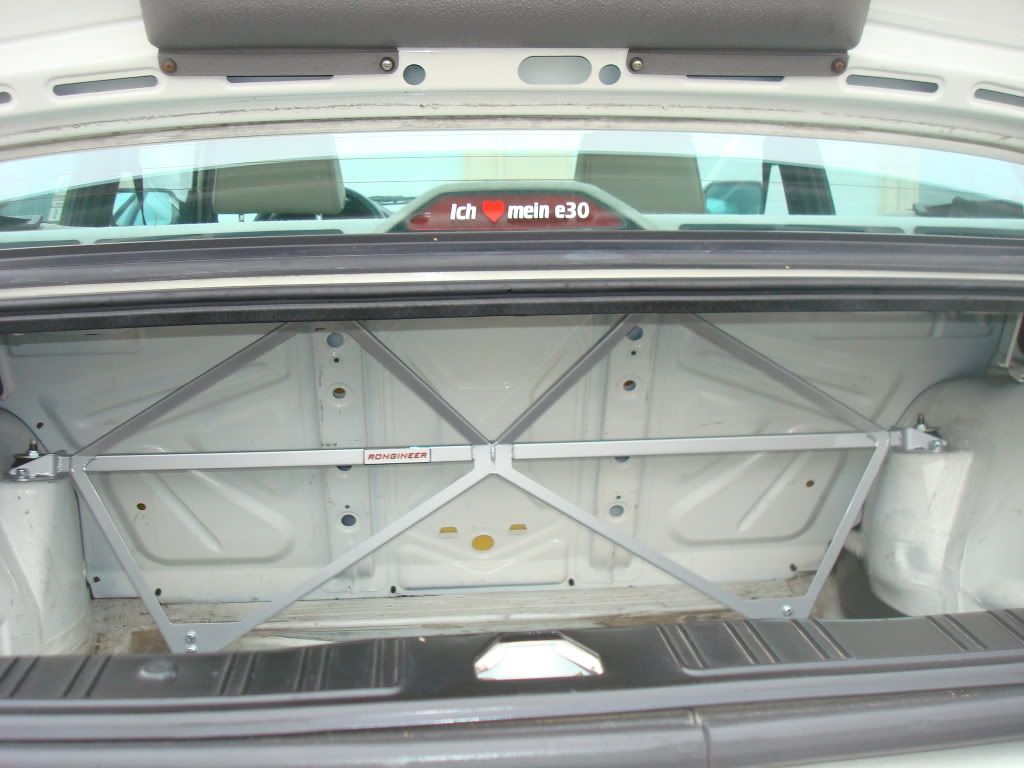 Next up is Kartek Chander
I met Kartek through a local BMW shop and I helped him strip down 2 e30m3's that he was preparing for paint in exchange I got a lot of m3 specific goodies. One of them was this Sparco strut tower bar.
It fits nicely
The round shape on the bar has a larger diameter then the BMW at strut tower lip unlike other competitors products also doesn't hit the intake manifold.
Next is Matt Ibrahim at Garagisitic

I met Matt at school and through a mutual friend maybe 7 years ago now.
We have worked together on many projects including the odometer gears and have attended several driving events together.
One of his projects was the black e30 shop car that got the BMW V8 m60 engine swap. With that swap it requires BMW X5 headers and with those headers this X brace no longer fit. So I got this for nearly nothing.
This is the second generation of the X brace and clears everything fine including lollipop bushings with offset hole.
I Would like to upgrade to a Garagistic X brace soon ;)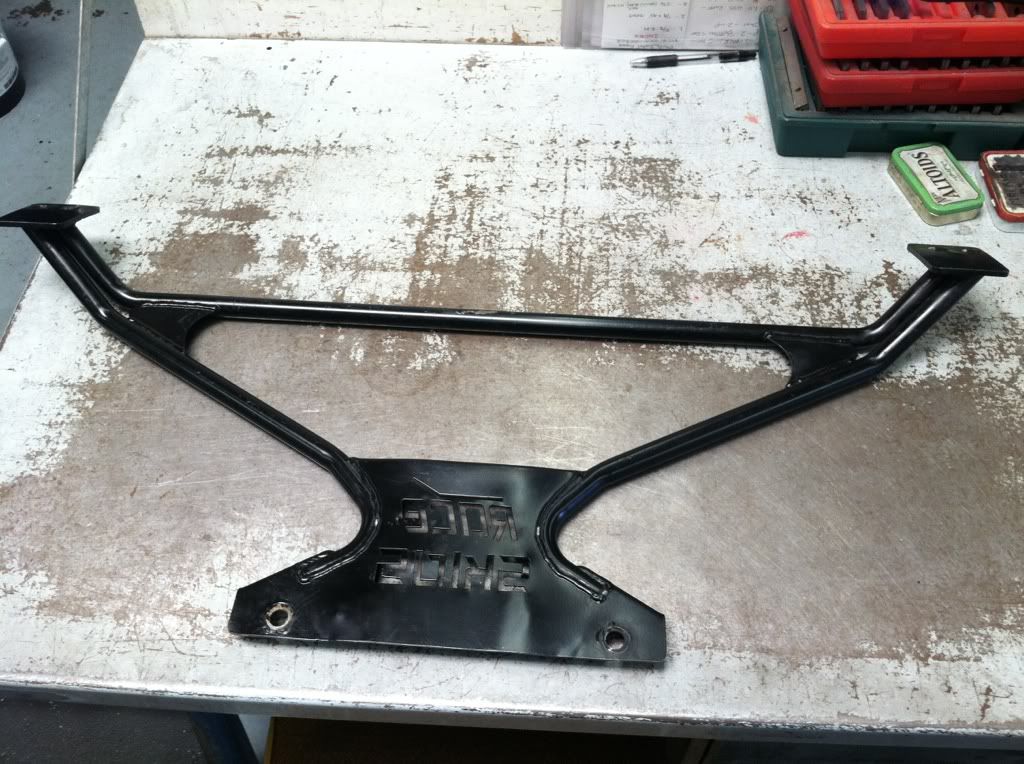 Next up is John Hickerson

John fabricated my skid plate he also did the install.
You can purchase it here
http://hikfabrication.com/arvixe/Ski...2-m52-s14.html
In ties in both frame rails and gives the skid plate a solid place to bolt to.
At turn 13 at autoclub speedway I was going in to fast and instead of trying to drift or correct it I drove on purpose straight into the turn and hit the skid plate on the curbing at a easy 50 mph maybe less no issue at all and kept on going. With out the skid plate it would have ruined the oil pan and ended my day.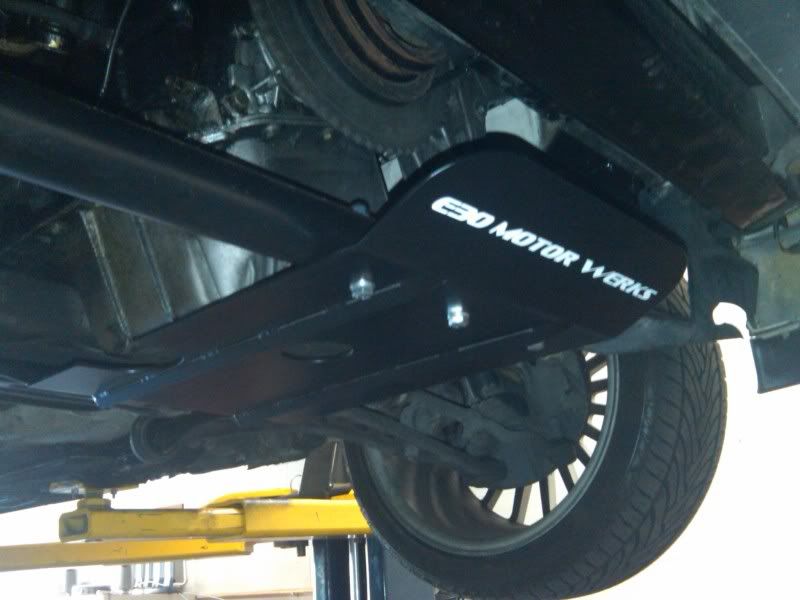 On Matt Ibrahim's Garagistic shop car with the v8 there was a concern for the torque of the motor of tearing things apart. One upgrade Matt did was weld gussets on the rear subframe. I really liked the idea and made my own. I made them so the hole in the gusset is large than the hole in the subframe so it wouldn't increase the difficulty of aligning a bolt while installing the differential. Another reason was because I used the akg bushings that are 10 mm lower. Because of that mod I have to run 10mm spacers between the subframe and diff. In my opinion this can add stress to those 4 little contact points.
Long term goal for this car is an s54 swap so the extra reinforcement will help down the road also.
I'd like to thank my boss
Jeff Bennet for teaching me more about tig welding and allowing me to use his equipment to weld my front and rear subframe gussets.
He did one on the rear while I watched closely and then he showed me his hand movement pattern to get a nice stitch bead.
Also did a gusset on the trailing arm sway bar mount.
All done ready to bolt back in.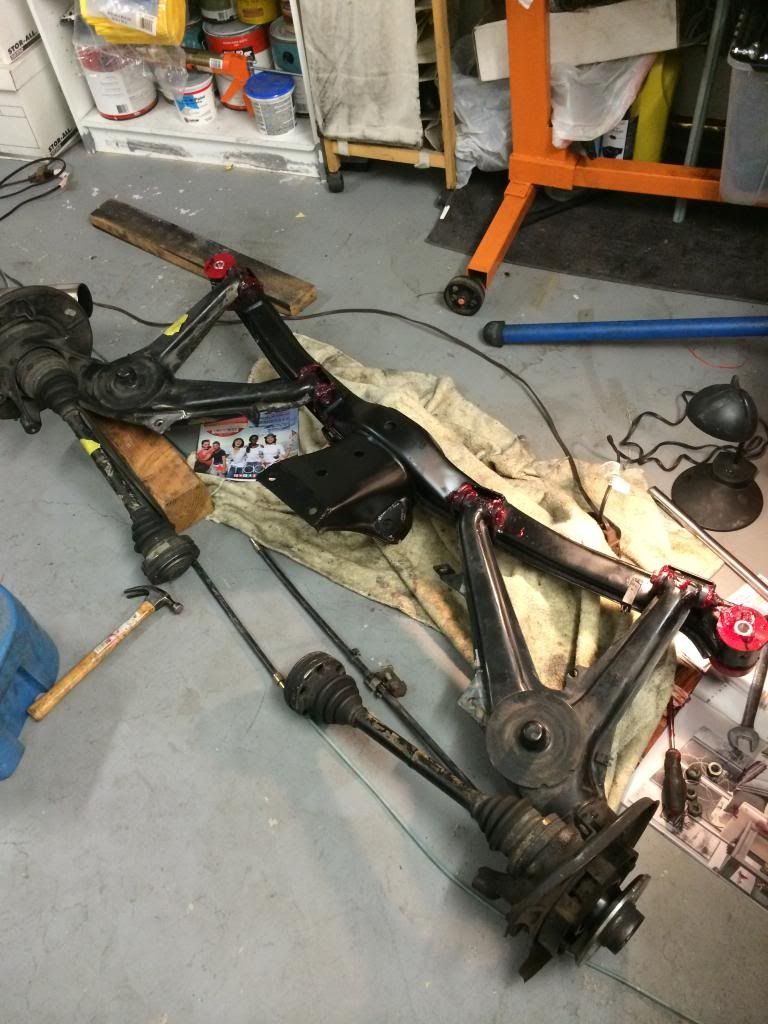 Sanding the front gussets to get them to fit nice and tight before welding
Sway bar gusset
Motor mount boxed in
For the front struts I fabricated a gusset that goes in between the knuckle and the strut tube to keep it from bending when running sticky r compound tires.
Welded a m3 style sway bar tabs to the strut housings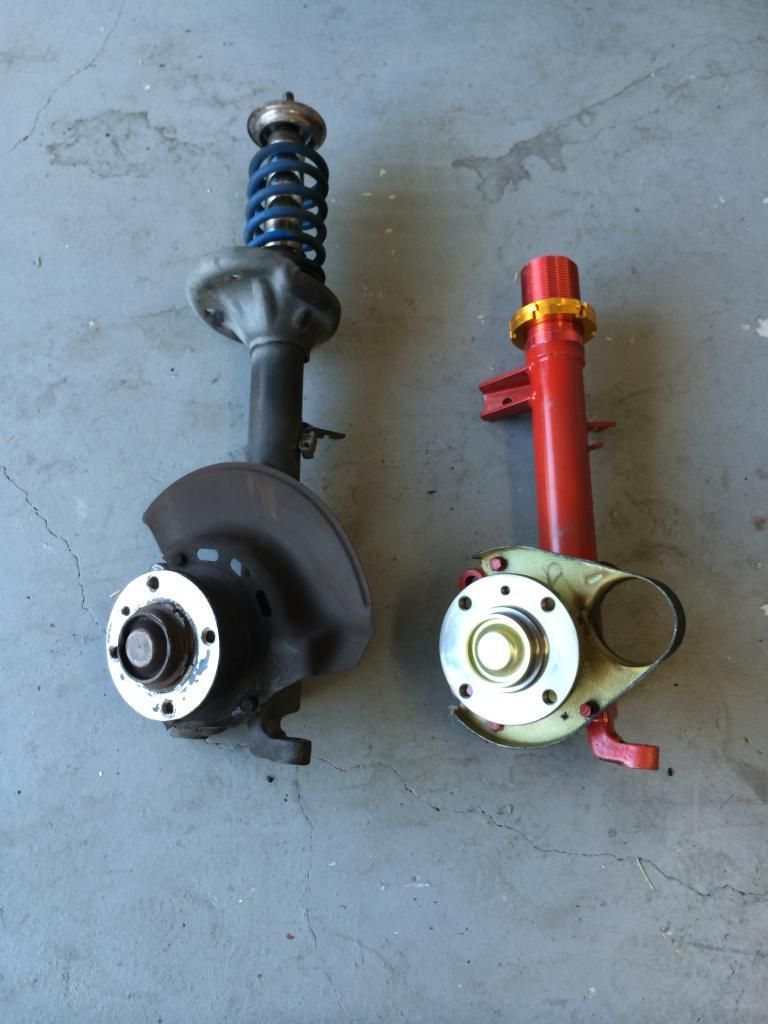 Stiffened chassis will now work even better with some sway bars!
This is a e30 convertible sway bar that I had powdercoated
It's now being used with long end links
Powdercoated rear bar makes it stiffer right?
New springs for the front
6 inch length 2.5 Id 450lbs
Hyper coil helper springs with some custom machined adapter that I made.
Ground control race camber caster plates
All installed
Ground control Rear tall rear shock mounts
Installed With hypercoil 600lb rear springs
And the last piece to tie it all together a nicely made custom cage built
By John Hickerson
you can contact and purchase one here
http://hikfabrication.com/arvixe/Rol...ace-track.html
I expressed everything I wanted where I wanted certain tubes to be and John delivered.
It's all one piece and fits snugly along the b pillar and the roof and has the harness bar at a proper height for a Hanns device and the rear down bars are one piece.
All painted satin black and tig welded to perfection.
Out in the canyons of la for some fun
My car on the left and Simon (2man) in front of mine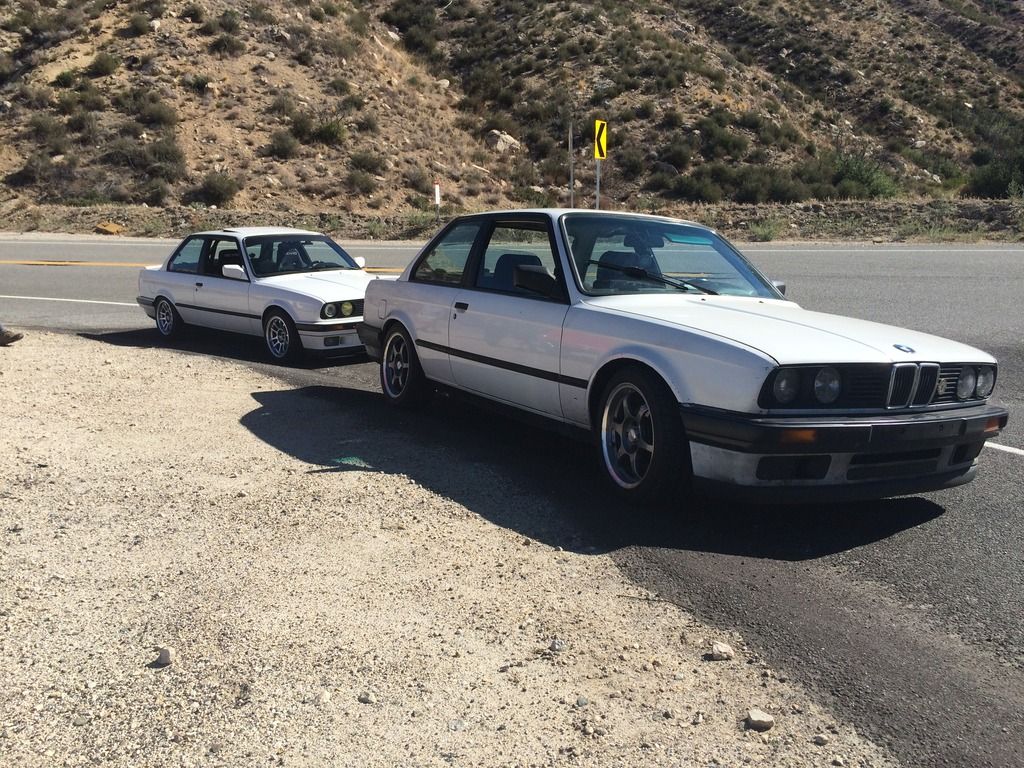 My best advice is do your research ask for rides with people who have a setup similar to what you want save your money and do it right and proper the first time.