Figured I'd start a project thread, since that's exactly what this car is. For the background, you can check out my introduction thread here:
http://www.r3vlimited.com/board/showthread.php?t=186679
Although it got a bit derailed, so I'll repost the basics here.
1988 BMW M3
Hennarot with Black buffalo leather
189,000 miles
Evo II Airbox
16" TSW Evo wheels
Turner/Jim Conforti chip
New battery
Goals:
Get the car road-safe, legal, and drivable. This will be my fair-weather daily driver, NOT a garage queen. Also I'm sticking with the S14, no motor swaps.
Purchased as a non-running car on October 19th. Car had sat for the better part of 6 years, 5 inside a garage and the last year sitting outside. Pushed it home and worked on getting it started. Injectors were clogged, once those opened up the car fired right up! Over the past few weeks I've been replacing parts, and tons of cleaning.
The interior is in awesome shape, no rips or tears but a few wear spots on the driver's bolster. Exterior is good as well except for the roof, the paint is cracked really badly which will need to be repainted.
Former Glory (BMW Concours Circa 2000):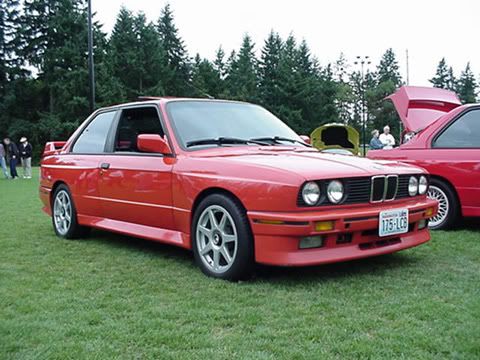 The day I got it home:
Update 06/2011:
M3 is running great and I drive it almost every day. Took it to the Leavenworth Drive and the E30 Picnic, got a lot of great feedback!
Major jobs complete:
-Got engine running
-Fixed various electrical problems fixed (instruments, lights, locking, etc)
-Installed H&R Race springs, Bilstien Sport shocks, 16x8 BMW Style 5 wheels
-Replaced giubo, center support, various suspension and engine bushings
-e36 timing chain tensioner
-New brakes, Zimmermann rotors + PBR pads
-New Thermostat, various engine hoses
-Refinished valve cover
-Refreshed front bumper: Fogs, euro tow hook covers, bumper plugs, black bumper trim
-Refinished Euro grilles
-Valve adjustment, base idle set, TB synch, throttle linkage lube
-TMS baffle installed
-S14 Rod Bearing replacement
Recent pictures: