Thanks!
Update 3/10:
This past weekend I did a diff swap. Found a buyer for my S3.73, so I picked up an S2.93.
Car up:
Out with the old:
New 2.93 - It was covered in de-greaser because I felt the sudden urge to clean it. Once I started cleaning it, that motivation went away so it went in the car like this lol. But first, some redline fluid.
Up-skirt shot:
Install took longer than it should have because I was having trouble getting just 1 of the top bolts to line up properly. Ended up actually taking all 4 bolts back out, then slowly, 1 turn at a time tightening each of them individually until I could ratchet them in place. I've never had that much trouble before.
After finishing that, I took her for a spin. I thought the 2.93 might be a little too long for an M20, but it was actually great. I can tell that 2nd and 3rd gear rolls in this thing are going to be fucking killer. Unfortunately with all of that being said, the diff is super noisy. No clunking or anything like that, but the sound coming from my back end is almost like my rear brake pads are shot and they're grinding constantly while driving. I called the guy I bought the diff from and he has another I can swap out, but he's never run it so again I will be going into another diff swap blindly. So I've got that going for me.
In other news, I need to upgrade injectors. Around 4600rpm, the car cuts out every time. My logs are telling us that my injectors are at 91% duty cycle at 4,000 RPM. This week HOPEFULLY I will be ordering a set of Siemens Deka 60#ers and finally ARP studs. I've got a Hallman Pro RX boost controller sitting in my toolbox waiting as well. I was really hoping to run the car for a while as is, especially since I just bought the bike, but I guess I should have expected that with only 30#ers in there now. But on the other hand, this now means turning up the boost to 15psi or so.
Overall, sort of a bum update, but I'm very happy with how the car is running. AFRs are great (11.3-11.8). Plus, Kameron sent me a virtual dyno plot which really instills some hope in me. 227hp/283lb-ft. That's about 7hp less, and 50lb-ft torque more than my S52 car. Seeing this and feeling it pull so well actually gives me a lot more motivation and makes me very excited for warmer weather. This week should be in the 60s so hopefully I'll get out and make some videos.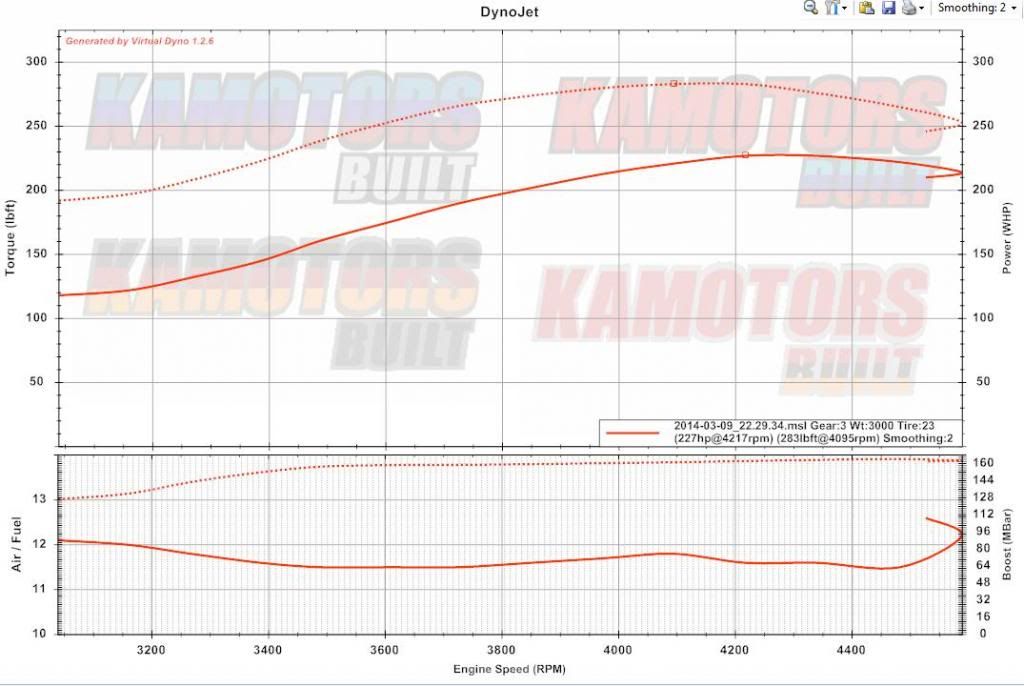 Also my shift knob broke. What the shit.