Editors Note: Ive been waiting a LONG time to feature this car. I actually wanted to feature his old M3, but obviously those plans never worked out, but I think what we have here is a worthy substitute. One word. Perfection. You're welcome R3V
Factory options:
This car started as a bone-stock 325i convertible. The only factory option would have been the automatic transmission.
Color:
Schwarz
Interior color:

Black
Engine modifications:
Comprehensive 2.3L S14 engine swap
TMS Conforti tune
Evo III plug wires
Exhaust:
Factory S14 header and mid-pipe with Rogue Engineering Diablo muffler
Transmission:
Original E30 M3 Getrag 265 5-speed manual
Differential:
Original E30 M3 4.10 LSD
Suspension:
H&R Race & Bilstein Sport with 15mm drop hats all around. Original E30 M3 5-lug
Wheels:
E28 M5 wheels with 225/45R16 tires (factory correct size for a 16" wheel on E30 M3, from the Sport Evo)
Exterior modifications:
100% Full E30 M3 OEM sheet metal conversion.
New E30 M3 front fenders
New E30 M3 cabrio specific side skirts
New E30 M3 rear quarter panels
Door molding recess deleted
New inner fender arches
New hood
Euro front & rear E30 M3 bumpers (no side markers)
One-piece Evo front bumper seal
All new undertray/air dam plastics
Sedan trunk lid (without 3rd brake light as E30 M3 cabriolets were delivered)
Interior modifications:
E30 M3 dash & interior padding (S14 cars were built with extra sound deadening in the dash, console, and interior panels to reduce the buzziness of the motor)
E30 M3 factory gauge cluster
ZHP shift knob
Mtech 1 steering wheel
Story Behind the Car:
In October of 2010 I purchased a rare 1988 Henna M3. It didn't run, it was collecting moss and had sat outside neglected for at least a year. I begged and begged the owner who finally let me buy the car and pushed it home (literally) and began the restoration process. I got it running great and kept it as a daily driver/rolling restoration for years - today you'd be looked at crazy for daily driving an E30 M3 but this was before the insane price increases over the past few years. It was never the cleanest or nicest car, but it was mine and I poured everything I had into it.
Fast-forward to October 2015, I had a different job with a stop & go commute and had bought a TDI as a daily driver. I drove the M3 to shows, events, GTGs, and fun things on evenings and weekends. I never drove the M3 to work - maybe once or twice in a year. One fateful night out in the garage, I saw my wife's Miata had a low tire. I found part of a razor blade stuck in the tire, so I told her to take my TDI to work and I'd drive the Henna into work for one day. What's the worst that could happen?
The worst happened. At around 5:30AM, traffic slowed in the usual place and I came to a stop. The Subaru Forester behind me was too busy texting to notice and plowed into me at full speed, pushing me forward into a truck (and pushing that truck into a taxi). It was the hardest hit of my life, I was completely in shock and had to be physically removed from the vehicle. The memory of this still haunts me.
After the insurance battle, I ended up with a small cash settlement and I bought the car back at salvage value. I immediately knew I was going to try to save the car, so I put in orders with BMW and several online parts distributors for all the necessary body panels I'd need, the most critical being the rear quarter panels.
Unfortunately as we began tearing down the car, we found more and more issues. Under the carpet, the floor was buckled. The structure behind the A pillars had collapsed. The more we took apart, the more damage we found. It was deemed too serious to rebuild with anything besides an unlimited budget, and even then I'd be left with a salvage-title M3 that may or may not drive the same ever again.
At this point, I considered the possibility of a re-shell project: using the good bits of my Henna car in a new chassis. I had leads on a few M3 shells, but all were in much worse condition than I had desired. Instead I considered building a "tribute", maybe a sleeper e30 with a M3 drivetrain. I looked at a few coupes, and even a grey-market touring before deciding on this project: building a 100% replica E30 M3 cabriolet.
I figured I could build a factory-quality replica of a E30 M3 cabriolet using all my original Henna M3 parts and brand new OEM body panels I had already purchased from BMW.
I purchased an original accident-free 325i automatic cabriolet and tore it all the way down. I rebuilt the original S14 from of my M3 and swapped it in along with all the steering, suspension & driveline components. I used every factory M3-specific bracket, bolt, and clip to do the job - no corners cut. I swapped in as much of the E30 M3 interior as possible, including the dash and all pieces with the extra factory S14 sound-deadening. New E30 M3 euro bumpers, front fenders, rear quarter panels, and even brand-new E30 M3 cabriolet-specific side skirts (which are different from coupe skirts!) rounded out the exterior plans.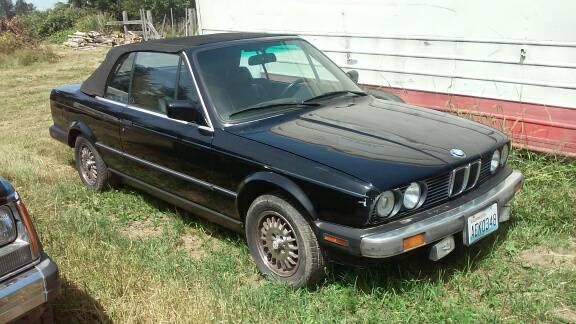 With the car running and driving well, I got in touch with the builder of the Griot's Garage Detailwagen to do the body conversion. Using all brand-new OEM BMW body panels, the box flares were grafted to the rear quarters and new rear inner arches at Godspeed Fabrication in Auburn, WA.
That build is showcased
here
The car was then sent to Chambers Creek Motors in Lakewood, WA for final finish work and paint in the original Schwarz. In less than a week's time, I brought the car home from the paint shop and reassembled it, just in time for the 2018 E30 Picnic where I was selected to be part of their annual Featured Showcase.
and now the pics specifically for the Car of the Month, another collaboration with a r3v member Christian Bouchez. Absolutely beautiful.
and the heart of the beast...