Somewhat current shot(when i remember to update)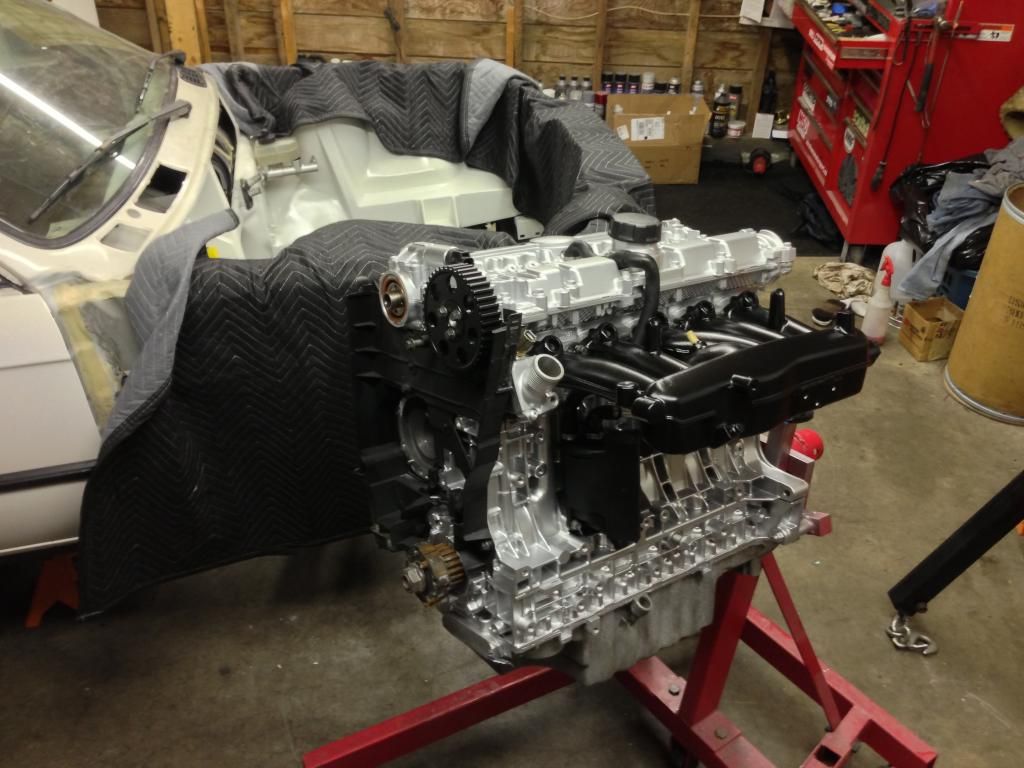 Ill start by introducing my self, my name is robbie, im 23, i live in oregon and i have finally purchased an e30 after many years of wanting and wishing. My previous build was a 95 volvo 850 turbo wagon, i love the car to death but it will be getting parted out to fund part of this build, the fwd was just too much of a limiting factor for me. The car sat on coilovers, mbz alphards 18x9.5 & 18x8.5, and had a rebuilt frankenstien motor (01 2.4t head with mix matched internals in an 04 2.5t block), it ran on vems with full sequential fuel and coil on plug with a hrc td05/6 20g that helped put down 302whp and 405ft/lbs at 17psi on pump gas with a mediocre tune. It has a full v70r interior swap and a wire tucked engine bay. enough blabbering tho, heres a few pics and then onto the more interesting stuff ;)
(ignore the crooked fmic, a bolt ran away earlier that day lol)
build thread here for anyone that is interested.
So now onto the current, it will be my daily driver all the time(as far as i can see) and it will get coilovers, wheels, vems, and a holset, the actual details are yet to be decided and thats what this build thread is for.
I spent 3 years with the volvo, it was the first car that i heavily modified, and majority of the things i did to it was kind of no mans land for the fwd volvo comunity so i had to figure it out my self, like megasquirting the 5cyl eeek. Alot of the stuff i did was more or less ghetto, it functioned great but if i had the time and money i would redo alot of it, and towards the end of the build i started to redo things but then the e30 came along.
So the plan with the e30 is for me to challenge my self and see how clean of fab work i can do and do everything the right way the first time, i have a tig welder at work and access to all sorts of machining.
If you bothered to read all that bs you will be glad to know im done blabbering, heres some pics and explinations of what has been happening recently.
I bought the car from Vollgas motorwerks of portland oregon, the car had a stroker m20 in it that was pulled and the car then sat for sometime, i bought it along with an m20b27 eta motor to drop in for the time being.
It came with, e30 m3 front seats, ie poly motor mounts, bilstiein struts and lowering springs, uuc short shift kit, uuc header back exhaust, mtech II wheel and some other odds and ends, it is a clean white straight body with about 120k on it and only a few very minor dents, and since i told my self i would only buy a white e30 it was hard for me to refuse this.
it was in need of a bath real bad, so i gave the engine bay a good degreasing and gave the car a quick soap.
i hate tan, will be doing something about that....but it sure is sexy =]
i want a factory shift knob also...
Picked up the motor a week later....
u know u love the kabota =p
oh no, fram gtfo!
much better
Then today started dropping the motor in, my dog athena, you will see her quite a bit, she keeps me company.
once the car is clean she wont be sitting there ever again! lol